About Mobile TeleSystems
Mobile TeleSystems (NYSE:MBT) is one of the three largest players in the Russian telecoms market. Its main competitors are Megafon, Vimpelcom ltd., and Tele-2. At the end of Q3 2015 Mobile TeleSystems occupies 31% market share, 29% occupies MegaFon, Vimpelcom - 24%. About 15% occupies the fourth federal operator - Tele-2.
The Russian telecoms market is fairly mature, so I can't see any growth potential there. This means that the members of "The Big Three" (Megafon, Vimpelcom ltd., and MTS) are focused on retaining market share and maximizing profitability. So buying their shares is worth only getting cash flow in the form of dividends.
MTS is a classic cash cow for shareholders. In 2012, the new dividend policy was adopted, according to which:
For the calendar years 2013-2015, MTS aims to payout a minimum dividend distribution of an amount equal to at least 75% of Free Cash Flow for the relevant financial period or, if greater, RUB 40.0 billion per year.
In spring 2016 the company will introduce a new dividend policy. At the moment, market participants do not expect any serious changes to be accepted. This means Mobile TeleSystems will continue to pay good dividends.
Financial profile of Mobile TeleSystems
If we consider MTS from the standpoint of the 'Lifecycle' curve, it is right in 'Maturity' point. Before the start of the ruble devaluation company consistently generated about $4 billion of operational cash flow (OCF). At the end of 2015 OCF will decrease up to about $2 billion.
Figure 1. Position of Mobile TeleSystems on the 'Lifecycle of Organizations' curve
(click to enlarge)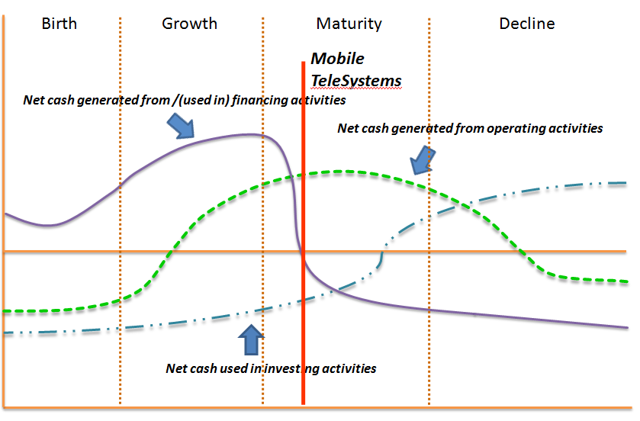 (Source: Proprietary)
Figure 2. The dynamics of CFO, CFI and CFF ($Mln)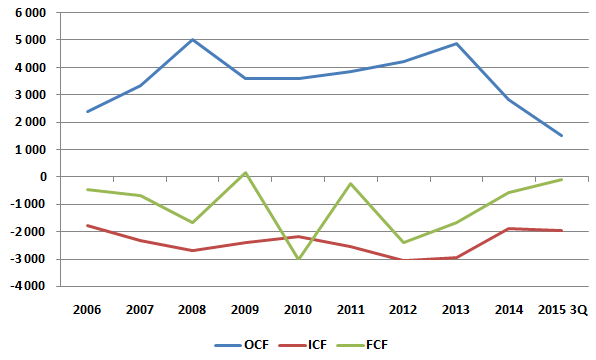 (Source: Proprietary)
As we can see on a chart below sales, OIBDA, net income of the company relative to 2013 have also collapsed almost twice. Obviously in USD. As far as 90% of revenue is generated in rubles the fall of financial results is nothing but fluctuation of currency rate. If we consider financial statements of MTS in RUB we can see that there isn't any grand recession. Company still earns about ₽150 bln OIBDA per year.
Figure 3. Financial indicators of Mobile TeleSystems ($Mln)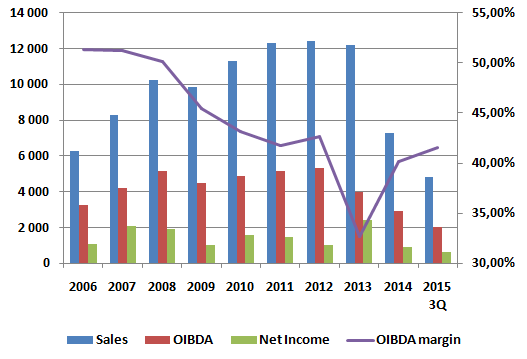 (Source: Proprietary)
Figure 4. Financial Indicators Mobile TeleSystems (RUB mln)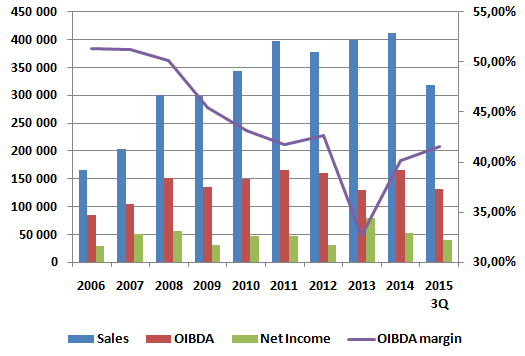 (Source: Proprietary)
All in all MTS is a mature company with a settled business model. It stands on its own two feet and has a constant cash flow and strong structure of a capital. MTS's main shareholder is interested in paying dividends which is undoubted plus for minority shareholders. However the company does still have both short-term and long-term risks.
Risks
High dependence of financial results on dynamics of RUB currency rate.
In charts and paragraphs above I've compared the dynamics of RUB and USD financial indicators of MTS. Now you can take a look at the dynamics of MTS stock price (RUB) and compare it with the dynamics of RUB currency rate.
Figure 6. Dynamics of stock price of Mobile TeleSystems (min RUB) and RUB currency rate.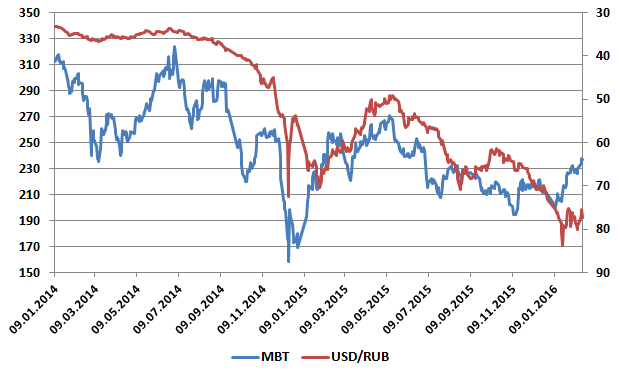 (Source: Proprietary)
You can see that in 2014 the move of stock price mostly depended on fundamental factors (the lawsuit against Mr. Evtushenkov (the biggest owner) as an example). Meanwhile at 2015 the dynamics of MTS and RUB currency rate are quite similar.
What does it mean for an investor who keeps a record of his assets in USD? When buying shares of the company, whose revenues are denominated in rubles, you are as a matter of fact betting on the strengthening of ruble. Mobile TeleSystems has a strong financial profile and generates a good income ... But only for the investor, who evaluates his assets in RUB. The growth potential is missing too because company directs not less than 75% of FCF for paying dividends.
MTS will try to continue to pay 20-25 rubles per share a year (40-50 rubles per ADR). But when currency rate (USD/RUB) was equal 30, it was $ 1.33-1.67 per ADR, and for USD/RUB = 75 it is $ 0.53-0.67 per ADR. At a price of ADR is equal to $ 7.4 we get a dividend yield around 7.2-9.0%.
Investigation of MTS's actions according to Uzbekistan lawsuit.
From the decision of the United States District Court for the South District of New-York, where US Department of Justice had addressed, it follows that "at least two international companies" MTS and Vimpelcom Ltd. during 2004-2011 had paid about $500 mln to such companies as Talikant Ltd., Swisdorn Ltd. and Expoline Ltd., behind which had been a certain close relative of a president of Uzbekistan.
Some days ago there was news about this case. It was said that Vimpelcom Ltd. has signed an agreement with SEC, US Department of Justice and Dutch Office of Public Prosecutor about a settlement of a corruption investigation regarding its business in Uzbekistan. Vimpelcom will have to pay $795 mln or more (as far as it reserved $900mln for this investigation). The same lawsuit is still like a sword of Damocles for MBT.
MTS's revenue on the Uzbekistan market is by about a third less than Vimpelcom Ltd., ie we can suppose that the same agreement will cost MBT $600 mln. Russian mass media inform that both companies were acting through the same intermediaries and using the same methods, so that risk for MTS is very high. If company is forced to pay fines according this lawsuit then we can forget about dividends.
Conclusion
As I said earlier MTS is a classic cash cow for shareholders. The financial profile of the company is sufficiently strong, business is settled and runs like clockwork. Interests of minority and majority shareholders are identical. The high dividend yield makes MTS shares pretty attractive, however you should clearly realize the risks of such investment.
As a short-term problem I've identified the investigation of MTS's activity in Uzbekistan. Since Vimpelcom Ltd. has already got a fine, the risk of same for MTS is more than real. If MTS loses the lawsuit almost all FCF for 2016 will be directed to paying fine and shareholders won't get any dividends.
The another problem, long-term one, is the volatility of a ruble. As far as there is no growth potential for business, the ADR price will first of all depend on dividends. If ruble strengthens, dividends in USD will also grow. If, in opposite, ruble continues to weaken, dividends will fall.
It goes without saying that these shares can be attractive only for those investors who rely on a cash flow from dividends. Now, however, the purchase of MTS stocks provides serious risks. The situation will clear a little bit after a court decision on an Uzbekistan lawsuit, but there will still remain an interconnection of stock price with a RUB currency rate. I believe that for now MTS share are not interesting to buy.
Disclosure: I/we have no positions in any stocks mentioned, and no plans to initiate any positions within the next 72 hours.
I wrote this article myself, and it expresses my own opinions. I am not receiving compensation for it (other than from Seeking Alpha). I have no business relationship with any company whose stock is mentioned in this article.