Universal Display (NASDAQ:OLED) reported fourth quarter results with revenues of $62.3 million, an 11% YoY increase compared to last year's fourth quarter and net income of $18.1 million. While you would think that alone would generate some positive momentum, Universal Display stock dropped over 13% after reporting. The results of earnings per share of $0.39 and revenues of $62.3 million were considerably short of analysts' consensus of earnings per share of $0.51, and revenues of $71.5 million. To add some more negativity, the annual revenues came in at $191 million, which was below the company's own guidance of $200 million for the year. This was outside the company's given margin of error of 3% and was addressed in the earnings call as resulting from year-end inventory management and a product mix that shifted more towards lower priced emitters. While the company acknowledged that the short-term forecasting in the emerging OLED market is difficult, it remains optimistic in the long-term growth of the sector and this article will examine the long-term view of this company.
Future Expectations
The company expects 2016 revenues to grow 15%, with a margin of error of 5%. I feel that 33% is quite a large margin of error, as it translates into annual revenues of $208.7 million to $230.6 million. This is below the analysts' consensus of $246.3 million, which may cause some concern among investors. The CFO has the belief that 2016 will be the year in which the organic light emitting diode industry builds new capacity for the technology to penetrate the marketplace and will really take off in 2017. Some may view this as a delay tactic while the company is trying to meet analysts' estimates, and others may think that this company will succeed over the long term given more time. The former may just be a case of the market being upset that it has to wait a bit longer, as we see that the company has experienced increasing financial performance with growing revenues and income and has no debt.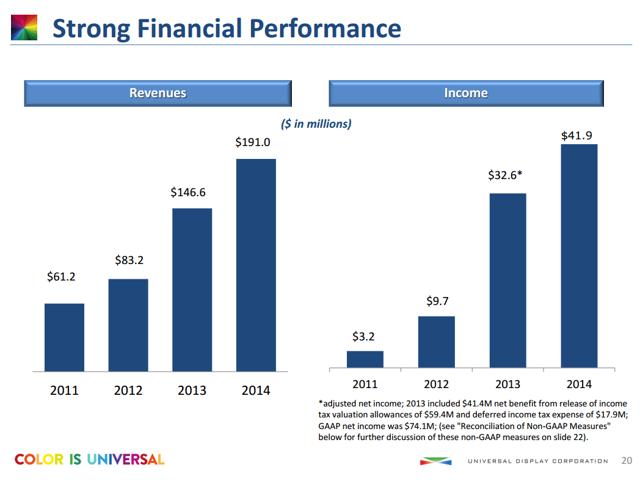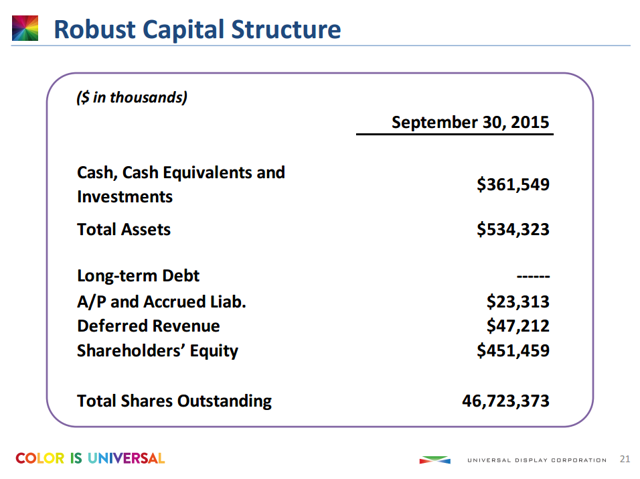 Major Players
The above reference of the OLED space taking off in 2017 is likely linked partially to LG Display (NYSE:LPL), that will be nearly doubling its Gen-8 OLED TV capacity from 35,000 to 60,000 substrates by the end of Q2 2017, and is planning to invest around $8.5 billion in OLED capacity over the next three years. LG also announced this past November that it will be building a new P10 fab OLED display plant in Korea, which will mainly produce larger OLED TV panels as well as flexible OLED panels. The total amount invested in the P10 plant alone will be $8.7 billion USD. The company shipped 400,000 panels in 2015, half of which sold in the last quarter. The company is aiming to ship 1,000,000 panels in 2016 and it is important to note that LG still owes Universal Display royalties from the 200,000 or so panels it shipped during the fourth quarter, which should result in a nice chunk of revenue during this upcoming quarter from royalty payments. It should also be noted that Universal Display has a licensing agreement with LG until 2023 where it will pay running royalties based on LG's revenues of licensed products.
Samsung's (OTC:SSNLF) royalties are paid in the second and fourth quarters of each year, so those have been included in the most recent quarter's earnings as well as the full year's. It should be noted that Universal Display's host materials do not get the same level of patent protection as its phosphorescent emitters, and Samsung does not use Universal Display's host materials such as it is allowed to, and do use a "suitable alternative." This is a direct result of Samsung having bought Cheil Industries last year, and is likely responsible for $5.3 million drop in host material sales experienced during the most recent quarter. However, Samsung has indicated that it will be more reliant in the next year on its OLED segment to generate profitability and a higher rate of operations as it has chosen to diversify from its consumer electronics segments which suffer from falling prices, shorter life cycles, and thin margins; which should at least continue to provide Universal Display with continued significant revenues from Samsung as it is the second largest maker of LED components due to its presence in the television market.
The Patent Cliff
As mentioned above, not all of Universal Display's revenues are protected by patents such as the host materials, but what about its phosphorescent emitters? There has been some concern and short selling rooted in the fear of a patent cliff that will occur in 2017, the same year Universal Display's CFO thinks things will take off. The patent cliff fear arose in 2013 when analyst, Jonathan Dorsheimer, issued a "sell" rating and $22 price target, seeing no upside beyond 2017. This same analyst raised his price target to $33, a 50% increase, after Universal Display filed two divisional patents which were narrower and provided very similar protection of the company's IP. Couple that with the long-term agreement signed with LG that goes until 2023, and things don't look so bad.
Also, there is not a doubt in my mind that Universal Display is working on not only protecting its current IP, but also developing new technology from any number of the 1,200 patents it acquired from Fuji in 2012. Lastly, there is more than just one patent for its phosphorescent emitters that Universal Display utilizes for its revenues. It classifies those 60 patents alone into four basic families. In addition to that, it has more than 3,000 patents - half of which are architecture-related and are capable of providing the company with revenues beyond 2020.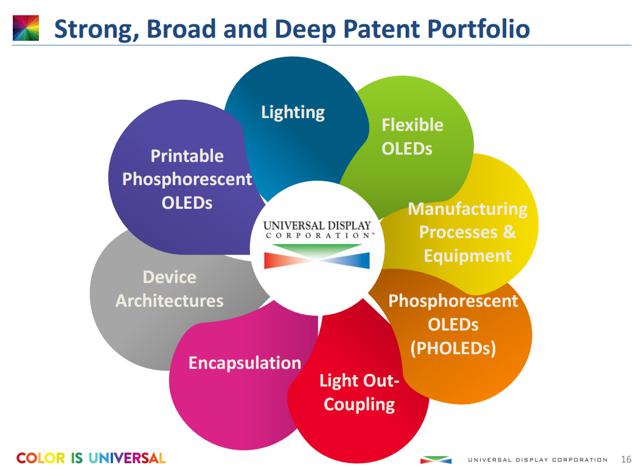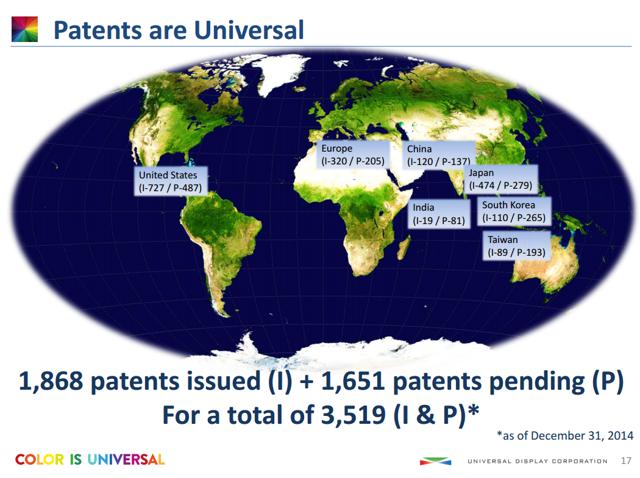 New Customers
While the focus now is on several customers, there are other potential customers that are yet to be fully served such as Apple (NASDAQ:AAPL). While Apple uses OLED for its Apple Watch, it has yet to use it in its iPhones, and it seems to be only a matter of time before that day arrives and there are reports of Apple purchasing OLED display panels from Samsung in 2018 or LG for use in its iPhone 8. A little over a year ago, Universal Display inked an agreement with BOE, a major player in the displays market in China. While BOE is still smaller in terms of the OLED market for now, it has massive potential for becoming a significant long-term catalyst for Universal Display. The OLED display market alone remains largely untapped and has room to grow as shown below, with a projected growth of almost $10 billion over the next 5 years.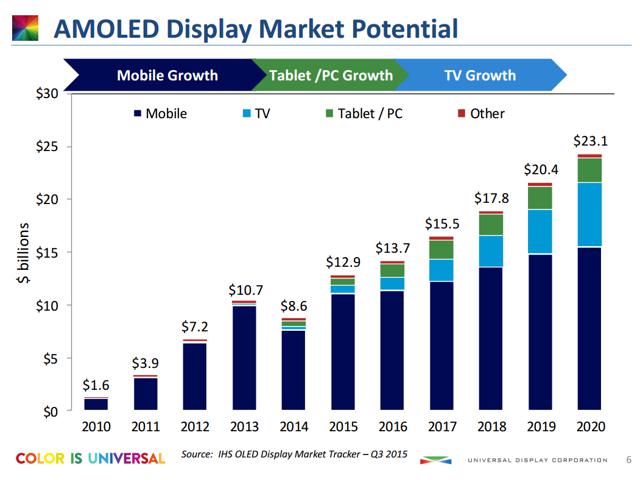 Conclusion
OLED technology has not even begun to reach its full potential that it is capable of achieving once it fully enters into the market. OLED growth is projected to grow consistently over the next 4 years. The company has growing financials and zero debt with a vision for the future by creating new partnerships and developing new IP. The picture seems clear that this company has a great deal of potential for years to come.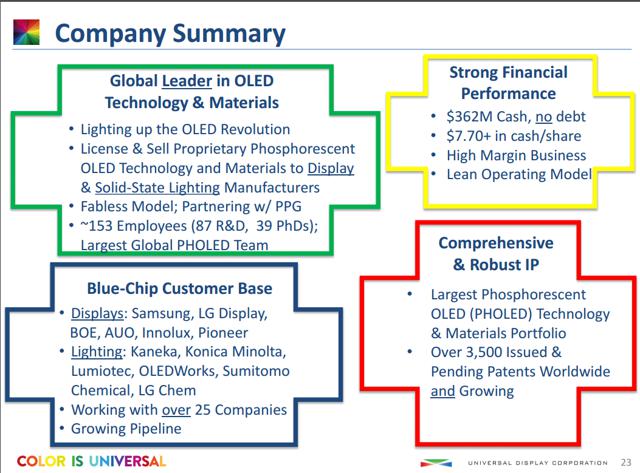 Disclosure: I/we have no positions in any stocks mentioned, but may initiate a long position in OLED over the next 72 hours.
I wrote this article myself, and it expresses my own opinions. I am not receiving compensation for it (other than from Seeking Alpha). I have no business relationship with any company whose stock is mentioned in this article.
Editor's Note: This article discusses one or more securities that do not trade on a major U.S. exchange. Please be aware of the risks associated with these stocks.