The big news last week Northstar Realty Finance (NYSE: NRF) management filed an 8-K one day prior to its Q4 2015 earnings release. The filing outlined a monetization plan for a group of portfolio assets, as of Feb. 23, 2016, designed to raise funds to buy back undervalued NRF shares.
The hiring of UBS investment bank to advise a committee of independent directors regarding a potential recombination with NRF external manager NorthStar Asset Management (NYSE: NSAM) was also announced. This is one area where balancing the fiduciary responsibility of both sets of NorthStar stockholders may prove to be particularly tricky.
This was welcome news to nervous NRF shareholders, as Goldman Sachs has been advising NSAM regarding strategic alternatives during the past several weeks.
On Friday, Seeking Alpha published "Northstar Realty Finance: Management Announces A Winning Plan - Will It Work?" where I discussed the implications of the proposed NorthStar Realty asset sale plan for investors. It appeared to be an excellent plan.
Brad Thomas also wrote an SA focus article which viewed the Northstar announcements in a positive light. Brad's article highlighted Northstar's corporate governance issues, while mine focused more on the value of the various assets.
Mr. Market has voted thumbs up since the announcements, but the devil appears to remain in the details regarding how this ambitious, well-conceived, plan will be executed.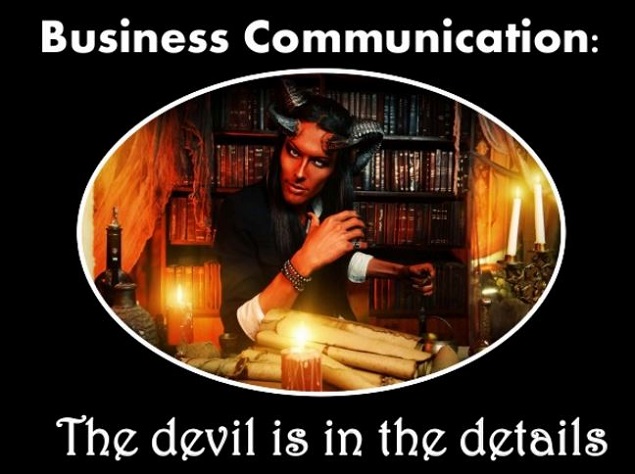 Source: slideshare.net
Notably, there have been many twists and turns to the Northstar saga since earnings were released last week.
This article is intended to alert shareholders and update readers regarding subsequent events, including:
Notable takeaways from NRF and NSAM earnings calls on February 26, 2016.
NRF share awards granted to Northstar executives, in a series of filings late Friday afternoon.
Northstar Realty Finance's 10-K filing on February 29, 2016 (322 pages).
Land & Buildings Public Letter to NSAM lead independent director on February 29, 2016.
NSAM management response to Land & Buildings letter on March 1, 2016.
NorthStar Realty Europe (NYSE: NRE) independent portfolio valuation released on March 2, 2016.
In order to expedite sharing the information contained in this article, I am writing this prior to an in-depth review of the Northstar Realty's 10-K filing. If I uncover additional information which I feel is material to readers, I will share highlights in the comments thread of this article.
Tale Of The Tape - Mr. Market Likes The Plan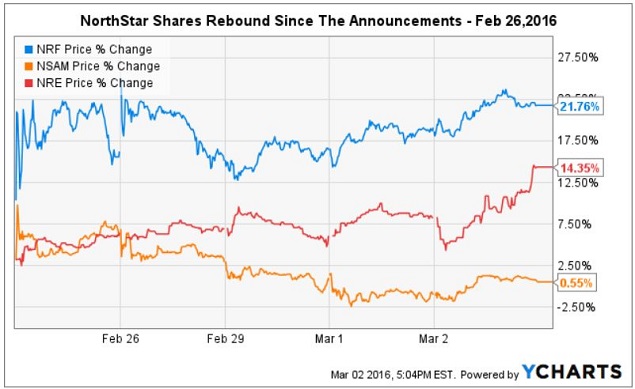 Northstar Realty Finance and NorthStar Realty Europe shares rebound significantly as investors realize management is serious about asset sales and repurchasing undervalued shares.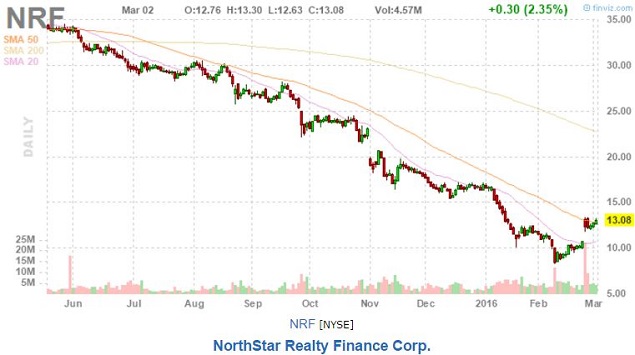 There is no reason why shares should not rebound up to the $20 per share range, given the portfolio NAV, and value of the assets being sold. However, there could be resistance on the way up as some investors cash in on short-term gains, and/or decide to hop off the NorthStar rollercoaster.
NorthStar Conference Calls
On Friday, February 26, back-to-back conference calls were hosted by the Northstar management team for Northstar Realty Finance and external manager NSAM.
I felt that there was a very different "energy" associated with each of them, as it relates to NRF shareholders.
NRF - Q5 2015 Key Takeaways
The good news:
1. First of all, the NRF 44-slide supplemental presentation was made available concurrently with the Q4 2015 earnings print. This was a huge improvement compared with last quarter when investors had to wait several days. Additionally, the supplemental slide-deck was more detailed and transparent than previous information provided by the management.
Following on the heels of the monetization announcement one day prior, this was clearly a signal that management was trying to provide information by asset class that would support the $25.69 NAV per share estimate.
2. The announced dividend reduction brings the NFR payout ratio down to a sustainable level. The current 12.5% yield is still quite attractive compared to most equity REITs. Most notably, it allows Northstar to retain cash to repurchase undervalued shares at a meaningful discount to NAV.
The dividend policy should result in a durable, well-covered dividend. Moving forward, NRF will have a stronger balance sheet after the dispositions.
3. The $2 billion of asset monetization, should generate $930 million of equity capital. Management guided that $600 million had been received, and the majority of the remaining $330 million is expected to be booked during March 2016.
Management believes it will be able to demonstrate a "strong IRR" for all of the transactions.
4. There was $382 million remaining under the authorized $500 million share repurchase plan.
5. Northstar weighted-average cost of debt is ~4.2% vs. a much higher cost of equity. However, Northstar management is cognizant of the volatility in the high-yield capital markets, and clearly understands that equity investors now demand a stronger (deleveraged) balance sheet.
In other news:
Northstar has retained advisors to assist on potential monetization of all parts of the Healthcare portfolio, including potential JVs. This will result in more transaction fees.
CFO Debra Hess amazingly was ill prepared to deal with the same questions which were asked by KBW analyst Jade Rahmani last quarter, regarding provisions for recurring maintenance expenses in the CAD calculation.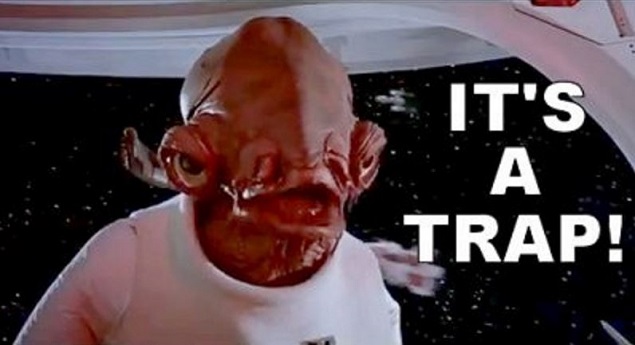 Source: pictures.finomlg.top
Notably, KBW is the only investment bank which has downgraded NRF from a Buy to Neutral in 2016.
According to Ms. Hess, Northstar Realty has considered reporting additional metrics (think FFO/AFFO), and may do so in the future.
Hopefully, the third time will be the charm, and management will be better prepared for this line of questioning next quarter.
NSAM Earnings Call
There was no update given regarding strategic alternatives as it related to Northstar Realty, beyond the mention of the NSAM process being underway with Goldman Sachs, and UBS Investment Bank recently being hired by the NRF board.
However, the NSAM conference call contained several statements by management that I felt were insensitive to NRF shareholders.
Al Tylis shared that "… we [NSAM] could certainly see us becoming meaningful shareholders in our listed managed companies." NSAM or even its non-traded REITs, could become larger shareholders in Northstar Realty, which is now attractive because the shares are so undervalued.
Tylis spun buying NRF shares at a huge discount to NAV, as NSAM having "greater alignment" with Northstar Realty. He seemed totally oblivious to the elephant in the room - the destruction of the NRF share value was largely due to NSAM management actions and inactions.
There was absolutely no remorse, and plenty of ego in that C-Suite.
Northstar Realty Finance - Share Awards
Later that same day, well after the market had closed on a Friday, there were six Form 4 SEC filings for Northstar Realty Finance.
NRF CEO Langer and CFO Hess, along with Mr. Lieberman, Mr. Gilbert, Mr. Tylis and Mr. Hamamoto were awarded: 33,551, 70,772, 46,578, 253,916, 253,916, and 380,874 shares, respectively. That was net, after sale of shares to offset the tax impact.
Right on cue, Northstar management showed their true colors by accepting these share awards.
While I think that the new Northstar strategy will result in a significant upside for NRF shares, I remain concerned about how much of the gain from these asset sales will be siphoned off by portfolio level agreements, hired consultants, and greedy Northstar execs.
Northstar Realty Finance - Big Picture
Portfolio cap rates for Northstar Realty sectors crept up significantly since the November NAV estimate by management of $29.07 per share.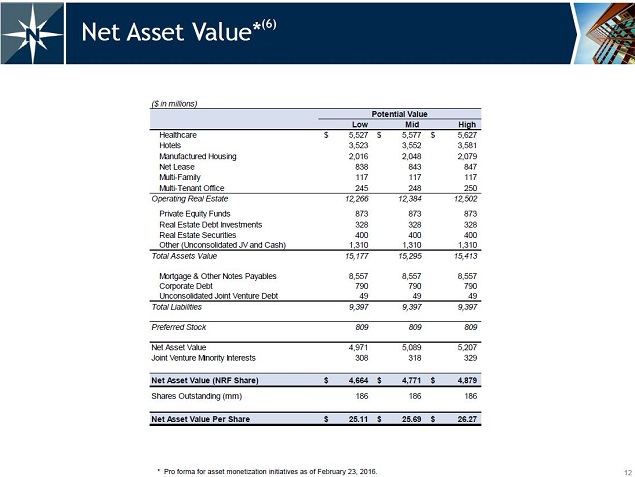 Most notably, the lodging REIT sector has been under considerable pressure, and this helped to drag down the base case NAV to $25.69 per share. The Green Street Advisors estimate for hotel cap rates jumped 130 bps higher, compared to the previous quarter.
However, that still represents a huge potential upside for NRF shareholders from here.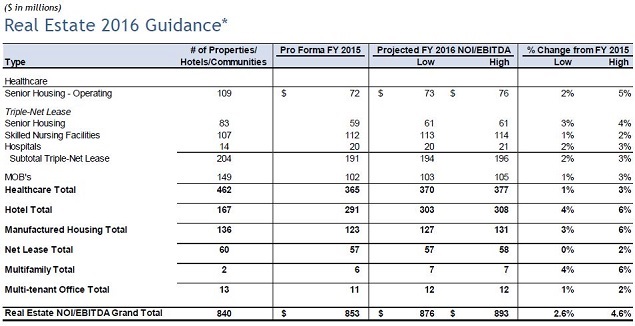 Management has guided to an increase in overall portfolio NOI of 3.6% at the midpoint. It appears that NOI growth at the property level is slowly headed in the right direction.
Land & Buildings - NSAM Update
On February 29, Jonathan Litt's REIT activist hedge fund sent an open letter to NSAM management, here are the bullet points:
Land and Buildings Delivers Letter to NorthStar Asset Management Lead Independent Director Seeking Immediate Structural Changes to the Board

- Deeply disappointed with the lack of any credible update about the strategic alternatives process at NSAM -

- Believes egregious and blatant conflicts of interest exist at NSAM and NRF, including potential for management to earn up to $391 million upon a change of control -

- Calls on Judith Hannaway, Lead Independent Director of NSAM, to immediately add new independent directors to the NSAM board and form a committee of independent directors and advisors to lead the evaluation of strategic alternatives -
Here is an excerpt, which helps to put the recent NRF share awards to NorthStar management into perspective.
"In our view, NSAM suffers from egregious and blatant conflicts of interest, as its management could earn up to $391 million1 upon a change of control, including a change resulting from a recombination with NRF. This conflict of interest is even more alarming considering that management has two seats on the NSAM and NRF boards. Although NSAM is only responsible for approximately half this payment, the total payment is still outrageous considering NSAM's disastrous shareholder total returns since the NRF spin. Are shareholders to believe that the same independent directors who approved this change of control provision, and paid Chairman, David Hamamoto, $75 million in 20143 are seeking to maximize shareholder value for all shareholders now?"
In NorthStar's letter response, it was clear that there will be a lot of legal fees being spent in the boardroom. Particularly telling was that each of the "independent directors" were getting representation by different legal counsel.
"As announced on January 11th, the NSAM Board of Directors which consists of eight directors, six of whom are independent, began a process with the support of outside financial and legal advisors to explore strategic alternatives. That process is well underway and includes three NSAM independent directors who are not on the board of directors of NorthStar Realty Finance Corp. ("NRF"). These three independent directors have engaged separate independent legal advisors to bolster a process focused on maximizing shareholder value." (The emphasis is mine).
The letter response, unsurprisingly, also denigrated Land & Buildings claims:
"Further, the letter from L&B contains significant factual errors and is merely an attention-grabbing tactic for an ill-conceived proxy campaign. For example, L&B grossly overstates the amounts involved under a potential recombination with NRF and further falsely implies that a recombination transaction would trigger cash severance payments."
NorthStar Realty investors must remain vigilant, because there does not appear to be a working "ethical or moral compass" in the NSAM boardroom. However, there will be no shortage of high-priced legal opinions, and related expenses.
NorthStar Realty Europe - NAV Update
Many NorthStar Realty Finance shareholders received NRE shares in a spin-out at the end of October 2015.
Since the spin, NRE shares have traded in a range of $7.81-$15.78 per share.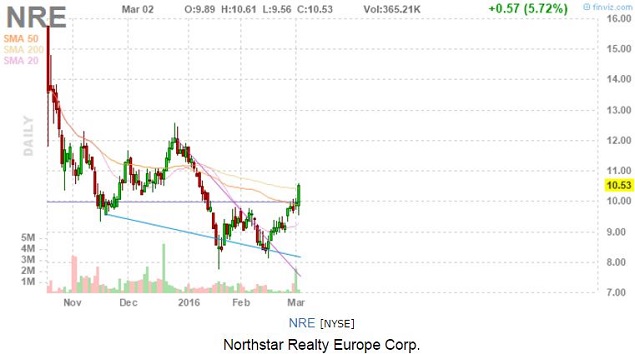 As of this writing, NorthStar management just announced the results from a Cushman & Wakefield appraisal conducted of NRE assets:
NRE portfolio valuation to be about $2.6 billion, representing an 11% increase over the original purchase price, and implying an NAV of $1.1 billion, or $18 per share.
Based upon the recent close of $10.53 per share, this would imply that the NRE shares are ~70% undervalued.
CEO Mahbod Nia indicated that management is looking at strategic alternatives to help boost the NRE share price.
Notably, in December 2015, NRE sold three non-core properties and agreed to sell another, for an aggregate sale price of $26 million. This represents a 29% premium over the price which NorthStar originally paid for the assets.
Many investors have ignored the NRE "stub." One reason is that these shares - in a similar fashion to European listed REITs - have a much lower distribution vs. the NRF shares. The NRE shares currently yield 6%.
Given the stated willingness to pursue M&A or other strategic options, value investors may want to consider these NRE shares.
Just keep in mind that job creation is what fills office space, and there is already significant vacancy in some of the properties. Some of the leases are of short duration.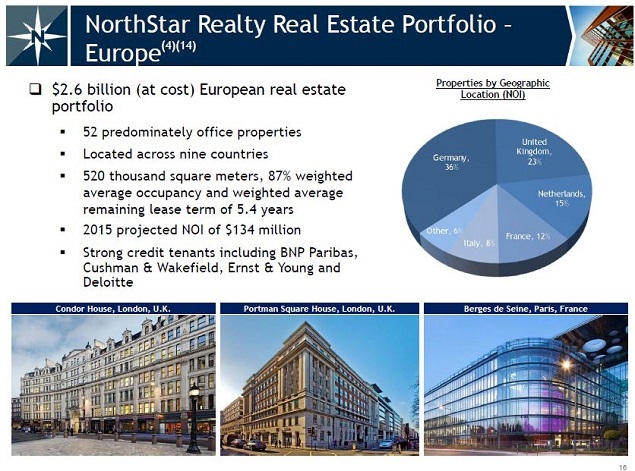 Source: November 2015 presentation
The 29% premium is net of any FX headwinds, and the slow GDP growth/high unemployment in many European countries.
Just One More Thing…
In case you missed this article, Scott Rechlers Australian REIT Preparing To Exit NYC Suburban Office Markets, it makes interesting reading regarding the value of multi-tenant suburban office assets.
Luckily, NRF only owns about a dozen of these types of assets - plus any remaining private equity and/or RXR partnership exposures.
Investor Takeaway
I think as an investor, it would be more conservative to knock off about 20%, or $5.14 per share from management's $25.69 base case NAV.
This would help account for asset disposition costs and fees given the NSAM external management environment.
That still leaves a $20.55 share price as a realistic 12-month price target, which implies a $7.50 per share price appreciation from here, or 57.5% upside. Combined with the forward yield of 12.5% for NRF shares, this implies a potential 12-month total return of 70%, based on the $13.06 close.
Caveat: Just don't expect to make those kind of returns without some additional aggravation along the way - as the devil absolutely remains in the details.
Disclosure: I/we have no positions in any stocks mentioned, but may initiate a long position in NRF, NRE, NSAM over the next 72 hours.
I wrote this article myself, and it expresses my own opinions. I am not receiving compensation for it (other than from Seeking Alpha). I have no business relationship with any company whose stock is mentioned in this article.