I attended undergrad at one of the nation's more so-called "liberal" schools, San Francisco State University. Some of my fondest memories center on the rivalry, for want of a better word, between the College of Business and the College of Behavioral and Social Science.
You could tell that business students hated taking general education courses in the behavioral and social sciences. That came through most clearly in philosophy, sociology, social work, urban poverty and touchy-feely psychology classes. The business students wanted no part of the "useless crap" we learned in those disciplines. They just wanted to fulfill requirements so they could get into Berkeley's MBA program or somesuch.
Admittedly, social science geeks, serious psychology majors and even the more politically-active policy wonks dreaded business class. For them, a George Bush fundraising rally would have represented better time spent.
Many of us, particularly those headed to graduate school, considered ourselves embarked on a more righteous endeavor than business students. We were making proper use of education, broadening our minds and learning how to think out of the box. Business students were being fed laws that would bring no positive impact to the world and maybe not even apply outside of a classroom. As I have grown older, I have backed off of this rather pompous view of academia and an MBA's place in it. Of course, it's all about perspective. Plus, business students often turned that pompous argument around on us.
I've always been fascinated by the relationship between the two schools of thought. There's truly a social/behavioral science camp, a business school camp and then, bouncing somewhere between the two, the computer science and hard science "nerd" camp. If you consider the qualitative aspects of companies as well as investing, attention to the different views of the world each camp brings - and how they interact and impact one another - helps inform your thought process and decisions.
My recent, and possibly most well-received, Seeking Alpha article to date, Why Apple Should Not Pay A Dividend (Or Do Anything Else Incredibly Stupid), got me thinking along these lines. So many of the arguments for an AAPL dividend come straight out of business school. Here's a small sampling and my retort, which completes the table setting for this article: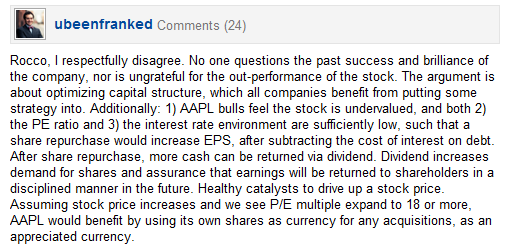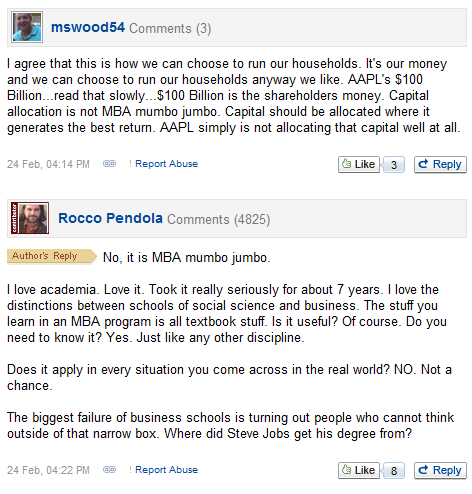 Interestingly, Apple (NASDAQ:AAPL) founder Steve Jobs did not have an MBA. Neither does Jeff Bezos from Amazon.com (NASDAQ:AMZN). Same goes for Mark Zuckerberg at Facebook (NASDAQ:FB), Bill Gates from Microsoft (NASDAQ:MSFT), Michael Dell from Dell (NASDAQ:DELL) and Larry Page and Sergey Brin from Google (NASDAQ:GOOG).
That's an impressive list. You could argue - though Dell's time at the top was somewhat ephemeral - that these six companies represent the best America has to offer over the last 15 or so years. Throw a guy like Reed Hastings from Netflix (NASDAQ:NFLX) into the mix and you have another person, without an MBA, who changed the way we do things in some incredibly creative way.
Person
Education
Stock Performance, Since 2000
Steve Jobs
Dropped Out - Reed College
AAPL + 1,748%
Jeff Bezos
Elect Eng and Computer Sci degrees - Princeton
AMZN + 158%
Mark Zuckerberg
Dropped Out - Harvard
FB, Not yet public
Bill Gates
Dropped Out - Harvard
MSFT - 44% (1990 to 2000, + 9,279%)
Michael Dell
Dropped Out - UT/Austin
DELL - 62% (1997 to 2000, + 1,533%)
Larry Page
Computer Eng - U of Michigan
MS, Computer Sci - Stanford
GOOG + 463% (Since Aug '04)
Sergey Brin
Computer Sci/Math - U Of Maryland
MS, Computer Sci - Stanford
(On leave, PhD - Stanford)
XXXX
Reed Hastings*
Math - Bowdoin College
Computer Sci - Stanford
NFLX + 1,382% (Since May '02)
A couple of interesting notes from that chart that apply to this discussion. First, a quick one on Hastings. I put an asterisk next to his name for a reason. He is a visionary desperately in need of a great business person to save him from himself. Zuckerberg, who brought in a strong COO, Sheryl Sandberg, gets this. You're not going to navigate a business all that well without business people helping run the show. Even Steve Jobs knew this.
Browse through Apple's executive team. CEO Tim Cook, CFO Peter Oppenheimer and SVP/Operations Jeff Williams all have MBAs and backgrounds with companies ranging from IBM (NYSE:IBM) to ADP. They're integral to Apple's success, but without Jobs and the people with educational pedigrees that look more like what's on that chart - SVP Internet Software/Services Eddy Cue, SVP iOS Software Scott Forstall and SVP Industrial Design Jonathan Ive - Apple simply would not be Apple.
Amazon reinvented retail, Dell turned the way consumers purchase(d) computers on its ear and Microsoft and Google raise(d) the eyebrows of government regulators not because of the great MBAs they employ, but because of Bezos, Dell, Gates, Page and Brin. I love that chart because it shows the handing off of the torch from the old guard to the new. Dell and Microsoft were all that up until 2000 before the new crew of innovators came in, took over and generated massive shareholder returns or, in Facebook's case, set the stage for what might be the most highly-anticipated IPO of all time.
Each company, including Netflix, changed the world, the way we live in some aspect of our lives and/or business in profound ways. And they all did it on the backs of visionaries, not MBAs.
It's a bit like a great hockey team. Talk to Wayne Gretzky, he'll tell you that he could not have won Stanley Cups in Edmonton without players like Paul Coffey, Mike Krushelnyski, Charlie Huddy and Kevin Lowe. Guys that played a role and allowed Gretzky to be Gretzky. I mean no disrespect to those four guys or anybody else who played on those great Oiler teams, but lots of guys have come through the league who have been as good as Coffey, Krushelnyski, Huddy, Lowe and even Mark Messier and Jari Kurri. Lots of guys like them will continue to come through the league. Guys like Gretzky, however, they're few and far between.
You need a system, but, generally, hockey teams and companies, who rely on the system lack the dynamism and staying power of an Apple. In hockey, the Detroit Red Wings provide what might be the lone exception in modern times. Hockey teams (see the New Jersey Devils) stacked with strong role players who, for all intents and purposes, go by the book, tend to have short shelf lives, at least when it comes to excellence. The same goes for the truly great, game-changing companies of our time.
And don't loosely toss the word "great" around like sports fans often do. I am talking about companies who created new spaces, transformed old ones and, in the process, made profound impacts in meaningful areas of our lives and/or in business. You can compare few companies, in those areas and in terms of innovation and shareholder returns, to the seven I listed. I'm talking either consistently great companies or game changers, not merely consistently good companies you should be happy to have owned stock in.
Entrepreneurial spirit, perpetual start-up culture, doing things differently than anybody had ever done them before (e.g., bringing new "inventions" to market) - these are the things that drive companies such as Apple. As I noted in the article arguing against an AAPL dividend, if you start chipping away at these things, companies like Apple run the risk of dying an, albeit slow, death. Or maybe death will come soon. It's tough enough to keep up the clip that these companies were/are able to keep up for as long as they did/have even without messing with their culture.
Netflix may fail because Hastings does not know how to run a business day-to-day, but it would not have come to fruition and reached its peak without Hastings. Netflix was able to succeed without a line-up of strong tried-and-true business people. Former CFO Barry McCarthy and current CFO David Wells both have MBAs. Most of the rest of the players, including co-founder Marc Randolph, all have educational backgrounds that look more like those of Hastings, Jobs, Bezos, Zuckerberg, Gates, Dell, Page and Brin.
All of that said, there's nothing wrong with having Tim Cook, an MBA, as the CEO of Apple. He just has to be incredibly careful to keep the things he learned in school in check. In other words, they need to maintain their proper place within the company, just as they did over the years after Jobs came back and turned Apple into what it is. That's what people mean (even if they do not realize it themselves) when they say Steve Jobs' "spirit will forever be the foundation of Apple."
When Cook writes those words, I have confidence that he "gets it," that he understands what they mean. He's certainly not going to go for cockamamie ideas like starting a video subscription service, purchasing expensive content or buying out a company like Yahoo (YHOO). Hopefully, he'll be reluctant to succumb to the idea of doing the things that come straight out of MBA textbooks like making "effective use of capital."
Apple does make effective use of its capital. They just do things - everything - differently. In the words of Bruce Springsteen, Apple learned more from a three-minute record than it ever learned in school.
Once Cook starts doing things the MBA way like most other companies on Earth, he erodes Apple's culture. For all intents and purposes, he "jumps the shark" by employing "some type of 'gimmick' in a desperate attempt to keep viewers' interest." Apple does not require gimmicks (never has), it's far from desperate and it needs to do absolutely nothing to keep its shareholders happy or maintain their collective interest. All it needs to do is fight like hell to ensure that the ideas of college drop-outs and computer science and industrial design geeks keep flowing without even the hint of an obstacle being thrown in their way.
Disclosure: I am long AAPL.
Additional disclosure: I am long NFLX June $40 put options.