With 2016 beginning with a huge sell-off in emerging markets, junk energy bonds, and US bank stocks, it is now more than ever critical to fortify your stock portfolios with value stocks. It has been four months since the last update to the Value Portfolio (yet another period with value stocks outperforming the overall stock market!), so it is time to measure performance. This article will evaluate portfolio performance since the last publication in November and provide suggestions for establishing new value stock positions.
Value Portfolio Performance
The Value Portfolio is an equal-weighted quantitative selection tool for the top ten stocks in the Dividend Champions List. Recall from the last rebalancing period for the Value Portfolio in November, there was tremendous market uncertainty and volatility at that time. The quantitative model selected the following top value-ranked companies:
Below is a table showing how each stock performed since the market close 11/09/15 (note this analysis does not assume re-invested dividends in the total return). The Value Portfolio is measured by comparing its total return performance to the ProShares S&P 500 Dividend Aristocrats ETF (BATS:NOBL) and secondarily the Vanguard Total Stock Market ETF (NYSEARCA:VTI).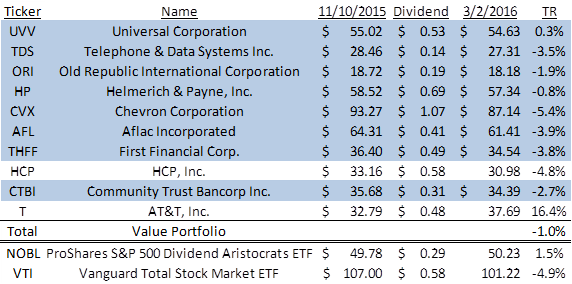 Source: Finviz.com 3/2/16
As you can see, the Value Portfolio had a difficult, but not bad quarter with a (1%) average total loss. Over this same period, the Value Portfolio outperformed the overall US market measured by VTI by nearly 4% points, but it underperformed NOBL which managed a 1.5% total return over the same period. This is a concern, but not the end of the world! The Value Portfolio is still outperforming both passive benchmarks through its first active year on Seeking Alpha.
The Value Portfolio's largest loser over the most recent period was CVX, hampered by ample global crude supplies and slowing emerging market demand. The recent addition of T was the best performer, with over a 16% return despite missing its revenue target in last quarter.
Now with over 12 months of realized returns, and 40% stock turnover in the portfolio (4 stocks sold and replaced over first 3 articles), the Value Portfolio has realized a total market return of 10.2%. This is great especially considering NOBL was virtually flat, while VTI suffered a 5.2% decline over the same time period.

Source: Own compiled 3/2/16
Assuming a hypothetical investment of $100,000, the cumulative account values are displayed in the next chart: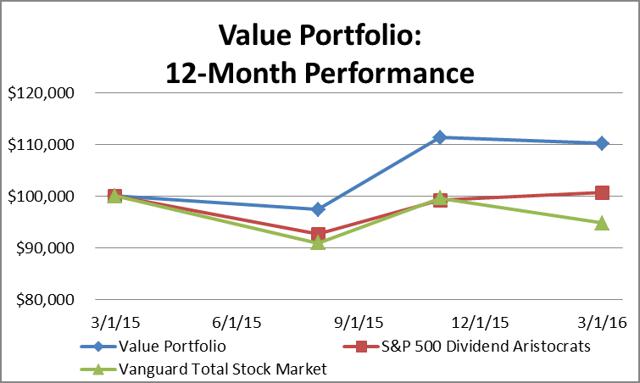 Source: Own Compiled 3/2/16
March 2016 Value Portfolio Update
Using the quantitative ranking model and data as of market close 3/2/15 via FINVIZ, the top ten results of the 100 stocks in the Dividend Champions list is presented below. While the rankings within the top ten have changed, this time around, only one change is made from the prior list. Archer-Daniels-Midland (NYSE:ADM) is added back to the Value Portfolio list, replacing AFL.
The final table below provides the key variables used in weighting the stock selection and how the portfolio compares to the 100 Dividend Champion stocks considered. The mean earnings yield per share and book-to-price ratio are 5.7% and 86% which shows a slightly better value rating compared to a total Dividend Champions list with an average 4.5% earnings yield and 38% book value coverage.
By choosing stocks with much more conservative valuations relative to book value, but half the five-year revenue growth rate than the average market, the Value Portfolio is expected to return 10.2% points better than the median stock on the list or 13.6% annualized. With that said, given the strong outperformance of many of the stocks in the portfolio, I would be use caution adding to existing positions in these stocks at current price levels. A median historic earnings yield below 6% for a value stock portfolio is dangerously low, yet this is mostly a symptom of overall market levels being absolutely high.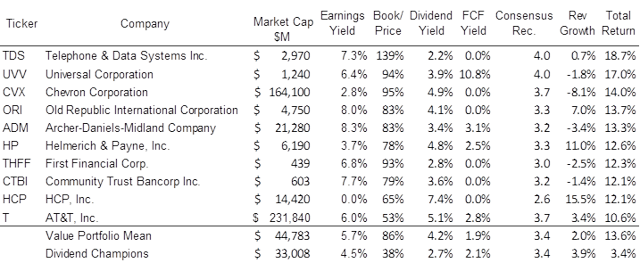 Source: Finviz.com 3/2/16
While this simple model is useful to remain objective and help uncover unsexy stocks, I cannot say I will pick the winners going forward. Having squeaked out a positive differential return over the market is something, being able to do so over the long run is the ultimate challenge.
One important watch out in this portfolio approach is that it is overweight a few sectors which could be costly at the wrong time in the business cycle. CVX, HP, and ADM (and UVV) are clearly impacted by the commodity super cycle bust and slowdown in China. It would never be prudent to allocate 40% of a portfolio to commodities and raw materials. Further T and TDS are in a highly competitive environment in a developed market with declining margins.

With these diversification concerns addressed, I will still evaluate the entire portfolio performance and report the findings either way. My aim in presenting this approach and the post mortem performance is a helpful exercise and it gives investors some more objectivity in their value screening process.
For value investors out there, please share with me some of your value screening criteria and techniques as I am always looking for refinement in my approach.
Appendix Item: The Value Portfolio Model
For brevity I omitted the details behind the model that was fitted. Below is a summary:
I developed and fitted a model for quantitative asset selection that identified the top 5 most likely to outperform within the Dividend Aristocrats group and in March 2015 adapted it to cover the Dividend Champions list. By using this group, concerns of company size, dividend stability, and earnings consistency were reduced by looking at this small subgroup of companies in the stock universe with similar attributes. Without getting too technical, the model accounted for a few simple fundamental value metrics such as book-to price ratio, trailing 12-month earnings, dividend, and free cash flow yields, sales growth rate, and average consensus analyst ratings.
Stocks were ranked based on the fitted formula and portfolios evenly holding the top 10 stocks were constructed and entered the Value Portfolio. The model was fitted in 2008 and rebalanced quarterly. The out of sample performance was evaluated and rebalancing occurred quarterly for 11 periods starting in 2009.
For more detail on this, see my full article at the Value Portfolio. Below are the model parameters used for estimating the next period's expected total return. The stocks are then ranked by largest total return forecasts. Looking at the coefficient, essentially an increase in any of the factor values has a positive impact on expected total return.
| | |
| --- | --- |
| Factors | Coefficient |
| Constant | (11.14) |
| Earnings Yield | 0.55 |
| Book/ Price | 14.87 |
| Dividend Yield | 1.65 |
| FCF Yield | 0.25 |
| Consensus Recommendation | 0.39 |
| Revenue Growth | 0.02 |
Disclosure: I am/we are long AFL, VTI.
I wrote this article myself, and it expresses my own opinions. I am not receiving compensation for it (other than from Seeking Alpha). I have no business relationship with any company whose stock is mentioned in this article.