The consensus is starting to embrace the idea that the economy is gaining strength, perhaps in sympathy with the rebound in the stock market, but the vital signs tell a different story.
The durable goods report is as key leading indicator of economic activity. It shows the strength in new orders received from an approximate 4,000 manufacturers in more than 85 industries of higher-priced goods that have a useful life of three years or more. These are items purchased by consumers and businesses such as cars, appliances, computer equipment, as well as trains, planes and industrial equipment.
The reason we value this report so highly is that when consumers and businesses start to lose confidence in the strength of the economy, they typically hold off on purchases of higher-priced items first. Changes in the rate of growth for durable goods orders lead to changes in the rate of industrial production, which ultimately impacts job growth.
The Commerce Department reported a surged 4.9% in January, reversing December's revised decline of 4.6%. The news was widely received as a strong indication that the worst of the manufacturing downturn might be over. In another version of the report that identifies how much businesses are spending on new equipment, otherwise known as capital expenditures, orders for non-defense capital goods excluding aircraft rose 3.9% in January. If this sounds like it could be a turning point for the manufacturing sector, take a look at the chart below and you will see similar supposed turning points in March, June and October of last year. They didn't amount to anything, as durable goods orders declined 2.9% for entire year of 2015. These month-over-month data points are worthless. We have to focus on the year-over-year numbers to identify trends.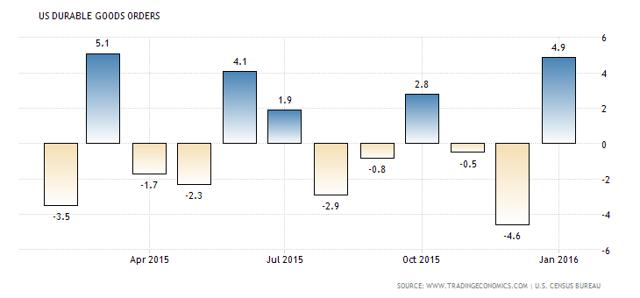 When we look at the year-over-year change in non-defense capital goods orders excluding aircraft for January, we see a decline of 2.8%. This is a weakening trend for this closely watched proxy for business spending plans, as can be seen below.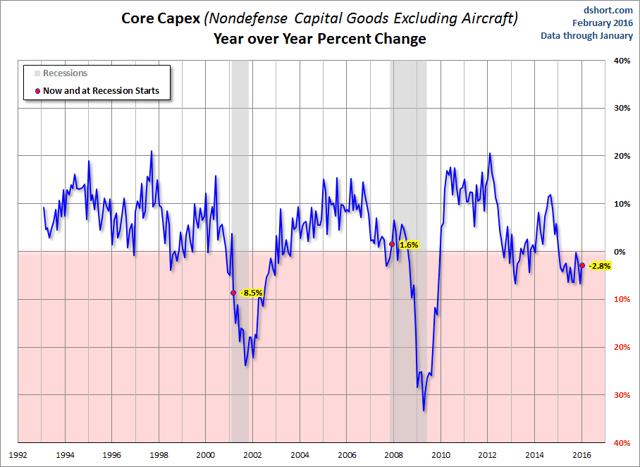 The Bureau of Economic Analysis upwardly revised its initial estimate of .7% for economic growth in the fourth quarter of 2015. It now estimates that the US economy expanded at a rate of 1%. This was also received as positive news by economists and the financial markets. There will be a second revision next month, followed by a final number reported in July.
While the GDP report is clearly one of the most lagging indicators in the series that we follow, it is closely scrutinized as the ultimate scorecard for economic growth. It can be useful in terms of telling us what parts of the economy are contributing to growth and what parts are not. On that score, this revision was troubling. The upward revision was almost entirely a function of businesses having more inventory on hand than previously thought, which is a drag on future growth, because it means that businesses will not need to increase production as much to meet demand. At the same time, demand was weaker than previously estimated. The rate of consumer spending growth was revised down from 2.2% to 2% as a result of waning demand for durable goods. Higher inventories and weaker sales figures do little to resolve the business inventories-to-sales ratio that can be seen below.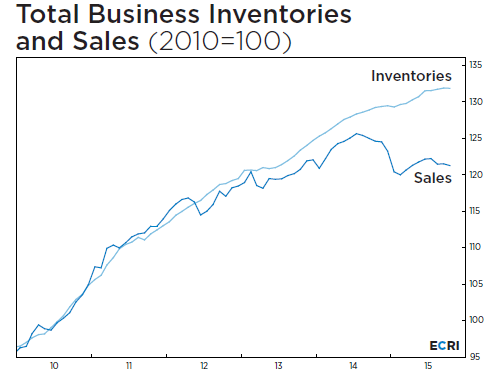 We much prefer to look at the economic growth figures on a year-over-year basis to determine trend. Accounting for the upward revision to the fourth quarter of last year, the rate of growth has slowed from 2.9% to 2.7% to 2.1% to 1.9% over the past four quarters. We are moving in the wrong direction and the contributing factors to the most recent revision don't help.
The Commerce Department reported that personal spending and income both rose by .5% in January, handily beating expectations. Spending was clearly influenced by a significant uptick in services, as much colder temperatures led to a surge in utility use. The increase in the minimum wage in 14 states also bolstered the January income figures. These data points are positive, as they portend strength in the consumer spending that accounts for 70% of overall economic growth, yet they are just monthly figures. The rates of growth in both consumer spending and real average hourly earnings over the past year continue to point downward. It is the trend that impacts confidence.
Consumer confidence fell in February to its lowest level in seven months, as more Americans were concerned about business conditions and their personal financial situations. This is corroborated by Markit's service sector business activity index, or services Purchasing Managers Index, which contracted in February after 27 months of consecutive growth.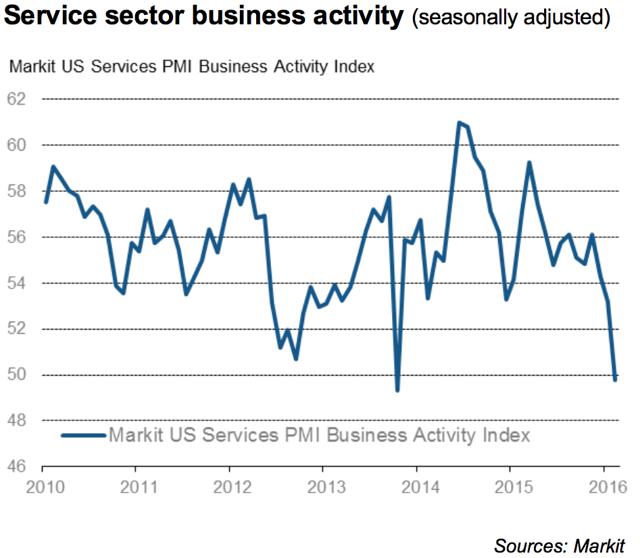 The businesses that sell services to the consumer, which are a significant percentage of overall US economic growth, are telling a much different story than the headline numbers for durable goods, GDP and personal spending. While we saw some green shoots in the month of January, there was nothing evident to reverse what has been a gradual decline in the rate of growth.
Disclosure: I/we have no positions in any stocks mentioned, and no plans to initiate any positions within the next 72 hours.
I wrote this article myself, and it expresses my own opinions. I am not receiving compensation for it (other than from Seeking Alpha). I have no business relationship with any company whose stock is mentioned in this article.