Over the past two months, we have been inundated by quarterly reports. I always appreciate this time of the year as you can read about fundamentals instead of reading alarmist front pages of newspapers. I've selected 6 companies that are not only strong dividend payers, but also announced dividend increases in their most recent quarterly reports.
3M Co (NYSE:MMM)
Current Yield: 2.79%
Increase: +8.29%
Source: Ycharts
3M Co has increased its dividend by 8.29% to $1.11/share quarterly. This is a very good increase, but still smaller compared to their previous raises:

Source: Investor presentation
Management is more cautious with a slower economy ahead. Back in September 2015, I expected a future dividend growth rate of 8% (read my SA article here). I think the company can sustain such a growth rate for several years considering their payout ratio at 53%.
Why buy MMM now?
Since the company's sales are composed of consumable products (greater than 50%), we are currently looking at a real money printing machine. In 2015, the company focused on what is controllable; margins and streamlining their business model. The company is currently in the middle of a 5 year plan to improve its R&D processes and manufacturing throughout the world. They are positioning themselves to benefit from the next economic growth cycle. The company is well diversified and while the industrial market is currently slowing down, the consumer and healthcare divisions are compensating.
Canadian National (NYSE:CNI)
Current Yield: 1.81%
Increase: +20.00%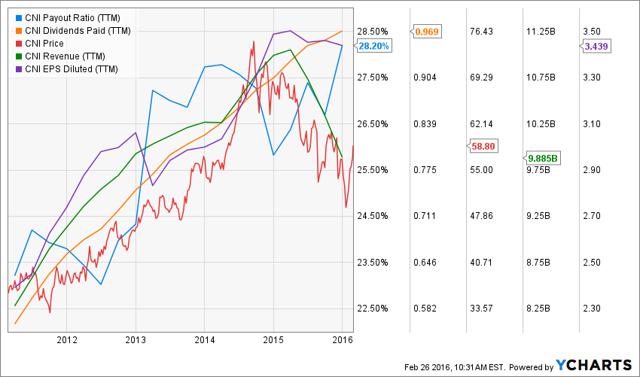 CNI has seen its stock price drop even faster than its revenue over the past two years. The company is currently struggling to realize their growth potential as many of its business sectors are slowing down (coal, fertilizer, intermodal, energy and metal resources). However, this hasn't slowed management's motivation to massively increase the company's dividend year after year: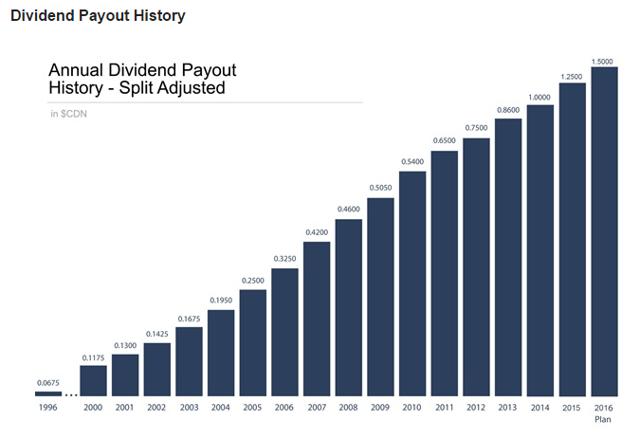 Source: CNI website
You can definitely forgive a lower dividend yield when your payments have doubled faster than every 5 years since 2000. This is without considering a very low dividend payout ratio of 28%.
Why buy CNI now?
Railroads are cyclical and we are currently in a down cycle. This is the perfect moment to enter into a position in such strong company. Canadian National is first of its class in terms of operating margin. In fact, CNI shows an operating margin of 54% while all its peers are over 60%. This makes CNI the perfect cash flow generator. After looking at 4 different railroads in a previous article, CNI appears to be the first pick of its industry. The company will continue to raise its dividend during a tougher economy and the stock price will eventually rise once oil prices bounce back.
BlackRock (NYSE:BLK)
Current Yield: 2.90%
Increase: +5.05%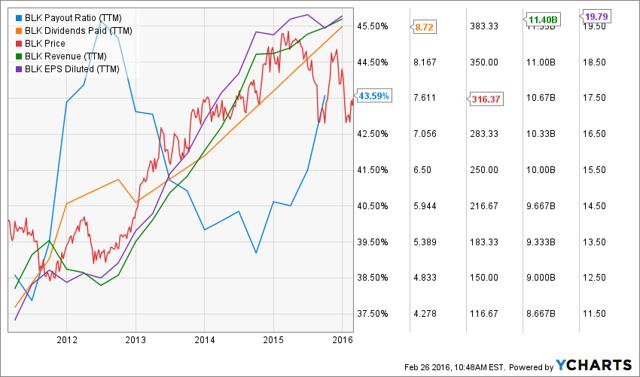 While BlackRock stock price is bouncing up and down since the beginning of 2015, both revenues and earnings are pointing higher.
Why buy BLK now?
BLK benefits from its leadership position in its industry and offers many investment products for equity and fixed income investors. Being the largest asset manager in the world protects its economic moat. Now that the Department of Labor is advancing with laws forcing lower investment management costs in the future, companies with a strong moat in the ETF product arena, like BLK (iShares), will most likely gain market share. BLK benefits from both a solid base insuring more dividend growth and is open to other growth opportunities making it a strong growth stock. BLK meets my 7 investing principles.
Hasbro (NASDAQ:HAS)
Current Yield: 2.66%
Increase: +10.87%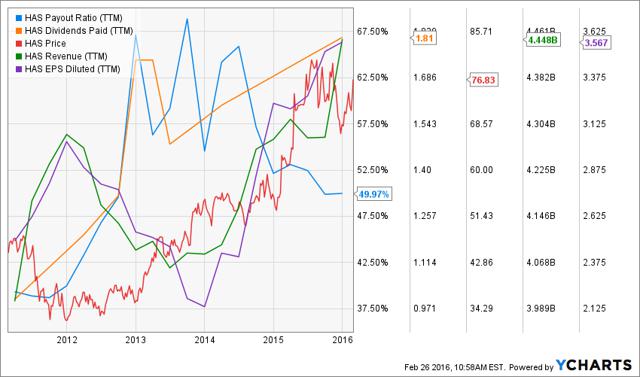 For some strange reason, Hasbro isn't the most popular dividend stock. In fact, we can tell that it's not the kind of company that makes the news all the time. However, slowly but surely, HAS is taking a bigger place in the toy industry. The company posted solid revenues and earnings since mid 2013. At the same time, the dividend payment CAGR over the past 5 year is slightly over 13%
Why buy HAS now?
Hasbro has recently positioned itself in an enviable position with its Disney (NYSE:DIS) partnerships. They were awarded the licensing contract for the Frozen and Star Wars movies. Hasbro will benefit from several blockbusters in the upcoming years as they will make various toys linked to the most popular movies. Cash flow will continue to improve and as a result the dividend payment as well.
Intel (NASDAQ:INTC)
Current Yield: 3.46%
Increase: +8.33%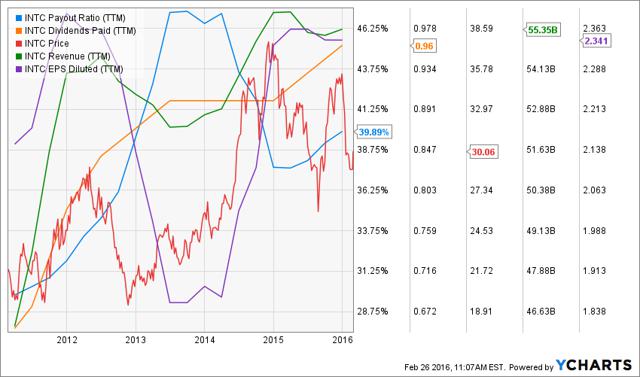 Over the past 5 years, the dividend growth shows an impressive 8.79% CAGR. It is without any surprise that the company continued its "tradition" with another increase of 8.33% recently. For some reasons, INTC seems to be benched by Wall Street forever with a relatively low PE ratio of 12-13. It seems INTC is destined to remain a value trap.
With a 8% dividend growth for the first 10 years and then 6% the stock seems to be traded at fair value (using a 10% discount rate).
Calculated Intrinsic Value OUTPUT 15-Cell Matrix

Discount Rate (Horizontal)

Margin of Safety

9.00%

10.00%

11.00%

20% Premium

$48.07

$35.84

$28.51

10% Premium

$44.07

$32.85

$26.13

Intrinsic Value

$40.06

$29.87

$23.76

10% Discount

$36.06

$26.88

$21.38

20% Discount

$32.05

$23.89

$19.01
Source: Dividend Monk Toolkit Excel Calculation Spreadsheet
However, here are some reasons why the stock price could go higher from this point. The development of the internet of things along with the ever increasing cloud industry show an interesting direction for INTC in the years to come.
Why buy INTC now?
The first reason to buy INTC now is definitely to benefit from a steadily increasing dividend payment in a volatile market. The recent stock price drop brings the yield close to 3.5% and makes it even more interesting. The company is gradually shifting its business from chips (a market they own at 80%) to the internet of things (how all our devices communicate amongst themselves). Since we buy more and more things that are connected (cell phones, domotics, computers, cars, etc), this could be a real growth factor for the company for the years to come. In the meantime, you can enjoy a solid dividend.
Genuine Parts (NYSE:GPC)
Current Yield: 2.89%
Increase: +6.91%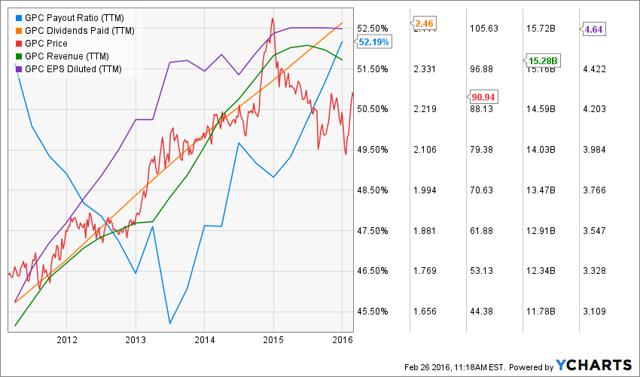 This is without any surprise that GPC increased its dividend for a 50th consecutive years by 6.91%. By the nature of its business model (selling auto parts is quite a renewable business), GPC has built a strong type of money making machine. Its growing business model through acquisitions has been proven to be successful. The auto part market is still fragmented enabling more growth opportunities for GPC in the future. Since the company is able to create synergy from each acquisition, this only leads to more cash flow creation.
Why buy GPC now?
While the auto part industry will continue to ride alongside US automotive growth, the industrial segment will benefit from the growing US GDP. You can buy GPC for its strong dividend growth as it continues to show potential. The company is able to grow both from internal sources and through acquisitions. The low interest rate environment improves acquisition terms and facilitates GPC's crusade to grow ever bigger. The stock price is currently stagnating in the $90s while the dividend continues its ride to new highs. Conservative investors will be well served with such a solid company.
Final Thoughts
I think the main point to realize when looking through these companies is that there are several healthy companies in this volatile market. While many investors worry about what could possibly happen, many companies continue to generate strong cash flow and reward investors with higher dividend payments.
From the above mentioned list, my favorite pick is probably CNI considering the fact the stock is trading at a lower PE ratio, the company is first of its class in many aspects and the strong dividend increase perspectives.
Disclaimer: The opinions and the strategies of the author are not intended to ever be a recommendation to buy or sell a security. The strategy the author uses has worked for him and it is for you to decide if it could benefit your financial future. Please remember to do your own research and know your risk tolerance.
Disclosure: I am/we are long BLK, CNI, DIS, GPC, HAS, INTC, MMM.
I wrote this article myself, and it expresses my own opinions. I am not receiving compensation for it (other than from Seeking Alpha). I have no business relationship with any company whose stock is mentioned in this article.