"Everything of importance has been said before by somebody who did not discover it." - Alfred North Whitehead
I've been tracking Japan intently since the Bank of Japan decided to follow in the Federal Reserve's footsteps to target inflation and wanted to bring up an important point for those who are of the opinion (as I am) that Japan's stock market may begin to outperform. First, let's go over the reasoning. A few weeks back the Bank of Japan not only expanded its asset purchases (their own form of Quantitative Easing), but also explicitly stated that they wanted to achieve 1% inflation. The policy change may be just enough to get animal spirits in Japan's markets moving again, as it could result in increased inflation expectations in the world's third largest economy.
The yen (NYSEARCA:FXY) has fallen hard since as expectations for further and more aggressive monetary easing are being priced in, with the Nikkei in yen terms responding nicely on the upside. Take a look below at the price ratio of the iShares Japan ETF (NYSEARCA:EWJ) relative to the S&P 500 (NYSEARCA:IVV). As a reminder, a rising price ratio means the numerator/EWJ is outperforming (up more/down less) the denominator/IVV.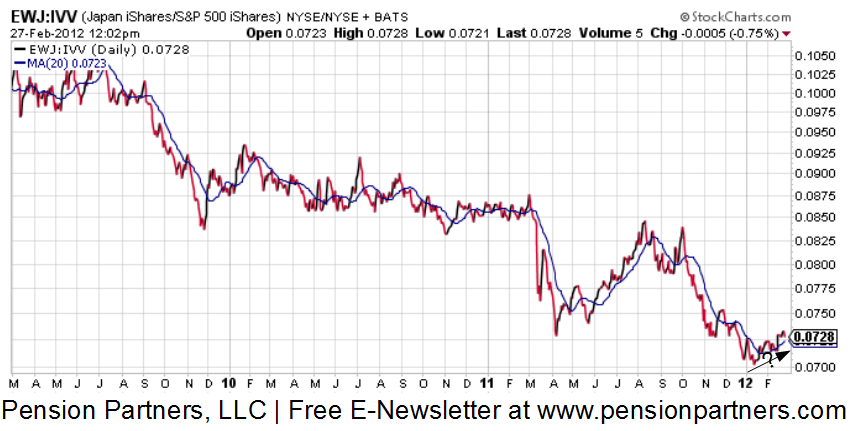 We can see a gradual period of strength seems to be setting into EWJ since the first few weeks of January, with much more potentially to go given how substantially Japan underperformed following the October low of 2011 in U.S. markets. The dilemma though with investing directly in EWJ (or any dollar denominated Japan proxy) is that Japan needs a weak yen to perform well given how export-sensitive the country is. A weakening yen actually would be a negative for dollar-denominator Japan assets - the currency impact negatively impacts returns. To counter this, you'd need to yen hedge the investment. What this means is that to really play Japan, you'd need to go long EWJ and simultaneously short the yen to counter the negative currency effect on the total return of the investment.
Disclosure: I have no positions in any stocks mentioned, and no plans to initiate any positions within the next 72 hours.
Additional disclosure: This writing is for informational purposes only and does not constitute an offer to sell, a solicitation to buy, or a recommendation regarding any securities transaction, or as an offer to provide advisory or other services by Pension Partners, LLC in any jurisdiction in which such offer, solicitation, purchase or sale would be unlawful under the securities laws of such jurisdiction. The information contained in this writing should not be construed as financial or investment advice on any subject matter. Pension Partners, LLC expressly disclaims all liability in respect to actions taken based on any or all of the information on this writing.