Flint will host the seventh primary debate for the Democrats on Sunday, March 6th. The obvious topic of debate will be the Flint water crisis, but the broader platform remains equality:
Equality in criminal justice (Black Lives Matter)
Equality of social welfare v. corporate subsidies
Equality for housing finance (Fannie Mae (OTCQB:FNMA)/GSEs)
Although Senator Bernie Sanders has made the broader platform his mantra, the specific call for recapitalization of the Government Sponsored Enterprises (GSEs) has been indirect. In contrast, he has been clear on criminal justice reform and received a recent endorsement from Erica Garner (the late Eric Garner's daughter).
Sanders has maintained a consistent platform dating back to his early Senator days; compelling government to give graciously to social welfare not just corporate subsidies (see C-SPAN video).
It is becoming harder to address the Flint water crisis and other concerns of equality without also addressing the needs of equal housing.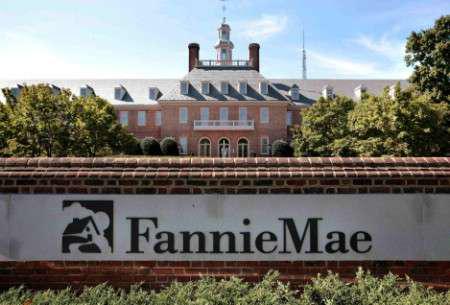 On February 4, 2016, Fannie Mae issued a comment in response to the Flint, Michigan water crisis:
We (Fannie Mae) feel for the community impacted by the unfolding issues related to Flint, Michigan area water quality...we stand ready to address the mortgage needs of the community as we learn more. - Andrew Wilson
NAACP Advocates for GSEs; Politicians Join Sentiment
Ben Jealous, the former president of the National Association for the Advancement of Colored People (NAACP), gave his endorsement to Bernie Sanders. The NAACP has further expressed its approval of Sanders via the 113th and 112th Congress Civil Rights Report Card. Both scores were an "A" or 100% for voting in support of their key issues.
The NAACP has issued multiple statements supporting the recapitalization and continued operation of the GSEs. In other words, for the GSEs to be released from the conservatorship. They have joined with the League of United Latin American Citizens (LULAC) and the National Community Reinvestment Coalition (NCRC) for a letter to President Obama. The letter calls for the GSEs to be released.
The Federal National Mortgage Association, aka, Fannie Mae, and the Federal Home Loan Mortgage Corporation (OTCQB:FMCC), aka, Freddie Mac are two GSEs that give billions of dollars each quarter to the U.S. Treasury. Since they are not allowed to keep net profits while under conservatorship, the anomaly makes it difficult to tabulate typical stock metrics. Further, the mortgage finance entities are at risk of termination.
Prof. Robert Reich Tweets Official Endorsement For Sanders
Robert Reich was the U.S. Secretary of Labor during President Bill Clinton's first term. Now a professor at UC Berkeley, it might seem that he would endorse Hillary. However, all implicit hints have been further confirmed with his tweet for Sanders: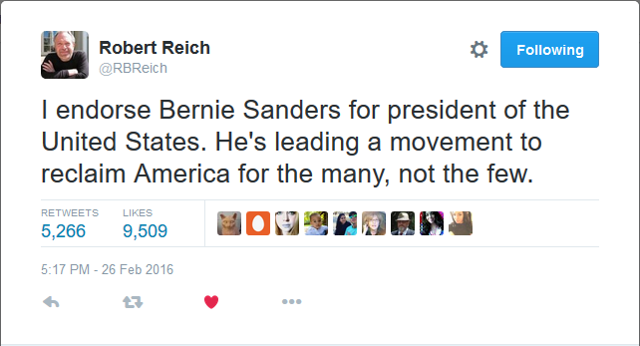 Active and accessible via social media, his Facebook page hosts many updates and video lectures. Reich's separate blog further reviews his take on the GSEs:
...84 percent of the subprime mortgages in 2006 were issued by private institutions, and nearly 83 percent of the subprime loans that went to low- and moderate-income borrowers that year. Why has Wall Street been pushing its lie, blaming the government (to include GSEs) for what happened? - Prof. Robert Reich
Whether Republican, Democratic or in between, the GSE stock analysis has been more political than fundamental finance. These political agendas have become the independent shareholders' concern.
The Net Sweep Equates To Pennies From Heaven
In September of 2015, an attempted hypothetical P/E metric of Fannie Mae showed the stock to have a low 1.07 if not for the Net Sweep. The GSEs have paid back more than the original federal cash draws and continue to hand over billions each quarter. However, due to a unique contractual clause (unlike any other)...
The dividends are the Treasury's free money; pennies from heaven.
…Enterprises drew a total of $187.5 billion from Treasury…the Enterprises paid approximately $241 billion in dividends to the Treasury Department…the Enterprises' dividend payments do not offset the amounts drawn. - Melvin Watt, FHFA Director
Conclusion
Whether Sanders wins the party selection or not, the platform for GSE recapitalization is likely to be carried forward due to the growing support. This could be the issue necessary to gain an edge against the Republican select.
Stock price would respond positively to new political coverage and rhetoric for recapitalization. This may appease a traders' appetite, but most "fanniegate" trackers are aiming at long-term horizons.
The recapitalization of Fannie Mae and Freddie Mac ought to be a two-party interest. Further, it ought to be based on stock fundamentals and basic jurisprudence. However, this has yet to be the case. Assessing risk for long-term investment on the stock remains unconventional and appears volatile.
Disclosure: I am/we are long FNMA. I wrote this article myself, and it expresses my own opinions. I am not receiving compensation for it (other than from Seeking Alpha). I have no business relationship with any company whose stock is mentioned in this article.
Editor's Note: This article discusses one or more securities that do not trade on a major U.S. exchange. Please be aware of the risks associated with these stocks.