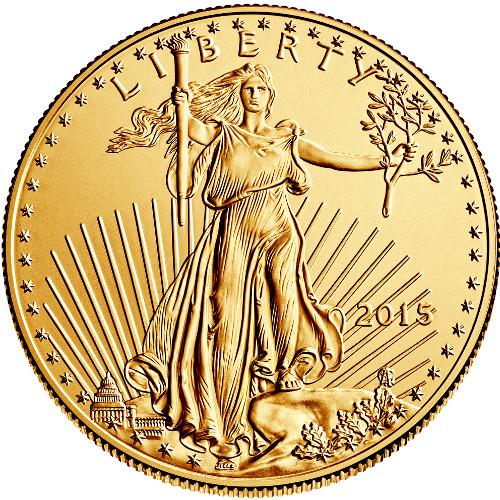 The recent performance of the gold miners - GDX - and gold bullion ETFs - GLD - has been remarkable. As I explained in "Civilized People Should Buy Gold," from 2012 through 2015, western investors had largely abandoned gold as an investment. Physical gold continued to be accumulated in Asia. Since the beginning of 2016, gold has rallied strongly. Many attributed the recent price action to fear in the equity markets.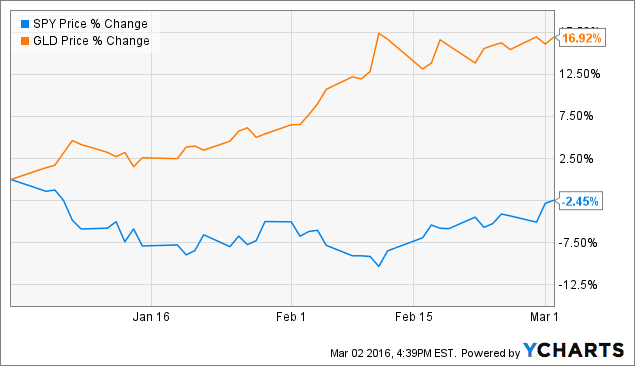 SPY data by YCharts
Above is a year-to-date chart of the GLD vs. the SPY. As the stock market - SPY - recovers from its recent lows, and fear subsides, should we trim our gold position?
Fundamental Review
There have been some subtle improvements in the economic outlook that have justified the S&P 500's recovery from the perspective of the US investor. Our job data continues to average an increase of 200,000 jobs each month.
The ISM manufacturing data published yesterday, after months of serial declines, was a little better than expectations.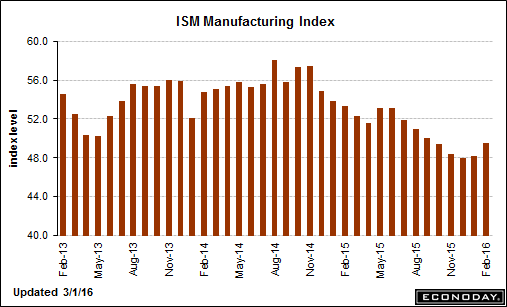 The ISM manufacturing index (formerly known as the NAPM Survey) is constructed so that any level at 50 or above signifies growth in the manufacturing sector. A level above 43 or so, but below 50, indicates that the U.S. economy is still growing even though the manufacturing sector is contracting. Any level below 43 indicates that the economy is in recession. (Data Source: Haver Analytics)
I would describe these results as less bad, rather than truly better.
Perhaps more important than the economic data, two of the more hawkish Federal Reserve Governors have recently given speeches backing away from raising the Federal Funds rate in the near future. New York Federal Reserve Bank President William Dudley said:
"At this moment, I judge that the balance of risks to my growth and inflation outlooks may be starting to tilt slightly to the downside"
This speech was given in China before the market opened on March 1, 2016. That day, the S&P managed to break out of its range-bound trading, below 1950, for the first time since the third trading day of 2016. The December dot-plot graph, indicating 4 rate raises, had been really spooking the markets. The effect on the currency markets, especially in Asia, was contributing to the recent worldwide volatility.
Outside of the US, the risks remain extremely high. China's Caixin Manufacturing PMI - fell again to 48, continuing 12 months in contraction. The People's Bank of China's (PBOC) solution was to reduce the reserve requirement for their banks, to ease credit. I doubt more credit will ease the result of years of mal-investment. Moody's has just downgraded China's sovereign and corporate debt.
European inflation has fallen into negative territory in February. Japan also remains at 0%.
One reassuring trend is that the oil prices have rallied, which allows the Sovereign Wealth Funds of the oil exporting nations to defer liquidating assets. The latter had been contributing to pressure on the markets. The oil price rally also decreases the fear of default by US oil exploration & production companies, with their secondary effect on banks and bondholders. Whether oil will continue to rally or at least stabilize here, I would be reluctant to postulate. There are certainly risks that oil prices will decline if the excess capacity is impacted by decreasing demand.
Technical Review
Starting with a long-term view, we can see that gold hit a long-term trend line before its recent rally. This should provide support. I would also point out that GLD trading was showing declining volume as it progressed through its recent bear market, implying fewer and fewer sellers. Lastly, the MACD has finally turned positive, unlike the mini-rally in gold last spring.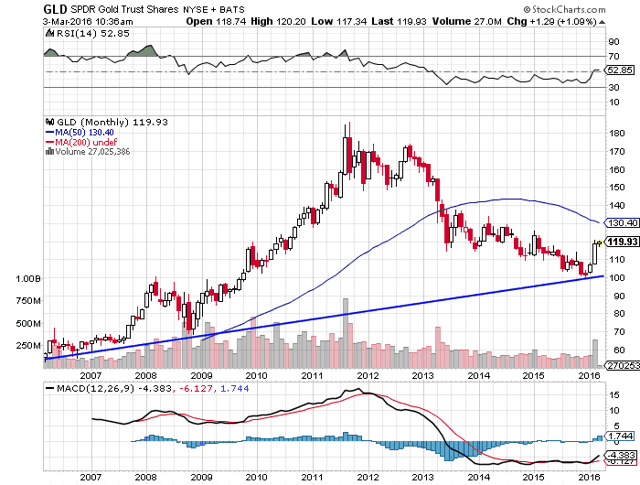 Looking below at a one-year chart, it shows the recent rally and the subsequent trading range. I would point out that in the first chart comparing the SPY and the GLD, despite the rally in stocks, gold has not demonstrated a corresponding drop. It seems doubtful that fear was the sole reason for gold's new luster.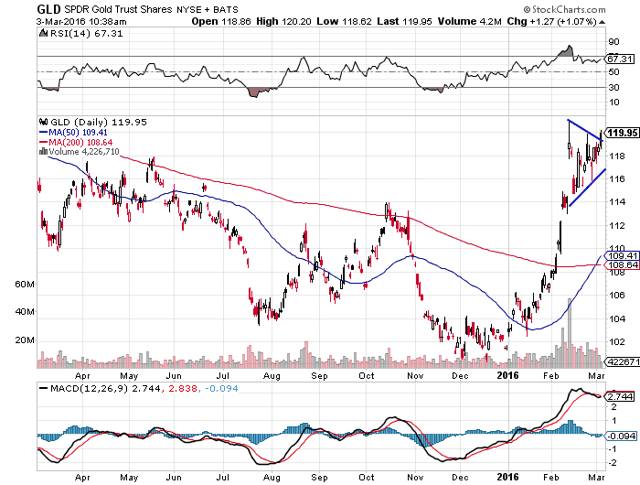 The daily chart has the classic appearance of a bullish flag. This trading pattern usually resolves by going higher.
Conclusion
I believe the economic risks, particularly in the Asian nations, will keep a bid under gold longer term. Add to this western investors who are diversifying their portfolio now that gold is showing strength, and momentum investors who have continued to buy twice as many calls as puts, and there is a formula for continued pressure on gold to go higher.
I have not closed my positions in the GLD. In fact, at the time of this writing - 3/2/16 - I purchased additional option spreads by buying the April 2016 110 strike for $888/contract and selling the $120 strike for $260/contract for a total cost of $628/contract. If the GLD rises to $120 or above in 44 days, each contract spread will be worth $1000 for a 59% return. The breakeven would occur if the GLD is $116.28 at expiration (below the current price of $118.50). If the GLD is below $110 at expiration, the trade is a complete loss.
For those of you who do not trade options, all of the alternatives mentioned in my original article still apply, and this may be a good time to review them. Gold should not be too large a part of a well-balanced portfolio, but its outperformance has helped me this year. Perhaps an allocation, either to an ETF or in some other fashion, will help yours.
I am not a financial advisor. All financial decisions should be made considering your own circumstances after careful analysis. Consult with advisors you trust. I continue to own stocks, bonds, and use options and other instruments to decrease my risk of loss and increase my probability of profit. Most importantly, enjoy your life, have fun, and be a Calm Investor.
Disclosure: I am/we are long GLD.
I wrote this article myself, and it expresses my own opinions. I am not receiving compensation for it (other than from Seeking Alpha). I have no business relationship with any company whose stock is mentioned in this article.
Additional disclosure: I own bullish call options and option spreads in the GLD.