Apple (NASDAQ:AAPL) is the largest publicly traded company in the world and has completely transformed every industry it operates in. Steve Jobs' focus on innovation has permeated the company and created a commitment to consumers that has handsomely rewarded shareholders throughout the years. I have recommended option strategies for Apple since 2010 with tremendous results (remember past results do not guarantee future results). For reference, please view the first and other articles in the series to fully understand the strategy and its strong potential returns. In essence the investment objective is to capitalize on Apple's volatility by selling out-of-the-money options to generate weekly income without sacrificing long-term returns.

A brief recap of this week in Apple (up $15.53 (3.1%)):
Apple logged solid, consistent gains throughout the short trading week and closed the week above $520 for the first time ever. Apple was not alone in its gains as the S&P 500 reached its highest level since mid 2008. At Apple's annual shareholder meeting last week there were very few revelations and it was largely viewed as a non-event by the Street because Apple did not announce a dividend. Tim Cook follows Steve Jobs' legacy in this area and remains notoriously tight-lipped. The most you will get out of him in the near-term is that he is "thinking about cash very deeply." Cook also essentially dispelled any rumors that Apple will split by stating that "a stock split does nothing." There was one comment by Tim Cook that went essentially under the radar: "We are working as hard as ever this year to deliver an incredible year and some products that will blow your mind." I have my personal ideas about what new products I believe we will see come out of Cupertino in the next few years but the most logical conclusion is iTV. This is the reason why Apple can continue to defy the "law of large numbers" as discussed in the New York Times this week.
Apple is unlike most of the previous largest publicly traded companies in the United States for two main reasons: Apple does not trade at an elevated PE ratio and it still has a relatively low market share, indicating room for growth. When Cisco (NASDAQ:CSCO) and Microsoft were the top dogs of the Nasdaq they were trading at PEs that were based upon bubbles, not fundamentals. The Internet was a brand new consumer phenomenon and no one wanted to miss out. Microsoft was (and still largely is) tied to products that had captured most of the market and had few opportunities for tremendous growth. Now contrast this with Apple. Apple has been trading at a PE in the low teens for years primarily due to concerns about Steve Jobs' health and worries that Apple would not be able to maintain its growth for an extended period of time. Naturally Apple cannot continue to practically double earnings every few years, right?
Apple's revenues are driven primarily by iPhones and iPads. The iPhone still has tremendous room for growth as the majority of phones sold in the world are "dumb" phones. Apple does not have to worry about beating Google's Android as all it really has to do is maintain its market share to surge when more and more consumers switch to smart phones. As for the iPad, Apple essentially created the mainstream tablet category. The growth for the iPad alone will carry Apple for years as it continues to innovate and stay years ahead of the competition. Having said that, iTV, wearable technology, or whatever Apple's "one more thing" is will only further the company's growth.
Below I present three possible scenarios and the potential returns for Apple options. The first scenario represents a negative outlook for Apple while the final two scenarios are more reasonable. These scenarios are just projections and there is no guarantee that they will come to fruition. Even if you are optimistic it is important to generate both positive and negative circumstances in order to stress your assumptions. As a general rule, selling calls with higher strike prices has greater potential return but additional risk of loss due to the lower (or lack of) downside protection. For more information on the fundamentals of covered calls, consult Investopedia.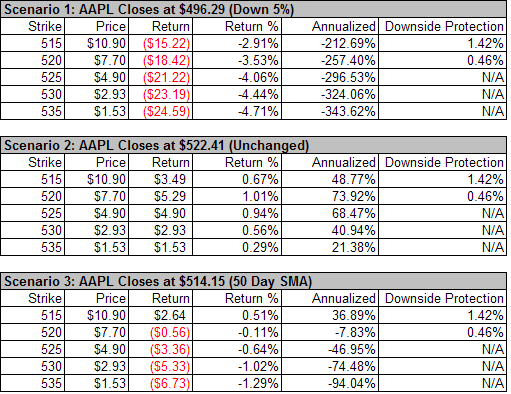 Additionally, if you would like even more information, I have prepared a sensitivity analysis for absolute return and percent returns, respectively. After studying the information above, these two charts make it easy to pick a strike price based on where you believe Apple will close at the end of the week. Estimate where you believe Apple will close and select the strike price with the highest return.

With this information, executing a buy-write on AAPL March 2 (Weekly) 525s is the optimal risk-return strategy. Please note that there is a higher probability of being called with these at-the-money options. Therefore, you may wait to avoid them for tax purposes. Please consult with your accountant or personal financial planner. If you are uncomfortable with this strategy I suggest a buy-write 515s, 520s or 530s. Even if you are extremely bullish you can still profitably sell covered calls. Apple is volatile enough that you will have opportunities to repurchase on dips. An alternative approach is to sell out-of-the-money 515 puts and collect the premium without having to purchase the stock outright. Note that if the stock declines to the strike price, you are obligated to buy the stock (or closeout the position).
Disclosure: Author is long AAPL, GOOG, and MMI.