U.S. and global stock markets continued their general upward trend last week, but with oil prices continuing to rise, some cautious notes began to be heard. Let's break it down.
Perspective
Stocks: U.S. stocks have been drifting higher on modest volume on modest volume through the opening weeks of 2011. Last week was generally a continuation of the trend, as all of the major indexes except the Russell 2000 posted fractional gains, while volume contracted to the lowest weekly level of the year. The Dow transports felt the sting of rising energy prices, dropping another 2% and violating the 50 day moving average, their third consecutive weekly loss. S&P sector action reflected the same macro picture, with energy stocks staying in the lead on the strength in oil prices, and the relatively energy independent tech sector extending its gains another 1%. Financials turned in the weakest performance, while the rest of the sectors posted fractional gains or losses.
8 of the 12 foreign equity indexes we follow posted gains, with Russia's RTS Index putting in the best performance of the week - a gain of 4.6%. Japan's Nikkei followed up the prior week's breakout 5% move with another gain of nearly 3%, as aggressive central bank policy encouraged buyers. The Nikkei is up over 11% year to date.
Bonds: U.S. Treasury bond yields fell at the longer end of the curve. While the 30 year remained above 3%, the benchmark 10 year slipped back under 2%. It seems that 3.2% is near term resistance on the long bond. TIPs, corporate, and municipal yields generally followed Treasuries to the down side as corporate bond prices reached another post crisis high in both investment and speculative grades. Munis on the other hand are still seeing some corrective action following the extraordinary run from October.
Commodities: Oil had another big week, the spot price coming to within a nickel of $110 before closing at $109.45 for a weekly gain of 5%. Natural gas, which had been following oil to the upside in recent weeks, broke ranks and stayed relatively flat, while the futures are off more than 6%. Copper reversed most of the prior week's loss and regained the 200 day MA. It is near a breakout point; sustained prices above $4 would be very bullish. Precious metals were up again with solid moves across the board. Agriculture bucked the broad commodity up trend as the grains were again relatively flat, while the livestock indexes pulled back.
Currencies: The U.S. Dollar index broke short term support showing significant weakness as it closed at 78.35. The euro approached $1.35, a previous support/resistance level, on the heels of a Greek rescue agreement. The pegged Swiss France followed along. Japan's Yen extended its dramatic fall against the dollar - even more dramatic against the euro - putting a bid under export oriented Japanese stocks. The Aussie and Canadian dollars were off fractionally against the greenback.
Outlook
The U.S. economic calendar was relatively light, and did little to change the slow growth outlook we have been seeing for quite a long time. First time unemployment claims fell for the 11th time in the last 12 weeks. From the housing sector, existing home sales data points to an uptick in sales volume and falling prices. It seems that the market is beginning to clear, or at least trying. We have a long way to go but this is a positive and we can only hope it becomes a trend. The Chicago Fed national activity index and the Kansas City Fed manufacturing index both show business picking up - the latter in particular.
Stocks: Though U.S. stocks have continued to move broadly higher, we have seen the first signs that high energy prices are having an effect. The "canary in the coal mine" is the transportation industry, where energy is a large component of operation costs, and prices have a direct and material impact on profit margins. However these costs soon push through supply chains in many industries, and have a negative effect on consumer spending as well. With quite a number of companies operating on tight gross margins, and personal income stagnant, a sustained energy price rise poses a real and present threat. The broad market is still advancing in the face of this threat, but there are some concerns. We mentioned above in Perspective that the Dow transports have been selling off. The small cap Russell 2000 has also failed to keep pace, making no progress since reaching its high for this move on February 3rd.
click on charts to enlarge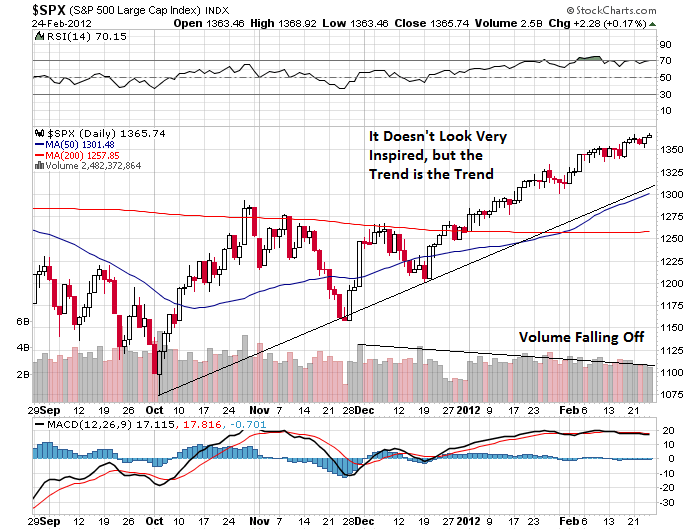 Technically, the McClellan oscillator and summation index show that market breadth is deteriorating as a smaller group of stocks are moving the market higher. In this context investors should be alert to the macro environment in terms of stock and sector selection. In last week's article I noted that we are focused on energy and tech stocks, and gave a couple of examples of each from our portfolio and watch list. If the energy price trend continues, this strategy should serve us well. I do not want to overstate the case, as it is by no means assured that this trend will in fact continue. Our own positions remain quite broadly diversified in terms of economic sectors. However we will be carefully watching and will re-position on the basis of the available evidence.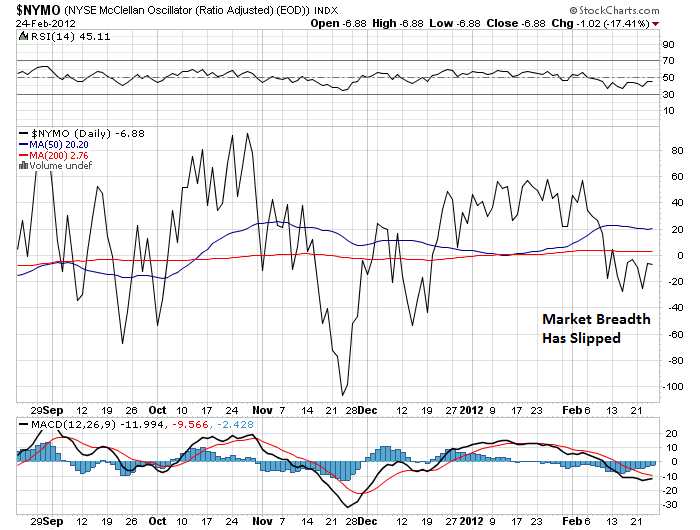 Bonds: It is rather remarkable that bonds yields remain as low as they are in the face of both improving economic data and the nascent commodity rally. We probably are seeing the imprint of the central banks and large institutions on this market. Whatever the reason, as stated above, Treasury yields just cannot seem to break above certain levels, and corporate yields continue to fall. Because we are heavy in corporates and munis in our income portfolio, it has been gratifying from that standpoint - we bought at more attractive levels. However it presents a quandary for inter-market analysis: falling bond yields could normally be taken as a signal of future economic weakness, and a cautionary note for equity and commodity positions.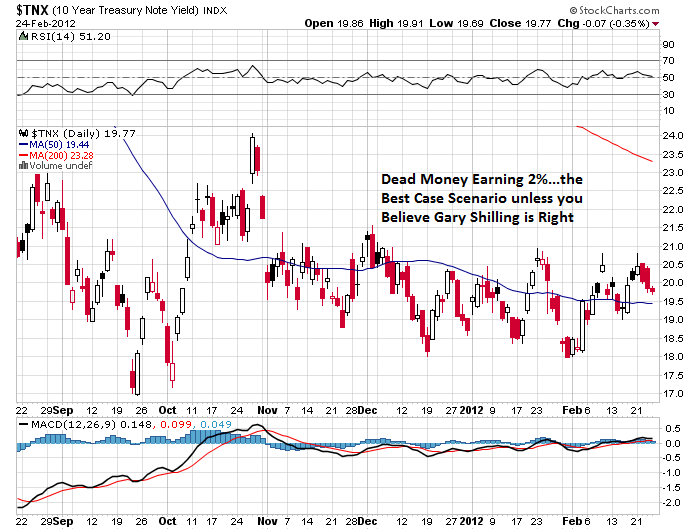 In the current environment I have to be a little more skeptical. For this reason we actually bought gold for the income portfolio as well as the total return portfolio, both as a sort of hedge and for the potential appreciation. It's not like we are foregoing a great deal of income in any event; the gold replaced short term positions that were yielding practically nothing. It is a little disconcerting to be long bonds and gold at the same time, but we take what the market is giving us. These are strange times indeed.
Commodities: The central theme of this week's article has been oil prices. Spot WTI crude is at the highest level since early May of last year. Last week I questioned whether this move might have more to do with geopolitical events than fundamentals. Even if we put the question of politics aside - often an advisable thing to do when constructing a market analysis - a little skepticism is warranted. Since coming off the low $80s last October, volume in WTI contracts has been shrinking, and the current February move in particular has seen volume contract on the way up. The futures are higher than spot through August but trend lower farther out. For these reasons I have kept away from broad commodity or focused oil positions, even though February is looking a bit like April 2008. My preference for now is to play this through energy company stocks. I would re-evaluate that strategy should oil get to $115. We recorded a big gain with natural gas in 2007-08 and sold in June, ahead of the July top, so this type of market is not unfamiliar to me. I'm just not sold on it yet, though it's close.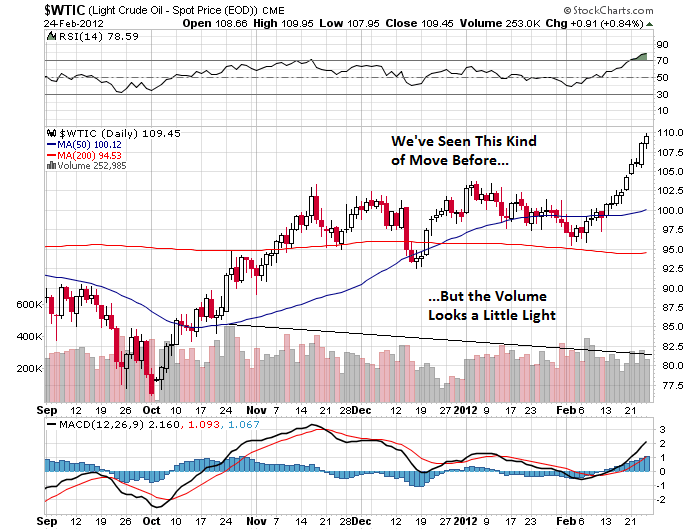 As previously stated, I am sold on gold - literally. We hold it in both portfolios in spite of my disdain for gold in principle, again because I believe in taking what the market is giving. As with both equities and commodities, the contracting volume does concern me a little, but not enough to change course. Investors who like gold may wish to take a look at platinum for a couple of reasons. One is that we have a historically unusual situation where platinum is actually priced lower than gold, which seems to be a bit of an anomaly. The other is that the near term technical picture for platinum is better, having made a stronger price move on better volume than gold. The caveat is that there are few easily accessible vehicles for trading platinum, and the low average daily volumes on the exchange traded products are problematic. This type of trade would only be appropriate for investors who have a higher risk tolerance and are able to monitor positions carefully.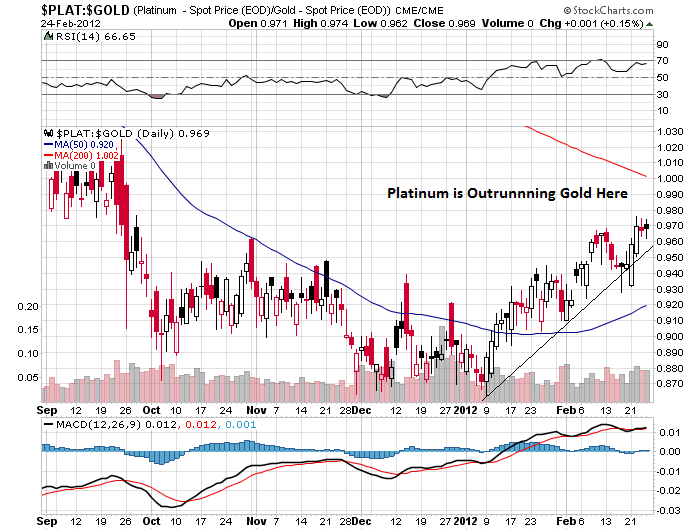 Currencies: The U.S. dollar breaking near term support, and the commensurate rise in the euro, are not surprising following the apparent agreement of a Greek bond swap program. This program has done nothing to change my longer term skeptical view of the euro, and I still believe the highest probability is that Greece will eventually exit the currency union. However for the short term we have a weakening dollar on our hands. Whether this is a squeeze on the euro shorts or something more lasting remains to be seen. For now, my expectation is for the dollar index to come back to the 77 - 77.5 area, which should mean higher prices for oil and precious metals, and perhaps for equities as well. Meanwhile, look for a short term bounce in the Yen.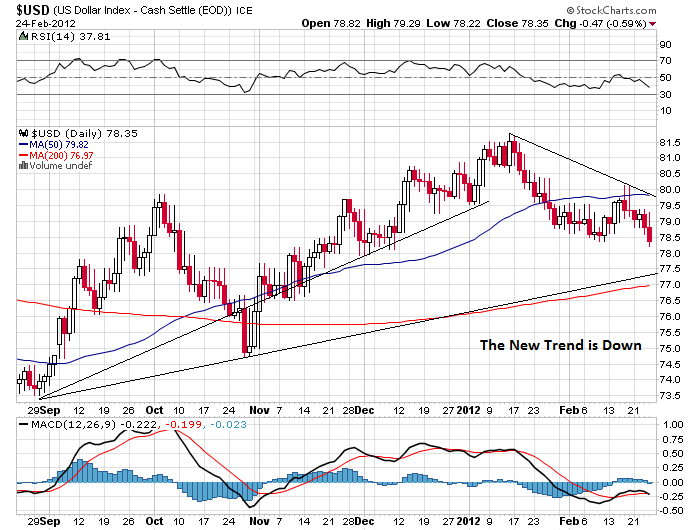 Disclosure: I have no positions in any stocks mentioned, and no plans to initiate any positions within the next 72 hours.