Our portfolio surpassed the $105k level yesterday. What I liked about yesterday's market action was that both precious metals and the stock market ended up rallying together. Our Gold miners ETF (NYSEARCA:GDX) and our Silver Standard Position (NASDAQ:SSRI) rallied over 4 and 7% respectively. Furthermore IBM (NYSE:IBM) is up almost 14% since the 11th of February (see chart) as it appears that its Watson technology is finally gaining traction and the market has responded accordingly.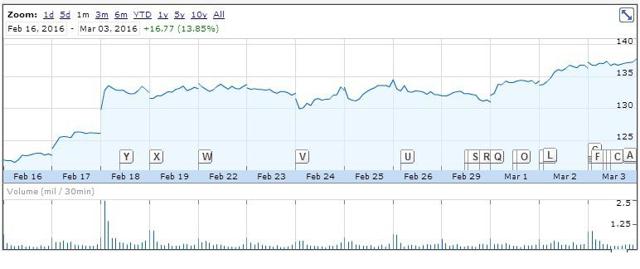 After yesterdays market action, I want to add more Silver exposure to our elevation portfolio for a number of reasons. First the Gold ETF (NYSEARCA:GLD) has outperformed Silver (NYSEARCA:SLV) by a factor of 2 to 1 which is peculiar in the precious metals market. For example Gold is trading for $1,270 an ounce as we speak with Silver trading at $15.49 which gives us a ratio of 1:82 which is very much on the high side. When Silver topped out at almost $50 an ounce back in April 2011, Gold was trading at around $1,600 (before it finally blew its own top at over $1,900 later that year). April 2011 gave a ratio of 32 and if this bull run in precious metals continues, I expect Silver to outperform Gold especially after that start it has had since the December lows a few months ago.
The vehicle we are going to use is (NYSEARCA:PSLV). I prefer this vehicle over as firstly it is cheaper (Expense ratio of 0.45% of NAV per annum compared to 0.5% for SLV). Secondly it performs better than its counterpart in terms of performance in bull markets. We can see this clearly on the chart below since Gold printed its lows of $1,045 back in December. I concentrate on Gold for the Silver market as Silver generally both follows and outperforms Gold which I believe will still come to pass.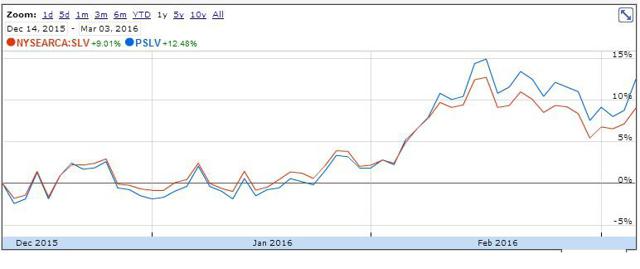 Another reason why I favor PSLV is that it is taxed like a stock and not like a collectible (as SLV is) which bring tax advantages. However probably the most important reason is the redeemable option. Unit holders have the right on a monthly basis to redeem their "units" for physical silver on a monthly basis. This is key as the respective investor is basically holding the bullion but using the trust for liquidity and storage purposes.
So what are the technicals saying? Well the dollar has rallied hard since the 11th of February which many would have thought would have tanked Gold but instead, Gold consolidated and didn't retreat like many had expected. Then yesterday the dollar showed for the first time in a while meaningful weakness and both Gold and Silver produced powerful rallies as a result.
As we can see from the chart below, bullish market action yesterday in the Gold market meant that Gold has now broken out of its triangle consolidation zone (which it had since the dollar started to rally from the 11th of February) which is bullish especially if the dollar weakens more from here. As I am writing Silver in up 1.35% in pre-market and Gold is up 0.62%. Silver should start to outperform Gold from here on in as latecomers to the party will end up invested in the poorer sister to try to make up for lost ground.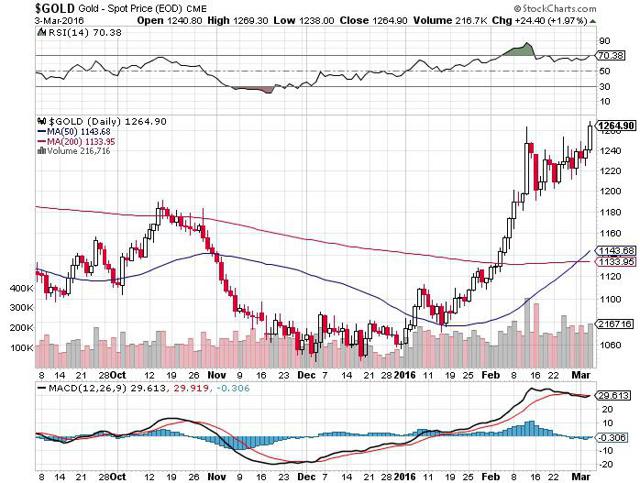 One position I'm watching very closely in our portfolio is Valero Energy Corporation (NYSE:VLO) which has seen a rally almost up $64 a share. We are up almost 11% on this trade already but here is why I'm watching it closely. The company's current earnings multiple is just over 8 and its historic earnings multiple over 5 years is 9.6. However earnings per share projections for 2016 are $7.16 which is much lower than earnings in 2015. If Valero was to achieve these earnings plus it bounced back to its average earnings multiple in 2016, we would see a share price of $68.73. This trade was originally put on as a contrarian trade but if the stock keeps rallying along with the sustained rally we are seeing in oil at the moment, we will issue a sell order in the not too distant future.
Here is the state of play of our portfolio since starting out with $100k on the 14th of January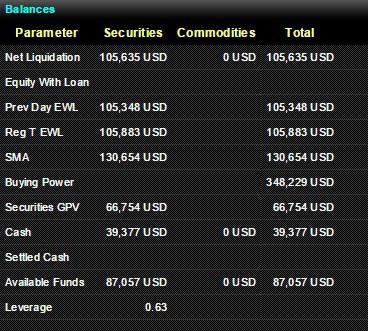 This portfolio will be all about increasing the trade activity among some overvalued dividend growth stocks like McDonald's (NYSE:MCD), so that over time we can pump more capital into our lower-valued stocks, which, by nature, should be paying higher dividends - IBM. We need to do this to keep the portfolio diversified as this increases our reward potential going forward as income portfolios are all about share count, which we will increase substantially over time.
I'm going to be adding a few good dividend and growth stocks to the elevation portfolio over the next several weeks when I see value. It's imperative that they are not correlated and all don't have similar valuations to ensure that income is brought in every month, which, over time, will increase our share count. Follow along by pressing the "Follow" button above.
Action Today: Buy 1000 shares of PSLV. Let's see how quick we can get this to $20k in annual income.
Disclosure: I am/we are long PSLV, VLO, EMR, IBM, FOLGF, GDX, SSRI, WMT, AXP.
I wrote this article myself, and it expresses my own opinions. I am not receiving compensation for it (other than from Seeking Alpha). I have no business relationship with any company whose stock is mentioned in this article.