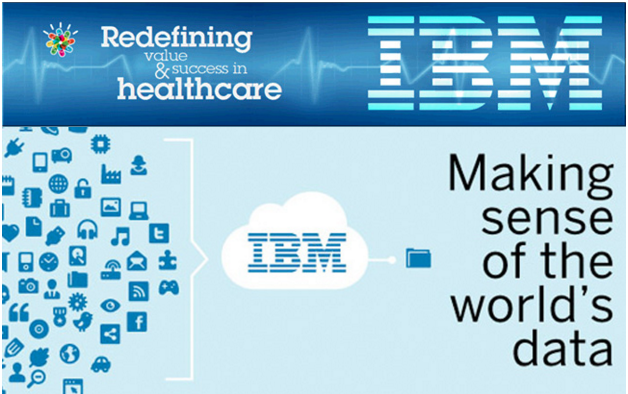 IBM (NYSE:IBM) has been buying businesses in the craziest way possible. If you look at its acquisition history, it's mind-boggling. For the purpose of this article, let's take a look at how, more recently, IBM's CEO Ginni Rometty has been taking the 104-year-old giant into uncharted territories. And how IBM is trying to morph itself into a 21st Century company that can take on new-age competitors.
Rometty took over the reins of IBM in 2002. The 58-year-old current CEO and Chairwomen of IBM has been on Fortune's "50 Most Powerful Women in Business" for ten years in a row, and there is a very good possibility that someday we will all recognize her as the woman who reshaped IBM's future. Though we are still a long way away from calling her the best CEO IBM ever had, she is definitely pushing IBM into new business segments, while letting go of a few.
Here's how IBM has changed since she took the top spot.
In 2011, when Rometty took over, IBM's performance looked like this (from their 2011 annual report) - it was its best performance in the history of the company on many fronts.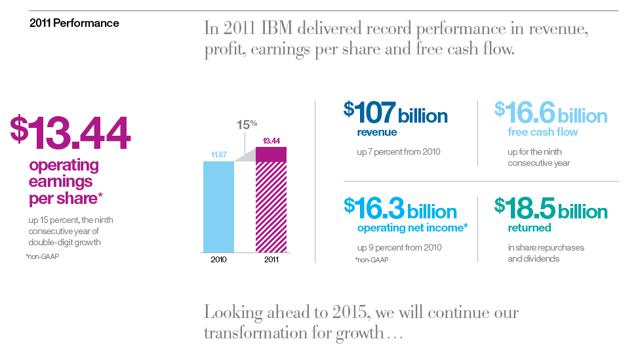 From that point on, however, revenues have steadily declined - and it now stands at $81.741 billion, a full $26 billion lower than when she took over.
In 2012, the company made it clear it wants to focus on high value segments with fatter profit margins and earn 50% of sales from software development. By then, software was already at the leading edge of IBM's revenue knife, with services coming in at a close second place.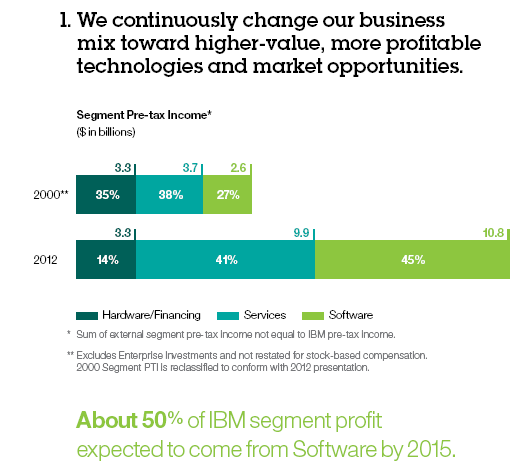 What is significant is not their software business. Two things emerged from the dust of all the acquisitions and divestitures over the past few years, and those are healthcare-related technology and cloud services. The acquisitions in these two segments are of much greater significance for the company, and Rometty is well aware of those implications on the future of IBM. Why else would the company have stepped up its pace on acquiring key companies that will support its existing infrastructure and capabilities in these two areas?
That's exactly what we're about to see.
Impact of Recent Acquisitions
As you can see from the chart below, IBM has spent $33 billion to buy more than 140 companies since 2000. But in 2012, the company announced that it will be spending nearly $20 billion by 2015 - a huge commitment, considering that the company had only spent $2.75 billion a year, on average, since 2000.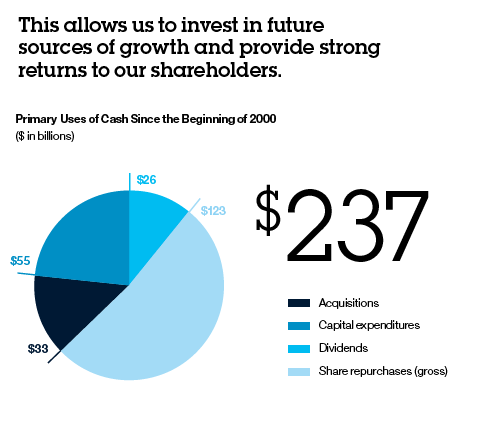 A quick look at the cash flow statements revealed that the company had used $12.59 billion cash for acquisitions since then.

What Were IBM's Most Significant Acquisitions for Cloud and Healthcare?
As I mentioned earlier, healthcare and cloud are now IBM's dominant areas of focus even as the hardware and software divisions keep chugging along; keeping the fire burning in IBM's hearth, as it were.
Several key acquisitions in these two segments will play a crucial role in:
How IBM captures the healthcare analytics market and leave other tech companies far behind, and
How successful its cloud business will be in the future.
In my recent article titled IBM Cloud: Can It Save Second Place?, I spoke about the company's cloud opportunity and what actions it might take to gain significant market share in this space.
To extend that analysis, I'd like to zero in on a few acquisitions IBM has made that will beef up its capability even further in the cloud services segment on one side, and take i tcloser to the healthcare market on the other.
To illustrate how pivotal these acquisitions are, I'll take just two examples in each category to show how they will have a significant positive impact on IBM's mastery over healthcare analytics and cloud infrastructure as a service.
Cloud-Related Acquisitions
Cleversafe: This was a key acquisition that came at an estimated price of $1.3 billion in 2015. Cleversafe has 116 patents on its object storage system called Dispersed Storage Network, or dsNet. To put this in perspective, nearly every cloud system from Amazon (AMZN) Web Services to Google (GOOG) (GOOGL) Cloud Storage to Microsoft (MSFT) Azure uses object storage architecture in one form or other. You can easily see why this would be a critical acquisition the technology of which has innumerable applications in cloud technology. The ability to store "limitless amounts of data" is what the cloud is about, after all.
Trusteer: In short, Trusteer provides security for access to web and cloud applications. This acquisition was executed in 2013 for approximately $1 billion, and was a critical addition to IBM's cybersecurity capabilities that I wrote about in my earlier article on the future of their cloud service. In addition, this security platform will enable IBM to securely manage multiple client devices such as PCs and Macs as well as mobile devices running on iOS (Apple) and Android (Google) mobile operating systems.
There are several others that many would consider key, but just these two acquisitions alone will show how powerfully IBM can complement their existing capabilities to make their cloud service an attractive proposition to most large businesses that deal with Big Data and are paranoid about data security.
Healthcare-Related Acquisitions
Running off IBM's Watson analytics supercomputer platform, IBM Watson Health was created to enable medical professionals to gain access to historical data like never before. With access to it, physicians the world over can make more accurate diagnoses, hospital administrators can run their units more efficiently, and Chief Information Officers of major healthcare companies can drive their businesses to greater heights of innovation.
Essentially, Watson allows users to see all of their historical data using specific search criteria so whether for healthcare, commerce or other applications, this is the future tool of business intelligence.
IBM already operates in the Big Data space, and this new platform will enable the company to penetrate the healthcare industry like no other technology company of comparable size can do at the moment.
Here are two important acquisitions on that front:
Merge Healthcare: This was a key acquisition made in October 2015 at a cost of $1 billion that added medical image processing power to IBM's health analytics suite. Merge serves over 7500 health facilities, research clinics and pharma companies, and will add its image banks to the 315 billion data points that Watson Health already possesses.
Truven Health Analytics: Another, more recent acquisition that's in the cards this year at a value of about $2.6 billion is Truven, another player in the healthcare analytics space that will add its capabilities to Watson Health's portfolio, making the latter one of the world's largest resources for medical data, analytics and insights. The deal is still subject to regulatory reviews, but will "help catapult the industry forward to transform healthcare and to save and improve lives," says Truven's President and CEO Mike Boswood.
Investor-Speak: A Clearer Direction
Though the number of acquisitions may have fallen short of IBM's own expectations, it's not the numbers that really matter. All of the above acquisitions - plus the several IBM has made in the last year alone - show very clearly that the company is pushing in two directions: healthcare analytics and cloud.
That said, I still think IBM missed a big opportunity to push forward its cloud agenda in a big way in 2012 or even before then. IBM could have easily run away with the biggest market share rather than now having to fight a double battle with Amazon and Microsoft.
From being an extremely horizontal player with operations running from hardware on the right to sofware on the left, IBM is trying to rise above in a vertical fashion - with healthcare on one side and cloud on the other, while all the time leveraging its hardware and software expertise.
It's the right approach considering the stiff competition it is going to face in this market; and, more importantly, because of who IBM is competing with. Cloud is going to pit IBM against every single big tech company at some point, while there is a huge gap on the healthcare front that the giants of tech have left wide open.
Essentially, I see Watson Health as proof of concept. If IBM can make this work in healthcare and show some serious bottom line impact over the next few years, there are any number of industries where it can replicate their success.
Remember last month when Citigroup analysts called for Google to buy out AIG to enter into the financial/insurance technology in a big way? This type of niche entry is going to happen over and over again as the biggest tech companies keep fighting to expand their revenues.
In closing, I'll say it again: IBM is on the right track with respect to cloud, but my biggest worry is that it is slow. And cloud is one example of IBM's reactive approach instead of a proactive one. Almost as a counter-balance, IBM's approach to healthcare is one that I hope other tech companies will wake up to.
Thank you for reading this article. I invite you to follow me as I explore technology companies and other large corporations that are actively working to create a different world for people like you and me - and hopefully make us all a little wealthier in the process!