The Renaissance IPO Index continued its ascent this week, up 4.9% compared to 2.7% for the S&P 500. The index is now 18% above its 2016 low. The recent outperformance may be a sign of IPO icebreakers on the horizon.
The fifth IPO of the year, Syndax Pharmaceuticals (NASDAQ:SNDX), and microcap SPAC Jensyn Acquisition (NASDAQ:JSYNU), began trading Thursday.
More checkpoint inhibitors come to market
Immuno-oncology biotech Syndax raised $53 million by offering 4.4 million shares at $12 and broke issue on its trading debut. Since its IPO attempt in June 2014, Syndax has shifted its focus to the white hot checkpoint inhibitor space, brought in a new management team (including the former CMO of AstraZeneca), and raised $80 million in an August 2015 Series C.
Volatile aftermarket performance
Each of this year's IPOs have broken issue at some point and experienced heightened volatility, especially Editas Medicine (NASDAQ:EDIT) and AveXis (NASDAQ:AVXS). Editas surged again this week and is now 182% above its lows three weeks ago; the gene-editing biotech's 122% total return from IPO tops every offering from 2015. AveXis traded up 18% during the week, but that gain was wiped out in the last two hours of trading on Friday. The chart below shows trading ranges and total returns for this year's five IPOs.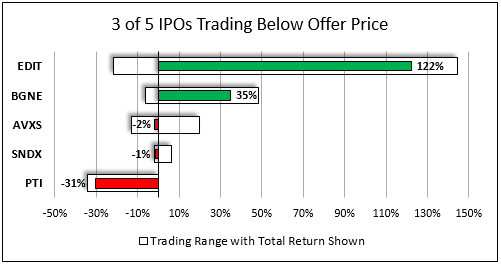 IPO Pipeline update
Hutchison China MediTech (NASDAQ:HCM), which markets drugs and develops immuno-oncology therapies, filed terms for a US listing (it trades on the AIM in London) that could raise $100 million at a market cap of $2 billion. Indian solar power utility Azure Power Global (NYSE:AZRE) updated financials ahead of its $100 million US IPO.
2016 by the numbers
The IPO market did not see a notable increase in filing activity after the seasonal mid-February pause. At this point last year, there had been 32 new filings and 26 IPOs that raised $4 billion to date. In 2016, there have been just 22 new filings and five IPOs that have raised $450 million (ex-SPACs). This year has also seen every operating company postpone its attempted IPO.
IPO Market Snapshot
The Renaissance IPO Indices are market cap weighted baskets of newly public companies. The Renaissance IPO Index is down 10% year-to-date, compared to -2% for the S&P 500. Renaissance Capital's IPO ETF (NYSE: IPO) tracks the index, and top ETF holdings include Synchrony Financial (NYSE:SYF), Alibaba (NYSE:BABA) and Citizens Financial Group (NYSE:CFG). The Renaissance International IPO Index is down 7% year-to-date, compared to -3% for ACWX. Renaissance Capital's International IPO ETF (NYSE: IPOS) tracks the index, and top ETF Holdings include NN Group and Recruit Holdings.
Investment Disclosure: The information and opinions expressed herein were prepared by Renaissance Capital's research analysts and do not constitute an offer to buy or sell any security. Renaissance Capital, the Renaissance IPO ETF (IPO), the Renaissance International IPO ETF (IPOS), or the Global IPO Fund (MUTF:IPOSX), may have investments in securities of companies mentioned.