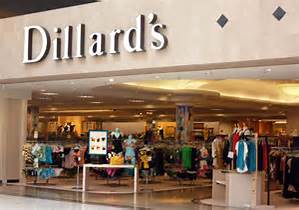 Dillard's (NYSE:NYSE:DDS) is one of an enormous number of retailers that has been obliterated since the beginning of 2015. The entire sector was called into question last year amid a weak environment for consumer spending and DDS' huge valuation at its highs made it an easy target. I've been bearish on DDS for a while, including last December when I said the stock would be heading lower in 2016. That was with shares at $75 but the stock has flown higher after bottoming at just $60 at the beginning of 2016. The company's Q4 results have given investors confidence to keep buying but is this just another bubble that will pop for DDS?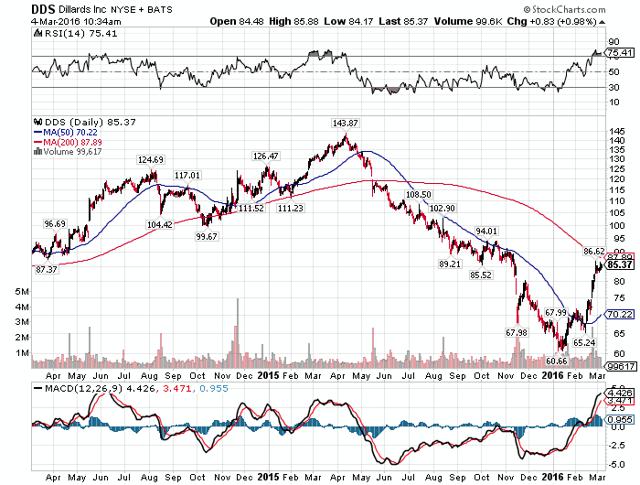 Dillard's has been highly overvalued for a long time since it peaked in 2015 but the massive selloff has rectified that to a large degree. The problem remaining is that DDS continues to produce weak quarters with comp sales and margins continuing to decline. That didn't change in Q4 and a lack of guidance from DDS means the recent rally is all the more perplexing.
Comp stores sales fell 2% in Q4 as the company continued to cite a competitive environment. It's no secret that retail has been struggling for some time amid a weak spending environment but DDS has other problems too. The company's comp sales were weak all year last year as DDS continues to work through dead inventory. DDS hasn't yet figured out how to get people back in the stores and that is a problem for the long term. The lack of guidance doesn't exactly inspire confidence, either.
Speaking of margins, DDS saw its POS margins plummet 344 bps during Q4. Again, DDS did this for all of 2015 so to say I wasn't surprised by the decline is an understatement. Working through inventory is one thing but as DDS reports quarter after quarter of declines in margins, it is more and more likely that DDS isn't working through inventory but rather, that it hasn't yet figured out what its customers want. I'm more in this camp as I see DDS continue to struggle with margins; comp sales are fairly easy to bump by simply marking down inventory. The comp decline wasn't that bad but margins are something you cannot hide. That's why I think DDS is still in a lot of trouble because its margin declines are ongoing and huge; this isn't something a company's profits can withstand over the long term.
On the bright side, the company's SG&A ratio was only up slightly during Q4 as DDS has been able to cut costs at a time when it sorely needs it. But there is only so much any business can cut costs so hopefully for DDS' sake, the company's revenue base will stop shrinking. However, every dollar DDS loses on its revenue base will continue to make this problem worse. Operating margins continue to get pounded and DDS is to the point where its net profit margin was just 4.1% last year. As it continues to see shrinking revenue, operating margins will just get worse and that is cause for significant bearishness.
Analysts have DDS posting 2% or 3% declines in revenue this year and 2.5% EPS growth. The revenue number is pretty close to what I think we'll see; DDS still has lots of problems and as it struggles with comp sales, I have no doubt total revenue will be negative this year. EPS growth forecasts are a little more difficult for me to understand as DDS struggles with its margins. I wouldn't be surprised to see the company post massive margin losses in 2016 again as it continues to struggle with getting the right product mix; this central tenet of retailing has proven elusive for some time for DDS. With profit margins at 4%, we could easily see profits cut in half or more if gross margins continue to fall precipitously. It's hard to say just how bad the company's margins will be this year but that uncertainty is part of the reason why I think DDS is so overpriced right now; companies with this much uncertainty generally trade for lower valuations.
The only saving grace DDS has right now is its fresh $500 million buyback authorization. The company has been busy buying back stock - repurchasing the same amount in 2015 - and it appears it is setting up for a repeat. That is significant to say the least as DDS authorized enough to buy back nearly one in six shares. Should it manage to do that, DDS' EPS growth could be positive even with its horrible fundamentals. The stock shot up on the news of the buyback and while that's fine, I'm not convinced.
The problem is that at 12 times this year's earnings and 11.2 times next year's earnings, DDS is trading like any other retailer that is having trouble growing. But DDS isn't just having trouble growing; it is having trouble doing very basic things like getting people in the stores and avoiding enormous markdowns to move product. DDS' business is very sick and I'm not sure longs really appreciate the gravity of the situation.
The buyback is great if you believe that DDS' weakness is transitory but I simply don't; the management team has proven completely unable to drive traffic into the stores without huge markdowns and with no updated strategy, I have no idea what longs are buying here. In addition, the lack of guidance is troubling because DDS doesn't want to be wrong; if it had any idea what 2016 was going to look like it would have provided guidance. The fact that it didn't speaks volumes as pulling guidance has never once come from a position of strength for any company; it is always because the company has serious issues.
I think the massive amount of uncertainty surrounding DDS and the fact that its fundamentals are so weak means that it is very expensive right now. The company's PE right now is one that should be assigned to a stable or slowly growing business; not one that is in freefall with no end in sight. Financial engineering will work for a pop but a sustainable rally in the stock will only come from a sustainable increase in business. DDS is so far from that right now that I'm happy it has flown higher; I'm going to short it like there's no tomorrow.