Gold is all the rage these days and last week it rose to the highest level in over a year. Gold has been rallying as fear and uncertainty have gripped investors all over the world. The price is up over $200 since December 31, 2015, an increase of almost 19% this year. Gold is the best performing asset of this young year. It appears that the multi-year bear market in gold could be ending.
However, when it comes to its precious cousins, silver and platinum, the action has not been so awe inspiring. In fact, the bear market leading up to 2016 in commodities caused wide divergences between the price of gold and both other precious metals. That was to be expected as during bear markets, less liquid metals like silver and platinum tend to fall faster than the yellow metal. Generally, when gold shines, silver and platinum tend to perform even more brilliantly.
In 2016, divergence has been the name of the game across all asset classes. Precious metals are no exception. As of Friday, March 4 the divergences between gold and its precious cousins have widened dramatically this year. The silver-gold ratio closed 2015 at 76.81:1 and platinum closed 2015 at a $168.50 discount to the price of gold. With the silver-gold ratio at over 81:1 and platinum at a $280 discount to the price of gold in a rallying environment it begs the question, what is going on and how could this be?
Not so precious metals
Both silver and platinum have moved higher in 2016. Silver closed on December 31, 2015 at $13.803 per ounce. Last Friday, it was trading at around $15.73 - an increase of 14%. Platinum closed last week at $988 an ounce. At the end of 2015 "rich man's gold" was $891.70 so the industrial precious metal has appreciated by 10.8%.
Silver and platinum have fallen behind gold this year. While both are precious metals, price action has made them less precious than gold.
Silver-Gold and mean reversion
The long-term average of the silver-gold ratio over the past forty years has been around 55 ounces of silver value in each ounce of gold value. The purchasing power of gold relative to silver has increased dramatically over recent years. Last week, this relationship climbed to the highest level since 1995 when it moved above the 83:1 level before falling back down to just over 81:1 last Friday.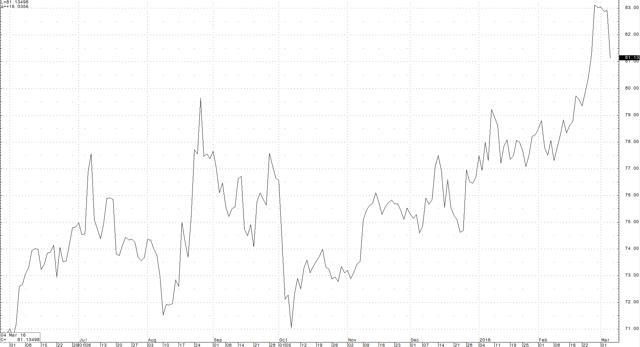 As the daily chart of the silver-gold ratio highlights, we saw a turnaround in the price relationship between silver and gold last Friday when silver rallied 59 cents on the session and gold moved around $3.6 higher. The ratio fell towards the long-term mean.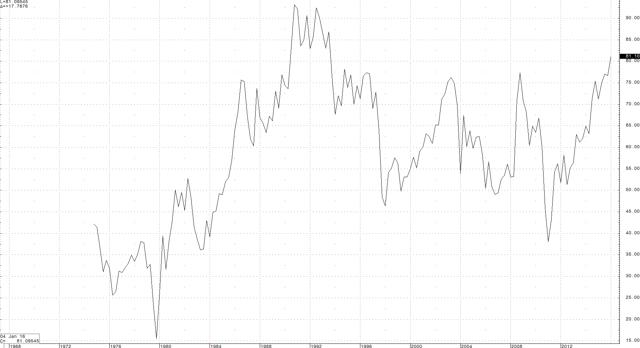 The quarterly chart of the silver-gold ratio shows the historical price action between the two precious metals over a longer period. The bottom line is that silver remains cheap on a historical basis relative to the price of gold. While the relationship between the price of silver and gold is a deviation from the long-term norm, the all-time highs occurred in 1990 when the ratio hit over 93:1.
Platinum gold and mean reversion
When it comes to platinum's price relationship with gold, an all-time deviation record was hit last week.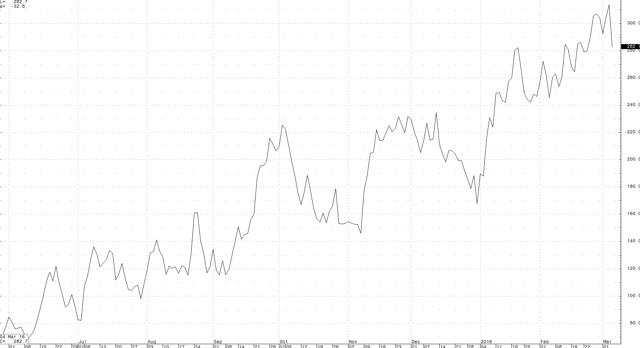 The daily chart of the gold price minus the platinum price hit an all-time high last week as gold traded to a $320 premium to the price of platinum.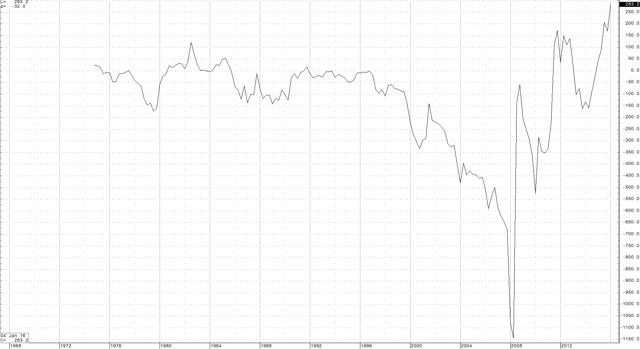 The quarterly chart illustrates the severity of the deviation. Prior to 2015, platinum never traded to more than a $200 discount to the price of gold. In 2016, a year of divergences across all asset classes, this price relationship has made a series of higher highs, as the daily chart highlights. The median premium over the past forty years has been a $200 premium for platinum, rich man's gold, over the price of its yellow cousin.
From a long term perspective, the value relationship between platinum and gold has moved from a $1200 premium for platinum over gold in 2008 to around a $280 discount as of the close of business last Friday. This move of $1480 amounts to more than platinum currently trades at, it closed last Friday at $980 per ounce.
History tends to repeat itself
Clearly, both silver and platinum have spent a lot more time over the past four decades diverging from gold than at historically average or median levels. However, both metals have tended to return to norms over time. This tells is that in the value relationship between gold and its precious cousins, history tends to repeat itself and prices tend to gravitate toward historical norms after periods of wide deviation.
The deviation was present throughout all of 2015 and in early 2016 it widened. I believe that the case for mean reversion in both of these spreads strengthened last week. Both silver and platinum are precious metals but at the same time they are industrial metals. Therefore, during the commodity bear market their price action reflected both the lack of demand for precious metals and the lack of demand for industrial metals at the same time. When gold began its ascent at the beginning of 2016, industrial commodity prices remained under siege. Oil, copper, iron ore, global shipping rates and other industrial commodity prices continued to fall in January and February of this year.
However, over recent weeks we have seen a change in the landscape for industrial commodity prices. The price of oil hit lows at $26.05 in February. Since then it has moved higher, closing last Friday at $35.92 per barrel - an increase of almost 38%. The price of copper traded down to multi-year lows at $1.9355 in January. Last week, the red metal broke above resistance at $2.15 and closed Friday around $2.26 per pound - an increase of almost 17%.
The prices of other nonferrous metals also moved higher. The price of iron ore which traded below $36 per ton in January was over $50 last week - an increase of almost 39%. The Baltic Dry Shipping Index has moved from 290 to 342 in under one month - an increase of almost 18%. Add to that, the price of active month lumber futures contracts were limit up on both Thursday and Friday of last week - lumber appreciated by 9% since last Tuesday.
As you can see, a price recovery is underway for industrial commodities. This is supportive of the price of both platinum and silver. Gold made new highs last Friday when it traded to $1280.70 on the active month April COMEX futures contract. It closed Friday's session at $1261.80 up $3.6 on the day after profit taking appeared at the highest price in over a year. Silver moved 58.9 cents higher to close the week at $15.735 and platinum gained $46 Friday to close at $988.70. It is starting to feel like both silver and platinum are awaking as both gold and industrial commodities are back in play.
Cheap or expensive - it's all about value
When you look at the nominal price of an asset, all it provides is a snapshot that can be compared to past prices. However, determining value requires deeper analysis.
The action in the silver-gold ratio and platinum-gold spread over recent years has told us that on a historical basis the industrial precious metals have been cheap relative to the price of gold. Throughout the first nine weeks of 2016, they became even cheaper as the value relationship between silver and gold moved to the largest divergence since 1995 and the relationship between platinum and gold moved to levels never seen before in modern days.
With industrial commodities experiencing much needed price recoveries after a long period of bear market action, it is likely that silver and platinum prices relative to the price of gold will continue moving off extension levels and towards long-term means.
Short gold and long silver or short gold and long platinum spreads could be a golden opportunity in the weeks ahead given the apparent change of fortune in the commodities markets. Wide divergence from norms continues to exist in these spreads. This leads me to believe that the risk is limited relative to the potential for bountiful rewards on these spreads at this time.
You can always check out my podcasts on various commodity markets for a more in depth reasoning on the current value proposition for raw material markets.
Disclosure: I/we have no positions in any stocks mentioned, and no plans to initiate any positions within the next 72 hours.
I wrote this article myself, and it expresses my own opinions. I am not receiving compensation for it (other than from Seeking Alpha). I have no business relationship with any company whose stock is mentioned in this article.
Additional disclosure: The author always keeps a percentage of his portfolio in precious metals. That percentage varies according to market conditions.