Mid-February was characterized by extreme investor panic. As the dust settled it became clear that the panic was overdone, and the S&P 500 (SPY, IVV) has already rebounded by about 9% from its Feb-11th low - trimming the year-to-date loss to less than 3%.
There are plenty of global problems to be concerned about, but in the U.S., most economic fundamentals have so far remained reasonably resilient to global ailments (with the exception of manufacturing which is contracting due to commodity deflation), leading many strategists to opine that we may be on the way to a sustained recovery.
However, most economic indicators are lagging and give conflicting signals, so they are hard to use as indicators for the stock market. Earnings, earnings growth, and the market valuation relative to earnings (the P/E ratio) will largely determine the stock market performance going forward, as it did in the past.
On the back of the sharp rebound in the index, the trailing 12-month P/E Ratio for the S&P 500 rose to 19.8 (using Standard & Poor's operating EPS). This is cloise to the highest multiple in 12 years (other than 2009 when earnings plunged), and most recently, this was the level of the P/E ratio in Nov-Dec 2015, just before the market correction began.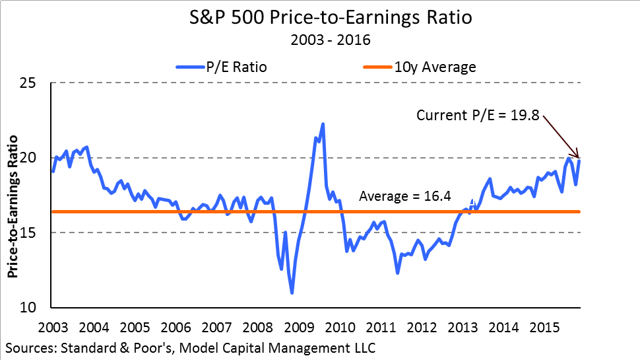 The recent multiple expansion may be surprising given that the index itself is 2-3% lower than it was in December -- that is, until we remember that corporate earnings are now lower. Adjusted (non-GAAP) Q4-2015 earnings declined by 3% YoY according to Factset (see chart below), and adjusted operating earnings declined by 12.2% YoY according to Standard & Poor's -- the first decline for three consecutive quarters since 2009.

The decline in earnings was primarily caused by commodity-driven losses in the Energy and Materials sectors. But it's not limited just to those sectors. Earnings declines were also widespread in the Industrial, Technology, and Financial sectors.
But that's now all behind us and earnings growth will resume, right? Not so. Forward earnings estimates were downgraded significantly during the most recent earnings cycle. Adjusted Q1-2016 earnings are now expected to decline by 7.4% YoY, according to Factset (although it likely won't end up this large as companies typically beat estimates), and full-year 2016 EPS growth is now expected to be just 2.8%.
In my view, declining earnings will continue to be a headwind for U.S. equities, and will prevent major averages from gaining significant ground until earnings growth resumes. In the near term, the risk of significant downside continues to be elevated, and may be triggered when lower actual and expected earnings are in focus at quarter-end.
Disclosure: I/we have no positions in any stocks mentioned, and no plans to initiate any positions within the next 72 hours.
I wrote this article myself, and it expresses my own opinions. I am not receiving compensation for it. I have no business relationship with any company whose stock is mentioned in this article.
Additional disclosure: I am personally short SPY via bearish Put option spread.