Most successful value investors complete significant due diligence before buying a stock. They may assess management, look at multiple years of financial statements; whether the company is within their circle of competence; whether there's a catalyst; whether there's a moat, and research industry trends.
It is possible, however, to outperform the market simply buying companies that meet certain quantitative criteria, without any additional analysis performed on the investor's part.
Each article of this series will focus on one such value strategy. We will define and discuss the criteria used, see how the strategy has done in recent backtesting; whether there is an easy way to improve on it, and if it still outperforms in the large-cap space.
Price-to-Earnings Ratios
Investors who mechanically buy low P/E companies have historically beaten the market.
The TTM P/E ratio is defined as share price divided by earnings per share over the most recent 12-month period, or equivalently market cap divided by net income assuming the number of shares has remained constant.
The following is the performance since January 1, 2000, of an equal-weighted portfolio of the 100 lowest P/E companies from the Russell 3000. We use TTM P/E and require that the figure be a positive number (i.e. exclude companies with negative earnings).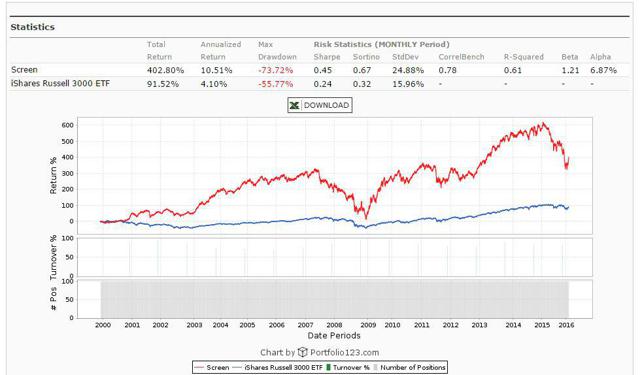 While the P/E ratio has not done well in the past couple of years, overall, it has outperformed the market since 2000.
(As noted similarly in my last article on backtesting high and low short interest portfolios, part of this outperformance can be attributed to the equal weighting of the backtested portfolio relative to the cap-weighted index.)
Improving the P/E Ratio
There are many alternative ratios of what a company is worth relative to what it makes. Instead of GAAP earnings, we could use other denominators such as free cash flow, sales, Buffett's owner earnings, or an average net income over a longer period.
Or instead of using market cap in the numerator, we may go with enterprise multiples that are independent of the company's capital structure. So let's put the P/E ratio returns in context with the backtested annualized returns of several such alternative ratios. Each ratio is based on the most recent 12 months and requires a positive value.
Performance of P/E Ratio Alternatives
| | |
| --- | --- |
| Ratio | Annualized Return Since Jan 1, 2000 |
| Price to Earnings | 10.51% |
| Price to Sales | 13.71% |
| Price to Free Cash Flow | 13.95% |
| Enterprise Value to EBITDA | 14.31% |
| Enterprise Value to EBIT | 16.47% |
(EBITDA = Earnings before interest, taxes, depreciation, and amortization).
Interestingly, each of these P/E ratio alternatives improve on the original P/E ratio. The best performer since 2000 has been the EV/EBIT ratio.
The EV/EBIT Ratio
EV/EBIT is roughly the ratio of the company's takeover price to its operating income. It does not depend on the company's capital structure or tax rate, but includes depreciation as a proxy for maintenance capital expenditures.
Here is the backtest for the TTM EV/EBIT ratio: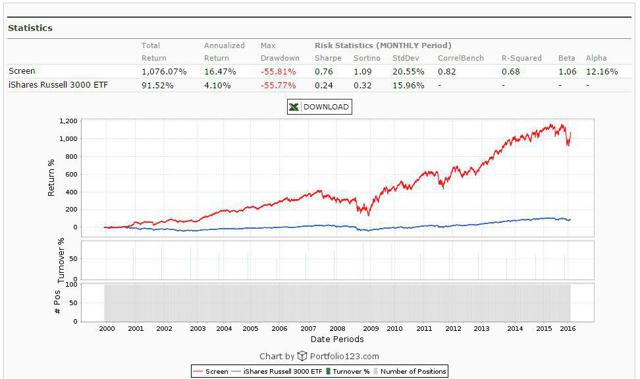 The low EV/EBIT strategy has been a strong performer in this time period, significantly beating the market and performing much better than the standard P/E ratio.
EV/EBIT for Large Caps
In the next backtest, we look to see if EV/EBIT still outperforms in the large-cap space. Specifically, our portfolio is now the 50 large caps ($5B and higher market cap) with the lowest EV/EBIT ratio. The benchmark is the equal-weighted S&P 500.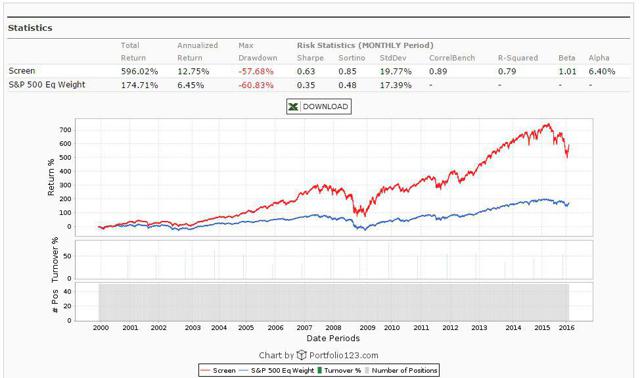 The low EV/EBIT portfolio still outperforms in the large-cap space.
While it is not recommended to buy individual companies meeting the value criteria without further research, the following are the 10 S&P 500 companies with the lowest EV/EBIT. The table is generated with Portfolio123, the same tool used for all backtesting in this article.
| | |
| --- | --- |
| Company | EV/EBIT |
| Comerica (NYSE:CMA) | 2.9 |
| JPMorgan Chase & Co. (NYSE:JPM) | 3.0 |
| HP, Inc. (NYSE:HPQ) | 3.2 |
| Charles Schwab Corporation (NYSE:SCHW) | 3.7 |
| Transocean Ltd. (NYSE:RIG) | 4.2 |
| MetLife, Inc. (NYSE:MET) | 4.3 |
| Lincoln National Corporation (NYSE:LNC) | 4.5 |
| Ensco plc (NYSE:ESV) | 5.0 |
| United Continental Holdings, Inc. (NASDAQ:UAL) | 5.0 |
| Western Digital Corporation (NYSE:WDC) | 5.1 |
Conclusion
We have reached several specific conclusions in this article:
The traditional P/E ratio outperforms. Since 2000, an investor who mechanically bought low P/E companies in an equal-weighted portfolio would have beaten the market.
Most alternatives to the P/E ratio perform better, including P/FCF, P/Sales, and EV/EBITDA.
The highest-performing price ratio in the last 16 years (of the ones backtested in this article) has been the EV/EBIT ratio. This ratio still outperforms within the large-cap space.
In the next article of this series, we will look at another simple value strategy that has done quite well.
Disclosure: I/we have no positions in any stocks mentioned, and no plans to initiate any positions within the next 72 hours.
I wrote this article myself, and it expresses my own opinions. I am not receiving compensation for it (other than from Seeking Alpha). I have no business relationship with any company whose stock is mentioned in this article.