The stock market "killer wave" we have experienced in January and February will probably be remembered in the future as 'The Banking Panic of 2016'.
In contrast to other stock market banking panics in the past - eg the US banking panic of 1907, the US panic of 1973 or the Swedish financial crisis of the 90s - the steep fall of bank stock prices in early 2016 is not associated with serious negative fundamental developments, except maybe a very mild readjustment to Chinese growth and a slight increase in expected loan losses from the energy lending books of several banks.
Thus, as underlying fundamentals are good, bank indexes in the US and Europe should recover soon to reach previous historic maximums before moving forward together with the cycle.
But in a recovery context which one has more upside? Which of them is more undervalued? In a rolling over CALL options designed strategy with underlying KBW:US or Stoxx 600 Financials Europe, where should an investor put his money?
It looks like both indexes - and the banks they are composed of- fell to different levels during last few months; US's KBW:US has fallen 21% compared with Euro Stoxx 600 Financials Europe -32% from maximums reached in mid 2015.
Nevertheless, different performance may reflect different underlying circumstances for US and European banks in terms of different market structure, macroeconomic environment and political risks.
The European Union is a strange animal to analyse: bank stock prices of Eurozone banks - and banks from non-Eurozone countries close to it - are a function of a blend of national macro dynamics, regional macroeconomics, monetary policy and the European equilibrium power plays that determine it… on top of the usual parameters that have an impact on the stock price of banks anywhere.
Monetary policy of the ECB impacts national banks in different ways: within the Eurozone tight funding conditions should help - or at least not damage too much - those countries with the best technology / costs mix within the monetary area; these will tend to have a big trade surplus with the area at the cost of the rest - mainly France and Italy nowadays-; this will be promptly translated in banks NPLs ratios. Therefore, within the Eurozone you should invest a priori in certain countries and avoid others.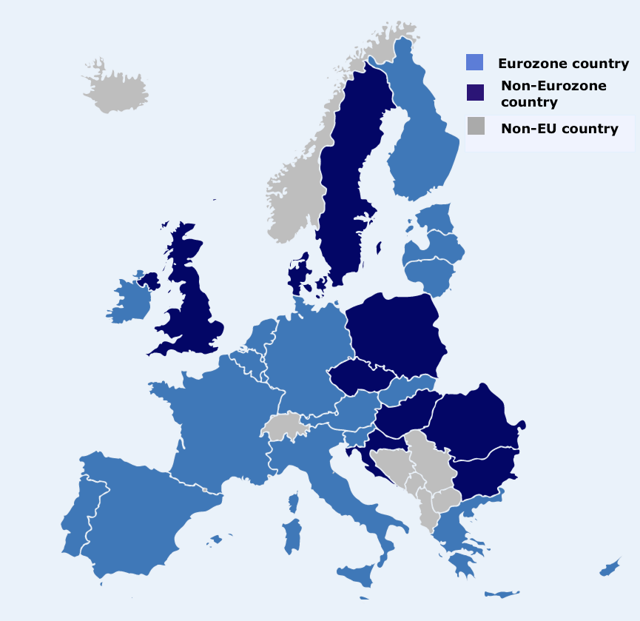 Furthermore, ECB monetary policy has an impact on nearby countries which are not in the Eurozone but are very close to it, namely the UK, Switzerland, Sweden and Denmark: when Mario Draghi decides to devaluate the Euro, he immediately exerts massive pressure on nearby countries' currencies, which are forced to engineer their own devaluations to keep their exports to the Eurozone competitive. This may generate big bubbles - Sweden - and create enormous risks in their banking systems, risks that will brutally surface when the bubble pops.
Taking this into account a certain number of banks are clear longs until the bubble bursts- Swedbank (OTCPK: OTCPK:SWDBF), Handelsbanken (OTCPK: OTCPK:SVNLF), Lloyds (NYSE: LYG) - and certain banks are shorts because they are in the less competitive side of the Eurozone - (NYSE: OTCQX:BNPQF), (NYSE: OTCPK:SCGLF), (OTCPK: OTCPK:UNCFF), Italian mid caps.
In contrast to the European complex and uncertain landscape the United States of America is a unified banking market of circa 320 potential banking services consumers in which thousands of small banks and hundreds of regional banks coexist with several megabanks that progressively gain market share through organic growth of M&A.
The industrial bargain between the Federal Government and civic and regional interest groups to keep this market open looks to be still holding its ground after the 2008 crisis: in exchange for cheap credit for regional and civic group interests, the new US gigantic banking market will stay unified and the handful of US mega banks will be allowed to expand, allegedly at the cost of regional lenders unable to cope with economics of scale from big behemoths, their market pricing power and their resources.
In consequence, in the US structurally it makes sense to go long Wells Fargo (NYSE: WFC), Bank of America (NYSE: BAC), US Bancorp (NYSE: USB), and short regional banks with underperforming metrics and / or that lack very strong market power in a small area.
In terms of profits, the midterm potential for future banks earnings looks similar on both sides of the Atlantic, but American banks will reach it first.
Net Interest Margins (NYSE:NIM) of banks in the US and Europe fluctuate in a band between 2% - 2.7% and are likely to increase in parallel across the cycle. Efficiency ratio variations are now on average around 55% - 65% in both the US and Europe and historically have increased in a similar fashion across several business cycles.
NPLs may have steep changes from lender to lender, but American banks have been more aggressive bringing them down and currently have lower NPLs averages when compared with the Europeans. Equally, cost of risk in basis points has notable variations depending on the business model, industrial segment covered and national macro variables but, on average for the biggest banks, is higher in Europe - around 70 bps - than in the US - 20 or more points lower on average-. Expectations are that the Europeans will catch up in the next two - three years.
Finally, ROE (Return on Equity) is clearly higher in the US, at around 8% - 10% at the low - mid part of the cycle, compared with a mere 5% average for European biggest banks.
Thus, in terms of expected profits, US banks are more profitable at the present time, even if ROEs will converge across a three year horizon with the Europeans.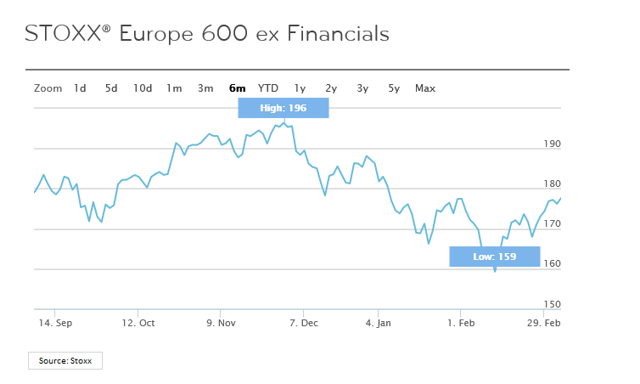 What does all this mean in terms of KBW:US or Stoxx 600 Financials Europe prices? From the previous analysis, it seems clear the US banking system is far more stable, predictable and less prone to political extreme events compared with the European one. In addition, US banks appear to be one or two years more advanced in the earnings cycle compared with those at the other side of the Atlantic.
So we have higher expected profits with a lower level of risk in the US. But how far is this priced in the banking indexes?
Looking at the numbers, PE of BKX US Banks Index is 11.5 and P/ Book value, slightly under 0.9 times. The Stoxx 600 is cheaper: projected PE for 2016 is around 9.7 times and P / Book value is around 0.6 times.
In our view the slight discount of European banks compared with US ones does not compensate for the complexity of the European banking landscape, its political risks and a lower level of profits.
Consequently, a two year rolled over CALL option on the BKX Banks Index should be more profitable, and certainly less risky than its European counterpart.
Disclosure: I am/we are long BANK OF AMERICA (BAC).
I wrote this article myself, and it expresses my own opinions. I am not receiving compensation for it (other than from Seeking Alpha). I have no business relationship with any company whose stock is mentioned in this article.
Editor's Note: This article discusses one or more securities that do not trade on a major U.S. exchange. Please be aware of the risks associated with these stocks.