The state of Colombia once associated with narco-trafficking, guerilla warfare, terrorism and violence has miraculously transformed itself in recent years to become a tourism hot spot and a darling among investors. It has rapidly opened up its economy to external investors with the government adopting a business friendly stance that has economically transformed the one time almost failed state.
However, it all won't be plane sailing with the sharp collapse in crude highlighting a number of structural economic issues that continue to be compounded by poor policy decisions. Key among these is that it has fallen into the 'extractive trap' with an over reliance the extraction and export of commodities as a key means of driving economic growth.
Background
Colombia has risen rapidly among Latin American oil producers to become the fourth largest oil producer in Latin America, after Brazil, Mexico and Venezuela with it producing close to one million barrels of crude daily. The rapid rise of Colombia's oil industry can be attributed to a significant increase in investment coupled with the government taking a favorable and supportive policy position that was aimed at attracting oil companies to the South American country.
Foreign investment in Colombia's oil industry peaked at more than $4.8 billion in 2014 which amounted to about 30% of the country's total FDI in that year and was a massive 17 times higher than it was in 2003.
Much of Colombia's oil industry is centered on the Llanos basin, Putumayo Basin and the Magdalena valley, with the country possessing 2.4 billion barrels of proven oil reserves.
The topography of Colombia's oil basins are shown in the map below.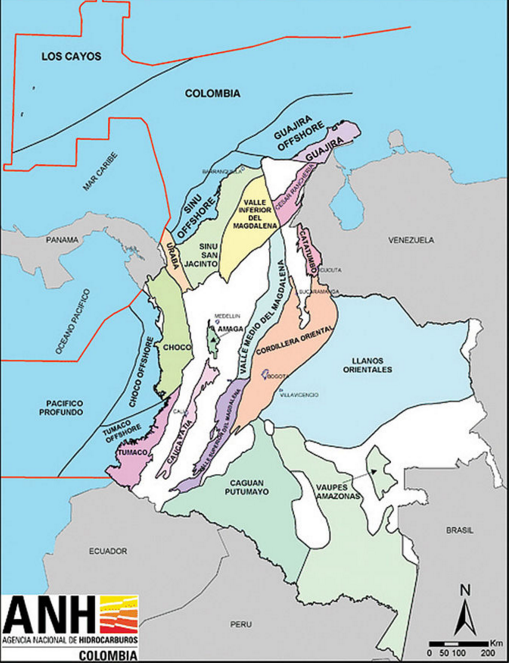 Source: ANH Colombia.
The Llanos basin is the most prolific hydrocarbon basin in Colombia and contains the Rubiales field the largest producing field in Colombia. It has the largest amount of national production and is responsible for the majority of Colombia's oil output which is primarily composed of light and medium crude.
The upper and middle Magdalena valley also produces light and medium crude and is the next largest oil producing region.
The Putumayo basin is an extension of the Marañon basin which extends from northern Peru across Ecuador and into southern Colombia and has become a hot spot for oil exploration and production in recent years.
Due to the lack of vital transport infrastructure and the difficulty of the terrain means the majority of Colombia's crude is transported via a network of oil pipelines which along with other key oil infrastructure are shown in the map below.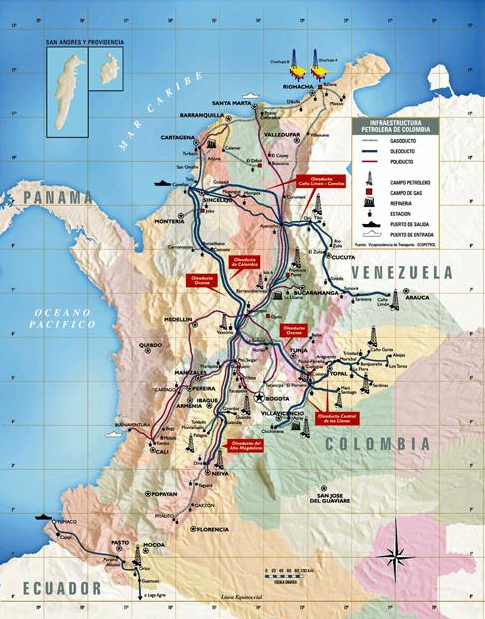 Source: Ecopetrol.
One of the biggest problems that Colombia's oil industry has been facing in recent years is the number of attacks on vital oil infrastructure by the Revolutionary Armed Forces of Colombia or FARC. In 2015 alone there were 47 attacks on oil infrastructure attributed to the FARC and these have taken a heavy toll on Colombia's oil industry.
As a result of these attacks it is estimated that around 4 million barrels of crude have been spilled in the past 30 years, which is comparable in size to the 1989 Exxon Valdez oil spill in Alaska, or the 2010 explosion on a BP oil rig in the Gulf of Mexico.
The FARC has previously stated that the oil industry is a legitimate target and these attacks have occurred for a variety of reasons key among them as a means of bringing the Santos government to the negotiating table and the unwillingness of industry participants to pay extortion money.
Key risks to Colombia's oil industry
Over the last 20 years Colombia's oil production has grown significantly to now be over 1 million barrels daily and this has seen it become a key driver of economic growth.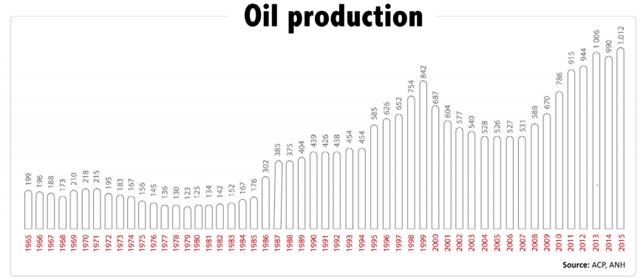 Source:Wilson Centre.
One of the major risks Colombia is facing at this time is its dependence on the oil industry as a key driver of economic growth. The oil industry is responsible for generating around 8% of the country's GDP and 49% of its total exports by value.
In fact, as the graphic highlights Colombia is heavily reliant upon the extraction and export of commodities, which means the rout in commodities is having a significant impact on its economic growth.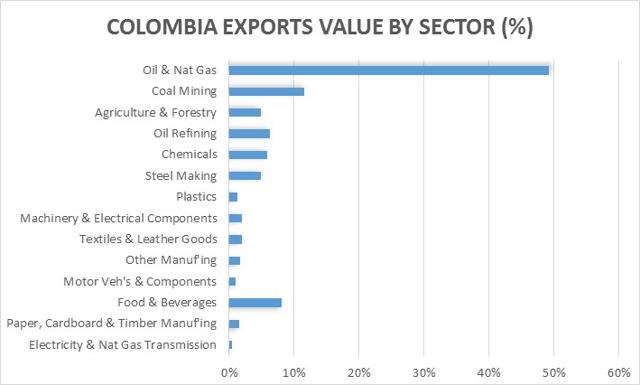 Source: DANE.
Oil and natural gas is Colombia's top export making up almost 50% of the value of total exports, while coal comes in second at around 12%. Then there is a heavy reliance on agricultural, chemicals and steel making, all of which are under pressure because of the collapse in commodity prices.
The sharp collapse of oil prices alone has left the government facing a revenue shortfall of $6.5 billion in 2015 with crude accounting for 16% of the government's revenue. This fiscal deficit is expected to widen in 2016 possibly to as much as $9.7 billion with a 3.6% deficit in GDP expected, highlighting the marked impact the commodities rout is having on a country that like many other emerging markets is caught in the extractive trap.
It has also triggered sharp devaluation of the Colombian peso which has plunged by 20% over the last year despite a recent rebound attributed to oil edging higher in recent days. This has created considerable financial pressures for the government and threatened its ability to fund a range of internal development programs aimed at alleviating domestic issues including poor infrastructure.
One of the most important of those programs is the fourth-generation roads program aimed at alleviating the lack of transportation infrastructure in the mountainous country which has some of the worst transportation infrastructure in Latin America.
This is a particularly important development program for Colombia with it relying on its road network for 80% of internal transport. The program requires $10.7 billion in investment over the next eight years.
To date the government has covered some of shortfall in revenue by completing the sale of its majority 57.6% stake in Colombian electric utility Isagen to Canada's Brookfield Investment Management (NYSE:BAM) for $2 billion. The sale price was its minimum price and is the largest privatization in the country in over a decade highlighting just how desperate the government is to raise revenue.
These factors alone illustrate just how critical the extraction and export of crude and other commodities including coal and nickel are to Colombia's economy.
This creates a very worrying precedent of what may occur in the future with Colombia's proven oil reserves only amounting to 2.4 billion barrels, which is that it only has sufficient reserves for another 6.5 years of production at the current rate of production as the chart shows.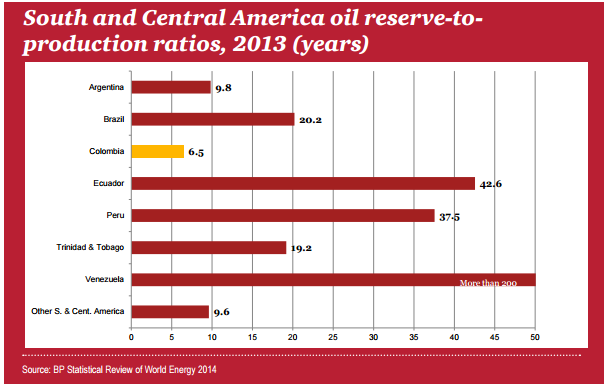 Source: PWC Colombia Oil and Gas Industry Overview 2014.
The current crisis triggered by sharply weaker oil prices underscores just what could happen should Colombia's oil reserves run out.
The emerging oil crisis
Despite the rapid expansion of Colombia's oil industry between 2009 and 2013 there have been no discoveries of major oil fields and the last major discovery was the Camon-Limones field in 1983 by Occidental Petroleum (NYSE:OXY) in the eastern department of Arauca.
It has been estimated however by Ecopetrol (NYSE:EC) the government controlled national oil company that Colombia's reserves are potentially 47 billion barrels, although a large proportion of that is located in areas that are inaccessible due to the ongoing civil conflict. Much of those potential reserves are located in areas controlled by the FARC and to a lesser by the National Liberation Army or ELN. Thus underscoring the need for the Colombian government to implement a viable peace plan with the major belligerents if the country's oil industry is to remain sustainable.
The recent fiscal crisis triggered by the sharp collapse in the price coupled with Colombia's dependence on the extraction and export of oil indicates just how vital this is to the country's future. It is one of the key reasons that the Santo government has commenced peace negotiations with the largest belligerent the FARC.
The sharp decline in oil prices coupled with the high operational costs associated with operating in Colombia and the security risks that the civil conflict creates for oil companies has already seen a significant decline in oil exploration.
As the chart illustrates only 15 exploration wells were drilled in 2015 and this number is expected to remain unchanged or even decline in 2016 if oil prices fall further.

Source:Wilson Centre.
This can only lead to a decline in Colombia's oil output for the foreseeable future placing further financial pressure on the central government.
While oil companies operating in Colombia have high reserve replacement rates with Ecopetrol recording a reserve replacement ratio of 146% in 2015, the majority of this comes from secondary recovery.
No viable oil industry or company is able to survive on secondary recovery alone and doesn't alleviate the significant headwinds facing Colombia's oil industry created by low reserves and declining rates of exploration. This means that there is an urgent need for new discoveries to be made in Colombia.
It also underscores just how important the success of the peace negotiations with the FARC are for Colombia's economic wellbeing.
Changing security landscape
It is now appearing considerably likely that a peace deal between the FARC and the Colombian government will be reached in 2016. There are also preparatory talks being held with the ELN, although to date few inroads have been made with the Santos government preferring to focus on completing negotiations with the FARC.
The success of these negotiations are critical to the oil industry because peace will give oil companies access to a number of locations that are thought to be oil rich in Putumayo, Arauca and Caqueta that have been previously off limits due to the civil conflict. A future peace deal with the ELN would also markedly change the dynamic the departments of northern Casanare, Arauca, and Norte de Santander which traditionally have been its strongholds.
As discussed earlier this is crucial to the industry's survival in Colombia and the ongoing growth of its economy with the central government determined to retain oil extraction and export as a key lever of economic growth.
The need for economic reform
The two pronged crisis afflicting Colombia's economy because of sharply weaker oil prices and declining oil reserves highlights the need for the central government to rethink its economic policies. Already, the country is feeling the heat with inflation rising to 7.5% in January 2015 and GDP growth declining to 2.8% for 2015, well below the ten year average of 5% between 2005 and 2014.
It clearly illustrates the problems a developing economy faces when it falls into the extractive trap and becomes overly dependent upon the extraction and export of commodities to fund government revenue and economic growth.
These types of industries also typically have a finite life span and can't be depended upon forever to drive economic growth.
One of the major emerging problems this is creating is the increasing likelihood of Colombia falling into the middle income trap. This is because at the start of the development cycle it pays to be a catch up economy but as the quick gains are realized through transfers of technology and capital, governments of developing economies need to readjust their economic policies to promote internal consumption as a main growth lever.
Such a readjustment is just not occurring in Colombia and with over half the population still making the minimum salary of just over $200 per month there is little scope for domestic consumption to increase as substantially as required. There are also signs that the government remains solely focused on continuing with those economic policies such as targeting commodities extraction and exportation that gave it the easy economic gains at the start of the developmental process. This means that it will never be in position to transition to a developed economy until it accepts that economic policies need to be readjusted.
Final thoughts
The prize for Colombia is clearly evident with estimates that Colombia has between million barrels of oil and 47 billion barrels of oil reserves. In conjunction with improved funding and a safer operating environment there would be a surge in exploration activity that would translate into ever higher oil production. This would give the government the ability to boost output as a means of off setting the loss in revenues from weak oil prices and provide make Colombia a key beneficiary when oil prices eventually rebound.
The only problem is a culture of endemic corruption and mismanagement has in the past squandered the benefits that Colombia's vast natural resources give the country. This underscores that Colombia has become overly dependent upon commodities and particularly oil as the key levers for economic growth. By its very nature this highlights that there needs to be a major rethink of economic policy in Colombia, with the country's economic development essentially held hostage to the outlook for oil.
Disclosure: I/we have no positions in any stocks mentioned, and no plans to initiate any positions within the next 72 hours.
I wrote this article myself, and it expresses my own opinions. I am not receiving compensation for it (other than from Seeking Alpha). I have no business relationship with any company whose stock is mentioned in this article.