I introduced the concept of my new portfolio recently. Ian's Million Fund, or the IMF for short, is my attempt at building a low-turnover index fund-type product that beats the market consistently by one to two percent a year.
I seek to achieve this by buying a basket of stocks attractively priced by the market each month. Over time, through steady purchases of varying securities, I anticipate ending up with a low-cost basket of quality companies purchased at relatively attractive prices.
For more information on the portfolio and my reasoning behind the buy list for both January and February, see the following articles:
The first two months of the portfolio have had a great start. The January and February buys are up just over 15%, in aggregate.
With A Rallying Market Comes New Challenge
I am faced with difficulty for at least March and perhaps going forward. Stocks aren't on the cheap anymore. There was a moment to strike and get some bargains, but it has now passed.
The fact that I, on average, am up 15% on my positions means that while I have a gain, I now face a severe loss of buying power for new shares. My dollar of January buying power now buys fewer than 90 cents of shares in my previously chosen stocks.
This means that for March buys, I must either pay higher prices for stocks I like, or go bargain hunting in a much thinner pool of stocks that haven't dramatically reacted yet to the recent rally.
In practice, I'll end up doing some of both. However, there's no rush to use my March funds yet. I'm sitting on my firepower for March, in hope of some correction that might get me better prices.
However, should the whole month pass with stocks up here at these higher levels, I'll end up compelled by the rules of my system to deploy the capital before month's end.
Like a Millennial investing on a monthly basis, as this portfolio is designed to imitate, dollar-cost averaging must go on, whether prices are relatively good or poor. Had you stopped investing in, say, 1994 because prices had risen, you'd have missed one of the greatest bull runs of all time.
So no, this portfolio won't hold cash for long periods of time. Each monthly contribution will be utilized by the end of the month.
What I can, and will, do is hedge periodically. Since my portfolio is heavily exposed to commodities/emerging markets, on Thursday, I purchase a short energy exchange-traded fund, the ProShares UltraShort Oil & Gas ETF (NYSEARCA:DUG).
This goes against the strict rules of passive buy and hold, I agree. However, since this account doesn't have option capability (as many Millennial and new investors wouldn't), it wouldn't be fair of me to sell covered calls or use otherwise complex hedging strategies. Just inverse ETFs for me in this vanilla portfolio, since they have less of a learning curve and can be purchased in just about any type of account.
With this position, should oil's (NYSEARCA:USO) huge run take a break, I should make a decent profit on my hedge that largely cancels out the losses my high-flying oil-exposed stocks would take. In this way, I can mute the volatility of my portfolio without being forced to sell my winners, and allow long-term capital gains and compounding to continue.
It's really hard not to hit the Sell button when you have stocks up 30-50% in a month. Hedging, while by no means a perfect tool, is preferable to selling your winners, seeing big tax bills mount, and losing the chance at long-term compounding.
Profits from hedging (if and when they occur) will exclusively be invested in bonds for two reasons. One, to show what portion (if any) of my long-term gains come from market timing. And two, to lower portfolio volatility. I think bonds are generally overpriced, and I don't want to invest in them with my own hard-earned money.
I realize dollars are fungible. So I may be irrational, but using money earned from hedging seems different from putting my own sweat capital into bonds. In any case, numerous studies show that buying bonds, even when they seem overpriced, greatly reduces portfolio volatility and generally has a positive impact on returns.
The State of the Portfolio
Here's what I currently own, sorted by overall position size (prices current as of Friday's close):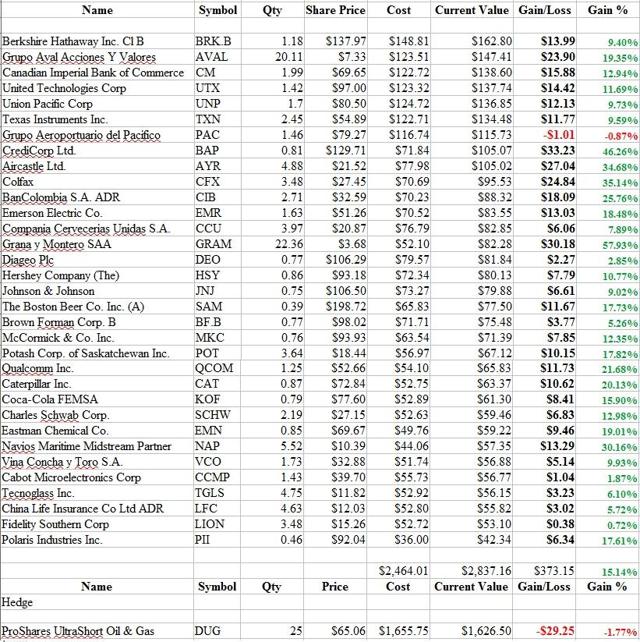 Berkshire (NYSE:BRK.B) is my top position, and happily so. Any shares that could be purchased under $130 were a good deal. Unfortunately, that price may not come back around anytime soon unless there's a big correction.
Grupo Aval (NYSE:AVAL) and CIBC (NYSE:CM) grew into the second- and third-largest positions, as banks with perceived commodity exposure have really enjoyed the recent materials rally.
Other big winners have mostly played on the commodity theme. Graña y Montero (NYSE:GRAM-OLD) and Credicorp (NYSE:BAP), +58% and +46%, were big winners, as the Peruvian economy enjoys rebounding gold and copper prices.
Colfax Corp. (NYSE:CFX), Potash Corp. (POT), and Caterpillar (NYSE:CAT) were among the other big winners as commodity sentiment improves. These gains could all dissipate with time, though, if the recent bounces in oil, gold (NYSEARCA:GLD) and related instruments fade. Thus, the oil hedge.
Finally, my largest February buy, Aircastle (NYSE:AYR), enjoyed a stupendous bounce off the low. I was fortunate to make my February purchases just at that stock was bottoming.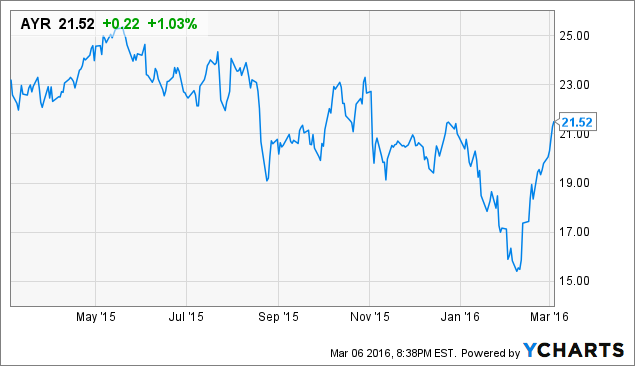 AYR data by YCharts
On the flip side of the script: What's not working? Only one stock was outright in the red. Grupo Aeroportuario del Pacifico (NYSE:PAC), a Mexican airport operator, is slightly negative from my purchases. This is one of the few stocks I chased on valuation at the time of purchase, and perhaps not surprisingly, it hasn't in turn run up with the other stuff.
Brown Forman (NYSE:BF.B) and Diageo (NYSE:DEO) are both trading softly following perceived weak quarters for liquor companies. I look forward to buying more of both. Beyond that, there wasn't much of a theme to the laggards. A regional bank here, a semiconductor company there.
How Am I Doing Against The Indexes?
To be clear about the rules, I am competing against two indices, the S&P 500 (NYSEARCA:SPY) and the Vanguard Total World Stock Index (NYSEARCA:VT). Since my portfolio has significant international and small-cap exposure, VT is probably the fair comparison, though SPY is much more popular.
The rules are as follow. I deposit $1,000/month into my Motif account at the start of each month. The passive indexer is assumed to invest this same amount at the start of the month, at the ETFs' opening quote of the month (the model portfolios pay $5 commissions per single stock trade, on par with single stock trades at Motif).
If and when (as, for example, in January) I make an additional deposit to try to take advantage of a steep market drop, those funds will be added to the competing index ETFs at the same time I make my additional purchases. In this way, I can't game the system by investing extra money after market declines. Even a passive indexer often occasionally adds a little extra juice after steep intra-month declines.
So, to this point, my index competition portfolios have done as follows:
SPY
January 4th: Bought 4.96 shares @ $200.49
January 15th: Bought 2.65 shares @ $186.77
February 1st: Bought 5.17 shares @ $192.53
March 1st: Bought 5.10 shares @ $195.01
SPY has paid no dividends during this time. Dividends are reinvested when received. The SPY account now has 17.88 shares that are worth $3,583.69 at the current share price of $200.43.
The fund's March buy so far has been quite fortuitous. I will be hard-pressed to, on average, buy stocks at a better level than were on offer on the 1st. It wouldn't be surprising if SPY can cut into my lead a little by April.
SPY has invested $3,500 in capital and has a positive return of 2.4% on its investment.
VT
January 4th: Bought 17.58 shares @ $56.59
January 15th: Bought 9.46 shares @ $52.30
February 1st: Bought 18.46 shares @ $53.91
March 1st: Bought 18.36 shares @ $54.2
VT also has paid no dividends during this time. Dividends are reinvested when received. The VT account now holds 63.86 shares that are worth $3588.93 at the current share price of $56.20.
The fund has invested $3,500 in capital and has a positive return of 2.5% on its investment. VT has slightly outperformed SPY, since it dipped a bit further during the January swoon and has recovered nicely since then.
The IMF
January 12th: Bought $489 of stock
January 15th: Bought $975 of stock
February 2nd: Bought $999 of stock
March: No buys yet
March 3rd: Hedged via purchase of 25 shares of DUG @ $66.23
The IMF received no dividends in January. It received dividends of $3.33 in February. These came from Navios Maritime (NYSE:NAP), Grupo Aval, Charles Schwab (NYSE:SCHW), and Texas Instruments (NYSE:TXN). Off that low dividend base, I look forward to large and steady income gains in the ensuing months and years.
The IMF has invested $3,500 in capital. It currently holds $2,837 of long stocks, $1,627 of hedges, and -$641 of cash, adding up to $3,822. This amounts to a +9.2% return on investment. I am comfortably beating the indices.
Keep in mind that as time progresses, my early lead against the model portfolios will diminish. The mere fact that I deposit capital every month will lower my advantage, since every new dollar will start out again on an even playing field with the control portfolios.
My goal is to beat the indices by 1-2% a year. The current 6.7% and 6.8% leads over VT and SPY are not sustainable, though I'm pleased with the fast start. Hedging, if used successfully, will help me maintain my lead. On the other hand, I've currently hedged off much of my upside exposure and would see my lead slip, should the markets keep rallying.
We'll keep this portfolio updated. Next up will be the March buys whenever they may come, and then next month's check of performance against the market.
If you're a member of Ian's Insider Corner, you can see my watchlist of potential March purchases here.
My recent publicly available research on individual companies in the portfolio over the past 30 days:
CCU - United Breweries: Stagnant Share Price; Improving Fundamentals
Disclosure: I am/we are long AVAL, BRK.B, DEO, NAP, AYR, CAT, DUG, PAC, TXN, BAP, CFX, POT, BF.B, CM, GRAM, SCHW.
I wrote this article myself, and it expresses my own opinions. I am not receiving compensation for it (other than from Seeking Alpha). I have no business relationship with any company whose stock is mentioned in this article.