On March 1, 2016, Glencore (OTCPK:GLNCY) announced its preliminary 2015 earnings results. During a media conference call, CEO Ivan Glasenberg declared a bottom for commodities. In the subsequent investor/analyst conference call, Glencore's executives said nothing about a bottom in commodities and instead were quite clear in their abundance of caution and eagerness to continue fortifying the company against further weakness in commodity prices. Glencore's reversal is instructive as it provides a tale of caution: the current run-up in the price of at least some commodities may be running well ahead of the fundamentals on the ground. (I am particularly focused on iron ore in this observation).
In the investor/analyst call, Glasenberg presented along with Glencore's CFO. Together, the two executives were quite clear that the company is doing what other mining companies continue to do - brace the company for the potential for lower commodity prices. Glencore went so far as to reassure investors and analysts that its "free cash flow will remain comfortably positive at materially lower price levels."
Glencore is fortifying the company against worsening market conditions by signaling its willingness to rationalize production. Glasenberg explained the company's readiness to cut production to "preserve the value of [its] resources for the future." In other words, Glencore suggested that it is prepared to concede market share in the near-term in favor of longer-term health. Where the market is over-supplied, Glencore will cut production accordingly. Where assets are not delivering the expected return, Glencore will shut them down.
The company likely hopes that rationalization will prove contagious and lead quickly to price stabilization. Glencore's smoke signals provide some whiffs of the potential for the bottom the company referenced in the first conference call. Marketwatch reported on Glasenberg's comments on a bottom in "Glencore CEO: Commodity markets have hit bottom":
"Glencore PLC's Chief Executive Ivan Glasenberg Tuesday said he thinks commodity markets have hit the bottom and that cuts in spending by the world's biggest mining companies will have a positive impact on prices in the future.

Reduced spending 'is going to tighten up supply and you're not going to get new excess supply coming on the market,'…"
Glencore's instructive reversal made sense given large miners like BHP Billiton Limited (NYSE:BHP) did not announce its measures of fortification as the beginning of a bottom in the market. For example, in its last earnings report, BHP announced the following on February 23rd along with a significant dividend cut:
"At the same time, BHP Billiton understands the fundamental importance of maintaining a strong balance sheet. The changes to the dividend policy announced today reflect the Board's assessment of the outlook for commodities and the increased financial flexibility this demands. While the continued development of emerging economies will underpin longer-term demand growth for commodities, we now believe the period of weaker prices and higher volatility will be prolonged. The adoption of a dividend payout ratio will further support BHP Billiton's financial strength, while providing flexibility at the bottom of the cycle and ensuring discipline at the top…

Slower growth in China and the disruption of OPEC have resulted in lower prices than expected. However, our company remains resilient with assets that generate free cash flow through the cycle and a strong balance sheet."
BHP's comments on metallurgical coal, copper, and iron ore are all revealing:
"In metallurgical coal, industry-wide supplier cost compression is expected to persist through the 2016 calendar year, with recent devaluations in China's currency highlighting a key uncertainty for seaborne demand as imports become relatively more expensive. While high-cost seaborne supply will continue to rationalise, we expect further growth in low-cost, premium hard coking coal supply to offset production cuts and constrain potential for near-term price recovery…

Copper prices continued to be affected by growing supply, slightly weaker than expected demand, improved productivity at existing operations and a stronger US dollar. In the short to medium term, new and expanded production is expected to keep the market well supplied, despite cuts being announced to higher-cost production. In the long term, the copper outlook remains positive as demand is supported by China's shift towards consumption and the scope for substantial growth in emerging markets. A deficit is expected to emerge towards the end of this decade as grade decline, rising costs and limited high-quality development opportunities constrain the industry's ability to meet growing demand…

The iron ore price will likely remain low, constrained by weak demand and abundant seaborne iron ore supply. Over time, additional low-cost seaborne supply will continue to displace higher-cost supply, and we expect productivity gains will continue to be an industry feature. These factors point to a prolonged period of market rebalancing."
As far as I could tell, BHP made no mention of voluntary production cuts in response to price or supply conditions. Nevertheless, BHP has greatly benefited from the current run-up. BHP has gained 29% in just the first week of March. The stock is up 51% since January's near 12-year low. (The current rally in metal stocks is reportedly the best since 2008 according to Bloomberg.)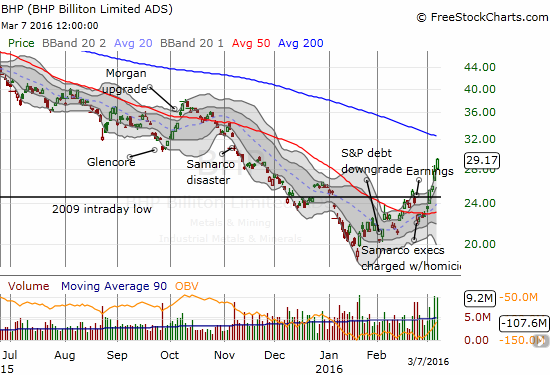 BHP Billiton Limited has fought off a multitude of negatives to soar off the January 12-year low.
Source: FreeStockCharts.com
So while Glencore backtracked on its declaration of a bottom, the market is definitely trading like the bottom is receding in the rearview mirror. I have claimed that United States Oil (NYSEARCA:USO) has finally printed a bottom that should prove more sustainable than previous ones. The breathtaking rebound in iron ore makes the last low feel and look like a distant memory even as it is the third sharp bounce off (lower) lows in less than a year: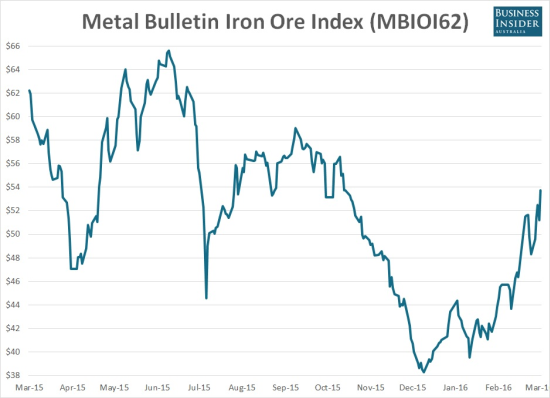 Iron ore has soared 40% from the record low set in December, 2015.
Source: Business Insider Australia
Commodity currencies like the Canadian dollar (NYSE:FXC) and the Australian dollar (NYSE:FXA) are adding to the signals of a bottom. The Australian dollar in particular experienced an acceleration in gains in the wake of Glencore's earnings call as well as the latest statement on monetary policy from the Reserve Bank of Australia.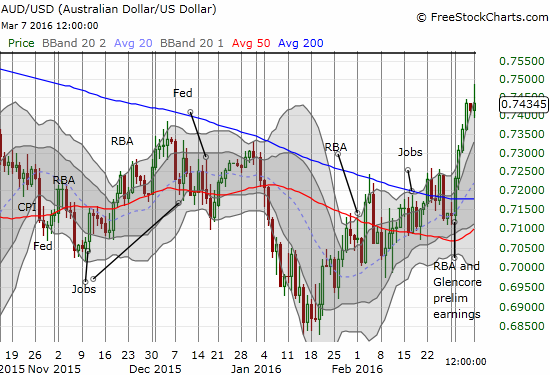 The Australian dollar has accelerated against the U.S. dollar in March
Source: FreeStockCharts.com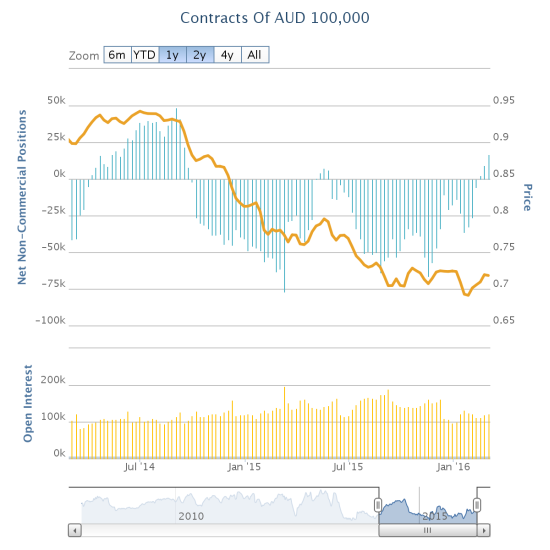 Speculators have not been THIS bullish on the Australian dollar since September, 2014.
Source: Oanda's CFTC's Commitments of Traders
For years now, we have heard various calls for various bottoms for various commodities. Glasenberg's initial declaration of a bottom seemed particularly significant and confirming given Glencore's large position in trading and mining commodities all over the globe and across a multitude of markets. The subsequent quick reversal instructs me to temper my expectations and keeps me braced for the next setback in commodity prices. Perhaps once Glencore carries through on production cuts, and especially if other producers follow suit, I will pull out my Commodity Crash Playbook and put a firmer stake in the ground on a bottom in a sustainable bottom commodities.
(Note - in writing this piece I contacted the author of the MarketWatch article after I was surprised that the investor conference call did not include any talk of a bottom. He explained that the call for a bottom happened in a prior conference call set up for the media).
Be careful out there!
Disclosure: I am/we are long FXC.
I wrote this article myself, and it expresses my own opinions. I am not receiving compensation for it (other than from Seeking Alpha). I have no business relationship with any company whose stock is mentioned in this article.
Additional disclosure: In forex, I am short USD/CAD and long and short various positions against the Australian dollar. I am also short put and call options on USO and long call options on USO (a hedged short "strangle" options position).
Editor's Note: This article covers one or more stocks trading at less than $1 per share and/or with less than a $100 million market cap. Please be aware of the risks associated with these stocks.