Contrarians/Futurists Only
Mongolia, once praised as the world's fastest growing economy, is now considered a dark area for investment in Asia. Investors certainly have proper cause to fear investment in Mongolia; the government has been unpredictable with FDI projects, approximately 85% of the country's exports go to China, and it is a commodity based export economy. That being said, it is my conclusion that the resulting sell-off in Mongolia has been sensationalized, and that there is ample opportunity for those willing to take a futuristic approach to Mongolia's economic recovery. While there are no immediate catalysts in place in 2016 that will result in a short term recovery, the investment landscape in the 2020's is set to be much more favorable. Stocks are close to bottoming out, and offer bar none returns for investors with a long term horizon for the recovery of what was once the world's fastest growing economy.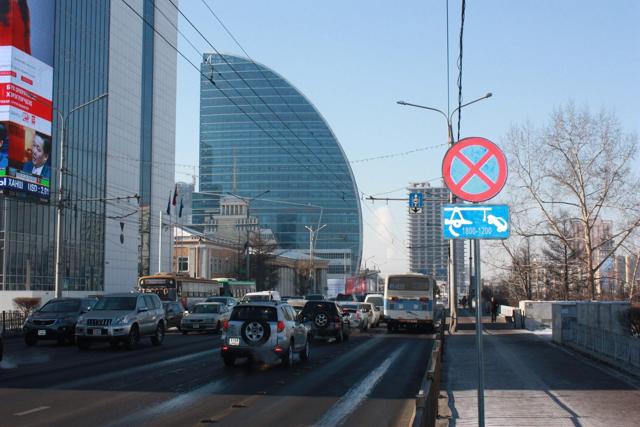 Ulan Bator, Mongolia
The Commodity Curse
Mongolia's top exports include coal, copper, iron, crude petroleum, and gold, making it extremely vulnerable to the bear market that has emerged for commodities based economies. Mongolia's strong connection to China has further worsened investor sentiment for Mongolia, as the country is very vulnerable to the adverse impacts of China's economic slowdown.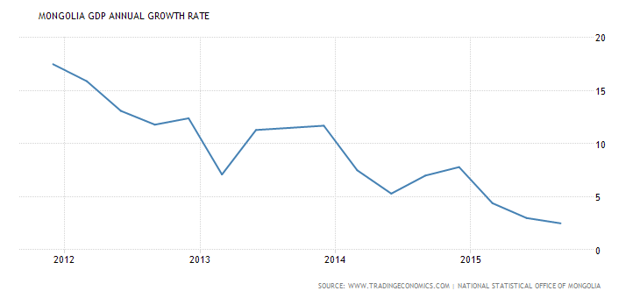 Mongolia's annual GDP growth has consequently declined from its high of 17.5% during the 4th quarter of 2011, to its current level of 2.6%. Nevertheless, its resilience and ability to deliver moderate growth in this economic environment can be considered impressive.
Oyu Tolgoi
December of last year proved to be an optimistic month for those bullish on Mongolia's long term economic outlook, as Rio Tinto secured a multibillion dollar deal for the Oyu Tolgoi Mine. The Oyu Tolgoi Mine has approximately 2.5 billion tonnes of gold and copper reserves, and is expected to contribute to around ⅓ of Mongolia's GDP once fully operational in 2021(forecasted earnings over its lifetime is $100 billion). The closure of this project was driven by Mongolia's necessity to pay back interest on bonds issued to foreign investors, as well as the drastic economic slowdown the country has been experiencing. Oyu Tolgoi can certainly serve as a catalyst for the recovery of the country's GDP growth amid the gloomy commodity environment, and also as a green light for investors who have become cynical of Mongolia. Investors can therefore be more confident of a strong investment landscape in the 2020's, and contrarians should rightly be sweeping in for stocks that have bottomed out amid Mongolia's recent economic setback.
Tavan Tolgoi Project
Tavan Tolgoi is one of the world's largest untapped coking and thermal coal deposits, and is located in Omongovi province in the Gobi Desert. It has also been ranked as the world's most profitable untapped coal deposit. The deposit is divided into six sections, and has an estimated 7.4 billion tonnes of coal . Mongolia's previous failure to secure $4 billion in funds for this project has resulted in criticism and a wait and see attitude with the country, yet this large scale, untapped project has ample potential to serve as an economic boost for Mongolia.
Ger District Redevelopment
Mongolia's ger redevelopment plan is a project that involves moving citizens in Mongolia's ger district to apartments in Ulan Bator, and is being implemented on 14% of Mongolia's total area of the city's ger district. Approximately 59% of Ulan Bator's population currently resides in ger districts, which are a key contributor of air pollution, especially in Ulan Bator. Ger District lands are an asset worth approximately $7.2 billion. According to Mongolia Economy, approximately 70% of ger district residents are willing to trade in their home in the ger district for an apartment. According to this plan, 80,000 new apartments will be built by 2020-2022. This can be considered a significant economic trend for the country, while the Oyu Tolgoi and Tavan Tolgoi projects are the two most significant catalysts for Mongolia's recovery.
FDI is No Longer A Catalyst, But a Necessity
While the country's nationalism and negative views of FDI have been a significant barrier for FDI, the current economic landscape necessitates increased FDI for Mongolia to continue on its path of economic growth. This has most recently been indicated by the resolution of the Oyu Tolgoi Mining project, which can serve as a catalyst for the restoration of investors' confidence in Mongolia.
Mongolia Economy interviewed Mongolia's mayor E Bat-Uul, who made the following comments regarding the necessity of FDI for Mongolia's economic future:
"No country can develop without attracting investment. No matter how smart you are, you are not going to develop if you lack of assets. We must introduce everything, namely technology and know hows. Yet, we see investors as colonists. This thinking is killing development."
The combination of slowed economic growth, and the perception of Mongolia being anti-FDI, resulted in a consequent 74% decline in FDI during 2014. The consequent decline in FDI has harmed Mongolia on a large scale, causing a sharp decline of employment in the mining sector. Amid the gloomy situation of commodity prices, coupled with Mongolia' dependency on exports to China, Mongolia now stands as an investment destination which many foreign investors choose to have a "wait and see" attitude. Mongolia now stands in a situation where it is more vulnerable, as commodity prices have bottomed out, China is experiencing an economic slowdown, and the country has lost its status as the world's fastest growing economy. Cooperation with countries seeking to invest in Mongolia is essential for its long term economic well being, and the Oyu Tolgoi and Tavan Tolgoi projects can both serve as catalysts for recovery.
Debt
Mongolia raised its debt ceiling to 58.3% of its GDP early last year, above the 40% recommendations made by the IMF and the World Bank. Mongolian has had increased pressure to pay back the Chingis Bond, value at $1.5 billion, and a $580 million bond borrowed from the Development Bank of Mongolia. Pressure for Mongolia to repay these bonds has also served as another catalyst for the country to recognize the need for increased FDI, and to move forward with Oyu Tolgoi.
The MSE 20 Index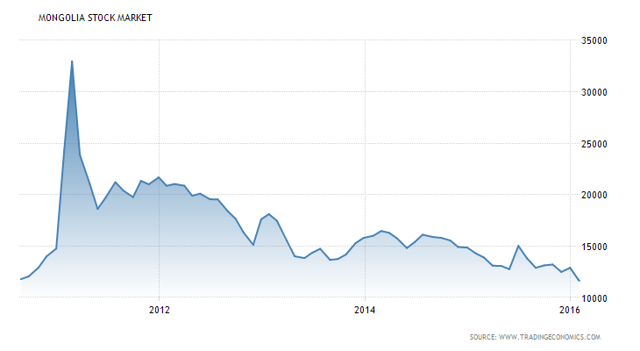 The MSE 20 Index has declined by 14.6% in the past year, and is trading substantially lower than the levels experienced during 2012 and 2013, when Mongolia was the world's fastest growing economy. The MSE 20 Index consists of companies in diversified industries, allowing investors to tap into the growth of consumer spending in Mongolia. Among these 20 components, APU Company and Gobi stand out as two companies that are able to access domestic growth in Mongolia, and also have strong exports.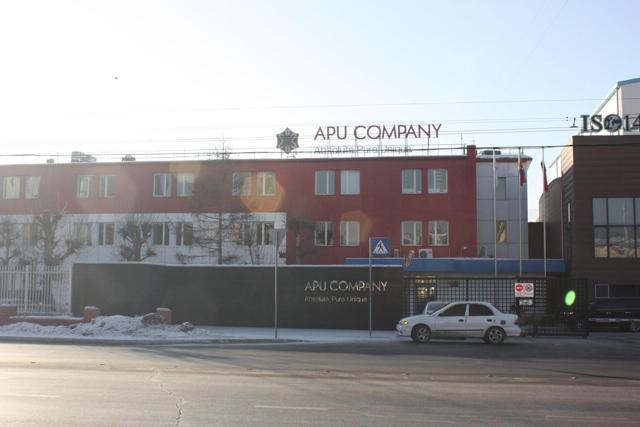 APU Company is a producer of beer, vodka, soft drinks, juice, and tea, and exports its products to South Korea, Japan, and Germany.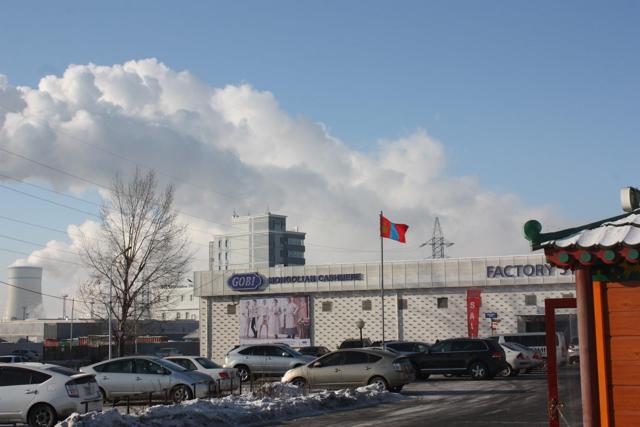 Gobi designs and manufactures cashmere and camel wool products, and sells its products throughout Asia, Europe, and North America.
Sell-Off on Other Exchanges
Apart from companies listed in Mongolia, there are large number of listings in Toronto and Hong Kong that have experienced an even stronger sell-off, and present ample opportunity for investors with a futuristic mindset. Although Mongolia has certainly had its economic setbacks since its peak as the world's fastest growing economy, it is my observation that the sell-off has been too strong, and that although there are no immediate catalysts in place for Mongolia's recovery, the 2020's provides clearer signs of recovery. Being prepositioned with a portfolio of companies whose stocks have bottomed out amid Mongolia's slowed economic growth offers substantial opportunity for high returns in the future. Among others, I have been observing Mongolia Growth Group, Kincora Copper, and Mongolia Mining Corporation as some noteworthy companies in Mongolia, all of which have experienced a substantial sell-off.
Mongolia Growth Group (OTCPK:MNGGF)
Mongolia Growth Group's recent December 2015 shareholder letter provides a gloomy outlook for Mongolia's economy, and how the company's real estate portfolio has been vulnerable to Mongolia's economic slowdown. The company's core commercial property portfolio recently experienced a 12.3% YoY rental decline, and its revenue decreased by 1.4%. The company's current occupancy rate for its retail and office properties is currently 87.4%. Amid the continued slowed growth that appears to be ahead for Mongolia, MGG now plans to focus on cutting costs to be resilient regardless of continued slowed growth that is ahead.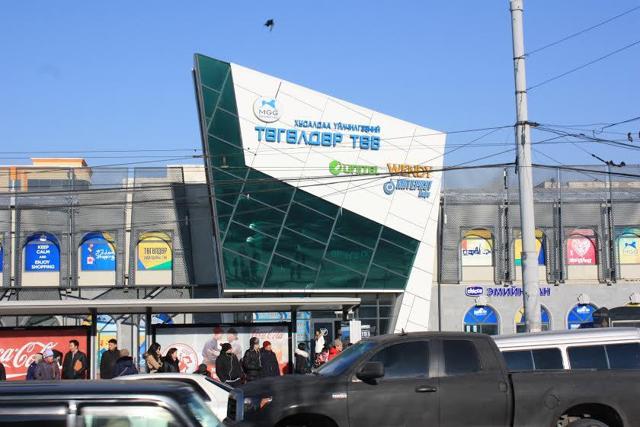 Tuguldur Center in Ulan Bator
The company's CEO, and other insiders have responded by purchasing additional shares, with a long term vision of upside potential when Mongolia's economy recovers. Although there are no immediate catalysts in place for recovery, MGG has been oversold, and a stronger economy in the 2020s makes its stock price at a strategic low point, near bottoming out. The company's stock price is currently 0.39, a far cry from 2014, when its stock price traded at 2.37.
Kincora Copper (OTC:BZDLF)
Kincora Copper was able to resolve mining disputes over two of its mining licenses last March, which were valued as C $6.92 million. The two golden grouse licenses were acquired in April 2012, and the uncertainty of these projects led to a decline in Kincora's stock and uncertain sentiment for investment in Mongolia. Kincora Copper has 100% ownership of the Bronze Fox project, a gold and copper project located in the south Gobi. The company is the last remaining junior copper mining company in Mongolia without a strategic partner, and is the only one which operates in the Oyu Tolgoi belt.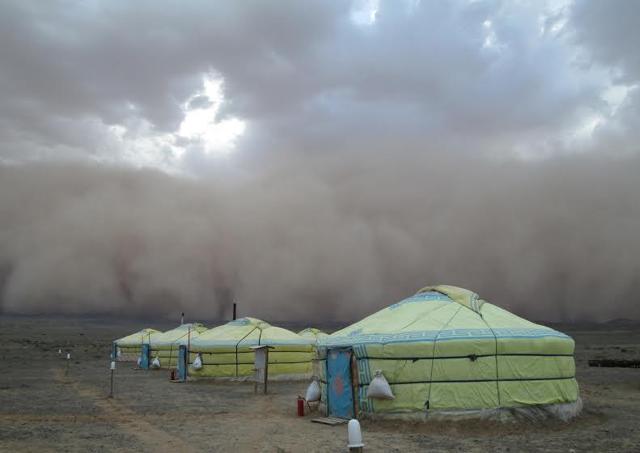 Sand Storm at the Bronze Fox Project. Source: Kincora Copper
Kincora Copper's stock price has declined from 0.30 in early 2012, to its current price of 0.02. Moreover, the stock has declined from 0.03 to 0.02 since early 2014, despite two positive catalysts that have occurred for this company, including the confirmation of the Oyu Tolgoi Mining project and the resolution of its mining disputes. Kincora Copper consequently presents a strong, futuristic opportunity.
Mongolian Mining Corporation (MOGLF)
Mongolian Mining Corporation is also poised to benefit from Mongolia's long term economic recovery, as it operates two coal coking pits in the Southern Gobi. The company also operates a coal handling and preparation plant, which makes it the first washed coal producer in the country.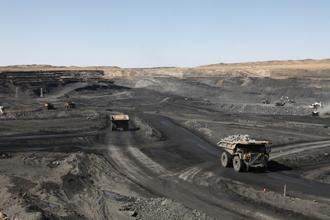 Ukhaa Khudag Mine in the Southern Gobi. Source: Mongolian Mining Corporation
The company's stock price is currently 0.07, a far cry from early 2012 when its stock price was 3.96. Given the company's strategic placement in the world's largest untapped coal coking and thermal deposits, the strong sell-off presents a unique opportunity for contrarians and futuristic willing to recognize this relegated opportunity.
A Frontier Gem
Among frontier markets in Asia, Mongolia certainly presents the strongest futuristic opportunity, coupled with one of the highest political and economic risks. Some lessons learned from the past include the long term horizon necessary to be successful in Mongolia, and the dangers of buying into Mongolia when its economy was at its peak. Stocks are near bottoming out, and investing in the near future and selling in the 2020's presents a worthwhile opportunity. For funds investing in Asia, Mongolia should represent a small portion of a high risk portion of a fund's portfolio. The sell-off should be seen as a buy opportunity for those willing to tackle this unique frontier market, and to hold for 5 years or longer.
Disclosure: I/we have no positions in any stocks mentioned, and no plans to initiate any positions within the next 72 hours. I wrote this article myself, and it expresses my own opinions. I am not receiving compensation for it. I have no business relationship with any company whose stock is mentioned in this article.
Editor's Note: This article covers one or more microcap stocks. Please be aware of the risks associated with these stocks.