The recent run up in Iron Ore prices has taken a lot of people off guard. As usual, the reasons for this move are complicated and has involved many factors. The essential driver back in December was a technical correction brought on by traders who saw the price as over sold. As with most commodities which had run out of short sellers, when the price improved there followed a stampede of short covering. This created a knock on effect causing Chinese purchasers of physical Ore to buy up stocks fearing the price would rise. Restocking after the Chinese New Year holiday was a major reason. A self fulfilling prophecy ensued which having been fueled by other factors (further on) has culminated in the recent price spike.
Resource Companies Fly
This news and the pre-emptive rumors caused companies such as RIO (NYSE:RIO), BHP (NYSE:BHP), Vale (NYSE:VALE) and the steel sector ETF (NYSEARCA:SLX) to rise rapidly. There may be a correction within the next few days, which in my opinion would enable a buying opportunity for those who missed the rumors.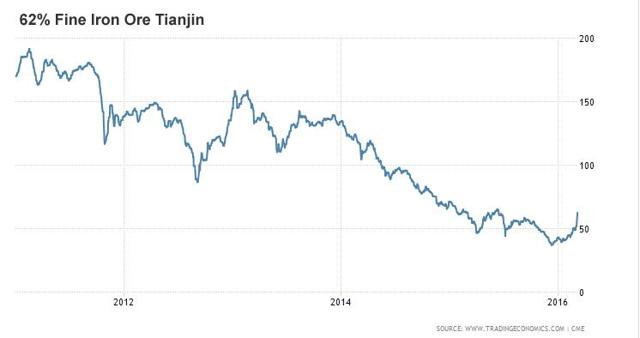 'Zombie' Companies To Close
News that chinese steel plants and mines are to be closed due to them being uncompetitive in the worlds markets didn't really come of too much of a shock. The Chinese steel companies which were mainly state owned enterprises were known to be very inefficient, but during the days of booming infrastructure projects, the difficulties were ignored. As the work tailed off, these plants were left with a tremendous amount of production that could not be utilized internally, so an export drive was initiated and they began dumping the cheap product on the world. The Chinese government has now changed it's stance with this regard thus deciding to close down this over production. This will lead to millions of job losses, with an announcement that 1.8 million will go initially. Over the next five years the government will spend $15.25 billion every year in order to cut 90mt of capacity.
Steel Prices
Private Steel plant owners seizing on this opportunity have been stockpiling inventory in anticipation of more demand. This has caused steel prices to increase, creating an expectation of this also leading to an increase in the raw material price.
Dong Shuangqiang, the sales director at Qianxin Trade, another steel dealer in Hebei, said many of his clients has started the "stocking" process.

"As people are expecting steel prices to go up further, they want to order products in advance," Dong said.
Chinese Hopes Undaunted
An announcement by Chinese Premier Li Keqiang, where he pledged a GDP growth target of between 6.5 and 7.0 percent this year has been a major factor in the rise. Analysts have looked at his figures and are of the opinion that it is quite possible he could follow through on his promise.
"The growth targets are ambitious and efforts to meet them may detract from reform," said Louis Kuijs of Oxford Economics. "The caveat that [trimming overcapacity] will be done 'proactively yet prudently' confirms our expectations that the efforts will be relatively timid."
There are still plenty of developments in progress, such as the new Silk Road, various electricity grid expansions and $61 billion of new building projects announced just last month.
Is This Rise Sustainable?
Well, looking at the Iron Ore market with realism, then the immediate answer is no way. We still have an over supply issue, coupled with weak demand. This rise has been fueled by traders and purchase managers anticipating future events. The expectation is way above a feasible reality in this environment. Therefore, we have to assume that we will see a continuation of the downtrend at some point. However, there are hopes and ambitions in the minds of Chinese officials which could become a reality. If this is the case, and as far as traders believe they will then prices will hold up, and may even rise further.
The following chart shows that imports of Iron Ore to China are on the increase. This is a direct result of hammered down costs by the major iron ore producers along with a little help from the decline in shipping fees. This increase in imports is at the expense of Chinese production.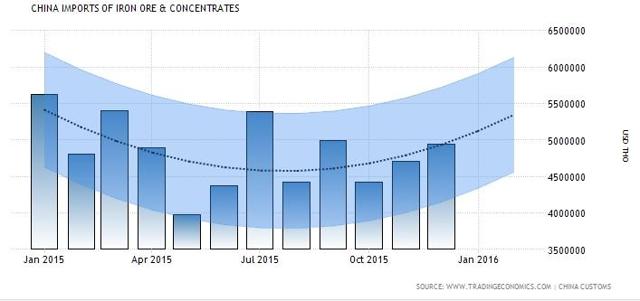 The next two graphs break down the supply/demand picture showing that imports are increasing (in favor of Australia) with the purchase cost of Iron Ore decreasing.

Conclusion
I can see this market continuing in a bullish fashion, albeit with a few hiccups along the way - for the immediate future at least.
I gathered some very useful information from a report made for the Australian government by Westpack.
Disclosure: I/we have no positions in any stocks mentioned, and no plans to initiate any positions within the next 72 hours.
I wrote this article myself, and it expresses my own opinions. I am not receiving compensation for it (other than from Seeking Alpha). I have no business relationship with any company whose stock is mentioned in this article.