"OK, first rule of Wall Street - Nobody - and I don't care if you're Warren Buffet or Jimmy Buffet - nobody knows if a stock is going up, down or (blank curse word) sideways, least of all stockbrokers. But we have to pretend we know.

- Mark Hanna (Matthew McConaughey)

"It's not what you don't know that kills you, it's what you know for sure that ain't true."

- Mark Twain

"Knowledge is limited. Imagination encircles the world."

- Albert Einstein
Introduction
If you made it this far, reading an article on Seeking Alpha, and actually are seeking "alpha", it is paramount to think about portfolio strategy and how to position your portfolio to achieve superior returns. Before we get into more detail on specific strategy, let's review some of what I have learned after nearly a twenty-year professional career in the investment markets. I will keep it short and sweet, but I still believe it is important to review to set the context of this article.
In summary, I have learned that every investor needs to identify his or her goals and objectives, periodically review them, and come up with a disciplined investing and savings plan and strategy to achieve those goals. In the heat of a market panic, or in the euphoria of success that follows a good investment, having a plan to refer back to serves as a counterweight to your prevailing emotions.
For most investors, the funds and ETFs that begin with an "i" and end with an "x", and have the letters "n", "d", and "e" in between, serve a useful purpose as a core of an investor's portfolio. As someone who has spent a large part of his career passionately advocating against the supposed efficiencies of the capital markets, particularly the stock market, it is hard for me to even say the word.
And that is something I have to come to terms with, not you, as I myself would have had a much smoother ride in my investing life if I had been deploying a portion of my-hard fought earnings into a dollar-cost averaging plan into this aforementioned strategy.
Now that we have got that out of the way, most of the writing about investments on the Internet, and in financial magazines, appeals to our desire, as humans, to do something more, something better. That is why we spend countless hours researching and reading, seeking knowledge to give us an "edge" in the investment markets.
Unfortunately, the truth is, investing to outperform is incredibly difficult. By the time something gets popular, the future potential performance advantages are typically priced out. An example in recent years was the infatuation with investing in supposed stable dividend payers like Kinder Morgan (NYSE:KMI). With the benefit of hindsight, we know what has happened.
The quote from Mark Hanna, in the introduction above, succinctly sums up the fact - that nobody knows, especially in the short-to-intermediate term, what will happen with individual stock prices, and it is similarly difficult to predict broader asset class returns.
Building on this, nearly every economist and analyst missed the recession and 50% drawdown in the S&P 500 Index, as measured by the SPDR S&P 500 Index (NYSEARCA:SPY), from 2000 to 2002, even though everyone knew the new-age technology stocks were overvalued.
The same pattern of everyone not knowing repeated itself in 2007, when the Federal Reserve articulated that home prices had never declined on a nationwide level in modern history. Investors of all stripes took this analysis as gospel, blazing through all the signposts of reason and risk control, culminating in an ever more severe drawdown with more far-reaching consequences.
Instead of fighting this inexorable truth - that it is very hard to predict the future - we, as investors, should be taking advantage of it more than we do. If the probabilities of something good, something bad, or something different from the consensus view happening in the stock market are much greater than the "market" thinks it is, wouldn't it make sense to use a small portion of your portfolio to benefit from the unlikely outcomes?
In a similar vein, if you had a high level of conviction in your portfolio's "Best Ideas", but did not know for sure if they would work out - because no one does - wouldn't it make sense to take a binary position in these ideas, particularly if the "crowd" did not believe the thesis, increasing the reward if it came true? With that logic, I developed the "Bet The Farm" Portfolio for "The Contrarian", my premium research service on Seeking Alpha.
Thesis
A concentrated, options-focused portfolio that comprised a small portion of an investor's overall portfolio could enhance overall returns, while adding acceptable levels of risk.
How The Strategy Is Implemented and Its Role In Your Portfolio
The "Bet The Farm" Portfolio is best suited for a complementary role to your existing portfolio. For most investors, allocating roughly 5-10% of their total portfolio value would give them enough exposure to this venture capital type strategy, where total losses in several of the initiated positions should be anticipated. The "winning" positions, however, have the potential to appreciate by 5 times or 10 times their initial values, or more. Thus, even one or two winning positions within this portfolio strategy could deliver absolute positive returns for the whole strategy.
In my opinion, every investor could improve their risk-adjusted portfolio performance by having a couple high-risk/high-reward opportunities built into their overall portfolio strategy. Some investors accomplish this objective with high growth potential investments. Since I am contrarian by nature, I choose to focus on option positions in out-of-favor, deep value stocks, and these positions will compromise a majority of the "Bet The Farm" Portfolio.
Right now, commodity stocks and emerging market stocks have been out of favor for the last five years, relative to the broader markets, so that is where I am finding opportunities. Next year, or two years from now, however, the deep value opportunity set could be different, so it is important to keep an open mind and not get too attached to any one sector. Said another way, this portfolio strategy would have held mostly financial stocks in the 2008-2009 time frame.
Patience Is Required
The Contrarian's "Bet The Farm" Portfolio, which was launched on December 7th, 2015, is a concentrated options portfolio with 1-10 option positions. Since inception, the portfolio had been struggling, underperforming the broader market for a majority of its first three months. Thus, it would have been easy for an investor to get dissatisfied with its performance even two months into its existence, especially as some of the individual losing positions took a turn for the worse.
For a period of time, a put option position, which has since been closed out, in the iShares Nasdaq Biotechnology Index (NASDAQ:IBB) was the lone bright spot in an otherwise dimly lit portfolio.
Then, just as it seemed like Chesapeake Energy (NYSE:CHK) might collapse from the weight of low crude oil (NYSEARCA:USO) and natural gas prices (NYSEARCA:UNG), an unexpected rally, spurred on by a turn in commodity prices that very few saw coming, changed the narrative. In one week, the "Bet The Farm" Portfolio rose 95%.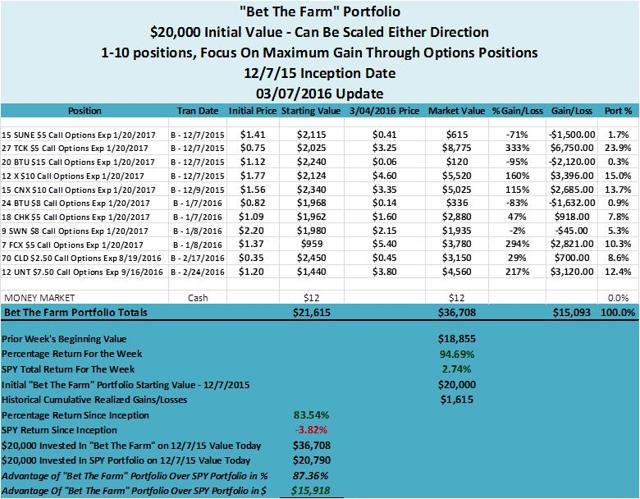 There had been positive signs, including the strong stock price performances of Freeport-McMoRan (NYSE:FCX), Southwestern Energy (NYSE:SWN), and Teck Resources (NYSE:TCK), over the past several weeks.
Rising steel prices added optimism to U.S. Steel (NYSE:X), Cloud Peak Energy (NYSE:CLD), CONSOL Energy (NYSE:CNX), and Unit Corporation (NYSE:UNT), and each recovered from its lows, but very few saw a sizeable rally looking forward.
After the historic short-term rally, the interesting opportunities and highest risks are found in the portfolio's laggards, specifically Peabody Energy (NYSE:BTU) and SunEdison (NYSE:SUNE), in my opinion. These should be acceptable risks for someone holding the portfolio as a whole, as the other positions have delivered upon their underlying firm's kinetic potential.
Conclusion - Look Forward, Not Backward
When I was driving in Naples, Florida two years ago, almost exactly to this day, to dinner, with a client of mine, who was a good friend, and became a father figure and religious mentor to me, he remarked on how patient I was in traffic, and how that contrasted with his desire to switch lanes, and dart in and out to get to the destination quicker. He added some detail, mentioning that his desire to switch lanes irritated his wife. Additionally, he articulated that my behavior driving was similar to my investment behavior, in that I remained calm no matter what happened, even though I could be more aggressively positioned with investments than other market participants.
In that analogy lies the key to being a superior investor, in my opinion. To be a superior investor, there has to be aggressiveness to take advantage of opportunities, while there has to be patience to endure waiting, both waiting to purchase positions, and waiting for your positions to do what you want them to do. Patience also helps with enduring the inevitable pain of being wrong.
I have learned a lot over the years from my experiences, and I have the accolades and battle scars as proof, but sometimes, the simple truths are the ones that stand the test of time. To close, with investments, nobody knows the future. Investors are often looking backward, when they should be looking forward. Take advantage of these mispricings in developing your own portfolio strategy.
For more information on my perspective, please click here.
Disclosure: I am/we are long THE POSITIONS LISTED. I wrote this article myself, and it expresses my own opinions. I am not receiving compensation for it (other than from Seeking Alpha). I have no business relationship with any company whose stock is mentioned in this article.
Additional disclosure: Every investor's situation is different. Positions can change at any time without warning. Please do your own due diligence and consult with your financial advisor, if you have one, before making any investment decisions. The author is not acting in an investment adviser capacity. The author's opinions expressed herein address only select aspects of potential investment in securities of the companies mentioned and cannot be a substitute for comprehensive investment analysis. The author recommends that potential and existing investors conduct thorough investment research of their own, including detailed review of the companies' SEC filings. Any opinions or estimates constitute the author's best judgment as of the date of publication, and are subject to change without notice.
Editor's Note: This article covers one or more microcap stocks. Please be aware of the risks associated with these stocks.