Select homebuilders are looking increasingly like a solid value as the market is discounting serious weaknesses. The sector as a whole has fallen by approximately 20% since the start of 2015. We think homebuilders need to be selected based on geographic exposure as national homebuilders are likely to be correlated at macro trends rather than other drivers. In addition, we like unique business models that reduce risk and give them a competitive advantage over the national players. We highlighted WCI Communities in January as a long idea given their exposure to the fast-growing Florida market. We believe NVR Inc. (NYSE:NVR) is another regional builder with strong exposure to the Washington DC and Baltimore, MD areas.
Not only does the company have a superior geographic footprint depsite the market thinking otherwise, we think their unique land-light business model and far higher returns on invested capital metrics should allow them to trade at a premium to the national homebuilders. Instead, the shares trade at a discount after nearly a year of consolidation with the shares trading between $1,500 and $1,700. We address why this discount may exist and why we think it will close.
Geographic Exposure A Competitive Advantage, Not A Risk
The company is highly exposed to the Washington DC metro-area including most of the northern half of Virginia, up through the Baltimore, Maryland region. These markets accounted for nearly half of all their revenues with the rest coming from select markets in Pennsylvania, West Virginia, North Carolina, New York, Ohio, and Florida. We think, especially in the Virginia and Maryland markets, that the business is exceptionally positioned in terms of geography benefiting from the growth of DC due to government jobs and emerging technology and financial industries.
In 2006, the city of Washington, then under Mayor Anthony Williams, introduced a plan to bring 100K residents to the District within a decade. In order to meet that goal, the city needed to add 55K new housing units over a 20-year period. Given the housing crisis that hit shortly thereafter, the District is short of meeting its goals, by approximately 13%. This is similar to what is happening within their Northern Virginia and Maryland suburbs as the market remains characterized by severe supply shortages resulting in higher prices.
We think this unique exposure to one of the "best-growing" and supply-driven markets in the country is a significant competitive advantage. Some would note that such concentration within one geographic market increases risks. We would counter that like select cities (NYC, San Francisco), certain areas of the country will always have higher demand for real estate. We think the DC metro area is one of those areas, given the ties to the federal government and the stickiness of those jobs compared to other markets where housing is correlated to the local job market and economic growth.
In addition, much of the bear cases we have read have centered on the slowdown in pricing in the area as of late. But we think this focuses on the wrong factors. As we noted above, we think there is less risk to the geographic market even if pricing growth slows. We see persistent and far-less volatile housing demand.
This geographic concentration also provides other competitive advantages. The first is that they are able to gain regionalized scale instead of being a national builder spread across dozens of states. This gains them stronger ties to the local construction businesses allowing them to turn over lots and complete builds faster, as they optimize the scheduling and supply chain, avoiding construction delays. This is done in conjunction with a unique business model that operates more like an assembly line instead of custom residential construction. They have centralized manufacturing facilities that pre-produces the exterior and interior parts like walls and stairs.
Housing Industry Improvement
We think the housing market sentiment is causing some of the current opportunity. The group has pulled back by over 20% since the start of December due to weak starts and market sell-off producing outsized losses given the higher beta of the shares. NVR has outperformed the group shedding just 3.5% which we think is due to the de-risked nature of their business model. The company utilizes a land-light strategy of holding very little undeveloped land and instead chooses to option finished building lots at market prices from land development companies. NVR only has to put down a 10% deposit (which is forfeited if they do not perform under the purchase agreement) and constructs homes primarily on a pre-sold basis.
This far-lower risk strategy as compared to most homebuilders allowed it to survive the housing crisis relatively unscathed. They were able to generate positive net income and free cash flow throughout the housing crisis and aftermath. We think this business model warrants a premium valuation, especially compared to businesses that hold significant amounts in their land bank which exposes them to another downturn. NVR's beta is just 0.77 compared to the industry average of ~1.20, which we think demonstrates the lower risk profile of the business model. Again, we think this lower risk should warrant a premium multiple compared to their comps.
Like the auto industry rumors which have centered on the peak in US SAAR, many housing experts and commentators have been stating that the housing market is set to crash a second time. Jeremy Grantham, a noted investor and manager of $118 billion in assets, recently warned that the US housing market is ripe for another major decline in 2016. We take the contrarian view - and would note that many market experts do expect increases in housing this year and next although most see it slowing.
We think the continued low interest rate environment and far-improved labor market are creating an increased need for new housing. US starts are still well below their long-term average with only a moderate rebound since the depths of the Great Recession to roughly ~1.1-1.2 million starts. The long-term average going back to 1968 is approximately 1.45 million. While housing starts were in excess of that average prior to the recession, the lack of starts since has more than offset that surplus, by approximately 3.5 million. We think this, along with sustained population growth and millennials starting to buy their first homes, should drive continued demand despite low affordability.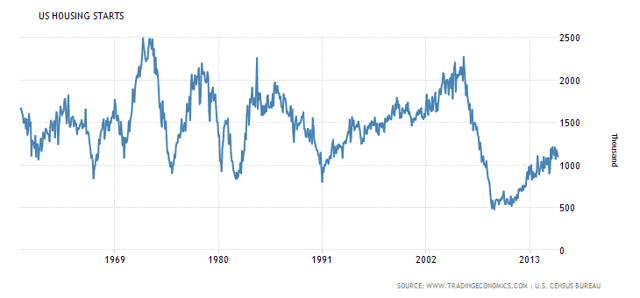 Execution Remains The Key
We believe that the shares trade more in conjunction with the homebuilding universe rather than on specific competitive advantages and fundamentals. The much stronger balance sheet and liquidity should be rewarded in a cyclical industry such as housing - similar to auto suppliers who have a net cash position. Total debt to EBITDA is just 0.9x for NVR compared to 3x+ for most of the comps (Toll Brother at 7x, and MDC at 9x). That kind of high leverage among the comps certainly provides a tailwind during the boom times but can present an existential threat in severe downturns, as we saw in 2009.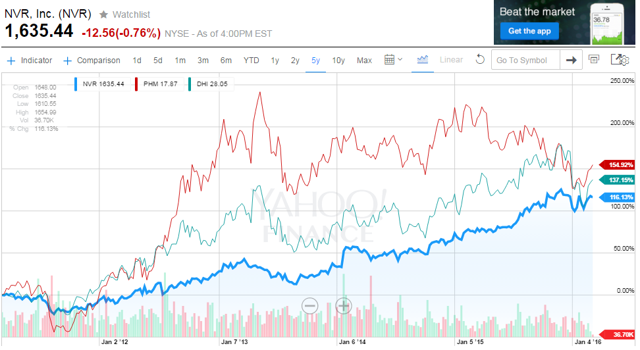 (Source: Yahoo Finance)
The company properly incentivizes people all throughout their organization. Much of their managers' compensation comes in the form of restricted stock which vests after durations of typically five years or more. They also provide performance awards to site managers who meet home delivery time goals and objectives in order to keep their interests aligned with management to get homes constructed quicker.
When you couple these incentives by the company to all levels of the operation, with the competitive advantages of a centralized manufacturing facility pre-fabbing much of the home, you get much faster build times. This reduces the potential for cancellation which was 15% last year, compared to DR Horton's (NYSE:DHI) first quarter 2016 cancellation rate of 23%.
Overall, we think NVR Corp. is one of the best-run homebuilders with a strong management team that is focused squarely on increasing shareholder value. The shares trade largely in line with many of the homebuilders despite several key advantages which we noted above. We think the shares are not being adequately assessed for this lower risk along with the benefits of their geographic concentration in the areas they serve.
Valuation
Shares trade at 12.4x 2017 earnings and 10.2x ttm EV/EBITDA, with the latter about 40% below the median average for the comp group. The company has grown EPS by approximately 25% per year, thanks to management buying back over 5% (sometimes as much as 10%) of the float each year, in addition to margin improvements. EBITDA margins have risen from 8.2% in 2011 to 12.3% in 2015, providing significant lift to the bottom line.
Our base case assumes they deliver 4K homes per quarter or 16K for 2016, which we kept flat in our model. We did this to account for an average cycling of the industry to factor in trough years like 2008-2011. We modeled in 3% price increases on top of the $380K they achieved in ASPs last year. On margins, we assumed EBITDA would be approximately 12% of revenue, which is down approximately 30 bps but well below industry peak margins of 16% which they achieved in 2006, this despite the fact that they are far more efficient today than they were then.
Our assumptions, we feel, are fairly conservative given the assumptions for modest price increases, no increase in volumes, with margins contracting slightly. The scenario returns EBITDA in 2017 of $815 million, up from the $607 million generated last year. We think the multiple on that EBITDA should close in on the comp group average of 14x over the next two years as investors in the sector rotate out of the higher-beta builders into the lower beta ones in order to position themselves more defensively for an economic and housing slowdown (which we feel is likely).
The large amount of share repurchases that are internally funded through operations, and the low amount of leverage on the balance sheet should warrant a premium valuation throughout the housing cycle. Instead, we used a 10x EV/EBITDA multiple, a small discount to the current ratio to account for correlations with the homebuilder universe. Under that case, the shares are worth $2,150, for upside of one-third. But under a closing-of-the-gap scenario, we used a 13x multiple which boosts the price target to ~$2,700, for upside of double that under the prior model assumptions.
Using an earnings based model, EPS should grow by 50% over the next two years according to our model - which is close to consensus estimates. At $134 in EPS for 2017, and applying a 15x multiple, the shares are worth $2,010, for upside of 23%. In aggregate, the blended average is $2,080 for upside of 27%.
We think this discount is due purely from associated risks of geographic concentration and low leverage during the up-cycle of the industry. We addressed the geographic concentration above but would add that while the DC-area market is not growing as fast as other markets (like SF), there is much more ability to construct new homes whereas in dense cities where pricing is rising much faster, the ability to construct thousands of homes is curtailed due to lot supply. Lastly, the lower beta is causing some investors to favor their competitors with the anticipation of rotating out when the industry turns. While this is a notable strategy, it rarely works. We think over the duration of the cycle, NVR has one of the most superior business models with a safe balance sheet to weather the natural cyclicality of the industry, which we think should warrant a premium valuation multiple.
An area of concern is the increase in price-to-tangible book value which has steadily increased since the financial crisis. This, no doubt, makes the valuation case look a bit more expensive. However, given the lack of a land bank (as compared to 2005 when they held 88K lots) and material asset holdings (total assets are slightly below 2005 levels), while home deliveries has increased by nearly 30%, we think the increase in this multiple doesn't incorporate the change in the balance sheet dynamics now the increase in home deliveries. In addition to the business model being altered, the efficiency of the business has improved dramatically today compared to ten years ago, making historical comparisons to that period (especially given what housing prices were doing), difficult.
Conclusion
We believe the market is likely to re-rate the shares of NVR Corp as the current 'negative' of a low-beta, low-leverage, company will eventually become a positive. In addition, the geographic concentration is overblown and provides them another counter-cyclical benefit. Shares are being priced for a highly cyclical housing stock in the same realm as DR Horton and Pulte (NYSE:PHM), when in fact their business models and characteristics are far different. While we think the housing market is likely to continue to grow, NVR offers investors a way to profit from it without the massive downside risks that come with other builders. Our conservative assumptions see upside of at least 27% over the next year.
Disclosure: I/we have no positions in any stocks mentioned, and no plans to initiate any positions within the next 72 hours. I wrote this article myself, and it expresses my own opinions. I am not receiving compensation for it (other than from Seeking Alpha). I have no business relationship with any company whose stock is mentioned in this article.