Picking up bank shares that would appreciate at an above average rate was relatively easy to do a few years ago. However, at this point in time, finding a winner involves filtering through many more names. Those worthy of an investment were few and far between heading into the New Year, but the recent pullback provides us with a good reason to poke around and see what the market is mispricing.
With that said, shares of Heritage Commerce Corp. (NASDAQ:HTBK) make for a solid review candidate, with the stock trading 23% below its year-end valuation and 52-week high of $12.38 per share. Before the calendar turned, the bank had been on a run fueled by last year's announcement to purchase Focus Business Bank for $54.8 million (merger presentation). The merger of two close competitors made a lot of business sense, and Focus came with a valuable core deposit base. Reported earnings since the deal closed have been set back by one-time merger related expenses, but the bank's core is strong, and unlike most post-acquisition plays this one may actually have what it takes to beat analysts' expectations.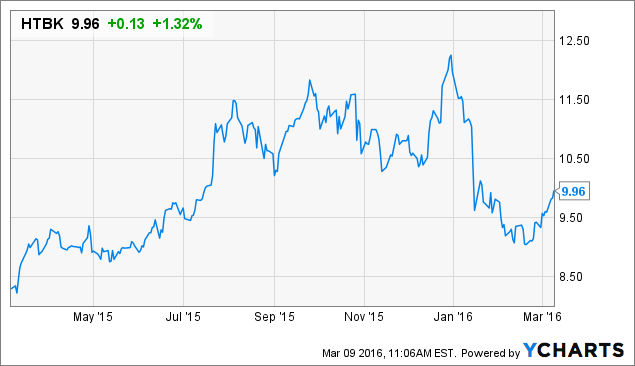 HTBK data by YCharts
Most California-based community banks have evolved since the financial crisis, but it's hard to find one that has changed as much as Heritage Commerce. Going into the crash, HTBK's loan portfolio was loaded with construction loans that accounted for up to 21% of the loan portfolio. These loans were at fault for most of the bank's losses ($72.5 million during 2009-10), but a stagnant balance sheet meant little chance for meaningful earnings growth in the few years that followed (ended 2011 with $1.3 billion balance, less than 2007 year-end total of $1.347 billion). Fast forward to today, though, and you will find that both the bank's lending and growth profile have completely changed (2015 10-K).
Land and Construction loans are down to 6% of all loans, and today's $1.36 billion portfolio is more diversified with C&I lending at 41%, and Commercial and Residential Real Estate higher at 46%-42% of this pool is classified as owner-occupied by businesses. Part of the bank's transition towards real estate backed assets has to do with building a safe and more stable lending profile, but it's also the result of competition for higher yielding C&I loans. After cleaning up most community banks are fighting to support NIMs by adding to their commercial portfolios, but I don't recall many adding residential loans and increasing NIMs at the same time. And yes, you read that correctly, HTBK's NIM has improved over the past few years (from 3.84% in 2013 to 4.41% in 2015).
This is significant margin growth for a period with low rates, and the positive move could continue. There are sure to be headwinds, and falling accretion income certainly is one of them - excluding accretion of the loan purchase discount, the loan portfolio's yield would be lower than the reported 5.75%, at 5.57% - but the main margin driver appears to have a full tank of gas.
Instead of only being able to add assets to protect revenue from rate contraction, HTBK has improved NIMs by increasing its L/D ratio. In 2012, the bank's L/D ratio was just 53%, but it was up to 65.87% at year-end. Not too bad, but this 24% move is only part of the real story. Prior to the Focus transaction, L/D was much higher at 77%, and it's a move back up to 65.87% that should grab investor's attention. The focus purchase truly was bolt-on in nature, but more than the opportunity to capture synergies is the new capacity that came when the two banks were combined. The L/D ratio is lower now, but net interest income grew 34% YOY and I don't think it's too hard to expect this trend to continue. No promises from me that 2016 will show a +30% gain, but it's possible because the loan types being targeted have less competition (easier to acquire).
Stepping back a bit, this transition is nothing revolutionary, but the big takeaway is that capacity for future earnings growth is large:
Getting back to an L/D ratio of 77% (without an increase in deposits) would require YOY portfolio growth of 18.5%.
Organic loan growth this year was 10% - which would help grow pre-tax income by as much as 21%.
While the bank's capacity for growth is evident in the L/D ratio, profitability wouldn't be possible without a low-cost deposit base. 38% of all deposits are in noninterest bearing accounts, which has driven cost of funds down to 0.15%. At 0.15%, there's little to improve from a cost perspective, but a lot to gain from a steady migration of low yielding assets into higher yielding loans. Because of this, everything here is set up for an easy win that doesn't depend largely on rising rates - the bank just needs to keep doing what it has been.
Is All Of The Upside Already Priced In?
At ~$9.50 per share, HTBK trades with a P/E of 19.79 (based off reported earnings of 0.48). Analysts expect for the bank to earn $0.73 per share in FY16, which is a material improvement, but not unachievable considering core net income was $0.61 in 2015 (exclude non-recurring items like merger related fees and expenses). Getting to $0.73 indicates a 19.67% increase in core net income, but as I highlighted earlier, even with moderate portfolio growth (mirroring this year's organic rate of 10%) earnings would increase by more than 20%. I would normally be more cautious about growth expectations but they aren't excessive, and HTBK hasn't been blindly adding assets - the lending profile is much safer now.
From a book value perspective, Heritage trades at a premium of 1.77X TBV (of $5.35 per share). This is obviously far from a discount, but I don't see shares falling that far below their current valuation - forward P/E of 13X. Shares are already down 30.4% from their 52-week high of $12.38 per share.
Asset Quality and Leverage
In addition to growth in interest income, the bank's earnings have been supported by improvements in asset quality. More earning assets obviously helps with production (NPAs at 0.29% of all assets - covered 2.96X), but it's fair to say that in the past few years, little to no provision expenses have also added to returns - or at least not taken away from them. However, a reversion to the mean will eventually require larger charges. Pulling this forward is demand from the growing loan portfolio, but with allowances at 1.39% of all loans, HTBK probably has a few more periods of provision expenses at 'honeymoon levels'.
The loan mix is in safer assets so this may help the bank get away with an allowance account that is smaller than it has historically been - but considering the transformation, I'd argue that there is very little to gain from looking back too far.
Bottom line
I've covered a lot of Californian business banks this year but Heritage is one of the only ones I've seen that is 1) growing fast while still 2) sitting on a lot of dry powder. The bank is definitely having to transition to lower yielding assets but even they are adding to margins due to the bank's low but still recovering L/D ratio. In my opinion, expectations of future earnings are being fairly valued right now, but it's hard to say now isn't a good time to add/build a position - after falling 30.4%.
I'm personally waiting for something that's undervalued, but I will be adding HTBK to the old buy list, and will check in after a couple of quarters to see how the story has progressed.
Disclosure: I/we have no positions in any stocks mentioned, and no plans to initiate any positions within the next 72 hours.
I wrote this article myself, and it expresses my own opinions. I am not receiving compensation for it (other than from Seeking Alpha). I have no business relationship with any company whose stock is mentioned in this article.