World Wrestling Entertainment (NYSE:WWE) is an unusual business, not much like any other publicly-traded company. There are a number of complications, obfuscations and misconceptions about WWE's business, many of which the company is probably happy to keep in place, and some it even perpetuates. I will attempt here to clarify some of these issues.
The TV ratings WWE reports are not Live+SD; they're probably DVR+7, and that hides some of the decline
WWE reports its programs' TV ratings in financial documents such as its trending schedules. Those documents claim that RAW averaged a 3.2 rating and SmackDown averaged 2.1 in 2015.
After collecting TV ratings from sources like Pro Wrestling Torch and the Wrestling Observer Newsletter, which get Live+SD ratings (viewership that occurs on the day the program airs) from Nielsen, it's clear there is a discrepancy between Live+SD ratings and the ratings that WWE reports.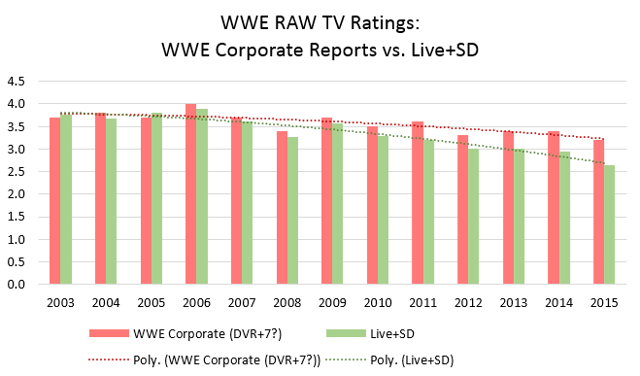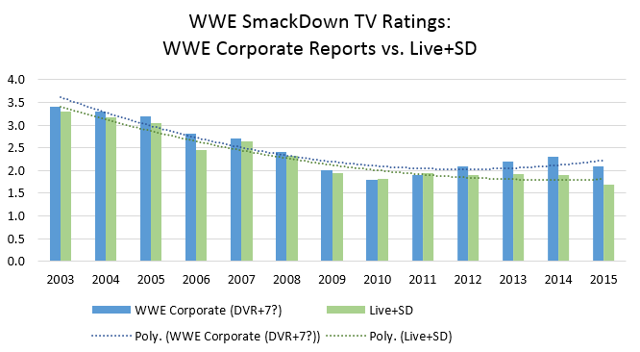 It's likely the ratings WWE reports are DVR+7 ratings (viewership that occurs within seven days of the original airing). Such a discrepancy would be consistent with the increase of DVR use over the years in general. As you can see by looking at the diverging trend lines, this allows WWE to claim that its ratings are declining at a slower rate than they actually are. However, an increase in the portion of WWE viewers watching via DVR would be unwelcome news for advertisers. It also discredits, to some degree, the company's claim that it offers "DVR-proof" programming to its television distributors.
Should WWE TV ratings continue to decline, watch for its self-reported ratings to continue to obfuscate the greater decline of Live+SD ratings, which are the kind of ratings most important to advertisers.
Cord-cutting is not a factor in WWE's TV ratings decline, theoretically
Whether or not cord-cutting is having a meaningful effect on media in general, a decrease in the number of households a program is available in should, in theory, have little effect on a program's TV rating. The nature of the TV rating metric should account for lost households because the metric factors in how many homes a channel like the USA Network is available in.
That said, it's plausible cord-cutting is the final culmination of one's waned interest in traditional television, and that waning interest while still a cable/satellite subscriber would indeed contribute to declining ratings. Still, it's important to differentiate the rating metric from pure viewership, the latter of which does not take channel availability into account. Nor can the rating metric be dragged down by "cord-nevers": young adults who never subscribe to cable or satellite TV, and thus their homes were never counted in a rating in the first place.
When asked on the 2015 Q4 conference call about declining ratings, WWE Chairman and CEO Vince McMahon claimed, as part of his explanation, that "people aren't watching television as much in some capacity."
Is he right? According to at least one study, the rate at which Americans watch TV is unchanged in recent years. However, according to another study, TV viewing is indeed declining among the youngest adults while holding steady with older Americans.
To WWE's credit, if alternative forms of media consumption are vital to its future, the company is well prepared. They are already equipped with an over-the-top streaming service, a massive social media footprint, a top-ranked YouTube channel and a presence on Hulu.
Again, when considering the value of WWE's TV distribution rights (currently its largest revenue source), investors should be mindful that the TV ratings WWE reports (likely DVR+7) are not the ratings that are most important to advertisers. Live+SD ratings are more important to advertisers, and those ratings have been declining at a higher rate.
WWE had 8 billion video views on YouTube in 2015... kind of
WWE claimed in an infographic it distributed with its Q4 report that it had 8 billion video views in the whole year of 2015. The way the information is presented seems to indicate that those 8 billion views were received directly via the videos on its YouTube channel, which is not the case.
A running all-time total of a YouTube channel's views is visible publicly on any channel's About page. Based on instances of this total view count for WWE's channel that I've collected across multiple dates from recent years, I estimate its 2015 video view count for its channel itself to be around 4.3 billion.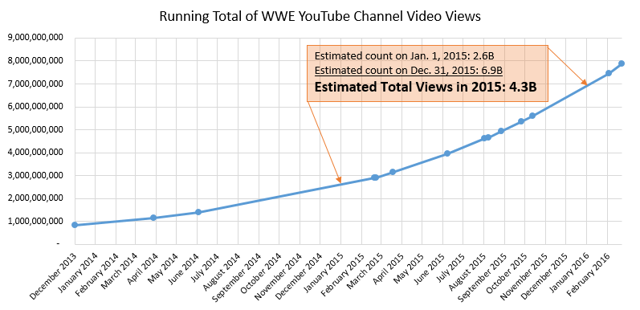 If you add up the quarterly video view counts from YouTube on WWE's Key Performance Indicators, you get a total of 8.2 billion views for 2015. So where do the remaining 4.1 billion views come from?
It's likely the company is counting, in that total, all views of videos uploaded by other YouTube users which WWE has tagged as its copyrighted content. WWE can still monetize these videos, even though they've been uploaded by other users.
Is it possible that almost half of the viewing of WWE-owned video on YouTube happens outside its channel? I suppose, given the apparent popularity of WWE videos on YouTube and the wide range of video libraries the company has acquired over the years from various defunct pro wrestling organizations. There are numerous WWE-owned video clips on YouTube that have been posted by other users that have hundreds of thousands or millions of views.
Since the publicly visible YouTube data does not match the data WWE reports, investors and analysts should press the company to clarify whether they are including third-party views in their total, and whether they are indeed monetizing the views those third-party videos receive. This is especially important as YouTube views, and likely the revenue that goes along with them, are growing at a rapid pace.
WWE has over 500 million social media followers... kind of
WWE's KPIs show the company has 598 million social media touch points as of January 31, 2016, across Facebook, Twitter and other platforms. This total however doesn't just include the touch points of WWE's primary brand user accounts like "WWE", "WWE Universe", "WWE Network", "WWE NXT"; the total includes the touch points of all its talents' accounts as well. According to the company, its social media touch point totals "include all of WWE's global social media accounts, including Superstars and Divas."
If you follow one WWE social media account, I think it's likely you follow several others. If you're one of the over 6 million users who follow WWE's flagship Twitter account, it's not certain but the odds are probably pretty good that you also follow John Cena's Twitter account. Similar can be said about all 140 or so talents and every other WWE sub-brand's followers that the company is including in the total. It stands to reason then that there's a lot of redundancy with regard to the 598 million number. It's likely the number of unique people who follow any WWE social media account is a fraction of 598 million, a number that is summed across multiple platforms and a greater multitude of accounts.
This is some color investors should keep in mind when the company boasts about its social media presence.
Regardless, WWE's social media footprint is large and impressive. It may prove valuable someday if the company finds a way to generate a large amount of revenue via social media, possibly through YouTube.
WWE's fan affinity survey data is dubious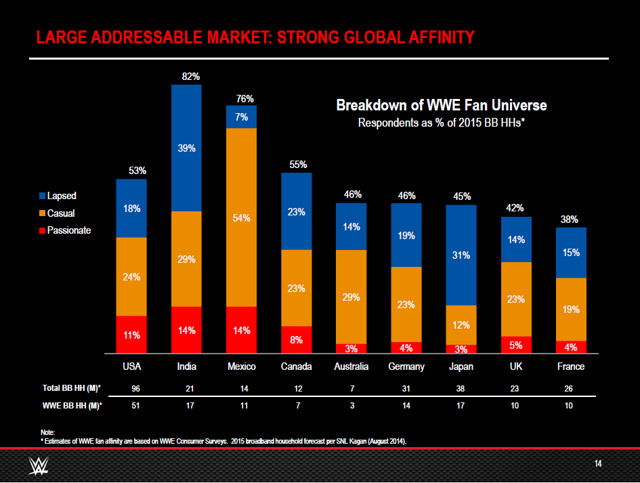 The above slide, showing results of the company's consumer survey, appeared in versions of WWE's investor presentation throughout most of 2015. While the data for all countries seems ambitious, we can certainly cast doubt on the data for the United States, the market we know the most about.
An average of 3.7 million people and an average of 2.5 million households (based on 95.6 million USA Network homes) in the U.S. watched WWE's flagship program, RAW, live or same day in 2015. And a likely additional 500,000 homes watched on DVR within seven days, for a total of 3 million homes watching RAW.
In the case of the WWE Network, 1.1 million in the U.S. subscribed at the service's known peak so far.
Yet, the slide above indicates there are 5.6 million homes in the U.S. with a passionate WWE fan, as well as 12.2 million casual and 9.2 million lapsed fan homes. And that's just among broadband homes, 83% of all U.S. homes.
If this survey is accurate and WWE has that many passionate fans in the U.S., it seems some more of them would be watching its weekly flagship program, RAW, and certainly more would be subscribing to the WWE Network.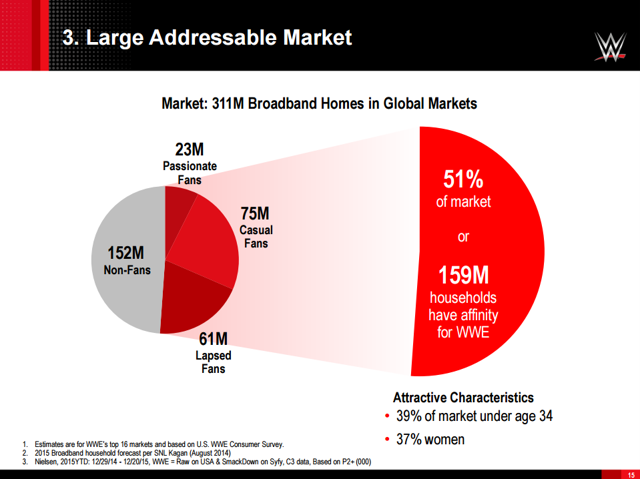 Likewise for the Network overall. The company claims there are 23 million broadband homes worldwide - homes that theoretically have the Internet capability to subscribe - with a passionate WWE fan. The Network is now available worldwide in every country except China, yet it's captured only about 6% of that passionate broadband fan base so far.
My intuitive conception of a passionate WWE fan is one who at the very least doesn't miss WrestleMania. Considering the Network is more than 21 million subscribers short of getting every passionate home to subscribe, there's something wrong here. The company must have a different conception of "passionate fan" than I do. Either that or the Network is so unattractive or inaccessible to passionate fans that only 6% are currently willing to subscribe. Likely the former.
WWE CFO George Barrios, as of March 8, is still arguing that these supposed 23 million passionate fan homes can be converted into its goal of 3-4 million Network subscribers. Even that goal seems overly ambitious as long as WWE maintains only its currently level of popularity. And the survey data that supposedly informs the goal seems dubious and misleading.
WWE stresses the Network's growth should be assessed year over year, and while the upcoming WrestleMania event is the key to promoting that growth, investors should be wary of these lofty goals. I've predicted the subscriber number it announces the day after WrestleMania will be around 1.5 million, which would be about a 16% year over year improvement from the previous year's WrestleMania, below the 20-25% annual average paid subscriber growth it suggests is possible in its investor presentation.
UFC is a comparable business, and sometimes a competitor
With WWE's matches being athletic but predetermined, it's difficult to say whether its product should be categorized as sports or as entertainment. The company itself seems unsettled on this.
WWE tends to compare itself to whatever types of businesses seem favorable for the situation. Page 9 of its latest investor presentation offers a good example. When it comes to touting its television programs, it categorizes itself as non-sports, general entertainment: "longest running episodic programs in U.S. history", because I suppose at least Monday Night Football's tenure is longer. But when it comes to its YouTube channel, in the same slide, it categorizes itself as sports: "#1 sports channel on YouTube."
Vince McMahon says WWE's competition is "anything on television. Our competition is anything at a live event, whether it's Disney (NYSE:DIS) or a concert or whatever it is."
WWE's 10-Q from 2015 Q2 defines a competitor to its business as "any organization that is in the business of producing or promoting professional wrestling and/or mixed martial arts live events or television programming in the United States."
However, in a public talk in 2014, WWE executives Stephanie McMahon-Levesque and Paul Levesque argued that the Ultimate Fighting Championship (the world's top mixed martial arts promotion) is not competition to WWE.
UFC is in fact WWE's closest analog. Both organizations promote hyped matches worldwide built around stars, drawing thousands of fans to each event. Through the attraction to their matches and stars, they both earn revenue via TV rights, live event ticket sales, pay-per-view, OTT streaming service, licensing and merchandise.
UFC has proven to be a competitor to WWE to some degree. Pay-per-view buys in the U.S. and Canada for WrestleMania 26 in 2010 were lower than expected (498,000), likely due to a UFC pay-per-view drawing 777,000 buys the same weekend. However, Vince McMahon denied the effect, claimed UFC has "more of a boxing audience," whereas WWE has "an entertainment audience," and blamed the disappointment on his self-headed creative staff.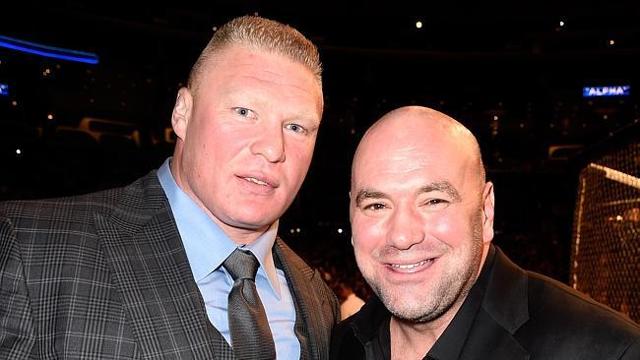 Brock Lesnar (left), who has been a major star for both WWE and UFC, posing with UFC president Dana White (right)
Zuffa, LLC, is UFC's parent company, and UFC is its only notable subsidiary. Zuffa is a private company, so we know less about its business, but here are some comparisons for investors to consider:
According to Moody's, Zuffa generated $535 million in revenue in the 12 months trailing 9/30/2015; WWE generated $633 million during the same period. UFC's CEO said it'd earn just over $600 million for the calendar year of 2015, closer but still short of WWE's $659 million for the year.
UFC is in the latter part of a seven-year TV rights deal with FOX, signed in 2011, reportedly for an average of $100 million per year. WWE's domestic TV rights deal with NBCUniversal is worth about $150 million annually, according to PAA Research. UFC produced 28 live fight events for FOX and FS1 in 2015, plus the Ultimate Fighter reality show on FS1; WWE produces RAW live and SmackDown live-to-tape each week for the USA Network, 104 unique programs a year, plus the Total Divas series in E!.
UFC launched its OTT service, UFC Fight Pass two months before the WWE Network was launched. It's also offered for $9.99 per month. The Wrestling Observer Newsletter reported in February that subscribers were at about 40% of WWE Network subscriber base, implying Fight Pass has about 487,000 subscribers.
While Fight Pass shows some live events, unlike WWE, UFC hasn't jettisoned any of its usual pay-per-view events to its OTT service yet. UFC sold 7.3 million pay-per-view buys in 2015. The Observer reports it makes more than $200 million in revenue from pay-per-view annually. In 2015, PPV and the WWE Network combined generated $159.4 million. In the last full year before the WWE Network launched, WWE sold 3.8 million buys and generated $82.5 million on PPV.
While generating comparable revenue, UFC runs far fewer events. It ran 41 in 2015 versus WWE's 273.
According to data collected from the Observer, average attendance to UFC events worldwide in 2015 was 11,853. WWE's was 6,221.
One can gather from looking at UFC's PPV and live attendance numbers that those metrics depend very much on which stars are in the featured matches. Conor McGregor and Ronda Rousey were clearly UFC's two biggest stars in 2015. This is a contrast to WWE, which does much more regular business, almost regardless of who is featured or what the matches are; the WWE brand seems to be what draws. John Cena seems to make a small positive difference, but the starkest difference is by event type. Pay-per-view events draw the highest attendance, followed by Network specials, RAW tapings, international house shows, SmackDown tapings and U.S./Canada house shows.
Investors can study UFC's business and its metrics (to the extent that they are publicized), such as revenue, TV rights fees, average ticket price and OTT subscriptions, to assess how well WWE is succeeding in the corresponding areas of business.
Disclosure: I/we have no positions in any stocks mentioned, and no plans to initiate any positions within the next 72 hours.
I wrote this article myself, and it expresses my own opinions. I am not receiving compensation for it (other than from Seeking Alpha). I have no business relationship with any company whose stock is mentioned in this article.