Japan is amongst the biggest markets globally with a large solar manufacturing industry. However, the country is now witnessing a decline, due to strong global completion. Japan had been a pioneer of the solar industry in the period till 2005, but abruptly stopped its support. Back in 1994, the Japanese government had introduced capital subsidies to boost solar energy installations on rooftops. Till 2004, Japan was the largest solar market in the world after which it was overtaken by Germany. After 2004 the growth in solar industry tapered off, as the government reduced the subsidies for solar panels to almost zero.
Subsidies in the form Feed in Tariffs led to a resurgence of solar industry
Japan's feed-in-tariff (FIT) structure was introduced in July 2012, following the Fukushima nuclear disaster in 2011. The FIT made it mandatory for power companies to buy electricity generated by renewable sources at fixed prices set by the government promoting renewable energy u sage in the country. A high FIT of 52c/kWh led to an exponential increase in solar demand in Japan. The Japanese solar industry saw a boom similar to Spain in 2008 and Czech in 2010. Utilities in Japan protested against the growth of solar power, as it threatened their business models. This story was not new and already occurred in Germany. It is now being debatable whether Japan will be able to accomplish its renewables' share of electricity output to 20% by 2030.

FIT reduction over the years
Source: IEA
Solar technology in Japan
Japan has a large number of rooftop solar installations. The country has a long history of rooftop solar growth and it has well developed ecosystem of installers. Land is also at a premium making rooftop solar attractive for investors and developers. Besides plain vanilla rooftop solar installations, solar coupled with storage is also popular in Japan. Panasonic (OTCPK:PCRFY) has in fact come out with an energy solution for the same. Japan is also a high ASP market, which makes it attractive for high efficiency solar panel companies such as Sunpower (NASDAQ:SPWR).
| | |
| --- | --- |
| Year | Solar Installation (in GW) |
| 2013 | 7.1 |
| 2014 | 10.3 |
| 2015 | 12.3 |
| 2016 (expected) | 13.2-14.3 |
| 2017 (expected) | 9.8-12.4 |
| | |
Data from BNEF
With space always being a constraint in Japan, the country has now come up with floating solar power plant to be built by Japanese multinational Kyocera Corp. (NYSE:KYO-OLD). It is estimated that this plant will be the largest floating solar farm built till date in the world. Japan has been building these offshore solar plants lately to use more renewable energy in the space constrained country.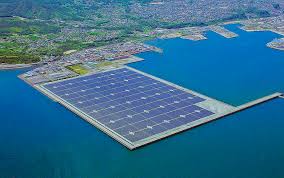 Top Solar players in Japan that have seen a major decline.
Sharp (OTCPK:SHCAY), Kyocera, Panasonic-Sanyo and Mitsubishi (OTCPK:MIELY) were the top solar panel producers in the world till 2010. Japan's solar growth was expected to be driven by its 7 Zaibatsus. These companies flourished based on their technological edge over other companies. However with cheap Chinese panels dominating the market, these companies started to lose market share rapidly. These companies have remained confined in Japan, which has a non-explicit bias towards home grown companies. Sharp has been fighting bankruptcy fears and could be taken over by Taiwan based Foxconn (OTC:FXCOF). Others like Kyocera and Panasonic are too reporting lower revenues. Panasonic might shut off it 345 MW solar cell plant in Nishikinohama, as the cost of the production is too high.
Problems of the Japanese Solar Industry
Japan remains an extremely fossil fuel resource poor country like India and South Korea and imports billions of dollar in coal, oil and gas every year. The country used to rely on nuclear power for its power needs, but after the Fukushima disaster turned towards renewable sources of energy. As the country does not have good wind energy resources, solar energy remained the best other alternative fuel option. The biggest problem for Japan's solar industry is the organizational structure of its power sector. The Japanese power sector is not developed as the other western power markets, where the transmission, generation and distribution is uncoupled. This allows utilities to gain the upper hand in the country. These companies have little incentive to increase distributed or utility solar power, as it eats up their own demand and revenues. 5 out of 10 utilities have announced temporary stoppage of new permits to connect large PV farms. Japan's grid is also facing difficulty in integrating large amounts of solar energy as the networks are old and lack capacity.
The new Abe government is pro-nuclear and pro-industry and not that supportive of solar energy, as the last government. I think they should realize that Japan will benefit greatly from solar power, as it has almost no domestic sources of fossil fuel. The country needs solar energy for its long term benefit. Moreover the changes in Feed-in-tariff structure will also negatively impact the country's solar industry.
Conclusion
Japan saw massive boom in solar demand in 2013 and 2014 due to its generous FIT structure. In my opinion, the Japanese government should reduce FITs and use the subsidy money to strengthen the power grid infrastructure instead. Japan will face panel oversupply and price cuts, due to sharp FIT reduction or stoppage in grid connections. Japanese companies despite having a great brand and good technology have failed to make a mark. Like the broader electronics industry, they have lost to newer Korean and Chinese companies. Solar in USA and China will continue to grow due to their large electricity capacity and growing demand for cleaner energy. Since Japan stopped its nuclear plants, the cost of importing fossil fuels has reached ~$250 billion a year, whereas cost of solar is coming down with each passing year. I don't think the Japanese solar companies are a good buy, as they remain uncompetitive and should remain so going into the future. With the Japanese solar market not expected to grow in the near future, these companies will lose the only market where they were strong. Some companies such as Panasonic and Kyocera might be a good buy based on the strength of their other business divisions.
Disclosure: I/we have no positions in any stocks mentioned, and no plans to initiate any positions within the next 72 hours.
I wrote this article myself, and it expresses my own opinions. I am not receiving compensation for it (other than from Seeking Alpha). I have no business relationship with any company whose stock is mentioned in this article.
Editor's Note: This article discusses one or more securities that do not trade on a major U.S. exchange. Please be aware of the risks associated with these stocks.