Tom Russo is a partner at Gardner Russo & Gardner. He manages around $4 billion in the Semper Vic Partners fund and has a penchant for investing in businesses with strong brands and big growth potential. His philosophy focuses on return on invested capital and excess free cash flow generation and pays particular attention to two things before making any selection: price and value. Mr. Russo is a very concentrated investor, which is why many of the businesses he invests in have incredibly strong balance sheets and have a history of generating excess rates of return on equity and assets.
Here are three international companies from Russo's portfolio that I find interesting at current levels:
Swatch (OTCPK:SWGAF)
Swatch manufactures and sells finished watches and jewelry. The company also provides systems for watchmaking and other industries. Russo recently increased his position in the company almost 600%, and now owns more than 700,000 shares in the business.
The company has come under pressure lately with the volatility in currencies. Sales were down 3% year over year while net income was down 21% during the same period. And the company has initiated a new share buyback program from 2016 to 2019 to a maximum of CHF 1 billion. Management expects the company's role, and expansion, into China, Russia, and India to generate exceptional growth in 2016 and beyond.
The company's shares are down 12% over the past 12 months and trade at $364.75 per share. Shares look appealing at current levels with a forward P/E of 13.77, dividend yield of 2.20%, and the company has no debt. Also, the company generates excess FCF.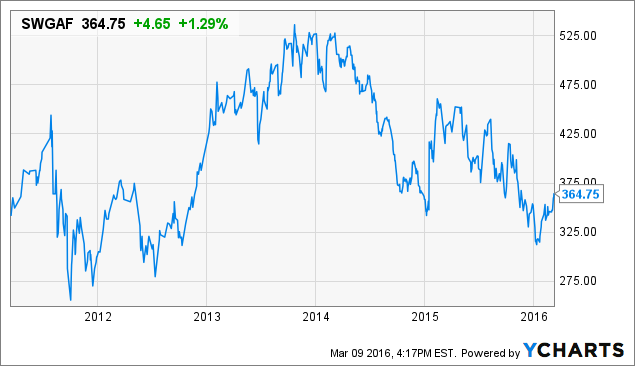 SWGAF data by YCharts
Nestle SA (OTCPK:NSRGY)
Nestle is one of the largest nutrition, health, and wellness businesses in the world. The company's brands include Gerber, Purina, Dreyer's, Stouffer's, Nescafe, and Poland Spring. They employ almost 340,000 people in over 440 factories in 86 countries.
Top and bottom line results have taken a hit of late from such things as weak dairy prices, the recall of Maggi noodles, and the rebate policy for drugs in the U.S. Things aren't all bad, though. Western Europe and North America are growing well, and the company's water segment should continue its strong momentum as more individuals recognized the benefits of healthy living. A healthy share repurchase program should help bolster shares over the short-to-intermediate term.
Because of the company's competitive position, shares look reasonably attractive at current levels with a P/FCF of22.20, EV/EBIT of 22.32, and a dividend yield of 3.19%. The company's shares are down 11% from its highs set in early 2015 and trade at $71.50 per share (near 52-week lows).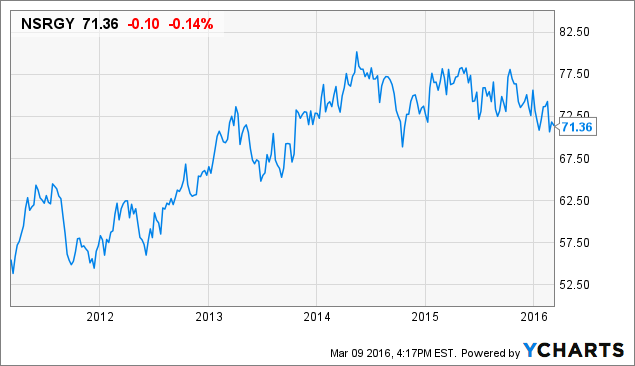 NSRGY data by YCharts
CIE Financiere Richemont SA (OTCPK:CFRHF)
Richemont is based in Switzerland and offers luxury goods across the global. The company designs, manufacturers, and distributes timepieces, jewelry, watches, and leather goods. The business saw sales increase 4% year over year while net income dropped 35% during the same period on the back of currency volatility, lower tourism in certain parts of the world, and the Chinese slowdown.
Regardless of the drop in net income, the company produced mid-single digit sales and stable operating margin in Jewelry Maisons, and mid-single digit sales growth of Specialist Watchmakers. The slowdown in Asia has certainly reduced the growth rates in the region. However, Richemont is still the second-largest luxury goods company in the world, and its brands (Montblanc, Cartier, Constantin, Vacheron, and IWC) command top dollar and represent high quality.
The company has a strong balance sheet with $7.9 billion of cash and marketable securities and $437 million in long-term debt. Given the strength of the business, shares appear reasonably priced at current levels with a forward P/E of 16.61, P/FCF of 36.05, EV/EBIT of 17.62, and a dividend yield of 2.41%. In addition, the company has very little debt and generates excess free cash flow.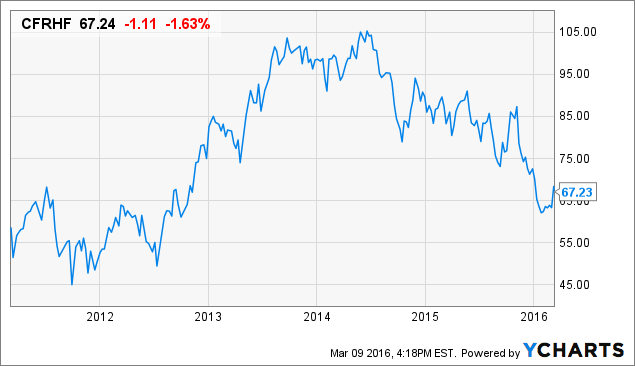 CFRHF data by YCharts
Disclosure: I/we have no positions in any stocks mentioned, and no plans to initiate any positions within the next 72 hours.
I wrote this article myself, and it expresses my own opinions. I am not receiving compensation for it (other than from Seeking Alpha). I have no business relationship with any company whose stock is mentioned in this article.
Editor's Note: This article discusses one or more securities that do not trade on a major U.S. exchange. Please be aware of the risks associated with these stocks.