In line with our process of being on the ground in the countries we invest in, Thomas Hugger (CEO and Fund Manager the AFC Asia Frontier Fund), traveled to Iran to attend a conference in Tehran.
Having waited anxiously for three hours at the Dubai Airport for the final leg of my journey to Iran, I was eager to board the Emirates B-777 flight to Tehran. Espen, an investor in our AFC funds, wrote a report of his trip to Iran for our July 2015 AFC newsletter and had compared what he saw with the popular movie "Argo". I was looking forward to forming my own impressions of the Islamic Republic of Iran, a country rich in history, crippled by economic isolation, and now attracting the interest of foreign investors in the wake of sanctions relief.
The flight seemed no different from other routes arriving and departing from Dubai, though there was a noticeably large representation of women, the majority of whom were not wearing hijabs or headscarves. I was one of the few Westerners on board. The plane was nearly at full capacity, and I saw Russians, Italians, Chinese, Koreans, and another Swiss compatriot, but no Americans or British. After tasting my first delicious Persian meal (and sipping my last beer for a while), we began our descent from the 1 hour 40 minute flight, and to my surprise, there was no change in appearance of my fellow female passengers. Even after touching down at the huge Tehran International Airport, there was still no change. We arrived at the small international terminal building, and only when the airplane door opened did the women suddenly down their colorful headscarves. Many of the women barely covered half of their heads! I knew this trip was going to be very different from my previous travels to conservative Middle Eastern countries.
Prior to arriving in Iran, I had booked a VIP immigration service in Hong Kong after hearing of the frequent immigration hassles upon arrival in Tehran. However, the Iran visa application took nearly three weeks and numerous trips to the Iranian Consulate in Hong Kong to complete, it certainly proved to be worth the trouble. I was pleasantly surprised upon arrival that those of us who booked the VIP service were whisked away onto a bus and taken to a special waiting room where we were served food and drinks during the one hour-long wait for our visa processing. This was a much nicer experience than that of other participants in the investor group, who opted for visas on arrival and ended up waiting for nearly four hours after arriving at 2 am in the morning!
While I was waiting, the waiter offered me a list of drinks and asked if I would like Coke, Fanta, or Sprite. I was definitely not expecting to see beverages from Coca-Cola (NYSE:K), the American beverage giant. The real surprise, however, was that the Coke products were manufactured in Iran!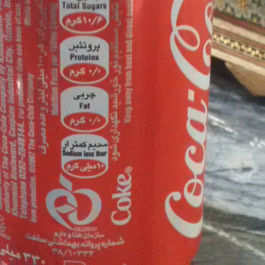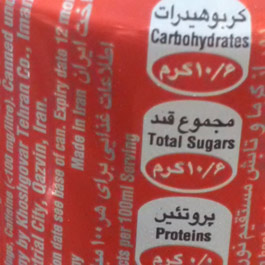 A can of Coke made in Iran!
Similar to Espen's experience, my luggage went missing. Thankfully, I recovered it in the main terminal and took a 90-minute, 40-kilometer taxi ride to my hotel in the city centre. Tehran's modern highways were clogged with heavy traffic. I saw Peugeots (OTCPK:PEUGF) (OTCPK:PUGOY) (OTC:PUGOF) (OTC:PUOGF) (all produced in Iran), Japanese and Korean cars, and Iranian-produced cars. During my visit, I also saw a few Mercedes (OTCPK:DDAIF) (OTCPK:DDAIY) and BMWs (OTCPK:BAMXY) (OTCPK:BAMXF) (OTC:BYMOF) (including dealerships), but only one American car, an extremely old Buick which still had a US number plate underneath its Iranian plate. Unfortunately, my non-English-speaking taxi driver could not find my hotel in the sprawling city of around 14 million people, and it took an additional hour and several phone calls until I finally arrived at the hotel. With the exception of a brand new Novotel and Ibis Hotel, both part of France's Accor Group (OTCPK:ACRFF) (OTCPK:ACRFY) and opposite the airport, there are currently no international hotel chains in Tehran. InterContinental (NYSE:IHG), Hyatt (NYSE:H), and Hilton (NYSE:HLT) all had presences in Iran before 1979 but ceased operations and were nationalized after the revolution.
I arrived on Friday, in time for the end of the weekend (Friday in Islamic countries is the equivalent of Sunday in the West). My arrival also coincided with the last day for electing 285 of the 290 seats of the Islamic Consultative Assembly (five seats are reserved for Jews, Christians, Armenians, and other ethnic minorities). The election results confirmed the strong gains that the reformist President Hassan Rouhani made in the parliamentary elections (held every four years) in which he won the entire 30-seat delegation representing the capital, Tehran. This change is extremely positive for Iran's future and the warming of relations between Iran and the outside world. President Rouhani signifies a positive shift away from the controversial politics of the previous president, Mahmoud Ahmadinejad.
Over the next few days, our host organized visits to Iranian companies from various sectors. We visited an IT company which is the major provider of broadband, data centres, and cloud services in Iran. The Founder and CEO, who was educated in Canada and returned to Iran in the late 90s, told us about the hardship his company and business faced during the time of President Ahmadinejad who "did not like the Internet" and did not allow the use of antennas. Funnily enough, in hindsight, the ban on antennas turned out to be a positive, because optic fibers were used instead, which helped Iran's telecommunications infrastructure leapfrog more basic technologies. The company is now growing very fast because it provides Internet bandwidth to the largest mobile phone operator in Iran, which is state owned and interestingly also hosts most Iranian websites including those of the government. I saw Huawei (Chinese brand) and Samsung (OTC:SSNLF) (OTC:SSNNF) (OTC:SSDIY) phones in abundance, but far fewer iPhones (NASDAQ:AAPL) than one would see in Europe or the US.
Another company we visited was a paper factory using bagasse (sugarcane waste) as a raw material. The company prides itself as a paper company that does not cut a single tree. The current owners bought the company from the government in 2013 for USD 1 million plus 80 million USD denominated debt. Business has been so good that today the company is debt free. The company is focused on exporting bio-degradable tableware (used in Starbucks (NASDAQ:SBUX) and McDonald's (NYSE:MCD), for example) to countries like China, Germany, India, Italy, and Thailand. It certainly has a bright future ahead.
Of course, we couldn't visit Iran on an investment tour without visiting the bourse itself. Founded in 1967, the Tehran Stock Exchange "TSE" is one of the two bourses in Iran. The TSE has 319 listed stocks, ETFs, and bonds. The other exchange, Fara Bourse, was founded in 2008 and hosts approximately 300 stocks and has a market cap of around USD 20 billion. With a market cap of around USD 120 billion, the TSE is similar in size to Vietnam's and Pakistan's exchanges. If Iran is to be included in any frontier index in the future, it will account for a major component (about 20% to 25%) of the index. With daily turnover on the TSE of USD 100 million (this is expected to grow to USD 200 million) and only 0.5% of the outstanding shares currently being held by foreigners, these are the bourse's early days with significant renewed foreign investor interest in this vast, oil-rich, and strategically located country.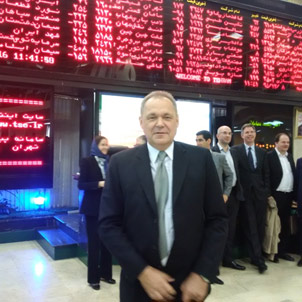 Floor traders of the Tehran Stock Exchange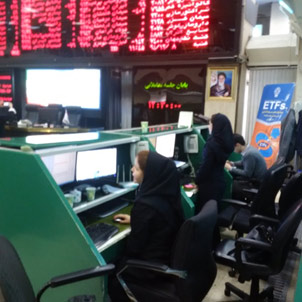 On the trading floor of the TSE, we had the chance to speak with the floor traders. Surprisingly, about half of the traders were women. Iran is an innovative country, and according to the representatives of the TSE, it is expected that index futures and options will be launched in about one year (including the permission to short sell stocks), something many frontier stock exchanges do not offer. It must be also noted that all (share) trading in Iran must be Sharia compliant, which is important for investors from Islamic countries.
On my last day in Tehran, I had additional visits with local banks and brokers to better understand the dynamics of business in the country as well as possible avenues for AFC to gain exposure to the opportunities that we see in Iran. I also had the chance to visit the Grand Bazaar, where I enjoyed a delicious local lunch of lamb kebab and lamb stew (the latter called Gormeh Sabzi) paired with the ubiquitous long grain basmati rice and flat bread (lavash) in a nearby Iranian style fast food restaurant. As with most countries where alcohol is banned, locals opt for teas, fruit juices (I indulged in the pomegranate juice), or doogh, which is a combination of yogurt, water, salt, and mint.
A picturesque historic building near the Grand Bazaar
One of the entrances to a bazaar street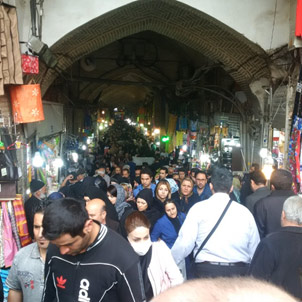 Moving around in Tehran during the day can be nerve-racking due to the chaotic driving reminiscent of the millions of motorcycles vying for a piece of pavement on the streets of Ho Chi Minh, Vietnam. This results in long traffic jams causing heavy smog in this sprawling city. The smog is intensified by the altitude, which ranges from 900 meters (South Tehran) to 1,800 meters (North Tehran). At times, I felt as If I were in Switzerland with the city's backdrop of snow-covered mountains.
View over Tehran with snow-covered mountains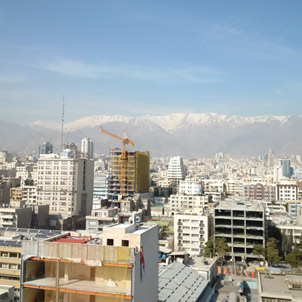 Traffic jam in Tehran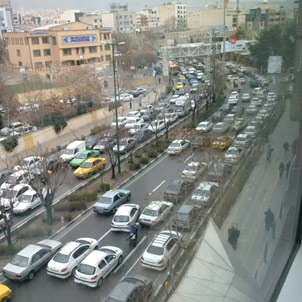 Another similarity to Switzerland is skiing - the Tochal Ski Resort is the fifth highest ski resort in the world at 3,730 meters and also the world's closest ski resort to a capital city. Tochal is equipped with an eight-km long gondola lift which starts at the outskirts of Tehran.
I greatly enjoyed my four-day stay in "one of the last frontiers for investments". The Iranian people were very friendly and particularly curious to talk to foreign visitors. I also enjoyed the great food and Iranian hospitality.
From an investment perspective, Iran is very different from most frontier markets because it already has a functional, deep, and sophisticated stock market. Iran has existing businesses in all kinds of non-petrochemical industries, comprising 57% of the economy. Iran also sits on the world's fourth largest oil reserves and the largest natural gas reserves in the world. Despite its huge oil reserves, oil exports accounts only for 10% of GDP. From a demographic perspective, Iran is a nation of 78 million people, and its population is extremely well educated - Iran had the third most engineering graduates in the world in 2015 (233,695), which is only 5,000 less that the US. About 73% of the population have a bank account, and there are currently 103 million mobile phones in use, of which 30 million are smart phones. When I visited a local supermarket, almost all of the products were locally produced, including the international brands such as Beiersdorf (OTCPK:BDRFF) (OTCPK:BDRFY), Colgate (NYSE:CL) (OTC:CLGQY), and Nestle (OTCPK:NSRGY) (OTCPK:NSRGF).
As mentioned earlier in this report, the Iranian stock market has a market capitalization of over USD 140 billion, which is huge for a frontier market. With over 600 listed equities trading at an average P/E ratio of 5.6x and a dividend yield of 12.6%, the exchange is deep and very cheap. If Iran would be included today in the MSCI Frontier Index, its index weighting would be around 20% to 25%.
With the partial removal of sanctions, the reconnection of Iranian banks to SWIFT (which will hopefully occur soon), increased exports of oil, and the release of frozen assets, the Iranian government will be able to make progress in paying its creditors and kick-starting the economy. There are certainly still considerable risks that remain and setbacks that could occur in the future, but given Asia Frontier Capital's long-term view, we believe that now is the right time to invest in Iran to capitalize on the country's enormous potential through investing in a first step, until the banks are reconnected to SWIFT, through Iran dedicated mutual funds. However due to ongoing sanctions, only non-US investors can invest directly in Iran currently.
There are a few Iran dedicated funds (including Asia Frontier Capital) in the pipeline to be launched, but due to ongoing issues with money transfers into Iran, these funds will have to wait until this is resolved.
Disclosure: I/we have no positions in any stocks mentioned, and no plans to initiate any positions within the next 72 hours.
I wrote this article myself, and it expresses my own opinions. I am not receiving compensation for it. I have no business relationship with any company whose stock is mentioned in this article.