The demand side of oil may hold the key to unlocking oil prices in the future. Oil's oversupply issues have been well publicized.
However, downstream issues can be equally pertinent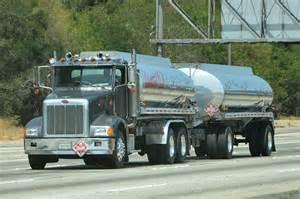 . Demand, production, and stocks of refined products, which are closely watched in the industry, may also affect the timing of oil's eventual price rebalancing. Furthermore, distillate (e.g., diesel fuel and heating oil) demand is a surrogate for industrial sector health and is therefore worth watching as a general economic indicator.
Most refiners have some degree of capability to adjust the relative amounts of gasoline and distillates they produce. If supply of one or demand of the other warrants a change in production levels to optimize profits, refiners can react accordingly. Therefore, both supply and demand of both gasoline and distillates are important to consider.
We are currently in a situation where both gasoline and distillate stocks are at unusually high levels. And these levels are affecting refinery consumption, introducing a potential bottleneck that is increasing the need for oil storage. Downstream refining is just as important a consideration as upstream supply. I take a look at both gasoline and distillate demand and stocks, with an emphasis on distillates.
Gasoline demand generally increases when its price falls owing to an increase in driver miles. However, there are limits to the incremental change in driver behavior over long periods of time (measured in years). It's likely that the increased demand is nearing that saturation point so future changes won't be nearly as pronounced. On the other hand, seasonal effects are kicking in for spring/summer drivers.
The following three charts show two-year gasoline demand, production, and stock levels.
Gasoline demand peaked last summer and then retreated toward year's end. January demand was below last year's level before turning around in February.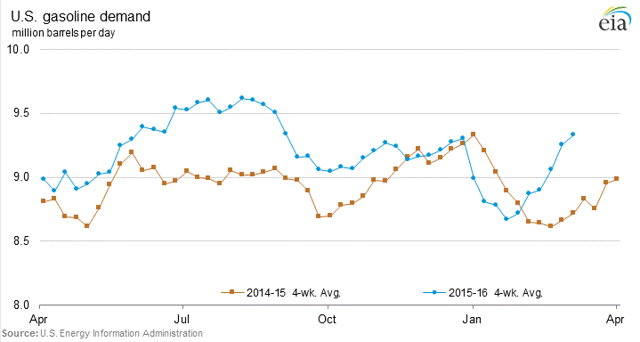 Gasoline production remained above prior levels through January, which includes the period of lowered demand. Current production and demand are now ahead of last year.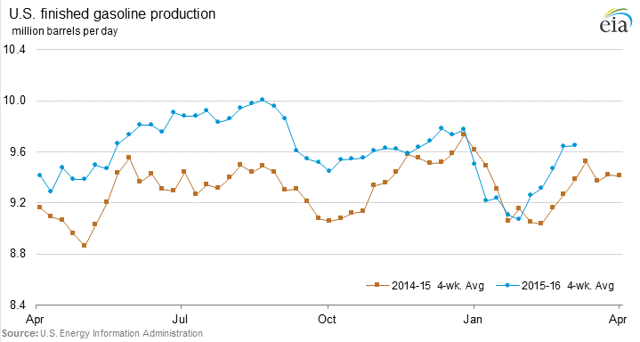 The result, though, was an oversupply of gasoline at the beginning of 2016. Gasoline stocks well outpaced five-year levels at the beginning of the year but are starting to draw down.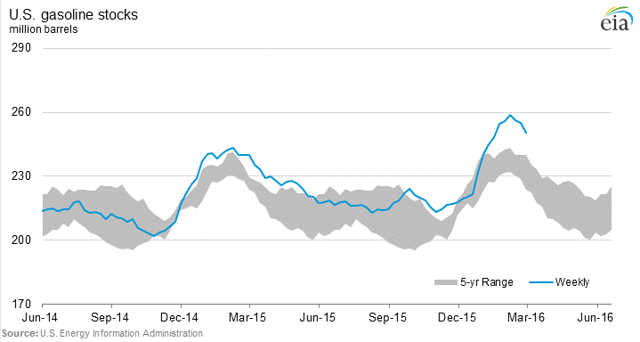 A similar overproduction occurred with distillates. This is shown in the sequence of charts that follow.
Distillate demand has been well below last year's level since December.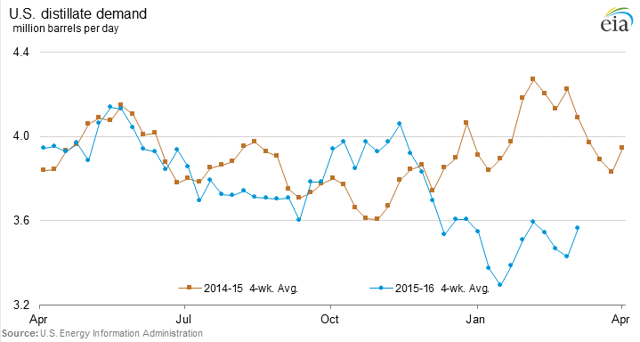 While recent distillate production has been following the year-earlier relative trends, but not compensating enough in reduction. Current production is matching last year's level.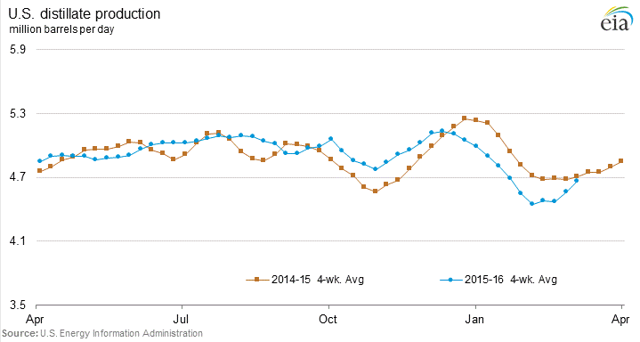 As a result, since December, distillate stocks have risen to five-year highs.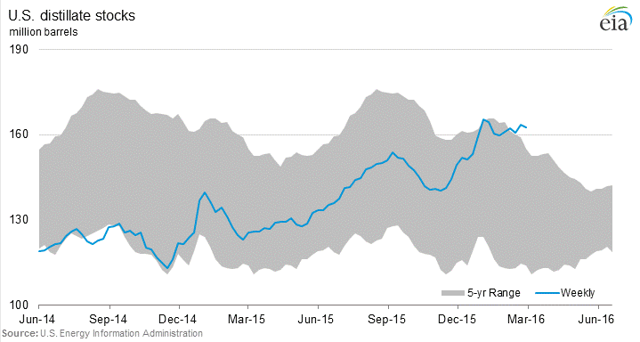 Note that high distillate stocks aren't only an American problem, they are a worldwide issue.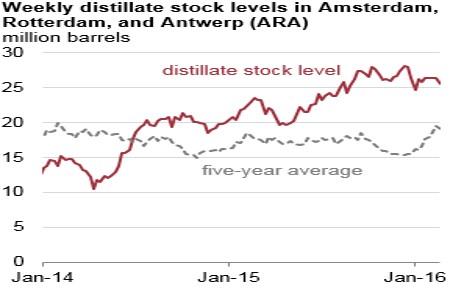 It's also notable that, starting late last year, distillate demand began reaching ten-year lows on an absolute basis.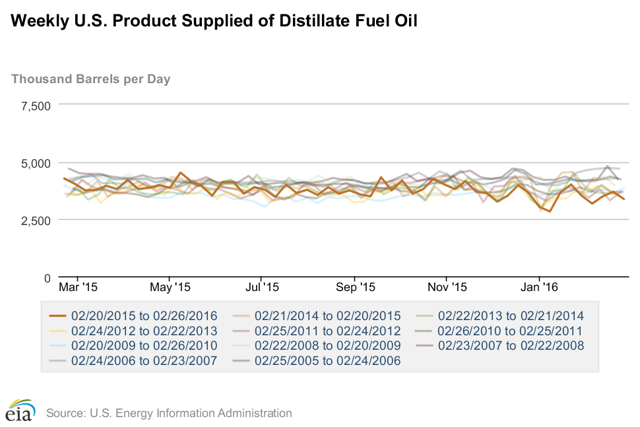 The reduced distillate demand was concurrent with gasoline's January demand decrease. The combination of both downstream products being at high stock levels led to a slowdown in refining production for both. That meant more crude oil going into storage. The supply-demand balance of refined products is continually being worked by the industry.
Next, let's look at distillate demand as an indicator of economic activity. It turns out that distillate demand changes correlate very well with economic downturns.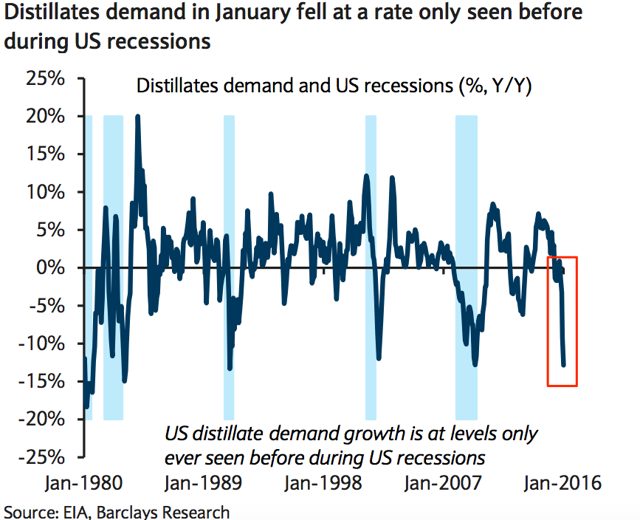 We are in a major distillate demand growth trough at present. This has corresponded to recessionary conditions five times over the last 35 years. Conversely, I expect a turnaround in distillate demand be indicative of an improving economy at some point in the future.
The major takeaways are twofold. First, until these potential downstream bottlenecks in both gasoline and distillates stocks subside, there will be downward pressure on the price of crude oil. Second, distillate demand, as a potential economic indicator, bears watching for signs of general economic recovery and investment-timing considerations.
Look for a rise in distillate demand to indicate improving health of our economy, as this is likely to foretell the end of the current slowdown. In contrast, an increase in gasoline consumption as we begin to enter the driving season is expected, but it may not be a sufficient tell from a refined-products perspective.
Broad stock-level reductions should go along with improving economic conditions. But if the economy stagnates, recurring high gasoline and distillate stock levels will reflect it.
And remember, if oil producers agree to status-quo overproduction, oversupply will continue until demand catches up and stocks begin to be depleted in meaningful quantity. Once production numbers can be estimated with better accuracy, gasoline and distillate demand will become key factors for calculating when this will occur.
From an investor's perspective, refining companies like Valero (NYSE:VLO) will be in the driver's seat when the economic situation corrects. I continue to believe that companies like Exxon Mobil (NYSE:XOM), Chevron (NYSE:CVX), Occidental Petroleum (NYSE:OXY), and EOG Resources (NYSE:EOG) will struggle through a longer period of reduced earnings, though their downstream operations will help mitigate the effects of the oil-price downturn to some degree.
Disclosure: I/we have no positions in any stocks mentioned, and no plans to initiate any positions within the next 72 hours.
I wrote this article myself, and it expresses my own opinions. I am not receiving compensation for it (other than from Seeking Alpha). I have no business relationship with any company whose stock is mentioned in this article.