One way investors can generate alpha is by gaining an informational edge. What do I mean by an informational edge? To me, an informational edge is an abundance of knowledge on a particular stock or sector, which others do not have. Gaining this informational edge is easier said than done. It is not an overnight phenomenon, but more so a long process of continual learning.
This article will be a focus on how I gain an informational edge. More importantly, it's a focus on how I continue to strive every day to become a better equity researcher.
Step One: Focus on Undiscovered Companies
I am the kind of guy who is biased in terms of market capitalization. If you are a small-time retail investor and you tell me that your biggest holding is Exxon Mobil (NYSE:XOM), Coca-Cola (NYSE:KO) or Colgate (NYSE:CL), I may look at you funny. Just kidding. However, I may question your approach as to why you have invested in some of the biggest names out there.
If you are looking for an informational edge over the competition, investing and researching the largest and most popular stocks gives you quite a disadvantage. How can you expect to gain an informational edge over the thousands of other analysts looking at the same exact stock? What makes your research skills so unique that you will gain an edge over the top institutions in the industry?
Instead of spending time researching Apple's (NASDAQ:AAPL) new product, like every other analyst down the street, think about switching up your investment style. Focusing on smaller, undiscovered companies can give you quite an advantage over top institutions and the overwhelming numbers of retail investors.
Think about it, when you are the only analyst researching a microcap security, you will have information that others do not. This is very valuable if you are an allocator of assets. Furthermore, isn't knowing something others do not know more valuable than something everyone knows?
I use to be the investor who didn't look at microcap stocks and was actually afraid of OTC listings. As I began to learn more about the market, I slowly morphed into a full-out microcap investor. The transition from being exclusively focused on popular names to unknown names is a powerful process, and actually very enlightening.
In actuality, when the small-time retail investor makes his or her transition from large, popular names to unknown microcap names, that is when the information edge starts to develop. Furthermore, that is when the probability of generating alpha starts to increase.
Step Two: Read, Write, Repeat
Once you have made your transition into the world of undiscovered companies, you will have to start doing original research. Yes, that means reading 10-K after 10-K. If you cannot seem to push through 10-Ks and other financial filings, well, you probably should not be an active investor. I would suggest a more passive approach, such as ETFs or mutual funds.
After I generate a potential research idea, I begin to read through all of the recent financial filings that I can find. Furthermore, while I am reading through the financial filings, I take notes (I have filled up so many notebooks with company information). This is a very time-intensive process, usually taking me 4-6 hours per company, if not more, depending on the depth and breadth of information that I want/need to know.
After reading through the financial filings, I will then proceed to read investor presentations or other research reports (if there are any). Typically, I will not read investor presentations or other analyst reports without first reading the financials. I read the financials before reading anything else so I don't form positive or negative opinions from presentations or reports. Furthermore, doing my own due diligence before reading other research allows me to have a background of knowledge I can bring to the table.
Finally, after I am done reading and taking notes on everything I can find on a company, I will start writing. Converting the notes that you take on a company into a report is very powerful. Furthermore, it will help slow down your decision-making process. Many investors think and act way too fast. Slowing down your investment-making process is key to success. If you rush into an investment, you will probably rush out of one. Slowly gain conviction before you buy... I can't stress that enough.
Writing a report will not only help slow down investment decisions, but it will also help formalize your investment thesis. After you have your report written, a decision to buy company XYZ should be more thought-out. Moreover, if you are having an itch to dump a security, you can look back at your original thesis. Thus, reports will help you understand why you bought the security in the first place. Two to three years down the road, when the swinging pendulum of the market is making you nervous, you can look at your past reports to stabilize your conviction.
If you research five, or even three, companies a week, you will start to build up an impressive library of information. This is not only good for future investment decision-making, but it looks good if you are trying to land a job as an equity researcher. Most importantly, if you have seen company XYZ's security drop 40% in one week on virtually zero news, you will already have previous research done to take advantage of Mr. Market.
Step Three: Network
I am always looking for ways to improve my research skills. Furthermore, I try to bring some unique aspect to my research reports that the typical analyst doesn't. One of the best ways to get an informational edge and make your research standout is by networking.
When I first started writing research reports on individual companies, I totally disregarded the idea of reaching out to company insiders. First and foremost, I did not think insiders would take a 20-something junior analyst seriously. Secondly, I will also admit that I was scared of reaching out to insiders.
Here is some advice I wish I would have gotten sooner: build your network. Reach out to insiders, talk to suppliers, and most importantly, introduce yourself to other investors. I have said this before, and I will say it again. Sitting by a computer all day and reading financials is a great way to understand an investment. However, talking to management and visiting a company will open your eyes to a whole new world of developing an informational edge.
One of my favorite ways to develop an informational edge is by talking to other investors. Not only will talking to other investors build your network, but you can also generate investing ideas this way. In fact, some of the best ideas that I have had were not generated from a screener, but rather, were thrown at me by other investors.
Take Claude Resources (OTCQB:CLGRF) as an example. Back in December, I submitted a thesis on CLGRF for the Top 2016 Long Idea Contest on Seeking Alpha. Prior to writing about CLGRF, I had almost zero experience analyzing junior miners.
CLGRF was introduced to me by a very experienced investor. Given the conviction this investor had on the stock, I decided to look into the company. Since my original thesis, CLGRF has performed exceptionally well, peaking at >120% gain in under three short months.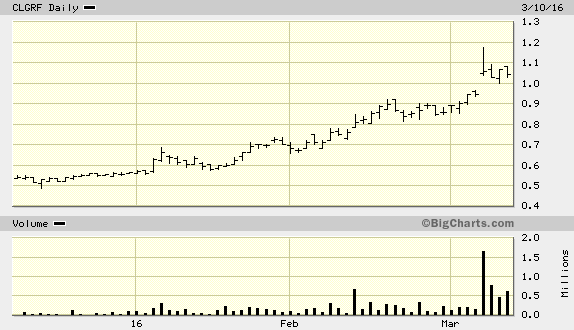 If I did not network, I would have never known about the company (Canadian junior gold miners were not on my radar). CLGRF is not an exception either. I have had other ideas perform very well in the past year that were originally introduced to me by other investors... the power of networking.
Step Four: Read Books
Reading books is another great way to develop an informational edge over your typical analyst. Reading a book a week will not only help develop critical thinking skills, but you will also store information for future use.
Take this for an example. Let's say you are interested in learning about the energy industry. Now, you could go out and read industry report after industry report (which isn't a bad thing). Additionally, you could read everything you can find on CNBC with regard to the energy industry (this may be a bad thing). But think about it, how many other analysts are doing this too?
Conversely, you could go to your local library and check out every history book on the energy industry you can find. This can be very beneficial. For an example, how many analysts do you know that have read The Quest, The Prize, Titan, The Age Of Oil, The History Of Standard Oil and The Frackers? Reading material that other analysts typically do not read is a great way to develop that information edge I have been blabbing about.
Furthermore, reading historical books will not only give you unique information, but you can use that information for future use. For an example, last winter, I read a book called The Quest. In the book, there was a chapter or two about major choke points, also known as straits. After I was finished with the book, one of the top news stories of the week was a potential blockage of the Strait of Hormuz.
Given all I learned about straits, I went on to write an article for Seeking Alpha concerning the blockage. The article did decently well in terms of page views and comments. However, I was also asked by Marita Noon to be on her radio talk show, America's Voice for Energy, discussing the article I wrote.
It was a pretty unique opportunity for me, and I owe it all to the book that I read a few months before it happened.
In short, reading books will not give you actionable investing ideas. However, it will have many long-term benefits. Furthermore, it's a great way to accumulate knowledge that you can use down the road.
Step Five: Industry Analysis
Studying entire industries is another good way to develop an informational edge. I recently started to study industries as a whole, starting with the offshore oil & gas sector.
When you study industries, you will start to piece together those moving pieces that seemed unreachable when you were looking at individual companies. For an example, let's say that you were very interested in company XYZ, for it had sky-high profitability margins over its relative comps.
Just studying company XYZ and disregarding the other comps in its industry can be dangerous, and is not the function of a successful allocator of assets.
Now, let's say that you decide to study company XYZ's comps in order to find out why the company in question has much higher margins. After doing your due diligence on the company's comps, you come to a conclusion why its margins are higher and report the following in your research report:
At first glance, company XYZ looks to be a great investment due to its higher margins on a comp basis. After performing further due diligence into the comps, we have discouraging results. Company XYZ capitalizes expenditures, while its comps expense their expenditures. This gives company XYZ higher margins than its comps earlier on, solely based on accounting methods.
Studying entire industries will also help build up your base of knowledge with regard to why you are making an investment decision. Thus, an industry overview will help you become a better researcher, decision maker, and help to detect why a certain company is performing better than its comps.
Many equity researchers I know typically only study individual companies. Studying individual companies is great. However, studying the entire industry in which those individual companies operate is a great way to develop an informational edge.
Conclusion
If you are striving to become a full-time investor, gaining an informational edge will help you reach your goals. Knowledge is power, and power is knowledge. Furthermore, if you are looking to generate alpha and protect your downside, the more information you have, the better. You can't know 100% about everything. But if you know 80% about something, that gives you pretty good odds. These are just a few ways that I accumulate knowledge and gain an informational edge.
Remember, there are thousands of analysts in this industry. In order to stand out from the masses, you need to do things differently. What can you bring to the table that a fresh MBA from Harvard has not thought about doing? Be unique, stand out and continue to carve out your informational edge.
Disclosure: I/we have no positions in any stocks mentioned, and no plans to initiate any positions within the next 72 hours.
I wrote this article myself, and it expresses my own opinions. I am not receiving compensation for it (other than from Seeking Alpha). I have no business relationship with any company whose stock is mentioned in this article.
Editor's Note: This article discusses one or more securities that do not trade on a major U.S. exchange. Please be aware of the risks associated with these stocks.