An April 23, 2010 e-mail from Kevin Corcoran to a host of his colleagues is likely the sort that, in one form or another, millions of Americans deal with regularly during the work day.
Bluntly noting "We have not made the progress we need to in this area," Corcoran adds, "More than $1[million] in funding" is in the balance."
"Anyone who has not fulfilled their obligation in this area should not be surprised….when it's time to discuss performance evaluations, bonuses and raises."
The $1 million in question isn't from a customer but represents tuition and fees from Pennsylvania's various school districts to an online public charter school called Agora. In turn Agora pays Corcoran's employer, K12 Inc. (NYSE:LRN) many millions of dollars annually to provide the curriculum and administer the school. There is a lot at stake in collecting this money since Agora and a sister school in Ohio, the Ohio Virtual Academy, represent about 26% of K12′s annual revenues.
The relationship between a cyber charter school like Agora and K12 is an interesting one.
Agora, and many other schools like it, is a nonprofit managed by an independent Board of Trustees, but K12, a publicly traded company founded in 2000, is most assuredly for profit, as the upwards slope of its income statement attests to. This rapid growth has made the company beloved of Wall Street's research departments–the stock price run from 2008 to 2011 is self-explanatory–and until a lengthy New York Times investigation that was sharply critical of the company's educational effectiveness, it was a core holding of growth stock managers.
In the e-mail, Corcoran, who is Agora's financial chief, was miffed because 81 "IEPs," short for individualized education programs–basically customized teaching plans for Agora's growing populace of special education students–hadn't received the necessary signatures; without them, various school districts would not release reimbursement of $15,000 per pupil (or higher) to Agora, and thus K12, to educate a student populace that have had profound troubles meeting educational expectations.
[Of course nearly every school, public and private, struggles to keep up with the burgeoning cascades of paperwork various state and federal authorities demand and, to be fair, people on the e-mail list told The Financial Investigator that the 81 unfinished IEPs had been whittled down from a list of several hundred in the weeks before the E-mail was sent.]
Corcoran's E-mail is a fair representation of the broader challenges K12's growth-first business model brings both for the company and its teachers and students.
Consider the charts of monthly enrollment changes and churn calculations at three of the four virtual academies below: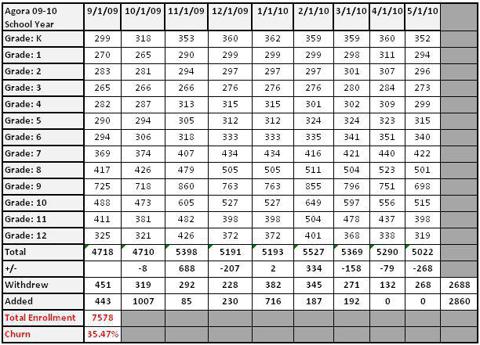 Agora grew like a wildfire in the 2010 school year. A total of 7,578 students were signed up through the course of the school year, of whom 4,718 were in place in September. Throughout the year, a total of 2,688 dropped out for a student turnover, or churn rate, of 35.5%.
K12's other virtual academies, Ohio Virtual Academy (OVA), California Virtual Academy (CAVA) and the Colorado Virtual Academy (COVA), show a similar level of churn.
–OVA enrolled a total of 18,743 students cumulatively throughout the 2010/2011 school year with 9,593 withdrawing by the end of the year, for an astoundingly high churn rate of 51.1%
–CAVA schools signed up a total of 16,934 students in the 2010/2011 school year (11,682 were enrolled in September) and 23.8% pulled out.
–COVA schools had 6,449 students registered through the 2010/2011 school year of which 4,163 were enrolled as of that August. A total of 2,330 dropped out for a churn of almost 36.1%
The charts are an effective numerical illustration of the dual realities of K12.
In the reality of Wall Street and K12′s marketing effort, there is the well-documented and remarkable growth of the schools themselves where a tidal wave of school district reimbursement dollars is whisked to its Herndon, Va. headquarters, propelling the share prices steadily higher. To this end, the growth of the student bodies themselves are a clear testament to the popularity of the school choice and charter school movement, as well as K12's comprehensive online marketing and enrollment advisory efforts.
Just as evident, however, is another reality: the fact that these cyber schools might as well have a turnstile as their logo for the volume of withdrawals they experience. The growth that has made the company's shareholders and founders–the Milken brothers, a fund capitalized by Oracle Corp. founder Larry Ellison, current chief executive Ron Packard, as well as former Reagan administration Education Secretary William Bennett–so happy is making many of the families whose kids attend the schools apparently much less so.
By way of explanation and comment on these numbers, after a week-long FI.com E-mail and phone effort to get a response, a K12 spokesman declined to offer an official comment to an E-mailed list of questions, at least in part because of concerns as to where The Financial Investigator got the student turnover numbers. [They were obtained from a variety of sources. In Agora's case, the chart foots almost perfectly with the numbers listed in this record of a Board of Trustees meeting. For the Ohio Virtual Academy, an official provided a document with annual totals, but no monthly enrollment and withdrawal numbers broken out.]
K12 insiders have regularly said Cyber Charter schools "Aren't for everyone, maybe not even for most students but are really good for some students." To that end, the churn rates can be explained as a byproduct of the school choice movement being in its infancy and the fact that the virtual academies are public schools and have to take all resident students that apply within that state, even if it is clear to everyone–save for the student or their family–that cyber education isn't in their best interests.
The stark velocity of the student withdrawal rates plainly suggests, however, that something has gone terribly wrong.
Chief executive Ron Packard has remarked that K12 has only begun to tap into the vast potential of its marketplace, using the phrase "manifest destiny" in a conference call with analysts to describe his hope that a K12 education would be available to every American child. These withdrawal numbers suggest a different destiny. There is a very good chance the company has drained the pool of the students most able to succeed in a virtual school–the ones coming from families who are willing to conduct themselves as home-schoolers and spend four-to six-hours daily directly involved with their child's education–and will have to settle for an increasingly marginal applicant.
There is a lot more churn to come, in other words.
Remediating it won't be an easy proposition for management or shareholders to swallow in that it would likely entail hiring more teachers and retaining more of the ones they have on staff, both of which are moves that would weigh on the expense line. Moreover, the possibility of a unionized faculty, if enacted, would surely force pay increases, and constrain the ability of K12 to easily dismiss faculty (something it does with relative frequency.) Putting the matter another way, making the virtual academies into lower-churn, higher-performance schools is likely going to require a very different set of decisions from those that made running virtual academies an attractive business.
The battle over whether K12 provides a compelling education for its students is the educational equivalent of discussing abortion: opinions are religiously held and there is little quarter (or consideration) given to the other side. K12, for example, has quite plausibly asserted that the entire measurement regime of average yearly progress (AYP) is deeply flawed. They argue that they provide an independently administered test that shows, in many cases, students making impressive gains through the school year.
Stanford University's Center for Research on Education Outcomes, on the other hand, put out a report last April that studied the effectiveness of Pennsylvania charter schools and concluded that students from Pennsylvania's cyber schools were performing "significantly worse" in math and reading than their public school peers.
Both sides of the debate seem to ignore the central fact of life at a K12 managed cyber charter school: Outside of the students who are professionally motivated–the K12 program is popular with teenagers training to be elite athletes or for careers in the performing arts–there is strong anecdotal evidence that the students with the best chance of succeeding in virtual academies are effectively home-schooled.
More plainly put, to the extent they are as potentially effective as their advocates say, this makes K12's virtual academies publicly subsidized home-schools.
Whether the parents embrace the cultural, religious or political traditionalism that is often associated with home-schooling or not, "Learning Coach" is a marketing term designed to be more palatable to prospective enrollees than "Parents-who-make-Johnny-turn-off-World of Warcraft-and-do-geometry-every-single-thankless-day." It apparently works as these students (generally) score quite well relative to their peers across the state and leave capable of doing college-level work.
They are also a fraction of the virtual academy's student populace, according to teachers, perhaps no higher than 30% of a given school.
In an economy such as this, where both parents are likely working harder than ever to make ends meet–if there are even two parents or guardians in the picture to teach children–students from households that lack the "home-school" orientation are the preponderance of students who are withdrawing from the virtual academies.
Anecdotally, however, these are just the sort of students making up the majority of the virtual academy enrollee waves every month.
The high churn rates doesn't just affect students.
Conversations with current and former K12-run cyber charter teachers and administrators paint a portrait of institutions growing so rapidly that educators, most of whom had no experience with online education, were overwhelmed.
Heidi Gardner, an Agora special education lead teacher who resigned last year, said the turnover in enrollment led to a massive expansion in non-instruction work for teachers.
"If you weren't trying to make initial [e-mail or phone] contact with new students then you were trying to keep on top of the 'inactive' [students who had not logged on to Agora's web portal in a few days] or confirm if students who not been in contact with [teachers] for weeks or months were still enrolled," Gardner said. "You could add four hours to your work day doing this."
"When it came to the actual instruction, you'd be a secretary, scheduling in 10 minutes here and there for students who often had complex learning challenges. For the harder cases, [teachers] always put in the time and just carved it out of our lives."
The e-mail cited above is evidence the first of the profound administrative challenges caused from this growth. One of the 81 incomplete IEPs that had annoyed Agora's Corcoran was of a special education student categorized as "absent" for 141 straight days, but who had not formally withdrawn, so even though he hadn't attended the school since the early autumn, his home district still (apparently) reimbursed Agora.
The mercurial growth also brought out some rather unintentional moments of comedy.
Gardner says that the special education department received a $200,000 federal grant under the American Recovery and Reinvestment Act for the 2010/2011 school year. As a function of trying to manage the ever-fluctuating class lists, the grant appears to have been completely forgotten about. Under the terms of the grant, however, funds had to be spent by September 1, and according to Gardner, the funds were "rediscovered in May."
"I had direct orders to make sure it got spent. We were made to run around for weeks buying I-Pads and gift certificates to Barnes & Noble and ITunes, getting dozens of copies of voice translation software we just kept at the office, throwing parties for graduating seniors across the state and we still couldn't finish the grant money," recalled Gardner. "So dozens of extra $50.00 gift cards were given to teachers who had nothing to do with Special Ed, all of whom thought [Agora's Head of School] Sharon [Williams] was simply being very thoughtful."
"They had no idea it came from the federal government," said Gardner, who described herself as "Still angry that I was made to do that," suggesting the story is "Basically the reason everyone who pays taxes should worry about something like ARRA."
Financially, churn runs into some basic "laws" of business.
When any enterprise has high customer turnover, an increase in incremental expense, usually in marketing and advertising, is required to replace them, a scenario that appears to be already playing out. For example, in the most recent quarter, K12's selling, general and administrative line increased over 330 basis points (3.3%) on a year-over-year basis. In combination with a pronounced miss in forecast revenues, the increased costs contributed to 16 cents in earnings per share versus an analyst consensus of 27 cents, explaining how for the second time in a few months, K12 investors got a little lighter in the wallet.
Cash flow isn't going great guns either.
Earnings before interest, taxes, deprecation and amortization dropped to $21.7 million from $24.3 million in the same quarter of the year prior, and free cash flow after capitalized costs–the cash K12 has left over after spending what it had to for software and other online education essentials–dropped to $2.74 million, down from $24.5 million in the fourth quarter last year.
The cash flow isn't at red flag levels, to be sure, but they are proof that expenses continue to be a major drag on what many of the company's proponents assert is an unalloyed success story.
In this vein, the fate of K12 and the CEO's "Manifest Destiny" vision won't be found in the microsurgery of parsing its cash-flow statements, but rather in the public hearing rooms of dozens of state capital office buildings across the country where regulators and legislators hash out state education policy.
Though K12's lobbying prowess is legendary, there are mounting signs that states are openly questioning whether K12 and the idea of cyber charter schools are an effective use of declining pools of education dollars -- from Des Moines, where this editorial cautioned against a headlong rush into cyber schooling, to Pennsylvania, where Agora's Board of Trustees signaled (see underlined portion) that it wants to renegotiate its contract with K12 downwards in price when it comes up next. Even Florida is getting into the act, with K12 losing an appeal three weeks ago to expand its cyber charter school activity throughout the state.
The marketing allure of an argument for "educational choice" is justifiably powerful, as is the deep-seated political and policy frustrations with well-entrenched teachers unions. But Packard's "Manifest Destiny," like the American justification for expanding westward in the 1840s, is eventually going to have to demonstrate results for its constituents. It wasn't always pretty or just, but settling the West was an inarguably beneficial move for the American people, both then and now. Whatever the possibilities inherent in a K12 virtual education, with 25%-50% of a student body departing in a given year, there is a clear signal being sent about its reality.
K12 shareholders have profited mightily from Packard's dreams of expansion. His other constituents, the parents and children in his company's empire of virtual schools, might give him a very different grade.
Disclosure: I do not have any sort of investments in the securities of any company I write about, nor for that matter, in anything at all (save for my house).