The S&P 500 index, which closed at 1,365.74 on February 24, 2012, is up 8.6% year-to-date from its 1,257.60 close on December 30, 2011. Meanwhile, Gold is up 12.96% year-to-date from $1,574.50/ounce at the London AM fixing for December 30, 2011, to $1,777.5/ounce on February 24, 2012.
Such outperformance by Gold year-to-date does not tell the whole story.... In an article we published on August 12, 2011, "Choosing Between Gold and Stocks and Deciding Whether Economy or Inflation Are Key", we argued that from a long term perspective, equities have shown better returns than gold by analyzing data going back as far as 1880.
There is no question that entry-point makes a difference. The catalyst for the writing of August 12, 2012 was the prevailing market sentiment at that time. Some may remember that at that time, with the S&P 500 index trading at 1,172.64 as of August 11, 2011, and gold trading at $1,786/ounce at the London A.M. Fixing, many analysts, investors and traders were advocating that equities should be shunned in favor of gold.
However, since August 11, 2011, gold prices are actually down 0.42% from $1,786/ounce to $1,777.5/ounce. Meanwhile, the S&P 500 index is up 16.47% from 1,172.64 to 1,365.74.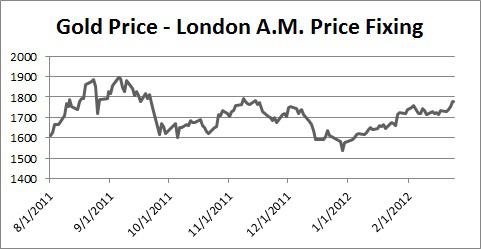 Data Source: Kitco Inc.
It seems that when fear was at its peak, and most were shunning equities in favor of gold in August 2011, it certainly paid off to keep a level head and make an educated contrarian investment.
Does that mean that savvy investors should always avoid the crowds when deciding whether to invest in equities or gold? Not necessarily. In the short term, and possibly intermediate term, inflation (and the dollar) can have a major impact.
In August 2011, we believed that there was a good chance that inflation would remain subdued for the following six months given the elevated unemployment rates and subdued economies in the western world. Given the state of European affairs, we also felt there was a possibility the Dollar could benefit. Had inflation shown a major increase since August 2011, then it is possible that equities would not have outperformed gold since then. However, despite inflation, from a long term perspective, and as supported in the August 12, 2011 article, equities can still outperform gold.
What does it all mean for the immediate future? There is a saying on Wall Street, "Sell in May and Go Away." Such saying is supported by those who feel the summer doldrums, in addition to the equity market volatility that can ensue in the months of August to October, do not favor being invested in equities. At this time, we are still about 3 months away from May, and we believe that equities can still possibly offer attractive returns during the next 3 months.
However, it does make sense to possibly be selective in choosing which equities to invest in, as opposed to engage in index investing. For example, consider gold's performance since August 11, 2011 vs. the performance of household technology shares, Apple Inc.(NASDAQ:AAPL), International Business Machines (NYSE:IBM), Intel (NASDAQ:INTC) and Microsoft (NASDAQ:MSFT). Although gold is down 0.4% while the S&P 500 is up 16.5%, AAPL is actually up 39.8%, IBM is up 19.6%, MSFT is up 27.6% and INTC is up 30.8%. It seems that since August 11, 2011, such technology stocks have been worth more than their weight in gold...
Disclosure: I have no positions in any stocks mentioned, but may initiate a long position in AAPL, MSFT, INTC, IBM over the next 72 hours.