Warren Buffett never shorts the market or any single equity. Neither does Seth Klarman. But many other successful traders do use both sides of the market to deliver superior returns. Shorting takes a different skill set and a different degree of tolerance, especially in a market that has and will continue to trend upward over time.
Buffett doesn't like shorting for many reasons, largely because of the general uptick of the market over time and the headwinds you face from promoters and irrational markets. As they say, markets can often times stay irrational longer than you can stay solvent.
Okay, we understand the risk involved, but after reading Jack Schwager's book "Hedge Fund Market Wizards," I became interested in the trading philosophy of Tom Claugus. Claugus is probably near the top of the list for best hedge fund manager most people have never heard of. Claugus runs GMT Capital in Atlanta, Georgia and huas a 20+ year track record of 20% annual returns. Claugus is a value investor, but he does employ a Bollinger band strategy to manage his overall market risk. From the book, Claugus describes his strategy as:
"At the lower band, we would be 130 percent long and 20 percent short. At the midpoint, we would be 100 percent long and 50 percent short. We are 50 percent net long at the midpoint rather than neutral because of the long-term secular uptrend in stock prices. At the upper band, we would be 90 percent short and 20 percent long, or 70 percent net short. Our net exposure will increase as the market goes down and decrease as the market goes up."
For selecting shorts, Claugus has what he calls his "Evil Knievel" stock screener, which looks for companies "trying to jump the Grand Canyon and probably not going to make it." The screener looks for companies trading at 5 times book value, but losing money. From there, Claugus and his team do a deep dive into the business and determine who they want to short. If I run the same screener today, I get a list of 89 US traded equities on my Evil Knievel screen.
If I add one more criteria, companies with a current ratio under 1, the list narrows to 82 companies. That's a lot of bad looking balance sheets to research. Gogo (NASDAQ:GOGO), Heron Therapeutics (NASDAQ:HRTX), Puma Biotechnology (NYSE:PBYI), Vertex Pharmaceuticals (NASDAQ:VRTX), ServiceNow (NYSE:NOW), NetSuite (NYSE:N), and Paylocity Holdings (NASDAQ:PCTY) are just a few on the list. Lots of Biotechs on the list that I would generally stay away from shorting. Those guys can get an FDA approval and go from zero to hero overnight. Not the type of stocks I want to be shorting.
Given I don't have a research team of 15 analysts, I decided to look for a more manageable way to manage my market risk at times when the market may be overbought or oversold.
The Backtest
I wanted to evaluate adding a wrinkle to my investment strategy that when the market appeared to be overbought, I could buy a short S&P 500 ETF (the ProShares Short S&P 500 ETF (NYSEARCA:SH) or the ProShares UltraShort S&P 500 ETF (NYSEARCA:SDS)) to hedge my market risk and hold on to all my long value equities. When the market appeared to be oversold, I would remove (or reduce) my short and be net long my value equities.
Using an algorithm, I was able to create a backtest that would short the S&P 500 whenever the SPDR S&P 500 Trust ETF (NYSEARCA:SPY) crossed the upper band and go long whenever SPY crossed the lower band (the "Strategy"). While my strategy would not be to go long SPY at the lower band, I wanted to see the information in totality. The information is not perfect and we understand the potential flaws of past information not being indicative of future results, but I feel like this test provides the information needed.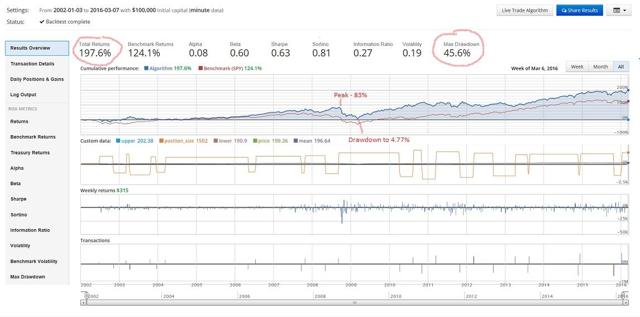 A couple of things to point out. During the time period tested, the cumulative return of the Strategy was 197.6% compared to 124.1% for SPY. The max drawdown was 45.6%, which is a little scary. The max drawdown began in October 2008 and continued to get worst through August 2009's peak drawdown. This can be explained due to a time when SPY broke through the lower band and kept going substantially lower.
Coming into the drawdown period starting in October 2008, the cumulative return of the strategy was 83% compared to 19% for the benchmark (S&P 500). By the end of the drawdown period, the cumulative return was down to 4.77% compared to -32% for the S&P. From that point forward, the strategy significantly outperformed the S&P.
It is important to note that this strategy from January 2010 through March 7, 2016, did not outperform the market. That makes sense given the market has done almost nothing but go straight up during that period. I'm sure there are many other periods where this strategy would not outperform the market.
Conclusion
From the track record of Tom Claugus and the backtest data, I have enough information to believe shorting the S&P at the upper band could add value to my portfolio over time. Going 70% net short like Claugus takes guts and I may alter the strategy slightly. My ultimate strategy would be something less than 70%, but enough to have an impact on my returns.
Claugus stated in the Market Wizards book, "during the fourth quarter of 1999, when the market was skyrocketing and I was net short, I was losing my butt at the same time most other hedge funds were making a ton of money." Joel Greenblatt said the exact same thing about his Gotham Capital fund during that time period.
Like any strategy, extreme movements up or down are going to get ugly for most of us. I currently do hold both the ProShares UltraShort S&P 500 ETF and the ProShares Short S&P 500 ETF in my portfolio at around 30%. If during a normal period you can shave off a half percent here and there by incorporating a short market ETF into your portfolio, over time your portfolio could have superior returns.
Disclosure: I am/we are long SDS AND SH.
I wrote this article myself, and it expresses my own opinions. I am not receiving compensation for it (other than from Seeking Alpha). I have no business relationship with any company whose stock is mentioned in this article.