Baytex reports in CAD; unless otherwise indicated, prices are in that currency.
Overview
One company particularly battered by the fall in oil prices is Baytex Energy Corp. (NYSE:BTE), a Canadian/U.S. oil and gas producer. Dropping from the status of a respected income stock to one that now pays no dividend, Baytex has suffered greatly. Over the last year, it has declined from near US$20.00 highs on the NYSE to current prices in the $3.00 to $4.00 range.
To its credit, Baytex took early steps to react to falling prices. Formerly a Canadian heavy oil producer, it effectively re-invented itself. Purchasing Eagle Ford shale holdings operated by Marathon (NYSE:MRO) gave it light oil production close to the volume of its Canadian heavy. The problem was the large USD-denominated debt load the company incurred. Baytex paid down some of its debt with a share issue, and eventually cut its dividend entirely. Concurrently, given the better netbacks, it continues to make a strategic production shift from its Canadian heavy to its Eagle Ford light.
2016 Planning
In mid-December, Baytex announced capital budget and production estimates for 2016. Its overall objective is well-defined:
In 2016, we are targeting capital expenditures to approximate funds from operations in order to minimize additional bank borrowings.
To accommodate current forward strip pricing that is lower than at the time of the announcement, Baytex used the release of its Q4/15 earnings report to modify its earlier guidance. Its guidance for capital expenses for 2016 had been from $325 to $400 million; this has now been lowered to between $225 to $265 million, just half the $521 capital spending of 2015. With reduced capex, production guidance has consequently been reduced to between 68,000 and 72,000 boe/d, a 5% drop from earlier estimates. This compares with an average of 84,600 boe/d in 2015. About 55% of 2016 production is now expected to come from the Eagle Ford, which will absorb 95% of new capex.
The Baytex Canadian drilling program has been suspended, and any heavy Canadian production is basically getting only sustaining maintenance capital. Actually the new production figures reflect the fact that, with large differentials to WTI, about 7,500 boe/d of Canadian heavy production (largely in Peace River) is now shut-in, but could be restored quickly at mid-year if WTI prices were seen to be sustained in the $40 range. Natural gas is expected to comprise only about 22% of 2016 production.
The emphasis on the Eagle Ford seems readily justified. The latest company presentation shows the breakeven price from its shale production there at US$35 WTI (helped by superior transportation), while heavier oil from Lloydminster takes $44, and Peace River requires $47. The latter figures assume a WCS differential of US$14 a barrel; differentials are now in the $9 to $10 range.
During Q4/15 operating netback from the Eagle Ford was $18.07 per boe, while netbacks from the Canadian operations averaged just $5.73 per boe. The Eagle Ford is a high quality multi-zone play that produces Louisiana Light Sweet; its location means that transportation costs are very low. An added advantage to the Eagle Ford emphasis is that drilling costs there have been significantly trending lower (27% in 2015), something that is expected to continue.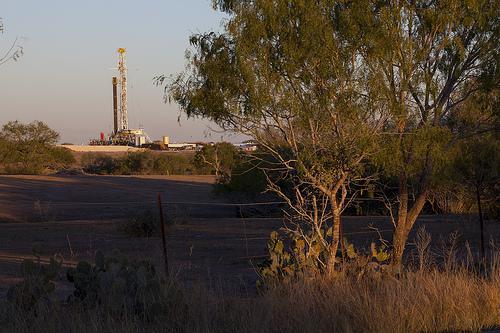 Eagle Ford drilling; Marathon Oil photo.
Hedging
Baytex now has in place a considerable hedging program that should offer it some better realized pricing in 2016. For the year, a major portion of its oil production is now hedged. About 6,750 bbl/d are covered by a fixed hedge at US$61.50. In addition, approximately 16,250 bbl/d are covered by a 3-way ceiling/floor/sold arrangement at US$60/50/40. In effect, this means that at WTI $35-39, Baytex will realize $45-49 (+$10), at WTI $40-50 Baytex will realize $50. Above $50, it will simply get WTI, and with WTI above $60, it will realize only $60. These latter hedges offer some real protection when WTI is below $50. The hedges outlined above cover about 45% of the 2016 Baytex oil production.
Baytex has also covered another 35% of its 2016 oil production (6,583 bbl/d) by hedges on WCS differentials. These are at US$13.33, and should give a measure of stability to its Canadian netbacks. A total of 14% of 2017 oil production is also hedged by similar methods.
Baytex has also hedged its full year natural gas production to the tune of about 41%. The larger part of its hedged production is Canadian, hedged at C$2.86 (AECO). The rest of its hedged gas production is from the US; this is hedged at an average of US$3.00 (NYMEX). About 18% of 2017 gas production is also hedged.
Baytex Reserves Report
In conjunction with its Q4 earnings, Baytex released its year-end reserves update. Encouragingly, it noted that since its Eagle Ford acquisition in 2014, it has been able to grow its proved + probable (2P) reserves there by 22%. In 2015, the company replaced 205% of its Eagle Ford production.
Overall, the picture was less positive. The company's total 2P reserves increased year over year by just 2%, to 347 million boe, limited by some reduction to its thermals. The F&D costs came to $7.68 per boe. At the same time, its reserve life stood at a healthy 14.1 years. The company indicated that the present value of its estimated reserves (discounted at 10%) was $4.3 billion, net of any obligations and without including any undeveloped acreage.
Some Financial Considerations
On February 3, Moodys downgraded Baytex debt rating from Ba3 to Caa1, both below investment grade, and gave the company a negative outlook. Obviously the ratings agency, which has a conservative view of oil pricing, was concerned about company debt levels, both current and future. Actually, helped by a large share issue, Baytex was able to reduce its net debt during 2015, from $2.3 billion to $2.05 billion. (Long-term debt was $1.88 billion, with senior notes of $1.62 billion and bank debt of $257 million.) Despite the debt reduction, Baytex still had large net losses both for the year and for the fourth quarter, and the funds from operations in the quarter (when there were no dividend payments) did not cover exploration and development costs.
Baytex currently has a Canadian credit facility of $800 million and a C$200 U.S. facility, both of which mature in June, 2019. At year end, $820 million of this was still undrawn, and BTE was within its debt covenants, which it had proactively twice renegotiated during 2015. Management expects that even with current (March 3) strip pricing, Baytex can stay within its covenants through Q2 and probably through Q3. With its very high quality assets, both U.S. and Canadian, it clearly has the option of renegotiating its covenants further, including the option of securitizing its presently unsecured credit facilities. Its senior notes require no major principal repayments before 2021. But what is urgent for 2016 and 2017 is that Baytex not add to its debt.
The Share Price Future
The challenge for Baytex in 2016 is that it will do what it has set out to do, that is to generate funds from operations at current oil price levels that will be sufficient to cover its capital exploration and development costs. It wants at all costs to avoid drawing further on its credit facilities. It will have no dividend costs for the year, and it has carefully taken a variety of steps to gear its financials towards the indications of future strip pricing.
Here, obviously, so much will depend on that pricing, and Baytex is to some extent engaged in a balancing act. With the recent price increases, current strip pricing for the year shows WTI at an average of US$42. A guess would be that at less than $40 WTI, Baytex would still be accumulating more debt; at $45 or so, it would likely be on an even keel. But with the steps it has taken, if WTI were to climb to near $50 toward 2016 year end, BTE could do remarkably well. Put simply, even more than is the case with many energy producers, a current investment in Baytex depends on the investor's view of near-future crude pricing.
With its current share price, Baytex likely stands to do proportionately much better than many of its peers. The graph below shows the relative percentage increases of some of the larger Canadian producers trading on the NYSE during the past month (February 11 to March 10). With increased crude prices during the month, BTE had a gain of 105.26%. Its nearest rival, Encana (NYSE:ECA) did well also, but over the same period it still gained only 53%. (Encana's 2016 oil production is less than 50%, for Baytex it is 78%.) Other major producers had good, but far smaller, gains. Imperial Oil, which has held up well over the past year, had just a 9.78% increase. While a single month's time frame is insufficient as a base for establishing future increases, it does indicate the exceptionally strong torque of BTE to higher crude prices. Of course, with price declines the very reverse momentum is likely to occur.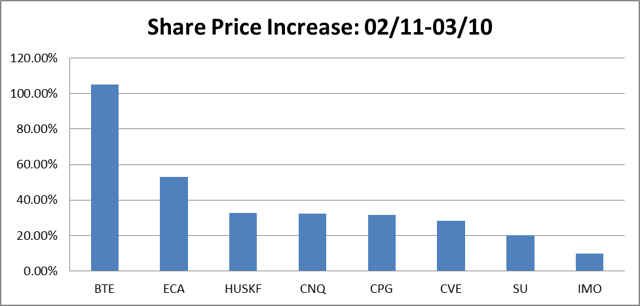 Source: author.
Analyst Ratings
The more recent analyst ratings for Baytex (since January 1) are provided below. The target prices are for BTE on the TSE. Note that the range, apart from Barclays, is relatively narrow. BTE March 9 closing on the TSE was at $4.82.
| | | | |
| --- | --- | --- | --- |
| Date | Firm | Recommendation | Target Price |
| | | | |
| March 4 | Scotiabank | Outperform | $7.50 |
| March 4 | RBC Capital | Sector Perform | $5.50 |
| January 26 | Raymond James | | $6.00 |
| January 20 | Barclays | Equal Weight | $2.50 |
| January 19 | Canaccord Genuity | Buy | $6.00 |
| January 14 | CIBC | Sector Performer | $6.50 |
| | | | |
Risks
Obviously, a risk to Baytex comes from any further significant decline in oil pricing and from stagnation at below $45 price levels. In the case of BTE, there is also a risk from any negative movement in the differential between WTI and WCS pricing.
With a significant amount of the company's production coming from its tight oil play in the Eagle Ford, there is real risk from any significant increase in depletion rates, from not being able to reduce costs further, and from lack of growth in its reserve life.
There is always a risk that with lower pricing, Baytex may not be able to successfully renegotiate is debt covenants, should that be needed.
Investment Thesis
Baytex remains a company with long-term prospects. Its assets are good, its reserves are promising, its production costs are being reduced, and its repositioning itself with the Eagle Ford acquisition as a lighter oil player will certainly improve its pricing.
The company's recent moves have been defensive, designed to position the company more securely in a low price environment through 2016. At the same time, until recently the market has reacted negatively. The elimination of the dividend seems to have particularly hurt Baytex, since the company's share price has suffered drastically.
As indicated in the article, BTE seems to have a particularly strong torque related to increased oil pricing.
Even with better pricing, the currently tight Baytex debt situation should be kept in mind. Baytex is probably not positioned to take advantage of the sale of any distressed assets that make come to market, and for that reason organic reserve growth is important.
Investor interest going forward should be closely linked to the investor's view of nearer-term crude oil pricing.
Disclaimer: The information provided above is not a recommendation to buy or sell a stock. It intends to increase investor awareness and to assist investors in making smarter decisions. Prospective investors should always do their own further research, and take into account their own current financial holdings, their risk levels and their shorter or longer-term outlooks.
Disclosure: I/we have no positions in any stocks mentioned, and no plans to initiate any positions within the next 72 hours.
I wrote this article myself, and it expresses my own opinions. I am not receiving compensation for it (other than from Seeking Alpha). I have no business relationship with any company whose stock is mentioned in this article.