Investors face not one but two major risks: the risk of losing money and the risk of missing opportunities.
……..Howard Marks
I have used the quote from Mr. Marks before, but with the S&P within a stone's throw of new highs, I thought it might be appropriate to roll it out again. It is precisely what many investors face at this point in time. For those that have already embarked on a change in plan, taking a more bearish stance, there is the risk of the market remaining in a trading range or possibly breaking out from these levels.
On the other hand, the market participants that have stayed the course now contemplate if the major averages will "break out" or fail again at these levels signaling a downturn.
The oversimplification to the scenarios presented then becomes the "risk" / "fear" of losing money or missing out.
I once read that there is no perfect definition for risk because there simply isn't one. Risk means different things to different people at different times. You cannot define risk or risk tolerance without first assessing the unique characteristics of the investor in question. Risk is personal.
I'm a big believer in focusing on what you control as a form of risk management. Since we are never going to be able to perfectly measure risk, one of the best ways to manage risk is to have a comprehensive plan in place.
When we are faced with a challenging investment environment many investors start to question their plans and strategy. The stock market can do that to us, it is a "mind " game that is played out over and over.
The two 'scenarios" that were outlined above present risk and a possible challenge to an investor's plan. Followers know that I am a believer in being patient, and suggest weighing ALL of the facts before taking any drastic measures when it comes to portfolio management.
To date that has served me well. While the S&P has gyrated in a range of 250 points, it stands exactly where it was back in early 2015. That time period was fraught with plenty of "scares' that brought many investors to not only question themselves, but make portfolio changes that may not have been necessary.
There are a few questions that investors should reflect on if they want to embark on making sweeping changes in how they approach their investments.
Does a change in my expectations for market returns require a change in my overall strategy?

If I do change my strategy, do I understand the potential risks involved?

The most important question; What if I'm wrong?
None of these are easy questions to answer, but at the very least investors should take some time to consider the ramifications from making wholesale changes to their portfolio strategy simply because they may expect lower returns in the future. It's much easier to change your expectations then your investing process, but investors seem to feel much more comfortable changing the latter than the former.
When faced with a myriad of possibilities, I default to a mantra that I follow in life, "keep it as simple as possible". That can be a truly difficult task given the sheer amount of data that is thrown at investors on a daily basis, from the fundamental information to the technical data.
The "technical " situation that currently exists today, combined with the fundamentals that are presented, often lead to confusion. That confusion then spawns indecision, and with that, a lack of conviction in executing the plan.
The bulls and bears can present their arguments on the fundamentals and come up with arguments that sound convincing. Therefore, it comes down to an investor's belief in their strategy. The technical picture presents more of the same clouded picture. Looking at a Long term chart the Bears see a rounding top, while the Bulls see a period of consolidation, before the bull market continues.
Here is a potential tie breaker that I give a lot of weight to in formulating my "stay the course" strategy. With the 10 Year U.S. Treasury rate still only paying about 1.85% per year, the value of owning stocks increases due to their upside potential, as investors seek out the best return for their given level of risk.
If anyone wants to buy a ten year treasury yielding 1.9% before taxes and inflation, in an environment where inflation could be trending up and the economy still in expansion, then they can be my guest. It would take 38 years for money to double at 1.9% before taxes and inflation.
Interest rates are going to stay accommodative for the foreseeable future, which should help investors continue to see the value in owning stocks.
Economy
This past week presented a much quieter scene on the "data" front.
Total consumer credit reported by the Federal Reserve showed revolving credit falling $12.6 billion and non-revolving rising $139.05 billion, both at a seasonally adjusted annual rate.
What is clear from the report is that US consumers' spending is not going on to credit cards, and mortgage debt is, if anything is decelerating. When you add in low interest rates, the picture gets even rosier in terms of the strength of the household's balance sheet.
Real disposable income continues to rise.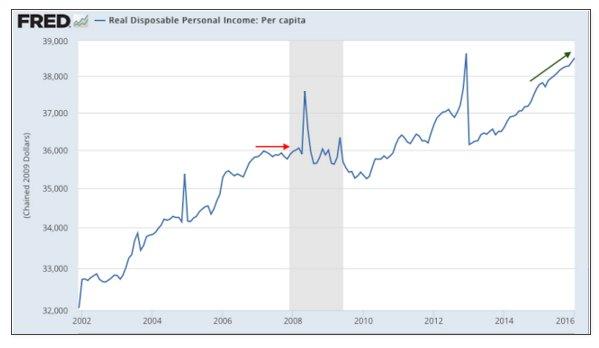 Source: Federal Reserve Economic Data
From the "household" perspective the economy remains in a positive cycle. Normally this cycle moves upwards until debt levels become saturated and/or the Fed raises rates to a level that begins to curtail consumption.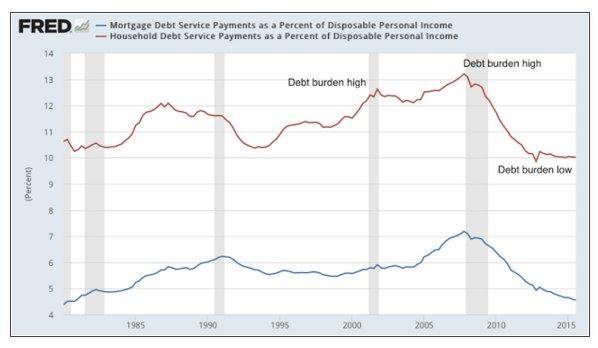 Source: Federal Reserve Economic Data
The household debt burden is currently near a 30 year low; previous cycles have ended when the debt burden moved to a high, tapping out consumer's ability to spend.
While some of the recent confidence indices have been lackluster, it seems to mean little to the American home buyer. MBA Purchase applicationsrocketed to a new five-year NSA high for the week ending March 4th. That's slightly less strong than last week's release relative to the last 6 years but mortgage purchase applications continue to grow robustly on a seasonally adjusted basis. The ramp in housing activity is going to have a very long runway, and this high frequency data point confirms that view.
Scott Grannis shares his views on the economy with these thoughts;
"The service sector is also not going down a black hole. Although the readings from the ISM surveys show the sector is relatively weak, it is still growing. The Business Activity index, bounced quite a bit from its January low, which suggests that sentiment (e.g., everyone's worried these days, but the worry index is going down of late) could be playing a role in the relatively weak readings. It's also the case that most of the weakness can be traced to the energy sector, which contributed an additional 25K layoffs last month, according to the Challenger survey of announced corporate layoffs."
NFIB small business indicator is treading water. The February index came in at 92.9 down 1 from the January report. It seems small business owners are waiting for a good reason to invest in the future and expand. It was interesting to read the details of the report which stated that;
"The political climate continued to be the second most frequently cited reason for the current period being a bad time to expand."
Weekly Jobless claims continue to present a positive employment picture. While economists were expecting first time claims to come in at a level of 275K, the actual reading came in at 259K. That reading is notable for multiple reasons. First, there hasn't been a lower weekly reading all year. Second, it represents the third lowest weekly reading of the entire economic cycle, and third, claims are now comfortably below that uptrend line formed from the October low of 256K. A very impressive set of circumstances to say the least.
Wholesale inventories were up 30 basis points month over month. Wholesalers are basically facing a massive glut. Sales have disappointed, while inventories are strong. In January, we saw very solid retail sales, so it would appear that the decline in wholesale sales was the result of inventory liquidation amongst retailers.
Federated Research notes;
"Technology is deflationary The pace of its use is accelerating. The Internet, 3D printing, robotic factories, Uber, Airbnb, Netflix and self driving cars are cutting whole industries from existence in the blink of an eye, taking out centuries old systems and delivering products and services faster and 10 times cheaper."
That truly is food for thought.
The Global Economy

German Industrial Production surprised to the upside, when it posted its largest increase in over 6 years.
The German ministry said in a press release;
"After a weak spell in second half 2015, the manufacturing industry had a very good start in the new year. Overall, a moderate recovery in industrial activity is expected in the first quarter."
While German consumers continue to spend robustly and investment and construction bounced back from December, manufacturers still face a number of challenges this year. A China led slowdown in emerging markets is slowing exports and market volatility has dealt a blow to business confidence and factory orders.
Speaking of China, the recent export data that was reported, was disappointing. There are suggestions however, that the extreme depressed level in exports was partly due to the Chinese Lunar new year.
Julian Evans-Prichard, China Economist at Capital Economics in Singapore:
Exports were very strong last year in February because the Lunar New Year started so late and much of the usual disruption from the holiday was pushed into March. So the implication is that we'll probably see a significant reversal and a stronger number next month.

We suspect that overall exports remain weak but we don't see much evidence of marked deterioration, for instance there was no sudden drop-off in export orders in the Markit PMI (activity survey), and they generally do a pretty good job of adjusting for seasonality.
U.K. Industrial output turns to growth in January as the index posted modest gains.
Italian industrial output followed suit, as it jumped 1.9%, more than double the estimates.
Loredana Federico, an economist at UniCredit Bank AG in Milan;
The production report is excellent news as it supports expectations of an economic expansion in the first quarter. Looking ahead and given both the persistent weakness in global demand and the financial market turbulence, decline in coming months can't be ruled out.
The ECB cut interest rates further and expanded QE dramatically with some interesting wrinkles. In my view, the implications for credit provision in the Eurozone are profoundly positive, as is the realization that further NIRP may have greater costs than benefits.
The focus has shifted to credit stimulation rather than FX and rates. It would appear that they are going to concentrate their efforts on credit provision and expansion of liquidity. This borrows from the Federal Reserve's much more successful easing efforts following the last recession, and goes a step further. This is positive for EUR-denominated asset markets and is likely to result in much more credit provision than government bond QE and NIRP.
Mario Draghi obviously hopes this is the final round, and if Europe does experience stronger than expected growth that forestalls the need for more stimulus and at the same time the U.S. dollar becomes less of a headwind for U.S. companies, I can't really envision a scenario where the global markets don't react very positively to that. Trends aren't made in a day, though, so we will also just have to see what effect this news has going forward for the euro and a U.S. dollar that to me has looked very "toppy".
The Fed

"Fed speak" is everywhere. Fed Governor Brainard weighs in with dovish commentary. Vice chairman Fischer spoke in D.C last week and laid out his thoughts on the current economy, inflation, etc.
The two day fed meeting on March 15-16 will tell the tale if a rate increase is on the table.
"Economists surveyed by Bloomberg see the central bank holding rates unchanged next week and 55 percent predict the Fed will also echo the language of its January statement that officials were "assessing" global economic and financial developments. That would be viewed as signaling less likelihood of a hike at their April meeting."
Whether we see a rate hike next week or not, I do start to wonder if there has been a change in the mindset of investors regarding the fear of another rate increase. There may have been a "tell" recently as we saw a solid jobs report on March 4th that wasn't met with the usual "sell the market" mentality. In the past, a solid jobs number indicated to many that the Fed would use that data point to make their case for another rate increase. Instead, the S&P rose on that day, keeping that week long rally intact.
Earnings
Thomson Reuters "This Week in Earnings";
Forward 4 quarter estimate: $120.95 versus $121.23 last week.

P.E ratio: 16.5(x)

SP 500 earnings yield: 6.05%, down from its highs of 6.5% - 6.7% in late Jan, mid February, 2016.

Year over year growth rate of the forward estimate: +1.13% versus last week's 1.33%.
Factset reports;
"With 99% of the companies in the S&P 500 reporting earnings to date for Q4 2015, 69% have reported earnings above the mean estimate and 47% have reported sales above the mean estimate."
Liz Ann Sonders weighs in with her summary on corporate earnings;
My take is the market's fairly valued, but conditions don't exist for valuation expansion without stronger earnings growth.

The common characteristics of the past four earnings recessions dating back to the mid 1980s that were not accompanied by economic recessions were a surging U.S. dollar and/or plunging oil prices-both of which we've experienced recently. Clearly, the energy and manufacturing sectors are hurting, but ultimately the damage there should be offset by the benefit of lower oil prices to the consumption oriented U.S. economy.

Don't get me wrong,recession risk is elevated, just not glaring yet. Although the U.S. economy remains bifurcated, manufacturing is in recession, but services are hanging in there. Talk of recession got louder after the latest reading from the Institute of Supply Management on services came in weaker than expected.

Many suggest the weakness in oil is sending a recession signal. However, it has always been the case historically that spikes in oil prices, not crashes, preceded recessions. It would be unprecedented to have cheaper oil "cause" a recession. The energy and manufacturing sectors have taken it significantly on the chin, but energy sector employment represents only 0.5% of total employment and energy sector capital spending (MUTF:CAPEX) represents only 4% of total capex. Manufacturing in the aggregate is only 12% of the U.S. economy.
Much of what Ms. Sonders states has been reported here and suggests a common sense, cautious approach to the markets at this juncture.
Sentiment

There was another $2.4b outflow from equity funds this week. Equity fund flows have been negative 13 of the past 14 weeks, longer than any time during the 2007-09 bear market. Meanwhile, investors have added to the safe haven of bonds, with a further $2b inflow this week. Those flows have been positive 12 weeks in a row.
Insiders aren't always right, no one is, but their timing has tended to be very good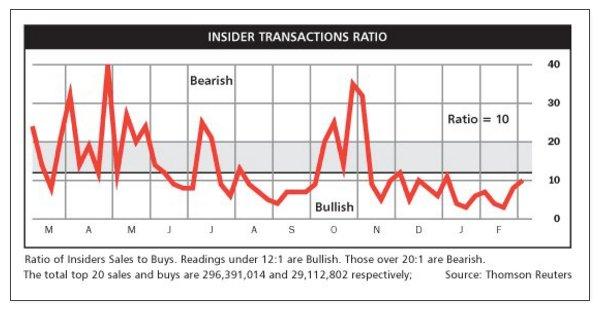 Notice how insiders sold the rally last October, that is not the case now.
Crude Oil

Crude oil rallied early in the week, then hit a brick wall. It should come as no surprise though as we have witnessed a 47% move off of the lows of $26 per barrel.
However, the rally stopped abruptly as the recent upward move was in need of consolidation. What may have added to the downward pressure was Kuwait's oil minister commenting on Tuesday that his country's participation in an output freeze would require all major oil producers, including Iran, to be on board. His comments cast doubt on recent hopes of a production freeze.
I'll go full power if there's no agreement. Every barrel I produce I'll sell.
Here in the U.S., gasoline demand is well north of 9 million barrels per day, extremely strong for this time of year and +10.5% YoY. Inventory days in storage for gasoline stand at 26.6 days, down 1.56 days versus this week last year. While crude inventories continue to surge, crude demand is also rising steadily. Excluding the Strategic Petroleum Reserve, inventories can cover 31.5 days of demand at current levels. While the continued build of inventories is obviously concerning in the crude market, it does not appear to be a function of weak demand in the United States where solid auto sales, high employment, and favorable weather are eating in to gasoline inventories via slower production runs and higher demand.
The IEA changed their tune with a report that suggests Crude oil may have bottomed. The agency's view on prices is a shift from last month's report, in which it said that crude could sink further as the market remained "awash in oil." I find these press releases at "critical" support and resistance levels in the "charts", quite amusing.
Market Skeptics

I don't know if it's the boom/bust cycle of the last 15 years irrationally impacting psychology or what, but these perennial predictors of doom seem to spend a lot more time being wrong than right. It is amazing how they disproportionately overwhelm the airwaves. It's probably our tendency towards loss aversion, but despite vast evidence of this bias in the behavioral finance space on this topic, we just can't seem to break free from these pundit obsessions with the end of the financial world.
Cullen Roche from Pragmatic Capitalism reminds us that;
From 1973 through 1974, the S&P 500 Index lost a total of 37%. Over the next five years, it returned almost 15% per year. And over 25 years, it returned more than 17% per year.

From April 2000 through February 2003, the S&P 500 Index lost an even greater total, more than 41%. Then, from March 2003 through October 2007, the index returned more than 100%, providing an annualized return of more than 16%.

From November 2007 through February 2009, the S&P 500 Index lost a still greater total, more than 46%. Then, from March 2009 through November 2015, the index returned 227%, or more than 19% per year.
If one has "time " on their side, they can simply forget and dismiss the "end of the world " scenarios. These soothsayers have no idea how to use equities to their advantage and generate wealth over time.
The Technical Picture

There has been a lot of discussion regarding "double bottom" and "double top" chart patterns. The general rule is, if you have a double bottom and the security in question goes back down for a third time to test the double bottom, most of the time you do not make a triple bottom. What typically happens is the security falls through the double bottom formation and heads for lower lows. The reciprocal of that is if you have a double top and the security in question heads back up to test the double top, you rarely get a triple top. Rather, you tend to break out above the double top and head for higher prices.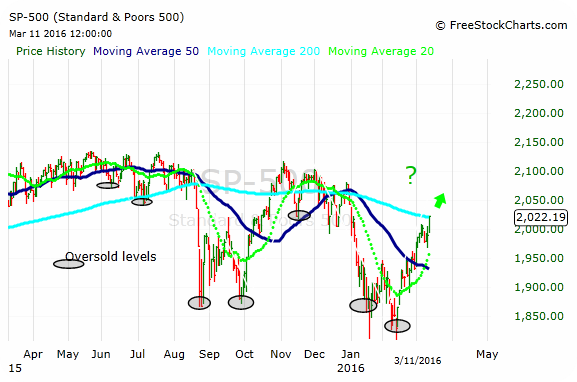 So far that hasn't played out in textbook fashion. The S&P did in fact go back and test that double bottom, set an "undercut" low, then rallied to further confuse the situation for those that expected the bear market to be well underway. The daily chart depicted above is awash in double bottom, double top patterns that emerged since last August.
The recent surge surpassed the recent high (2009) of this rally and the important 200 day moving average (2019).
So, is this another "head fake" or does the rally continue from here? In my view the 'jury' is still out on which direction the market will take as the S&P either "melts up" to challenge the old highs or fails and drifts back into the trading range.
Whatever the case may be, I was somewhat impressed with the price action this week. The bears had and a wildly overbought market, with significant resistance levels at their disposal, yet after a slight "pause", the week ended with the S&P up on the week. As I noted last week;
This rally has a different 'feel' to it.
In an attempt to further clarify the longer term trend, I went back to the monthly S&P chart and took a look at what transpired during the final rally in 2008. That price action resulted in a failed attempt to retake the 20 month moving average back then. The stage was then set for the major averages to head much lower.
However, there was an interesting development that took place during that time frame. The bear market rally in March-May 2008 included several positive weeks of equity inflows, including one that was more than $20b in one week. A clear sign that many believed that "all was well". The "bear trap" was set.
As mentioned earlier in the sentiment commentary, we have seen no such "inflows". In fact, it is clearly the opposite, as many are raising cash and fleeing the equity market. These outflows suggest that there is very little fear of missing out (FOMO) in this rally. Therefore, I would expect some improvement in investor sentiment before this rally ends. Until there is some sign of FOMO, further upside may still be in the cards.
When I revisit the long term S&P chart depicting the 20 month moving average indicator, I make the following observation. If past is prologue, a close below the 20 month MA at the end of March will be bearish, a close above bullish.
One more observation on this rally off the lows. The usual low volume cries were once again heard throughout the week. Indulge me as I put forth my thoughts on this topic.
Trading volumes aren't unusually low. Equities typically sell off in a panic on high volume and then rise on lower volume as investors slowly get back in. Hence the mantra "equities take the elevator down and the stairs back up."
Total volume for the past 2 weeks averaged 120m shares/day in SPY, more than most weeks in 2013 and 2014. About 100m shares/day is normal, volume under 80m shares/day is anemic.
Individual Stocks

If the rally is going to continue, it would be helpful if the financials participated. Taking a look at the charts of the major financial stocks, they all have one thing in common. All have been rebuffed recently at their 50 day moving averages.
The names I am referring to are stocks that I own or follow. Bank of America (NYSE:BAC), Citigroup (NYSE:C), Goldman Sachs (NYSE:GS), JPMorgan Chase (NYSE:JPM), Morgan Stanley (NYSE:MS), and Wells Fargo (NYSE:WFC). Either the buyers come back in and make another attempt to get over that hurdle, or they trade back to their recent support during the February lows. In the interim, they all look to be in "no man's land". The lone exception is JPM, which recently has successfully broken above that hurdle.
With the strong rally on Friday, a quick update shows that C and WFC have now pushed above that resistance. The others look poised to do the same.
With the "technical " damage that has been done during the recent sell off it has become increasingly difficult to find "charts" that look constructive. I have started to put together a list of names where the long term trends still appear to be intact. For this exercise I am using the "weekly" chart and searching for companies that show their stock price above an up trending 200 "week" moving average.
Ironically, many are the names that I have favored for quite some time. Apple (NASDAQ:AAPL), Gilead (NASDAQ:GILD) and Celgene (NASDAQ:CELG) start the list. Now if you can find stocks that fit that category and offer above average yields, so much the better. Cisco Systems (NASDAQ:CSCO), Intel (NASDAQ:INTC) and Pfizer (NYSE:PFE) are examples of just that.
Summary and Conclusion

In my view, when the S&P drifted down to the 1800's, equities overpriced recession risk given the macro data that was being reported. In each instance subsequent rallies appear to get ahead of themselves to the upside in the short run. That is where the major averages stand today.
The tug of war, push and pull of bulls and bears continues, to the frustration of many. I sometimes get the impression that no one will be satisfied until we do see a major break in either direction. I take a different approach to the situation, with the idea that investors can do very well in a trendless, range bound market.
In reviewing the short term situation last week, I thought the rally was dependent on the next pullback to be short lived and contained.
"Indicators that I track are at extremes and this suggest that a healthy 3-4% retreat from here may be in the cards. If that "give back" is contained to those levels, then I would expect the rally to continue higher."
So far, so good. The overall market was severely overbought entering the week, and for the most part there was very little given back.
Market internals (Advance/Decline Line improving), credit spreads narrowing, suggest that after a period of consolidation, the S&P 500 may once again take up the chase for more gains. I do concede that until there is clarification on the earnings front, that upside may be limited.
If however, sentiment once again turns negative and the pullback escalates, the major averages have a solid chance of heading back down to the lower end of the trading range.
The implication for the rally in equities to continue, the price of oil has to also rise, or at least stabilize, is still very much in play.
The consensus view on the overall stock market that I am hearing would seem to agree with the commentary from Jeff Gundlach, who proclaimed the rally, "officially over".
It is difficult to find anyone that believes the S&P can advance past the 2000- 2025 level. Instead it's more of the bull market is dead prose from many.
I will concede that given the current valuations, pricier markets have a tendency to be more vulnerable to outside shocks. However, valuations are rarely a good timing tool but they are a good tool to use to measure "risk".
There is a large crowd that believes the risks are the weakness in China and in the oil patch, coupled with escalating debt defaults that could conspire to produce another recession in the U.S. I've argued that these fears are probably overblown, that the U.S. economy is inherently resilient, that most of the damage so far has been contained to the oil patch, that financial markets are fundamentally healthy, and that therefore, all it takes to alleviate the market's concerns is the absence of recession, which is the most likely outcome in any event. I don't expect strong growth, merely a continuation of the modest 2-2½% growth we've seen for the past 6-7 years.
We have seen how scary headlines can dominate mainstream news outlets. Investors constantly checking the market value of their portfolio. The combination of stress and the pain from seeing losses causes people to lose their cool and make emotional decisions. People assume that trying harder or doing something, anything, will help their cause.
There is a plethora of market participants that made sweeping changes to their portfolios since the first and subsequent market 'scares" that started back in August 2015.
If the market does confound just about everyone, pushes higher or simply stays in a trading range, they may once again be making decisions to alter their strategies.
That would be welcome news for those that stayed the course since the August lows. For them the options now are many, and there is no such need to make any sweeping changes.
Best of Luck to All !
Disclosure: I am/we are long AAPL,CELG,GILD,JPM,C,BAC,GS,INTC,CSCO.
I wrote this article myself, and it expresses my own opinions. I am not receiving compensation for it (other than from Seeking Alpha). I have no business relationship with any company whose stock is mentioned in this article.