Embrace the Volatility
Volatility can provide opportunities for investors to add value through active management. Embracing volatility is inherently uncomfortable, because it forces you to step in when the crowd is running for the exits or to walk away when the crowd is still piling in. In Ralph Waldo Emerson's words, "People wish to be settled; only as far as they are unsettled is there any hope for them."
Investor sentiment has oscillated between bullish and bearish over the past several years. These swings in sentiment can largely be attributed to strings of economic data that deviated from consensus expectations. The Citi Economic Surprise Index tracks the amount of data exceeding or missing consensus expectations (Chart 1). As these beats and misses string together, market participants tend to adjust their expectations, and frequently over-extrapolate one way or the other. Periods of over-extrapolation can create opportunities for active asset allocation-buying into the face of undue pessimism and selling when investors become overly optimistic.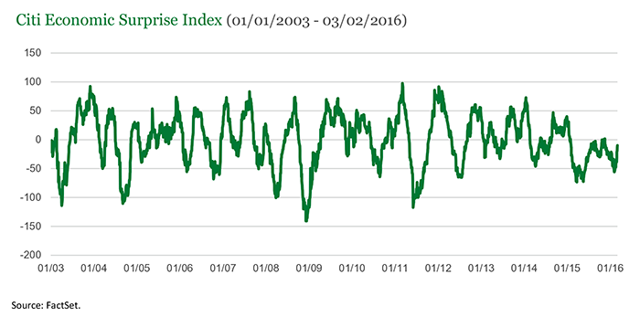 2016 opened with a market freefall and surging volatility. February mirrored January; a weak first half gave way to a recovery in the second half. Year-to-date, intraday swings in equity prices have been extreme, with the average spread between the high and low of the S&P 500 well above the long-term average since 1986. The market made a marginally-lower low for the year in mid-February on concerns over China, European banks, and weak manufacturing data. However, as the month progressed, a healthy jobs report and some signs of stabilization in the manufacturing purchasing managers' index (PMI) spurred a rally into March. Today the Citi Economic Surprise Index has nearly recovered back to neutral.
Slow growth remains our base case today, as it has since the recovery began; however, economic growth rarely moves in a straight line. It ebbs and flows around its true growth trend. Despite this reality, investors frequently extrapolate these short-term oscillations in economic growth into longer-term perceived trends that ultimately fail to materialize. Chart 2 exaggerates how this has played out over time.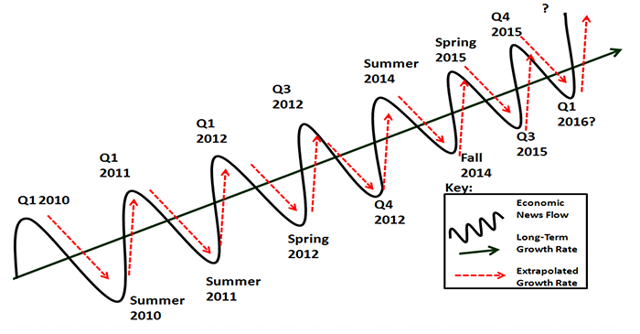 This roller coaster of investor reaction is all the more surprising considering the current expansion has actually been one of the least volatile periods since the 1950s in terms of GDP growth (Chart 3)!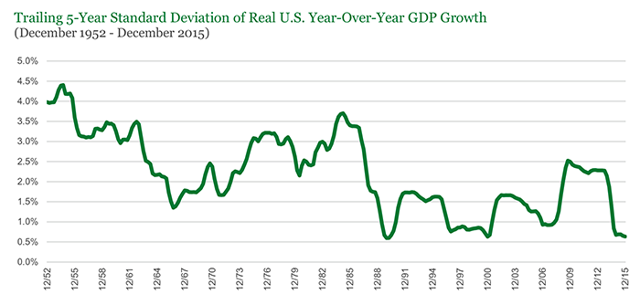 Nevertheless, the reality of a low growth world is that the economy is only a percentage point or two away from GDP contraction. Much like turbulence while flying is scarier the closer to the ground a plane gets, swings in growth expectations can be more impactful the closer to zero growth gets.
The challenge for investors is 1) to determine what the underlying growth trend is likely to be and whether it is changing; and 2) to position their portfolios for that reality while not overreacting to short-term movements around this trend line. Operating with a slow growth base case requires careful monitoring to assess the risk of being wrong to the downside as well as the upside. Therefore, as sentiment goes in either direction, we continually look to test our base case to ensure it is still valid. February's data came in a bit better than January's, with manufacturing PMI improving slightly, the consumer price index (CPI) turning up, and average hourly earnings increasing notably. The slight improvement in the manufacturing PMI is important. We noted in January's research note that we would be very concerned if we continued to see the services PMI come down with the manufacturing PMI, so it is a positive that manufacturing PMI has ticked up. Within the survey, new orders increased notably, which tends to lead the overall index. Therefore, at present we continue to believe in our slow growth base case. However, we do acknowledge that the risks to the downside remain and we will continue to monitor them.
Volatility at this point in the cycle is not unexpected and is likely to continue going forward. We believe that this is an environment that lends itself well to an active investment management approach. Such an approach can pare down positions as valuations and/or sentiment become too optimistic and increase allocations on corrections that bring sentiment and valuations to more attractive levels. We responded to the market volatility in mid-January by increasing our recommended equity allocation to both Europe and the United States. We decided against further increasing our equity exposure in February as our indicators were in aggregate no more compelling than in January. Our sentiment indicators became more favorable, but are not at extreme washout levels that tend to be indicative of a major long-term buying opportunity. Additionally, our economic indicators became somewhat less attractive last month (though still supportive of stocks overall). In light of these developments, we felt it prudent to wait for further deterioration in equity prices or an improvement in our economic indicators before further increasing our recommended equity allocation.