Following years of net inflows, portfolio capital began to look for a way out of emerging markets in 2015. Investors are concerned about China's difficult economic transition, slowing growth, low productivity, rising debt, sour political and geopolitical headlines, weak consumer demand, and the prospect of global interest rate normalization. Many are questioning the strategic role that emerging markets play in their portfolios and even those staying for the long haul recognize that these economies face an important crossroads.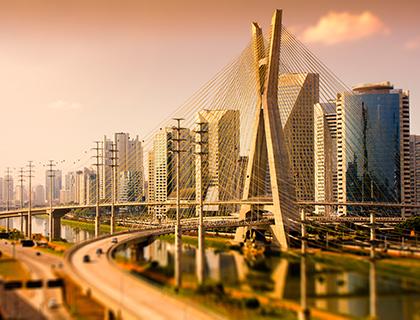 In this paper, we consider data on financial stability and growth and consumption to describe how the emerging markets got to this crossroads, which road they need to take to reach the next stage of development - and what it all means for investors.
Not so long ago, in the teeth of the 2007-09 financial crisis, emerging markets were the saviours of a stricken world. After growing at four-times the pace of the highly-indebted developed world since the mid-1990s, they had the fiscal buffers to forge their own way, building their cities and realising the promise of vast populations poised on the threshold of the middle class.
Less than five years later, growth has slowed dramatically. A rout in emerging market currencies is coinciding with a tightening of financial conditions, reflected in stock market selloffs and widening credit spreads - all against a backdrop of rising political and geopolitical risk. A decade of declining government leverage was arrested in 2007 and, according to the Institute of International Finance (IIF), net capital flows to emerging markets turned negative in 2015 for the first time in almost 30 years.
Sceptical voices have long argued that the emerging world owed its "catch-up growth" to a mix of China's expansion and low global interest rates, which led to an unsustainable run-up in commodity prices and a flood of capital. As those trends reverse, the resulting glut of often questionable investments lies exposed.
Moreover, while the end of the commodity supercycle is broadly accepted as a consequence of the transition to more consumption-led growth, recent analyses of income distribution suggest that the emerging world's middle class may not be growing fast enough to smooth that transition.
With this background in mind, we have looked at two sets of data - on financial stability and productivity and consumption - to describe where emerging markets are today and where they need to go next. We believe the data suggest three things for investors to remember amid the gloomy headlines.
The first is to keep things in perspective. Yes, measures of financial stability have deteriorated since 2007, but they remain substantially better than in the late-1990s, and better than the developed world's today. Similarly, while we may not have seen the middle-class expansion that we hoped for 10-15 years ago, more than 600 million people have lifted themselves out of poverty this century, crossing significant income and consumption thresholds.
The second is that one metric rarely tells the whole story of a country or region. News headlines like to zero-in-on current accounts one day, fiscal balances or corporate leverage the next. But what do current account balances tell us without reference to reserves? How does the flow of debt relate to the stock? Is it significant that the places with higher debt levels are often the ones with higher incomes and consumption?
Finally, emerging markets are far from homogeneous. Globalization has caused convergence between emerging and global financial markets, and we find substantial regional themes in our data. But they also reveal extreme differences between regions and countries. Investors should take note of these idiosyncrasies not only to maximise return, but also to allocate capital efficiently to facilitate the next phase of "catch-up" convergence with the developed world.
Debt Ratios in the Emerging World Remain Low, but Are Rising
Gross Government Debt as a Percentage of GDP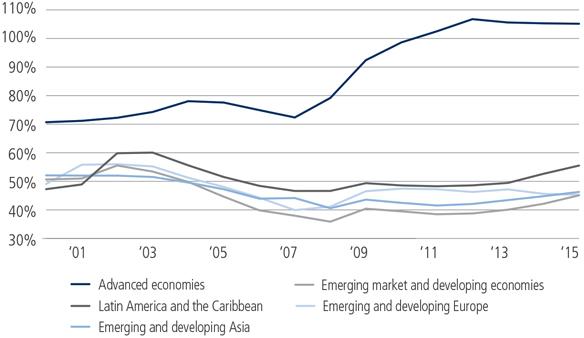 Source: IMF. Estimates start after 2014.
This material is provided for informational purposes only and nothing herein constitutes investment, legal, accounting or tax advice, or a recommendation to buy, sell or hold a security. Information is obtained from sources deemed reliable, but there is no representation or warranty as to its accuracy, completeness or reliability. All information is current as of the date of this material and is subject to change without notice. Any views or opinions expressed may not reflect those of the firm as a whole. Neuberger Berman products and services may not be available in all jurisdictions or to all client types.
This material may include estimates, outlooks, projections and other "forward-looking statements." Due to a variety of factors, actual events may differ significantly from those presented. Investing entails risks, including possible loss of principal. Diversification does not guarantee profit or protect against loss in declining markets. Indexes are unmanaged and are not available for direct investment. Past performance is no guarantee of future results.
The Neuberger Berman Emerging Markets Debt team deploys an internally-generated, proprietary Country Credit Model (CCM) to rank emerging countries. Illustrations shown herein reflect the CCM scores for the fiscal balance and public debt, and for the current account balance and short term debt-to-reserve ratio, respectively. Green and red arrows signify a positive or negative progression (improvement/deterioration) since 2012 based on CCM scores.
This material is being issued on a limited basis through various global subsidiaries and affiliates of Neuberger Berman Group LLC. Please visit www.nb.com/disclosure-global-communications for the specific entities and jurisdictional limitations and restrictions.
The "Neuberger Berman" name and logo are registered service marks of Neuberger Berman Group LLC.
© 2009-2016 Neuberger Berman LLC. | All rights reserved
Disclosure: I/we have no positions in any stocks mentioned, and no plans to initiate any positions within the next 72 hours.
I wrote this article myself, and it expresses my own opinions. I am not receiving compensation for it. I have no business relationship with any company whose stock is mentioned in this article.