Summary:
Almost every piece of economic data this week took a back seat with the ECB being the primary focus. President Draghi certainly did not disappoint in terms of the overall rate cuts and QE package, though the press conference left much to be desired. The big question at this point though is, has Draghi fired all his ammunition at this point? Whilst the market continues to digest the shock and awe of the package, it is important to note that the most recent ECB move leaves little to no ammunition for the ECB to throw at deflation or a financial crisis if one was to occur in the near future.
On the US front, initial jobless claims continued their downtrend following the ECB meeting. Whilst wages have left much to be desired, the job picture in the US looks healthy at this point.
Next week's US retail sales numbers will be the number to watch closely in our opinion. The numbers will give us a pretty good idea of how optimistic the US consumer is, and is a better gauge than any other measure, in our opinion, of how the general population really feels about its future well being.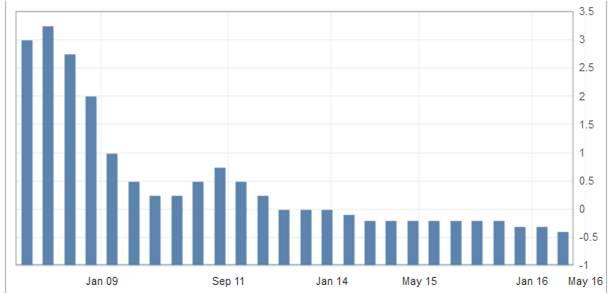 ECB Deposit Facility Rate
Trading and Technical Strategy for the week ahead:
EUR/USD (FXE)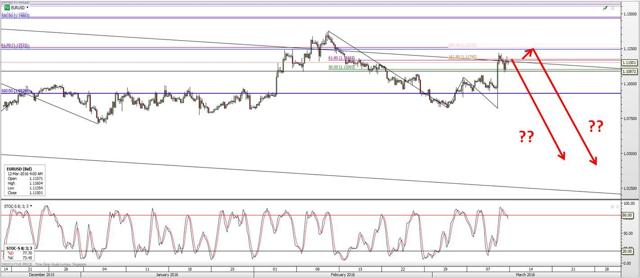 The EUR retraced upward just before the ECB announcement, though less than we expected and did fall post the ECB move, though the magnitude and speed of the snap back was something that caught us by surprise. The good news, though, is that we do think the EUR move up has more or less exhausted itself at current levels and we should see the pair come off soon from current levels or 1.1250. A break over 1.1370 would be an incredibly bullish technical signal and would trigger a good amount of short covering. For now, though, we place a low probability on this scenario playing out given the negative fundamentals of the EUR.
Medium- to long-term trading strategy (1-6 months):
We think shorts can be established in the EUR at 1.1080/90 and 1.1140 if a spike in the EUR is seen in the earlier part of this week, with a stop loss above 1.1250. Downside in the EUR should ideally break the 1.1000 figure following the ECB meeting if there is no disappointment with the easing package, with a potential to visit the 1.08 plus levels and lower in the following sessions.
The market never reached the levels we were hoping for last week to go short the EUR into the ECB meeting. Hopefully, no one left the orders past the ECB meeting given how aggressive the short covering was. Given the current bearish EUR fundamentals, short positions can be established at current levels (around 1.1160) as well as at 1.1250. The stop loss for this medium to longer term short trade is 1.1385. We will be looking for the pair to break back below the 1.1000 level in the not too distant future.
Short-term trading strategy (Intraday, 1-3 days):
Our short-term strategy this week would be to sell the EUR at current levels with a stop above 1.1200, and buying back the pair around 1.1120, with the cycle being repeated as many times as the market permits.
USD/JPY (FXY)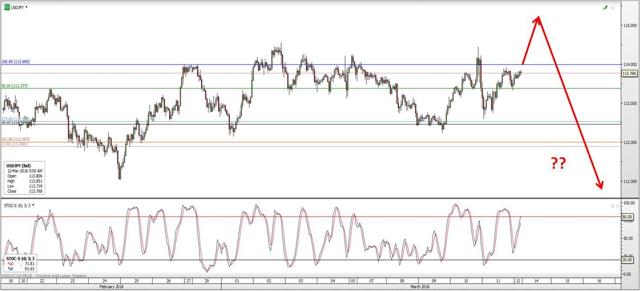 The USD/JPY had one crazy week, though we managed to capitalize on the pair by buying around the 112.45 level before taking profit around the 114 level. The pair continues to throw out a complex correction, and we do expect the pair to hit the 115 level eventually before moving back down to the 110 level, where a longer term buying opportunity awaits.
Medium- to long-term trading strategy (1-6 months):
We will be looking to take a long position in the pair closer to the 110.25/110.50 level on the next selloff in the pair, with an expectation that the BOJ will either intervene or announce a new round of easing to push the pair higher as the expected catalyst. Any long positions we take will have a stop loss at 109.50.
Short-term trading strategy (Intraday, 1-3 days):
Short-term traders can look to sell the USD/JPY around the 115 level with a target of 112.50 to the downside. The stop loss on this trade would be the 115.80 level.
AUD/USD (FXA)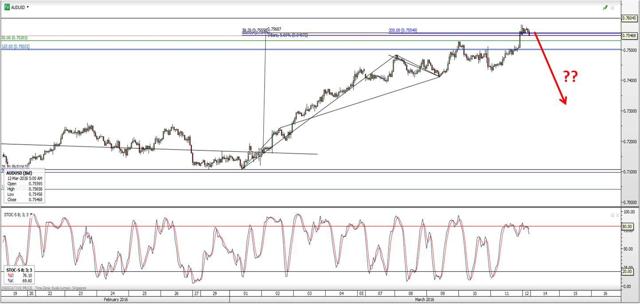 The AUD met our 0.7560 inverse head and shoulders target and is severely overbought on several time frames. As such, we expect a significant downside move to occur soon in the not too distant future with the 0.7200 level likely to be tested eventually.
Medium- to long-term trading strategy (1-6 months):
Short positions can be established at current AUD/USD levels to play the downside expected in the pair. The target for any downside move would be an eventual testing and break of the 0.7200 level. We are currently positioned short on the pair on our trading portfolio and will be sending updates via our site and emails to our premium subscribers.
Short-term trading strategy (Intraday, 1-3 days):
The AUD/USD failed to reach the levels we had initially laid out to go long to play the upside inverse head and shoulders move. This week, short-term traders should look to sell the pair at current levels, buying back the pair around the 0.7415 level, and selling again on any bounce to the 0.7500 figure.
USD/CAD (FXC)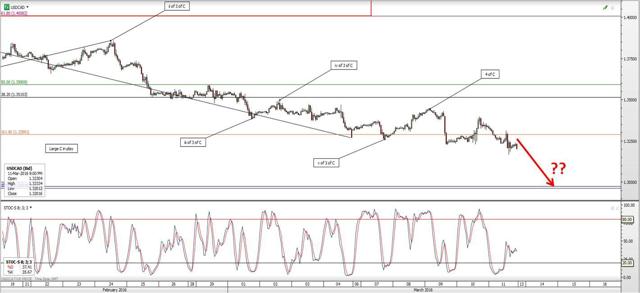 The USD/CAD was unfortunately a lot more bearish than we had initially anticipated. As such, the 1.3500 level we were hoping for to re-establish our short position was never reached. We will be looking now for pullbacks in the currency to short it again to play the remaining expected downside in the pair, which has been our best trade year to date. Our target to the downside remains unchanged at 1.2980, with any shorts to be squared just above the 1.3000 level.
Medium- to long-term trading strategy (1-6 months):
We think a retracement in the pair toward 1.3320 level can be used to establish short positions, with the eventual downside target of around 1.3000. Any short established should have a stop loss at 1.3420.
Short-term trading strategy (Intraday, 1-3 days):
Short-term traders can play the 1.3180 to 1.3320 range for this week. Stop losses for the short side would be at 1.3350, whilst stops for the long side would be at 1.3150.
WTI OIL (USO)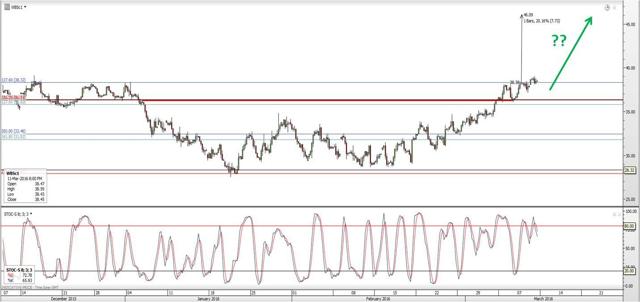 *Note on our price chart: Before we dive into the WTI technical analysis, we have decided to use the WTI continuous futures price as a chart instead of the original spot price posted in our article. This price will match the nearest dated WTI Crude futures contract which will switch automatically once the contract settles, moving on to track the next nearest dated futures contract. We will also be only analyzing the technical aspect of the WTI price, given the fundamental aspect of WTI oil is well covered by many subject matter experts in the energy commodities section. At this time, the nearest dated futures contract being tracked by the above price chart is the April 2016 contract.
WTI oil continued moving up to our $38.30 target without taking much of a break. However, technical indications are that the energy commodity can now move as high as $46 before a more significant consolidation takes hold. For now, we will be watching how any consolidation in WTI oil takes hold with the $33.80 being the key support level we are eyeing.
Medium- to long-term trading strategy (1-6 months):
We continue to be optimistic for higher prices in the not too distant future, though current overbought conditions do not make for an ideal long setup here. We think levels closer to $35 would be more attractive, with a stop loss placed below $33.50 to play for an upside move over $40, which could be seen in the not too distant future.
Short-term trading strategy (Intraday, 1-3 days):
Our short-term strategy last week would not have played out too well given the aggressive rise in WTI Oil prices. This week, short-term traders should take advantage of any break in prices toward the $36.30 level to enter long positions, with the $38.30 as the level to square out the position. Stops should be triggered on a break of $35.80.
Thank you for your time, and we hope that you have enjoyed this weekly strategy piece. We look forward to your constructive feedback.
RISK DISCLOSURE:
HIGH RISK WARNING: Foreign exchange, Futures and ETF trading, carries a high level of risk that may not be suitable for all investors. Leverage creates additional risk and loss exposure. Before you decide to trade any instrument, carefully consider your investment objectives, experience level, and risk tolerance. You could lose some or all of your initial investment; do not invest money that you cannot afford to lose. Educate yourself on the risks associated with trading, and seek advice from an independent financial or tax advisor if you have any questions.
ADVISORY WARNING: THEMARKETJOURNAL provides references and links to selected blogs and other sources of economic and market information as an educational or informational service to its clients and prospects and does not endorse the opinions or recommendations of the blogs or other sources of information. Clients and prospects are advised to carefully consider the opinions and analysis offered in the blogs or other information sources in the context of the client or prospect's individual analysis and decision making. None of the blogs or other sources of information is to be considered as constituting a track record. Past performance is no guarantee of future results and THEMARKETJOURNAL specifically advises clients and prospects to carefully review all claims and representations made by advisors, bloggers, money managers and system vendors before investing any funds or opening an account with any brokerages or dealers. Any news, opinions, research, data, or other information contained within this article and our website is provided as general market commentary and does not constitute investment or trading advice.
THEMARKETJOURNAL expressly disclaims any liability for any lost principal or profits without limitation which may arise directly or indirectly from the use of or reliance on such information. As with all such advisory services, past results are never a guarantee of future results.
Disclosure: I/we have no positions in any stocks mentioned, and no plans to initiate any positions within the next 72 hours.
I wrote this article myself, and it expresses my own opinions. I am not receiving compensation for it (other than from Seeking Alpha). I have no business relationship with any company whose stock is mentioned in this article.