Priceline Group Inc (NASDAQ:PCLN) has formed a duopoly with Expedia, Inc. (NASDAQ:EXPE) in the online travel agency (or OTA) industry. Together, these two players have cornered close to 95% of the market share. In the past few years, both PCLN and EXPE have been on an acquisition spree. PCLN has acquired firms serving different travel niches including Kayak, OpenTable, Buuteeq, Hotel Ninjas, Qlika, PriceMatch, Rocketmiles and AS Digital in the past three years alone, coughing up huge amounts for them.
These acquisitions are not taking place in a vacuum, but are a bigger strategy to provide one-stop shop for all travel requirements to today's modern online/mobile-based travelers. However, there are a number of reasons why PCLN's stock must be avoided by investors.
Rapidly changing market
The $1.2 trillion travel market is undergoing major changes in the way customers are shopping, travel alternatives used, and the options available. An increasing number of customers are using mobiles to complete their travel purchases and should soon form an overwhelming percentage of all purchases.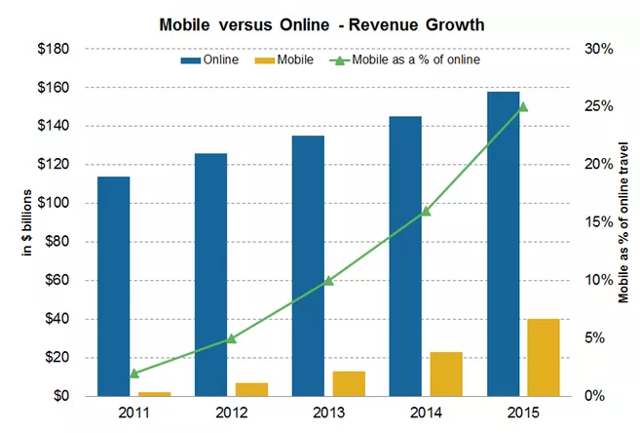 Fig: Higher usage of mobile as a percentage of all online purchases. Source: PhoCusWright
Greater mobile usage also allows customers to test new apps and helps new ideas to gain good traction in short period of time. This is certainly not an enviable environment for a market leader who will be playing catch up with every other new app and eventually fork out huge amounts to acquire these new ideas/apps.
With the spending power increasingly moving into the hands of the millennials, there has been a noticeable change in the travel alternatives preferred by this generation. While earlier baby boomer or Gen X generation looked for a secure and comfortable well-recognized hotel, the millennial generation does not mind trying other alternatives. This has led to an explosion of new accommodation types, generally characterized as the new 'sharing economy'. PCLN makes 90% of its revenue through hotel bookings and any change in the composition of listings or accommodation types will have a drastic impact on the bottom line.
Finally, there is major consolidation effort in the hotel sector. We should be ready to see other big ticket deals like Marriott-Starwood in this sector. A more consolidated hotel industry will give greater leverage to hotel brands in negotiating terms with OTAs, thus putting a pressure on their commissions. The top four leading hotel companies (Marriott (MAR), Hilton (HLT), InterContinental (IHG) and Accor (OTCPK:ACRFF)) have cornered 65 percent of the total development pipeline (Hotel in planning and under construction) in the world. This ratio will only increase as the top firms look to increase their footprint.
One can also look at country-specific scenarios on how hotel consolidation affects the OTAs. In 2015, there was a major hotel aggregator effort within India. This was primarily led by OYO rooms. It was present in 3 cities at the start of 2015, and by the end of 2015 had expanded to 165 cities with 45,000 rooms under its brand and getting a valuation of close to $500 million. This caught the national OTAs like MakeMyTrip limited (NASDAQ:MMYT), a 15-year-old company with over 40% market share in India, by surprise. The OTAs responded by shutting out Oyo branded hotels from their platform in late 2015 (a clear sign of how seriously they thought about the challenge faced by hotel consolidation). But by this time, most of the customers to OYO rooms were already using the OYO app to book reservation, thus eliminating OTAs as the middle man.
Although the above aggregation/consolidation was specifically for budget independent hotels, investors can look at the basic trend. Once the hotel consolidation reaches a given level, the OTAs will have few levers to pull while charging their high commissions.
Tech giants entering the market
OTAs will also need to be afraid of the tech giants. We should not forget that Expedia itself was founded as a division of Microsoft in 1996. Among the current players, Amazon (AMZN), Alphabet (GOOG) (GOOGL) and Facebook (FB) seem to be candidates for making a foray into the OTA market.
Amazon started "Amazon Destinations" in April 2015, which focused on weekend retreats and getaways in limited cities in the US. This ended up getting closed in October 2015. Nevertheless, Amazon has a huge advantage in terms of having the brand recognition, customer visits and cross-selling opportunities. Also, Jeff Bezos will not let go of this lucrative market easily. Amazon should be expected to make another big play in this field in the next 2-3 years.
Alphabet has come out with detailed plans of how it wishes to enter the travel industry. A few days back, it started Destinations on Google, which helps to discover and plan the next vacation.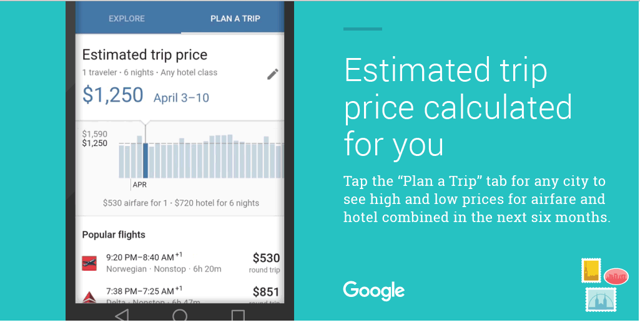 Fig: Destinations on Google helps simplify travel planning making required hotel, flight, car booking available at a single point.
It integrates its Google flight and hotel search features thus making the entire process seamless and at one single location. A concerted effort in this industry and a few acquisitions by Alphabet will make it a force to reckon with for both PCLN and EXPE.
Facebook is one place every traveler visits: before, during and after their travel. Billions of pictures, comments and other little details are uploaded on it. It can certainly use this data to provide additional information for travelers and help them chalk out their future travel plan. There is a huge scope for building an advertisement channel which Facebook would not pass over.
Priceline will face continuous threat from these tech giants who have the requisite technology, customer following, and huge resources at their disposal. All the plans of these tech firms might not deal a major blow to PCLN, but its business model will certainly be under increased threat in the current changing market environment.
Efforts by hoteliers to bring down commissions
OTAs provide valuable business to the hotel industry but require skyrocketing commissions of 15%. In addition, if other promotion features are used, it would further increase this expense. Already many hotel chains look at additional metrics other than RevPAR (revenue per available room) or ADR (average daily rate) to measure the performance of the property. Increasingly NRevPAR (net revenue per available room) is used as a metric. NRevPAR subtracts the distribution costs, transaction fees and travel agency commissions to calculate the revenue made per available room. NRevPAR would be substantially higher when the OTA costs are low or when the distribution channels have a higher mix of direct sales. Although most of the hotel chains have been complaining about the high OTA commissions, they have not been that aggressive in increasing their effort in building a technology platform. The current consolidation should provide enough resources for individual chains to start ramping up their tech spend.
Concerted efforts like Roomkey.com (collaboration by hotel brands like Hilton, IHG, Marriot, Hyatt (H)) have allowed additional distribution channels for major hotels. However, a bigger threat has been the end of rate parity clause. The rate parity clause prevented hotels from offering lower rates on their online and offline channels than those offered by OTAs for that hotel. There is an increasing pressure to end this clause which gives the OTAs the ability to advertise "best possible rate," thus increasing their click through and market share. Rate parity will affect PCLN to a greater extent as it derives 90% of its business internationally, with most of it in Europe.
Airbnb's (AIRB) role in this industry
Airbnb has been a much talked about firm and has a cult-like following among travelers who like it. It has grown rapidly, in line to book 80 million nights with more than 2 million listings. Current valuation of $25.5 billion surpasses all hotel chains. The traditional hotel chains have been quite slow in realizing the challenge given by this upstart. Compared to 80 million room nights of Airbnb, IHG has booked 177 million nights last year. So the pressure is surely mounting on these brands. However, Airbnb also gives OTAs a run for their money by charging a lower and different commission rate. Currently, Airbnb charges hosts 3% service fee and guests pay 6-12% service fees.
The traditional hotel chains might want to look at Airbnb as an additional distribution channel where they can list their properties and negotiate a better commission rate. This would be a win-win situation for both Airbnb which gets higher revenue and listings, and for the hotel chains getting a much better deal on the commission they have to pay. This would also bring Airbnb into the mainstream of lodgings market leveling the playing field for all players. The only loser in this scenario would be PCLN which will have to lower its commission rates to match Airbnb.
Current valuation of Priceline
Priceline is currently trading at a PS ratio of 7.4. In comparison to it, a possible tech challenger GOOG is trading at 6.7 and a partner-cum-rival TripAdvisor (TRIP) is trading at 6.2. Similarly on EV to EBITDA metric, it is quite expensive trading at 19.0x compared to 17.0x by GOOG and 24.2x by TRIP.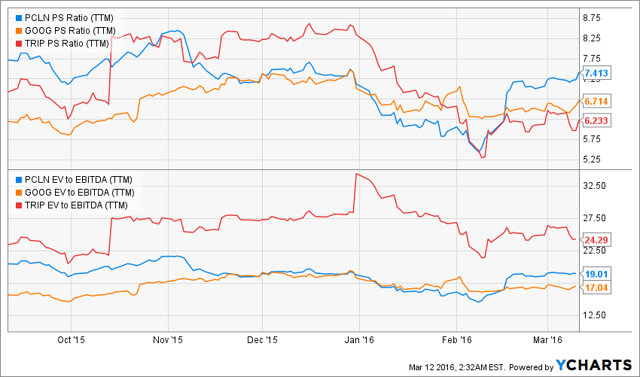 Fig: Valuation level of PCLN compared to GOOG and TRIP on PS and EV to EBITDA metric.
This valuation shows that PCLN is quite pricey and is certainly not a bargain by any stretch of imagination.
Conclusion
Priceline Group Inc. faces a host of challenges to its business model, the commissions charged, and margins available. Some of the main challenges come from consolidation of hotel industry, rate parity clause under threat in Europe, tech giants looking to enter this industry and rise of Airbnb as an alternative distribution channel. Although Priceline has given some great results in the past few quarters, it does not mean that it will overcome future obstacles without any impact on its margins and revenue streams. The current valuation is just too pricey for anyone to enter. The ideal course of action should be to wait and watch for the next two years and watch how the regulators, traditional hotel brands, and Airbnb play their cards.