In the last article in this series, we looked at the performance of the standard P/E ratio and its alternatives. The best price ratio had annualized returns of 16.47% since 2000. Today, we're going to look at the performance of a different type of value strategy.
The Piotroski F Score is a 1-9 score assigned to a company based on nine binary criteria. For example, 1 point is scored for positive net income, 1 point for an increasing current ratio, and 1 point for lack of share dilution.
The other criteria are:
Positive operating cash flow (1 point)
Cash flow from operations greater than net income (1 point)
Increasing ROA (1 point)
Increasing gross margin (1 point)
Increasing asset turnover ratio (1 point)
Decrease in long-term debt relative to total assets (1 point)
The F-Score looks to identify strong companies with improving performance based on financial statement data. Our goal in this article is to see how well it accomplishes this task.
Performance of the F-Score
The following is the performance of an equal-weighted portfolio with annual rebalance of the 100 Russell 3000 companies with the highest F Score.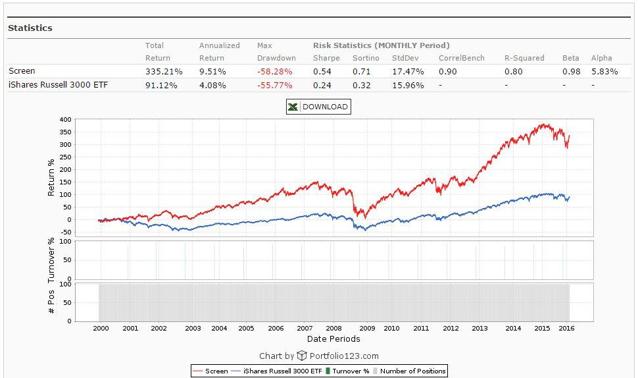 The Piotroski F-score portfolio has outperformed since January 1, 2000. Note that this backtest and others in the article are performed with Portfolio123, a strong screener and backtesting tool that eliminates survivorship bias, look-ahead bias, and accounts correctly for dividends and splits.
While the F Score strategy does perform well, let's see if we can improve on its returns.
Improving the F Score
There are several approaches we could take to try to improve on the F Score. One is to use a different score, such as the Beneish M Score (low likelihood of earnings manipulation) or Altman Z Score (low likelihood of near-term bankruptcy). Both of these scores have inferior backtested performances though. The M Score, for example, has 6.00% annualized returns over this period.
Another option is to combine the F Score with another criterion, such as low EV/EBIT. If we add in the condition that TTM EV/EBIT must be less than or equal to 8, backtested returns do improve - going from 9.51% annualized return to 13.79%. However, all we are doing in this case is improving on the results of a strategy by combining it with another strategy that we have already seen perform better.
To me, the most interesting question is whether we can improve on the F Score by isolating one of its nine binary factors. We select one and then create a ranking based on it alone.
Let's try that with a couple of the F-Score factors.
Increasing Return on Assets
First, let the increasing return on assets criterion. The F Score awards 1 point for current period ROA being higher than ROA for the previous year. Suppose we made this factor the entire focus of what we screened for, would F Score performance improve?
The following is the performance of Russell 3000 companies with the highest ratio of current period ROA to previous year ROA.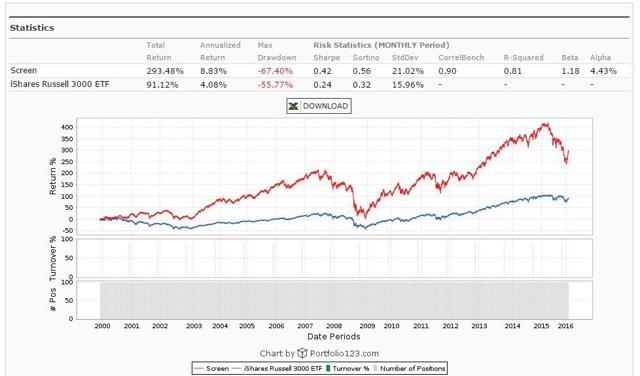 We have decreased annualized returns by focusing on only this one factor. Let's try isolating another F Score criterion to see if we can do better.
Share Buybacks/Lack of Dilution
The F Score awards a point for no new shares issued in the last year. Expressing this condition as a formula:
Shares outstanding/shares outstanding the previous year <= 1
Let's call this the Shares Ratio and focus in on it. We backtest the 100 companies that have the best shares ratio: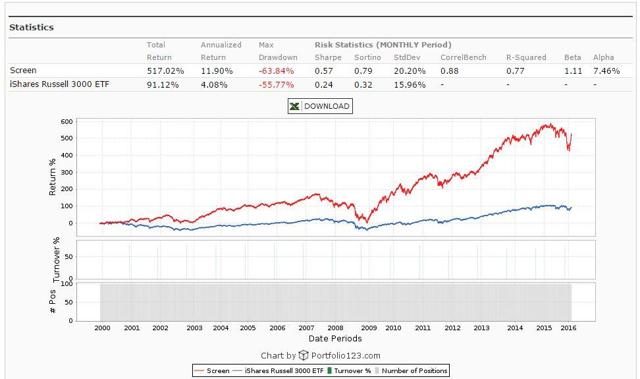 This Share Ratio strategy, favoring companies with recent share buybacks, has better performance since 2000 than the Piotroski F Score. It could certainly be considered a separate strategy rather than a modification of the F Score, but either way, it has superior returns.
Large-Cap F Score Performance
Lastly, we backtest the performance of the F Score within the more efficient large-cap space: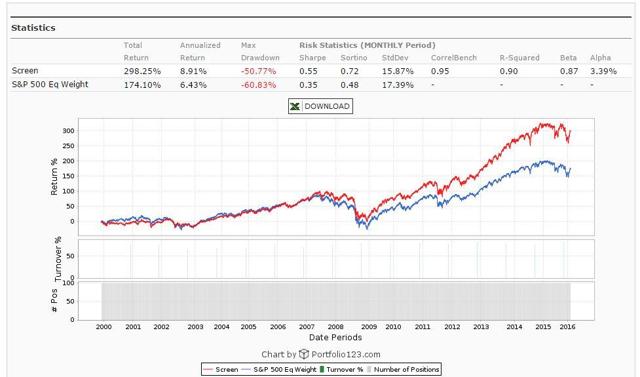 The F Score still outperforms. Here are the S&P 500 companies with the highest F Scores:
Highest Piotroski F Score Companies in the S&P 500
| | |
| --- | --- |
| Company | Piotroski F Score |
| Aetna (NYSE:AET) | 9 |
| Carnival (NYSE:CCL) | 9 |
| Clorox (NYSE:CLX) | 9 |
| Equifax (NYSE:EFX) | 9 |
| Signet Jewelers (NYSE:SIG) | 9 |
| Total System Services (NYSE:TSS) | 9 |
| Universal Health Services (NYSE:UHS) | 9 |
Note that different sources may report different F Scores depending on the specific definitions used for each of the criteria. A good free resource for getting these scores is the "Definitions" section of GuruFocus, which breaks down how companies hit or miss its interpretation of each criteria. As an example, here is their breakdown for Apple (NASDAQ:AAPL).
Conclusion
We have reached the following conclusions in this article:
The Piotroski F score is another value strategy that has beaten the market since 2000. It has an average annualized return of 9.51% in that time period.

The F Score's performance is relatively unaffected by market cap. Within the large-cap space, annualized returns drop by less than 1%.

Focusing only on the share buyback factor allows us to improve on the F Score performance. We rank companies based on the lowest ratio of current shares outstanding relative to this figure from one year ago. A portfolio of the highest-ranked companies has the best performance of the strategies considered in this article.
We will continue next week with another value strategy based only on the balance sheet.
Disclosure: I/we have no positions in any stocks mentioned, and no plans to initiate any positions within the next 72 hours. I wrote this article myself, and it expresses my own opinions. I am not receiving compensation for it (other than from Seeking Alpha). I have no business relationship with any company whose stock is mentioned in this article.