In my last Indian solar article, I had mentioned why India has become the sunniest land for solar opportunities. The biggest reason was the low per-capita power availability for a population exceeding 1.2 billion. The strongest driver is the central government that is largely pro-solar in its vision. The government of India has set a huge 175GW renewable energy target by 2022, out of which 100 GW will come from solar energy and 60 GW from wind energy. The rapidly falling solar power tariffs have already made it competitive with thermal power and it is expected that it will become even cheaper than thermal power, in the next 4-5 years. India is currently witnessing a surge in solar power projects all over the country.
The new pro-renewable-energy Modi government has been busy shaping new programs and policies that will help promote solar power in the country. This has led to major solar companies eyeing India as a massive opportunity for growth. China has been the most successful in capturing a significant share of the India module market, owing to their cheap costs and geographical proximity. USA panel manufacturer First Solar (NASDAQ:FSLR) has a long history of association with the Indian market. Some of the Indian players are also starting initiating solar manufacturing plans and have shown significant improvement in the last year.
Major companies planning to set up Indian manufacturing capacity
There have been news in the past where Trina Solar (NYSE:TSL), Longi Silicon, Canadian Solar (NASDAQ:CSIQ), First Solar and SunEdison (SUNE) have expressed their interest in setting up manufacturing capacities in India. India has also been luring manufacturers by providing various incentives under the state and even the central level. The Modified Special Incentive Package Scheme (M-SIPs) policy of the central government is designed to provide financial incentive of up to 25% of the capital cost of module manufacturing facilities. Different states have also come up with incentives like power and water subsidies, exemption of stamp duty, VAT/CST tax exemption etc. India's Domestic Content Requirement ("DCR") and Make In India are the key driving forces behind western companies expanding in India.
According to Bridge to India, Indian companies' market share in the module market in India has declined to 22% in 2015, from 35% in 2010. Almost 50% of the modules used in India during 2015 was Chinese. First Solar was the largest module supplier in India in 2015, commanding more than 15% of the market share. The other dominant players were Trina Solar and Canadian Solar with ~10% of the market share. Major Indian solar companies like Waaree Solar and Tata Power accounted for a total mere 8% share in the Indian module market.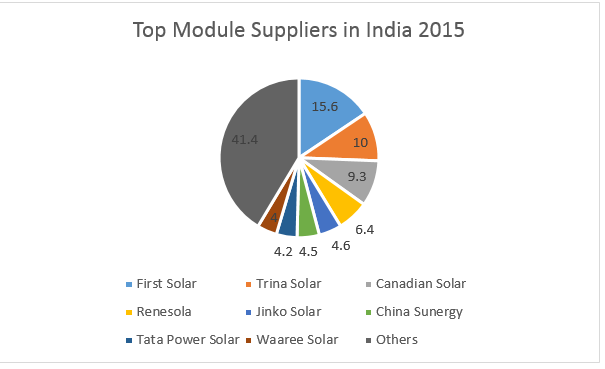 Data from Bridge to India
Top Chinese players in India
According to the chart above, Trina Solar, Canadian Solar, Jinko Solar, ReneSola (NYSE:SOL) and China Sunergy (NASDAQ:CSUN) were the top module suppliers in India in the last year. The top companies like Trina Solar, Jinko Solar, and Canadian Solar have not only been successful in strengthening their distribution in India, but are also expanding in the other parts of the world.
i) Trina Solar is witnessing strong demand from China, the US and emerging markets. The company continues to be the shipment leader worldwide, with full year guidance raised to 5.5-5.6 GW from its earlier 4.9-5.1 GW. It is also increasing its module and cell capacity with new plants coming up in India and Thailand.
ii) Jinko Solar's shipment to emerging market also improved to 21% in Q3'15, from just 9% in the previous quarter with sales to APAC regions doubling from 9% to 18% on a quarterly basis. The company gave a higher end shipment guidance of 4.5GW for full year 2015.
iii) Canadian Solar too experienced strong demand from USA, China, Europe and India. The company is also going ahead with increasing its production capacities across wafers, solar cells and modules by December 2016. Approximately 1.53 GW will also be at new locations outside China, including Canada, Vietnam, Indonesia, Brazil and other emerging markets.
Key USA players in India
i) First Solar has been the undisputed leader in the Indian module market over the last year, accounting for more than 15% of the total Indian market share. First Solar has a strong presence in India. India's hot and humid climate is suitable for First Solar's thin film modules. The company has also emerged as one of the better players in the solar industry globally, with technology improvements, growing bookings and shipments, improved operational execution and reduced costs. The stock has returned more than 40% in the last year itself. Given the company's long association with the country, I think the trend should continue.
ii) SunEdison has been a prominent player in the Indian EPC landscape. The company has signed a MoU with the Rajasthan government to set up 5GW of solar plants and also with the Tamil Nadu government to set up 2GW of solar and wind capacity over the next 5 years. The company managed to beat almost 27 competitors in a tender put out by India's largest utility NTPC bidding at almost 7 cents/kWh, creating a solar revolution in India. Though the company has been facing problems globally, this move shows that it is not retreating from India.
Top Indian players in India
Waaree Solar, Tata Power Solar are the largest individual solar panel suppliers in the country last year. Azure Power (Pending: AZRE) another Indian developer of utility scale solar assets is planning to do an IPO in the USA to raise $100 million. The IFC-backed company's project pipeline consisted of 236 MW operational projects, 233MW under construction and 178MW as committed as of September 2015. It recently signed an MoU with Rajasthan to set up a 1000 MW project. Adani Power, part of the Adani Group also signed two MoUs with Tamil Nadu and Rajasthan. It is also planning to build a huge manufacturing capacity with Foxconn Technology of Taiwan in India. Other mainstream names in India include Moser Baer, Vikram Solar etc. The leading wind developer Suzlon and Aditya Birla Group are also diversifying into solar, given the recent heat around this sector.
New players entering the Indian landscape
Softbank Corp. of Japan has shown interest in India's solar industry and is planning a billion dollar investment. It has tied up with Foxconn Technology and India's Bharti Enterprises for developing solar projects in India. Sky Power, the Canadian developer also made news in the country by bidding as low as Rs.5.05 (~7 cents/kWh), for a 300 MW solar power bid to a Madhya Pradesh government-owned power company in July last year.
WTO Case by USA could lead to temporary dislocation
USA had brought a case against India's policy of reserving some part of the capacity ("DCR") in solar tenders for domestically manufactured solar cells and modules. The Indian government has started anti-dumping case against imported solar panels from China, USA and Taiwan, but did not impose duties as it wanted to keep the solar power costs low. Instead, it found a compromise, by allocating some capacity for domestic makers.
USA filed a case against India with the WTO, though India imports most of its requirement from China, Taiwan, and Malaysia. In my view, USA companies need India for their growth. Technology giants like Apple (NASDAQ:AAPL) and Amazon (NASDAQ:AMZN) are already touting India as their major new growth driver. China has already captured a major chunk of the Indian solar markets, owing to its low costs and aggressive pricing. Most USA solar producers are not able to compete in this market apart from First Solar. It is imperative for the world that India reduces its thermal power dependence going forward. India will also lose support for solar energy generation, if local jobs are not created. If USA is successful in its WTO case, then China would be the biggest beneficiary, as most Indian solar producers are in a distressed state.
Conclusion
India's energy sector is set to grow at a rapid pace more so because of its massive power needs. Solar energy has become the principal energy source, with 2GW of solar capacity being added in 2015 and more than 10 GW of new projects expected to be commissioned in FY 2016-2017 in India. India has already invested ~$5.6 billion in the solar energy sector with huge growth opportunities expected over the long term. The companies having a strong presence in India should gain as a result and I think investors can benefit if they make the right choice.
Disclosure: I/we have no positions in any stocks mentioned, and no plans to initiate any positions within the next 72 hours.
I wrote this article myself, and it expresses my own opinions. I am not receiving compensation for it (other than from Seeking Alpha). I have no business relationship with any company whose stock is mentioned in this article.
Editor's Note: This article covers one or more stocks trading at less than $1 per share and/or with less than a $100 million market cap. Please be aware of the risks associated with these stocks.