The market usually points towards the direction it wants to go - which sometimes goes contrary to logic or expectation - and the signs manifest themselves across asset classes. We just have to be alert to them.
The USD has been nothing short of rampant since 2014, and EUR/USD has been precariously perched just above parity for about a year. All around, we have seen investment banks tout the pair to dip below parity (such as Deutsche Bank (NYSE:DB), Goldman Sachs (NYSE:GS), Nomura (NYSE:NMR)... and the list continues). I have a feeling the long USD trade is an overcrowded one, and the markets are showing early signs that this trade is going to reverse, potentially resulting in a major short squeeze - perhaps sending the pair up to test 1.15 and potentially 1.20 levels.
Signs of USD weakness in FX:
USDJPY was the first to crack. Bank of Japan cut interest rates to negative in mid-Feb, which theoretically should be negative for the JPY, but USDJPY's rally was short-lived - the FX pair instead retraced the initial move up from ~118 to ~120, and eventually fell to 112 levels. For those that are more inclined towards technical analysis, 116 level happens to be the neckline of a head-and-shoulders pattern, and a break below 116 signifies very bearish price action for the FX pair.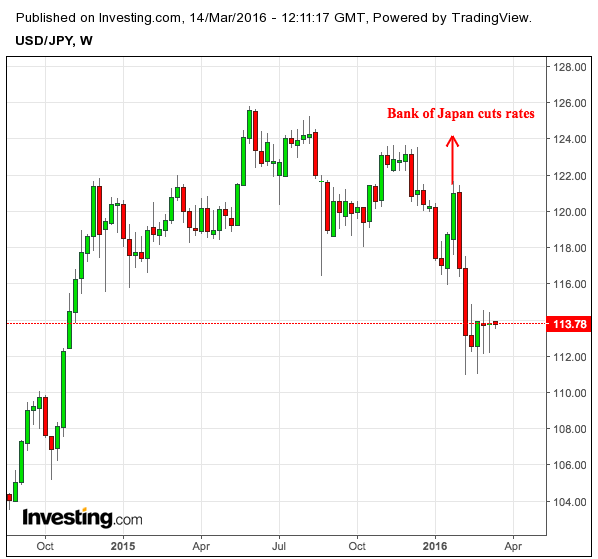 In AUD/USD, the pair has broken out of its trading range of ~0.68 to ~0.74 initiated since mid-2015. It has since climbed above 75 cents and traded close to 76.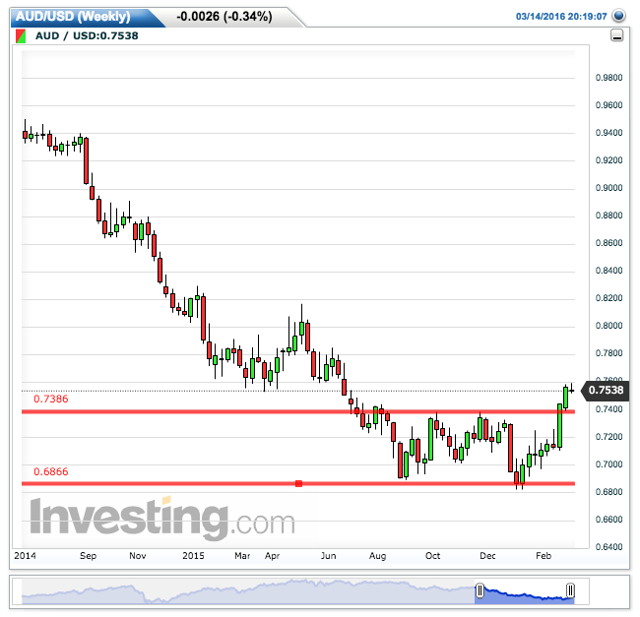 Signs of USD weakness in Commodities:
In oil, we saw a double-bottom formation in Feb, which lent strength to the rally that took it close to 40 levels. The USD traditionally correlates negatively with commodities - meaning a weaker USD gives rise to stronger commodities.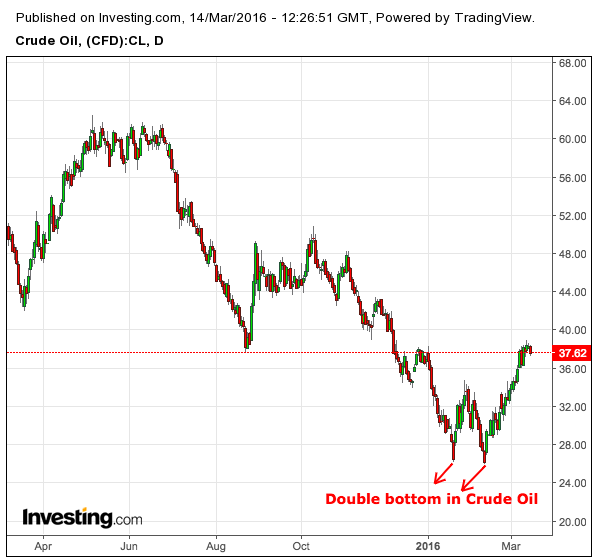 Gold has seen a robust rally as well, bursting out of its downtrend channel, as seen from the chart below. The busting of this downtrend channel implies that there are high odds Gold will not suffer as much as before from the headwinds that have plagued it since 2012.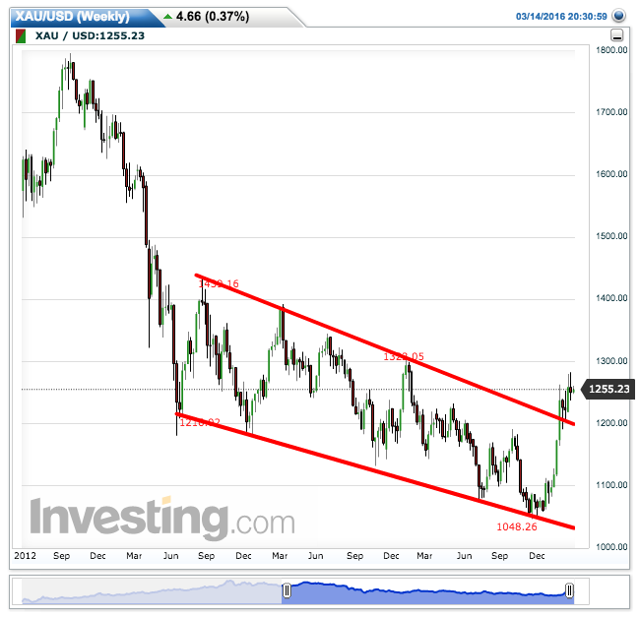 Signs of USD weakness in Equities:
Equities have bounced back strongly from the start of the year, with Draghi also coming out to lend support to risk assets by expanding QE and cutting rates just a week ago. For reference, the S&P 500 is currently around flat on a YTD basis. Early this year, the index was ~10% down.
The market has arguably been under this impression that risk assets like equities will suffer when the Fed embarks on a rate hike cycle - we can look back at the taper tantrum in 2013 for evidence, where investors fretted and panicked when higher rates were touted.
Arguably, the equity rally may have been supported by falling rate hike expectations for the upcoming Fed meeting on March 16. Currently, according to CME Group, the implied probability priced in for a Fed rate hike in March is close to 0%.
Putting the Pieces Together:
It is rare that we see risk assets like oil, AUD and equities rallying alongside safe haven assets like gold and the JPY. Putting the pieces together, the price action of these asset classes may be supported by a weaker USD. Looking at the Dollar Index, it is trading right on support, and has made a series of 2 subsequent lower highs since peaking at 100.00.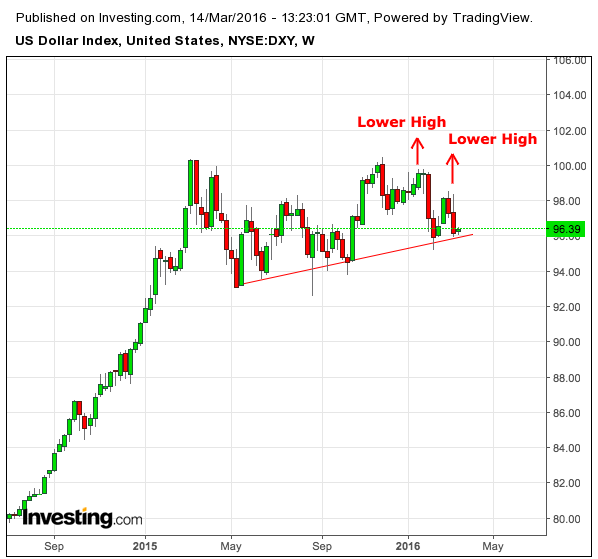 The Fed meets on 16 March, and most of the time, the markets need to find a reason to move towards their path of least resistance. I have a strong hunch 1) the Fed will not hike so as to preserve stability in the equity markets, which have been shaken of late, and 2) if so, we are likely to see EUR/USD charge up towards 1.15, triggering a series of stop losses in the process. Beyond 1.15, 1.20 is the next target level the markets will likely look to test.
How to Play the USD Weakness:
In the event that the USD will continue to be weak, commodities and equities should be well-supported. I would like to express my bullish view on oil and equities by picking up some oil major counters. The price action for BP Plc (NYSE:BP) and Exxon Mobil (NYSE:XOM) have been pretty resilient - neither has made new lows since last year's August flash crash - perhaps due to their diversified businesses. The dividend yields are very attractive, at 7.86% for BP and 3.55% for Exxon Mobil.
I would caution expressing a bullish view on oil via ETFs like United States Oil ETF (NYSEARCA:USO), as the price action tends to be volatile (~3-4% daily range is possible), and oil ETFs are notoriously known for their steep negative carry due to oil's forward curve being in contango.
In conclusion, a weaker USD may go against intuition / fundamentals / expectation, but the markets are a fickle beast and can reverse course quickly. We invest / trade based on signs the markets are giving us, and there already are signs of a weaker USD in the markets. Oil majors are trading at a very cheap price, and their defensive nature coupled with high dividend yield make them attractive for investors with a 3-5 year time horizon. In this environment, they could make an excellent proposition.
Disclosure: I/we have no positions in any stocks mentioned, and no plans to initiate any positions within the next 72 hours.
I wrote this article myself, and it expresses my own opinions. I am not receiving compensation for it (other than from Seeking Alpha). I have no business relationship with any company whose stock is mentioned in this article.