Bloomber Business 21 January 2016 published an article, based on the study carried out by Hamilton Lane, stating that private equity returns to the investors were short of expectations and fell below the returns achieved in the past. The article stated that for bigger deals, the median return has been just 4% annually. The report concluded that most of the investors were better off by investing in the SP500 index fund than by investing in private equity deals.
Most of the private equity companies like TPG Capital, Bain Capital or Permira are private, but some of them were quoted in the article and were publicly traded. That is The Blackstone Group L.P. (NYSE:BX), KKR & Co. L.P. (NYSE:KKR), The Carlyle Group (NASDAQ:CG) and Apollo Global Management LLC (NYSE:APO).
All private equity investing companies are operating in a highly competitive market. The success of the companies depends on an ability to attract the capital for investments. The ability to attract the capital is the function of company reputation, past results (achievements) and the connections of the management with the investors (pension funds, insurance companies, sovereign wealth funds and high net individuals).
In the low-return environment, big institutional investors are looking and continue looking for higher returns. Therefore, more and more funds will be put in the private equity investments over the next five years. I do not believe, that FED decisions gradually increase interest rates will affect this trend.
Interestingly, most of those companies have the advantage over the traditional asset manager because investments in the private equity have long lock-up period of ten years and could be even longer in some cases. Therefore, the redemption issue is not a problem for the private equity investments. In most instances, the returns for each investment in only evaluated at the end of this lock up period.
Typically, most of the private equity companies are structured as private partnerships and have complicated structures that require organizational and ownership charts to be included in the annual or quarterly reports. The revenue comes from management fees for managing private equity, closed-end carry funds and real estate funds. These management fees vary and could be from 1% to 2% of funds during the investment period of the relevant fund. In addition to that, the companies earn performance fees on the profits from the investments and could be up to 20% of the profit. There also investment income (loss) resulting from unrealized and realized gains from the investments. There are also interesting income from the investment in credit instruments.
The summary of the four companies is provided below.
The Blackstone Group L.P. is an alternative asset management and financial advisory businesses. It operates in 5 different areas:
Private Equity (management of private equity funds, certain multi-asset class investment funds and secondary private funds of funds);
Real Estate (management of global, European focused and Asian focused opportunistic real estate funds plus debt investment funds and a publicly traded REIT targeting non-controlling real estate debt-related investment opportunities in the United States and Europe);
Hedge Fund Solutions (an institutional solutions provider utilizing hedge funds across a variety of strategies);
Credit (manages senior credit-focused funds, mezzanine funds, distressed debt funds, general credit-focused funds, registered investment companies, separately managed accounts and CLO vehicles); and
Financial Advisory (financial and strategic advisory services, restructuring and reorganization advisory services, capital markets services and fund placement services for alternative investment funds).
The Private Equity, Real Estate, Hedge Fund Solutions and Credit segments earn their income from management fees and investment returns on assets under management, while the Financial Advisory segment primarily earns its income from fees related to investment banking services and advice and fund placement services.
Fortune in the issue of 15 March 2016 reported that Blackstone had the most M&A transactions in 2015 - 38, ahead of WPP with 35 transactions, Berkshire Hathaway with 21, and Microsoft with 15 and Goldman Sachs with 13.
KKR & Co. L.P. is an investment firm that manages investments in private equity, energy, infrastructure, real estate, credit and hedge funds. The company operates in three segments:
Private Markets (manages private equity funds and funds that invest capital in real assets, such as infrastructure, energy and real estate);
Public Markets (operates credit and hedge funds businesses); and
Capital Markets (arranges debt and equity financing for transactions, placing and underwriting securities offerings and providing other types of capital markets services).

The Carlyle Group, L.P. is an alternative asset management firm that is involved in the management-led buyouts, strategic minority equity investments, private equity placements, consolidations and buildups, growth capital financing, real estate opportunities, bank loans, high-yield debt, distressed assets, mezzanine debt and other investment opportunities. The company is organized into four segments:
Corporate Private Equity (management and advice of funds that invest in buyout transactions in a particular geography (e.g., United States, Europe, Asia, Japan, MENA, Sub-Sahara Africa or South America) or a particular industry or invest in companies with the potential for growth, strategic redirection and operational improvements);
Global Market Strategies (advises funds that invest using different strategies like long/short credit, long/short emerging markets equities, macroeconomic strategies, commodities trading, and structured transactions, quantitative market strategy, leveraged loans and structured credit, mezzanine, energy opportunities, middle market lending and distressed debt);
Real Assets (investments in real estate, infrastructure and energy and natural resources); and
Investment Solutions (advises on investment in private equity fund of funds, indirect investments in global real estate and management of hedge funds).
Apollo Global Management, LLC is a an alternative investment manager that raise, invest and manage private equity, credit and real estate funds as well as strategic investment accounts, on behalf of pension, endowment and sovereign wealth funds, as well as other institutional and individual investors. Apollo has three primary business segments:
Private equity (invests in control equity and related debt instruments, convertible securities and distressed debt investments);
Credit (invests in non-control corporate and structured debt instruments); and
Real estate invests in real estate equity for the acquisition and recapitalization of real estate assets, portfolios platforms and operating companies, and real estate debt including first mortgage and mezzanine loans, preferred equity and commercial mortgage backed securities).
Regarding the total assets under management, The Blackstone Group is the biggest company. It's also clear, that investments in private equity accounts on average 33% of total investments. The Blackstone Group is better balanced than other firms, having more or less the same amount in each sector. It also has more focus on real estate and hedge funds than others. On the opposite side, it is Apollo, which mostly concentrates on the credit sector (see table below).
In $Billion as of 31 December 2015:
| | | | | |
| --- | --- | --- | --- | --- |
| | Blackstone | KKR | Carlyle | Apollo |
| Total Assets Under Management | 336.4 | 119.5 | 182.6 | 170.1 |
| Total Fee-Earning Assets Under Management | 246.2 | 91.7 | 131.0 | 138.1 |
| - Private Equity | 51.5 | 34.9 | 40.9 | 29.3 |
| - Real Estate | 67.4 | 10.4 | 30.9 | 7.3 |
| - Hedge Funds | 69.1 | 10.5 | | |
| - Credit | 61.7 | 35.9 | 31.0 | 101.5 |
| - Other | | | 28.2 | |
Undrawn capital ("Total Dry Powder") In $Billion at the end of 2015: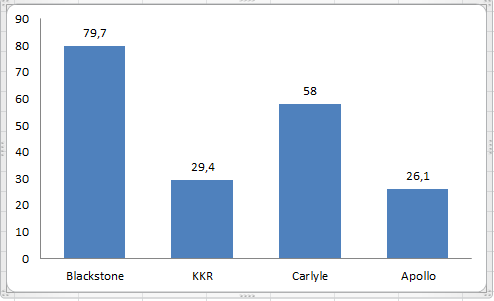 Profitability and selected expenses
Analyzing these four companies, it should be said that the revenue and net income are very volatile. For each company, quarterly results vary significantly, which could be explained by the market volatility and the other economic and credit condition in each quarter.
Looking at the data it seems that Carlyle follows different strategy and has much more debt and interest expensed than other companies.
In $Billion as of 31 December 2015 (TTM):
Revenue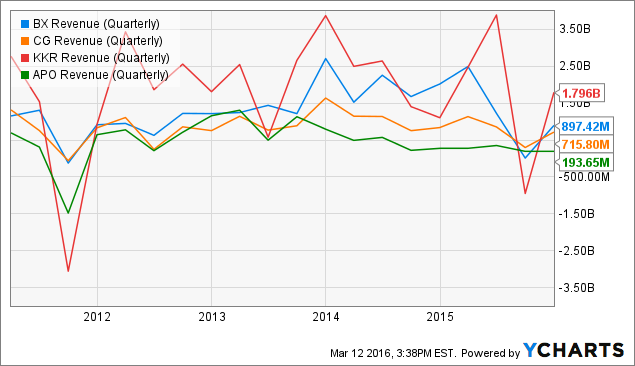 BX Revenue (Quarterly) data by YCharts
Net income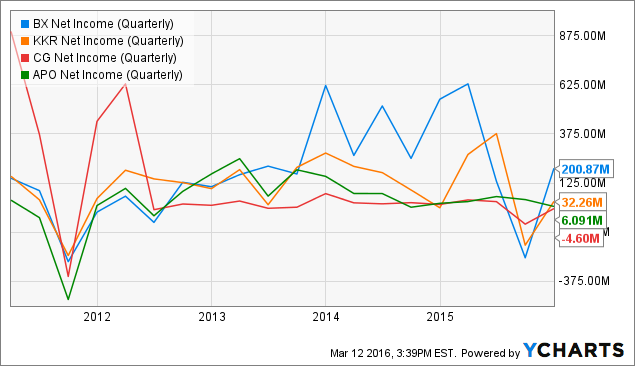 BX Net Income (Quarterly) data by YCharts
Interest expenses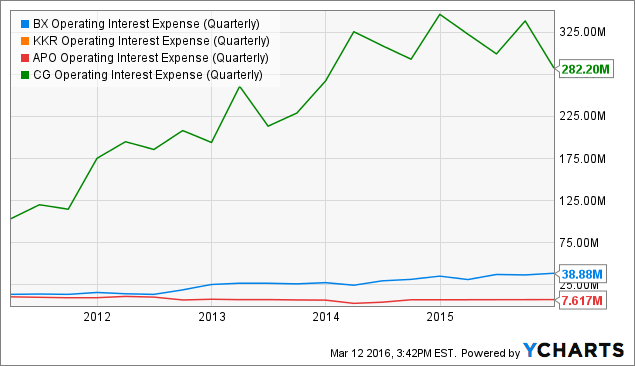 BX Operating Interest Expense (Quarterly) data by YCharts
Share Price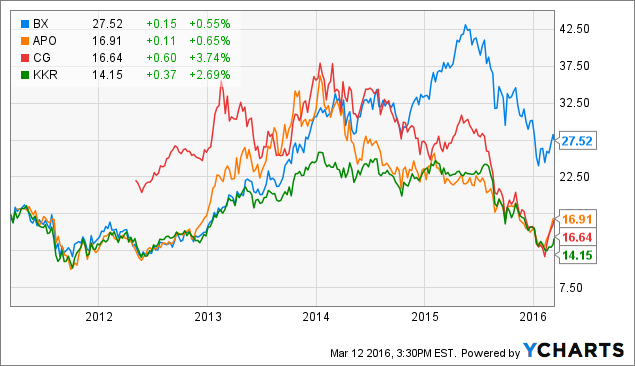 Distribution yield
The private equity companies have very high distribution yield compares to other firms. However, the revenue and net income are very volatile; the distribution yield could be affected by volatility as well.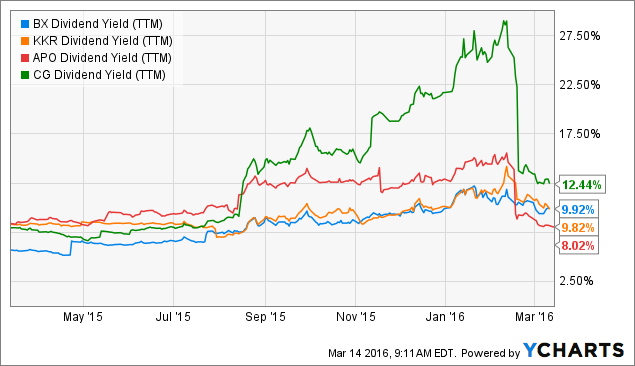 BX Dividend Yield (TTM) data by YCharts
Valuation
It should be highlighted that these companies rely on some industry-specific valuation metrics, like Economic Income and Economic Net Income (and thus would require a separate article to explain). However, I will stick with traditional valuation metrics.
PE for 1 year is provided below.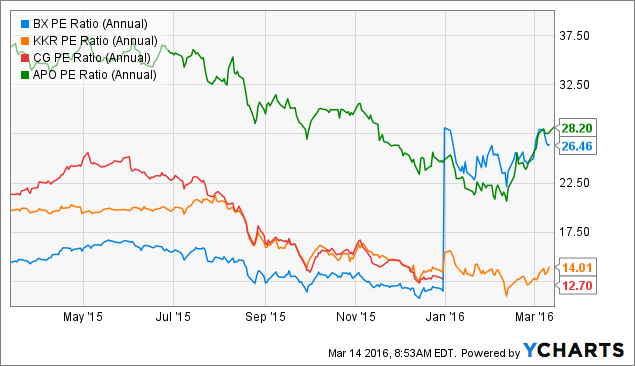 BX PE Ratio (Annual) data by YCharts
Estimates
As could be seen from the tables below (based on data from FactSet), the EPS (or earnings per unit) is very volatile and vary significantly. The expectations for EPS growth in 2016 differ considerably between the companies, from the 3 % drop for KKR to 35% growth for Apollo.
Generally to evaluate the stock's attractiveness, I use the following method. The estimates for three future years are taken and then multiplied by the P/E ratio for the stock that it is believed to be in the market for the particular stock in question. To simplify the calculations, the P/E ratios of the past five years are used: the minimum and the average of the past five years and compared with the average for the industry. Only if the estimated stock price implies the 15% annual return, the stock is considered for an investment.
However, in this case, the five years average P/E, I replace with the long term PE for the whole market. The reason for that is that averages for some of the companies mentioned in the article are going out of range (e.g. five year average for KKR is 86) and it is very difficult to justify these valuations.
| | | | | |
| --- | --- | --- | --- | --- |
| Blackstone | 2014 | 2015 | 2016 | 2017 |
| EPS estimates (calendar year) in $ | 3.76 | 1.82 | 2.39 | 3.23 |
| EPS growth rate | | -52% | 31% | 35% |
| Stock price using min P/E of five years (8.9x) | | | 21.3 | 28.7 |
| Stock price using average P/E five 5 years (15.0x) | | | 35.9 | 48.5 |
| Current price | | | | 27.52 |
| | | | | |
| KKR | 2014 | 2015 | 2016 | 2017 |
| EPS estimates (calendar year) in $ | 1.84 | 1.21 | 1.17 | 2.3 |
| EPS growth rate | | -34% | -3% | 97% |
| Stock price using min P/E of five years (4.9x) | | | 5.7 | 11.3 |
| Stock price using average P/E five 5 years (15.0x) | | | 17.6 | 34.5 |
| Current price | | | | 14.15 |
| | | | | |
| Carlyle | 2014 | 2015 | 2016 | 2017 |
| EPS estimates (calendar year) in $ | 2.68 | 1.15 | 1.26 | 2.25 |
| EPS growth rate | | -57% | 10% | 79% |
| Stock price using min P/E of five years (0.5x) | | | 0.6 | 1.1 |
| Stock price using average P/E five 5 years (15.0x) | | | 18.9 | 33.8 |
| Current price | | | | 16.64 |
| | | | | |
| Apollo | 2014 | 2015 | 2016 | 2017 |
| EPS estimates (calendar year) in $ | 1.42 | 0.96 | 1.3 | 1.97 |
| EPS growth rate | | -32% | 35% | 52% |
| Stock price using min P/E of five years (6.0x) | | | 7.8 | 11.8 |
| Stock price using average P/E five 5 years (15.0x) | | | 19.5 | 29.6 |
| Current price | | | | 17.20 |
Risks
Currently, these four private equity companies have $193 billion as a dry powder for the future acquisitions or investments. If we add the dry powder held by other non-publicly listed private equity firms, it is clear that an enormous amount is waiting for the deployment.
In the market that fully valued (even taking the recent drop in the share prices), the private equity companies could have tougher times to put their money to work and to generate decent returns.
If these funds are not deployed wisely and at the right price, the gains could go down, and that will affect the possibility to attract new funds, subsequently to generate management and performance-based fees.
Conclusion
The private equity companies have very volatile revenue and net income. That could be seen from the results of 2015, when the revenue and net income dropped significantly, subsequently pushing the stock prices lower. Thus, investors in these companies should have good nerves to withstand the low periods.
The estimates for the future show some bright spots, though the results will depend on the success of the investments that were made in the past and the availability of new investment opportunities.
The private equity companies are parked with the funds to be deployed. Hopefully, the private equity companies will not compete at any costs (i.e. overpay for the investments) and will invest the funds wisely.
My favorite is Blackstone because the stock price is close to the lower end of the spectrum of estimated EPS multiplied by min five-year PE. The second on the list would be Apollo Global Management, though, as this firm invests a lot in credit products, the rise in the interest rates might negatively affect the value of their investments in the short term.
Disclosure: I/we have no positions in any stocks mentioned, and no plans to initiate any positions within the next 72 hours.
I wrote this article myself, and it expresses my own opinions. I am not receiving compensation for it (other than from Seeking Alpha). I have no business relationship with any company whose stock is mentioned in this article.