According to the American Cancer Society (ACS), there will be approximately 1.6 million new cases of cancer diagnosed and about half a million deaths by the end of the year with the U.S spending more on cancer drugs than any other country in the world.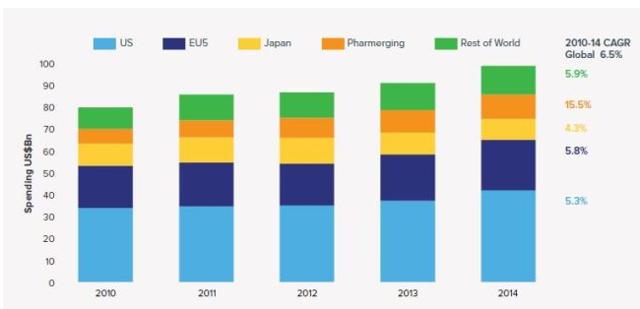 (Source: Global Oncology Drug Spending)
The IMS Institute for Healthcare Informatics revealed that global spending on cancer medications rose 10.3 percent in 2014 to $100 billion, up from $75 billion in 2010 thanks to the development of better treatments leading to longer survival rates. According to the same report, the U.S accounts for 42.2 percent of the total spending on cancer medications with about 50 percent of this amount being spent on targeted therapies.
Lately the use of targeted therapies has been on a meteoric rise posting 14.6 percent year over year growth over the past five years alone thus creating a massive opportunity for biotechs in this space. The ACS explains targeted therapy as a special type of chemotherapy that takes advantage of small differences between normal cells and cancer cells that is sometimes used alone, but most often other cancer treatments such as radiotherapy are used with the targeted drug.
For investors looking for viable investments in this space, there are plenty of options to choose from ranging from big pharma to little known biotech startups - posing the biggest challenge to them. This is due to the fact that the more popular names in the cancer treatment space have been to a major extent valued fairly forcing investors to look to much smaller players for above average returns. Of course one of the best ways to figure out which company has the potential to be the next winner involves narrowing down to one particular aspect of the treatment and starting from there.
With targeted therapies accounting for half of all cancer treatment spending and bearing in mind that it's used in conjunction with radiotherapy, this seems like the logical starting point. According to a recent research report, the radiotherapy market is expected to reach $7.5 billion by 2020 from $5.6 billion in 2015, at a CAGR of 6.2 percent. Although this market is considerably fragmented depending on the technology used, products and applications, this article will highlight four companies that I believe investors should watch more closely in the coming months.
Actinium Pharmaceuticals, Inc
Actinium Pharmaceuticals (NYSEMKT: ATNM) is developing two radio-immunotherapy drugs: Iomab-B and Actimab-A which was granted Orphan Drug designation by the FDA back in 2014. These two drugs are based on Actinium's Alpha Particle Immunotherapy (APIT) platform which the company describes as a highly potent and selective form of targeted radiotherapy. This is based on attaching powerful alpha emitting radioisotopes (Actinium 225 or Bismuth 213) to monoclonal antibodies (mAbs) which are large molecules capable of binding specifically to cancer cells.
Actimab-A is Actinium's most advanced APIT program and is currently in phase 1/2 trial for newly diagnosed AML patients over the age of 60 while Iomab-B's IND filing was cleared by the FDA and is set to proceed with the pivotal phase 3 clinical trial. The company said that it would begin enrollment in the first half of this year and assuming that Iomab-B meets its end point, this would be the basis for a Biologics License Application.
"In anticipation of this much awaited milestone, we have strategically expanded our core team in recent months and strengthened the balance sheet to prepare for not only the upcoming Phase 3 trial for Iomab-B but also the expected Phase 2 trial for Actimab-A, our novel CD33 targeting construct," said Sandesh Seth, Executive Chairman of Actinium.
He believes that the IND clearance represents a major catalyst that signals the company's transformation from a clinical stage company to a later stage company with two product candidates that have the potential to be major medical advances and a significant source of value for investors considering that the opportunity in AML alone is about $750 million.
As of the time of writing this article, Actinium had a market cap of $83 million at $1.98 per share. According to the company's most recent annual report, it had $26.59 million in total assets up from $7.6 million in the prior year. Approximately $25.6 million was held in cash and cash equivalents which will be sufficient to cater for operating expenses in this fiscal year judging by the last two years. More importantly, the company's has financed its operations through the sale of its shares rather than taking on debt which is what makes it more appealing.
Accuray Inc
Accuray Inc (NASDAQ: ARAY), valued at approximately $425 million is a radiation oncology company that develops, manufactures and sells precise, innovative tumor treatment solutions. The company's two leading solutions are the CyberKnife system and Tomotherapy system. Although the current stock price may be at half of its 52 week high of $10, I believe there is still plenty of reason to keep an eye on this company.
Accuray's CyberKnife system is optimized to deliver stereotactic radiosurgery and stereotactic body radiation therapy (SRS/SBRT) non-invasively throughout the body and its ability to track and automatically correct for tumor motion during treatment enables delivery of high doses of radiation with extreme accuracy. On the other hand, the Tomotherapy system is designed to provide each patient with highly accurate, quality individualized treatment using daily CT imaging which based on the system's unique helical design enables it to treat a broader range of tumors.
The financials of the company look solid and the most recent quarter results back up this assessment. In fact, the quarter saw Accuray report the highest ever quarterly revenue in the company's history at $108 million representing an 11 percent increase from the prior year. Also the company was close to income break even for the period compared to the previous quarter loss of $3.6 million.
It may not be possible to list all the factors that make Accuray worth putting it on your watchlist in this article but for now three stand out. Operating expenses only increased by 1 percent and will remain flat for the rest of the year, management expects gross orders to post a 10 percent year over year growth and fears of dilution from the $100 million convertible notes have been taken off.
With regards to the company's balance sheet, Accuray had $79.6 million in cash and cash equivalents by the end of FY2015 which it believes would be enough to fund operations over the next twelve months. While the company managed to retire $100 million convertible notes as stated above, it still has $215 million convertible notes due in the next 1-3 years. Its debt to equity ratio is at 3.4 making it significantly less leveraged compared to the industry average of medical device makers.
Advanced Medical Isotope Corporation
Advanced Medical Isotope Corp (OTCQB: OTCPK:ADMD) with a current market cap of $4.4 million is another perfect example of a great upcoming radiotherapy treatment provider that is well suited for aggressive investors looking for high-risk high-reward investments. It is a late stage development company engaged primarily in the development of brachytherapy devices and medical isotopes for diagnostic and therapeutic applications, with a focus on yttrium-90 brachytherapy treatments.
The global market for brachytherapy was $680 million in 2013 and is expected to reach approximately $2.4 billion by 2030 and with only a handful of players, the opportunity for Advanced Medical Isotope appears to be massive. The ACS defines brachytherapy as a form of treatment that uses a radiation source that's usually sealed in a small holder called an implant (like a seed) and is placed very close to or inside the tumor, so that it harms as few normal cells as possible. This allows a higher dose of radiation in a smaller area than might be possible with external radiation treatment.
Unlike Actinium, Advanced Medical Isotope utilizes beta particle radiation which has a shorter half-life of 2.7 days and also has a shorter treatment time. Going forward, the company is focused on getting FDA clearance for its Y-90 RadioGel as a Class II medical device meaning that it can be brought to market far quicker than as a new drug as approval is expected in the next four months.
According to CEO James C. Katzaroff the most simplistic way to describe Y-90 RadioGel is that it's injected into inoperable tumors and then hardens, effectively stopping the spread of cancer, with the radioactivity effectively killing the cancer cells, and focusing all the therapeutic dose to the affected area. To better illustrate the potential of radio isotope treatments, there is an Australian based company Sirtex (OTCPK: OTCPK:SXMDF) that treats liver cancer through the use of SIR-Spheres Y-90 resin microspheres.
Basically, the SIR-Spheres Y-90 resin microspheres are used to deliver targeted internal radiation therapy directly to liver tumors via the hepatic artery. For FY2015 the company recorded $176.1 million in revenue and also reported a 19.8 percent uptick in dose sales. This marked the eleventh year of consecutive growth further reaffirming the bright outlook for new entrants to the space.
Advanced Medical Isotope also plans to uplist which means that it will soon be getting plenty of visibility among institutional investors where it can pursue partnerships that can create more shareholder value.
It is important to note that there are a couple of possible downside risks associated with this stock based on its weak cash position. The company has total liabilities of $20.2 million, requires $1.5 million to finance operating activities for the fiscal year as well as an additional $5-$10 million over the next 12-24 months to fund the initial deployment of the company's brachytherapy products should FDA clearance be obtained which may lead to further dilution of the company's stock. Basically, without the FDA approval revenue generated from the sale of isotopes won't be nearly enough to sustain the company's operations in the short term and the company may consider taking on more debt.
Lastly, securing the FDA approval will be instrumental in changing the company's narrative which has been a bit controversial as a result of promotion efforts from some traders although that was almost two years ago.
Varian Medical Systems
While Varian Medical Systems (NYSE: VAR) is far larger than the other companies that have been highlighted so far. In spite of its $7.5 billion valuation it still promises investors plenty of more growth going forward. It manufactures medical devices and software for treating cancer and other medical conditions with radiotherapy, radiosurgery, proton therapy and brachytherapy and also happens to be the market leader in cancer treatment.
On a year to date basis, the stock has trended downwards by close to 3 percent based on what I believe to be investors' fears of weaker than expected orders from international markets such as China and Japan as reported in the company's most recent quarter. However, these fears appear overblown considering the fact that Asia-Pacific's gross orders were down only7 percent in constant currency terms.
Moreover, Varian's oncology segment which contributes about 76 percent to the top line posted a 9 percent increase during the period and margins continued holding up pretty well at 43 percent in spite of changes in geographical mix. The biggest challenge that Varian faces this year is perhaps going to be the impact of a strong dollar coupled with the shifting geographical mix that saw international revenue account for about 55 percent of total revenue compared to 48 percent in the year ago quarter.
All in all Varian seem to be undervalued by the market while the core fundamentals of the company remain strong, making it a great opportunity for value investors. In the company's most recent annual report filling, cash and cash equivalents remained relatively steady at about $845 million while short term debt increased a little over three times the prior year. In spite of this significant increase, Varian's debt to equity ratio remains well within the range of the industry average of 45 and with revenues poised to hold the uptrend, investors shouldn't be too worried about this.
Disclosure: I/we have no positions in any stocks mentioned, and no plans to initiate any positions within the next 72 hours.
I wrote this article myself, and it expresses my own opinions. I am not receiving compensation for it (other than from Seeking Alpha). I have no business relationship with any company whose stock is mentioned in this article.
Editor's Note: This article covers one or more stocks trading at less than $1 per share and/or with less than a $100 million market cap. Please be aware of the risks associated with these stocks.