This article will focus on my current view of the S&P 500 stock index as this view influences how I am investing my retirement funds in my pension plan. As an overview, my pension plan is rather simple. I am given five fund choices or five lifecycle funds to which I can allocate money. Since I don't use the lifecycle funds I focus instead on allocating money between short term government securities or what I consider to be cash, a corporate bond fund which resembles the ETF AGG, the SP 500 index resembling SPY, a small cap index which resembles the ETF IWM, and an international index which resembles the ETF EFA.
Currently, my pension plan assets are in cash. That is because I moved to cash at the end of January as I thought a long term market decline was imminent. That decision was based on a simple exponential moving average (EMA) cross over strategy using monthly closing prices of the S&P 500 index. My trading strategy is simply to be long the S&P 500 index when the price is above the 6 month EMA which is above the 10 month EMA. When the 6 month EMA crosses below the 10 month EMA I go to cash. Using this simple cross over strategy allowed investors to miss a bulk of the 2001-2003 and 2008-2009 stock market decline. It also allowed investors to participate in a majority of the rise in the index after each decline as shown in Chart 1.
Chart 1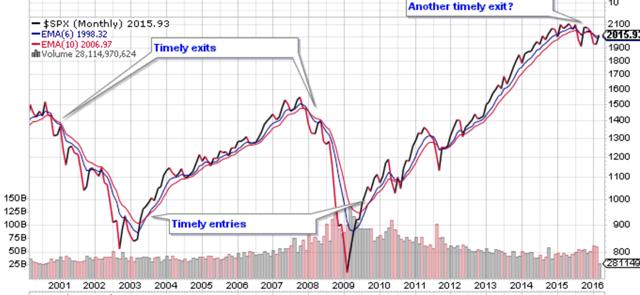 Chart 2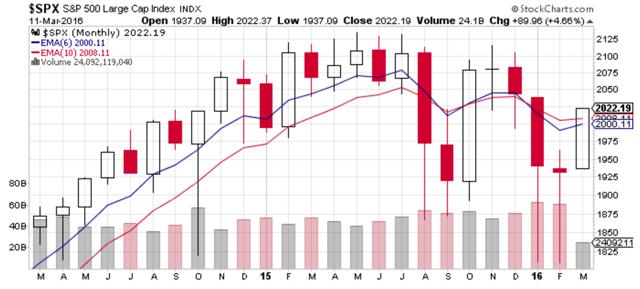 However, as Chart 2 show,s this strategy has resulted in whipsaws of late. With the market's recent rally am I in store for yet another whipsaw or will a long term trend develop? As of today's close, the SP 500 is now at the 200 day moving average (MA), see Chart 2. The 200 day MA is often used as proxy for determining whether the market is in an uptrend, above the 200 day MA, or a downtrend, below the 200 day MA. More disconcerting to me is that price is above the 6 month and 10 month EMAs.
Chart 3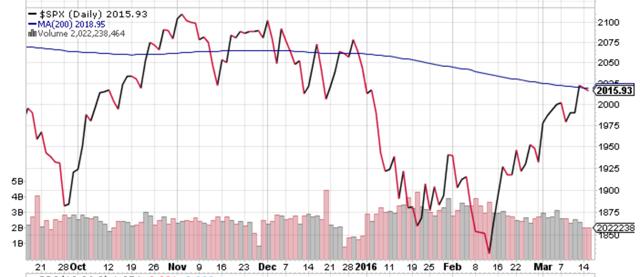 At this point in time I feel that this may just be a bear market rally. I have three reasons for this. The first two are technical reasons and the third reason is a fundamental reason. The first technical reason is the fact that the slope of the 200 day MA is declining which can be seen on Chart 3. This decline began in mid-August and is still ongoing. The SP 500 has made a series of lower highs and lower lows which corresponds to the declining 200 day MA. The second technical reason is that while Chart 2 does show price above each EMA, the EMAs themselves are not in a bullish alignment. I define this as the shorter term 6 month EMA being above the longer term 10 month EMA.
As for a fundamental reason why I think that the SP 500 index is just experiencing a bear market rally: Corporate earnings are experiencing their third consecutive decline in earnings per share according this article from CBS news. It is hard for me to envision a scenario that sees stock prices going to new highs when corporate earnings are tanking in a fashion similar to 2009. See Chart 1 for the S&P 500's response to poor corporate earnings in 2009.
While I currently see the S&P 500 index declining for the reasons mentioned before, I do see a possible place of initial support that could offer a low risk entry. Chart 4 shows the entire SP 500 advance off of the 2009 market bottom. It is not uncommon for stocks to retrace portions of the advance to the three common Fibonacci levels, 38%, 50%, and 62%. The 38% Fibonacci level right under 1600, at 1589.50 is a potential low risk entry point.
Chart 4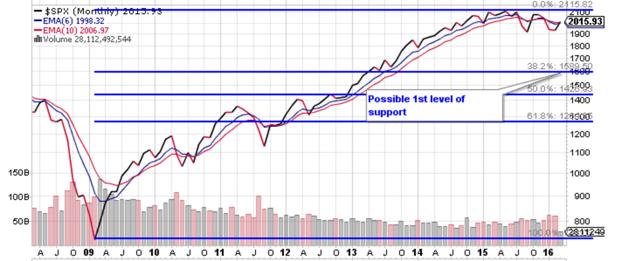 While a long term monthly moving average cross over system is easy to conceptualize and paper trade the daily volatility of the market can be disconcerting. That is why it is important to remind myself to stick with my trading plan. My long term trading plan strategy is to use end of month closing prices to determine whether I should be long the market or in a risk off asset such as cash or perhaps the AGG equivalent. I will wait for the closing prices at the end of the month before I make a decision. For others who are perhaps more adventurous a possible low risk entry price could be at the 1589 level of the SP 500 index. For me, I need to remember to plan my trade and trade my plan.
Bibliography
Mirhaydari, A. (2016, February 17). Corporate earnings are falling like it's 2009. Retrieved from CBS MarketWatch.
TSP.gov. (2016, March 15). Fund Management.
Disclosure: I/we have no positions in any stocks mentioned, and no plans to initiate any positions within the next 72 hours.
I wrote this article myself, and it expresses my own opinions. I am not receiving compensation for it (other than from Seeking Alpha). I have no business relationship with any company whose stock is mentioned in this article.