Introduction
Turquoise Hill Resources (NYSE:NYSE:TRQ) is the 66% owner of the Oyu Tolgoi mine located in the South Gobi region of Mongolia.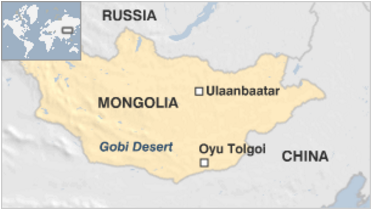 It currently operates one open pit mine, the Southern Oyu Tolgoi, and is about to start underground operations.
Figure 1. TRQ's plan of operations and schedule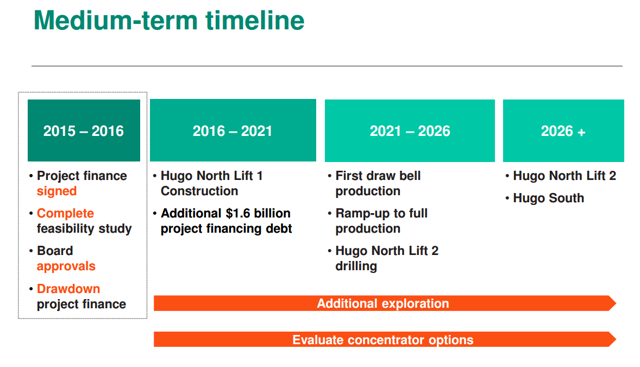 Source: TRQ's IR
In this article I want to make a simple valuation of TRQ's business in order to see what are the opportunities and risks related to TRQ.
Valuation
The valuation of a mine is strictly related to the market price of the commodities it is producing. The main metal for TRQ is copper with gold as a side product.
Figure 2 TRQ's expected production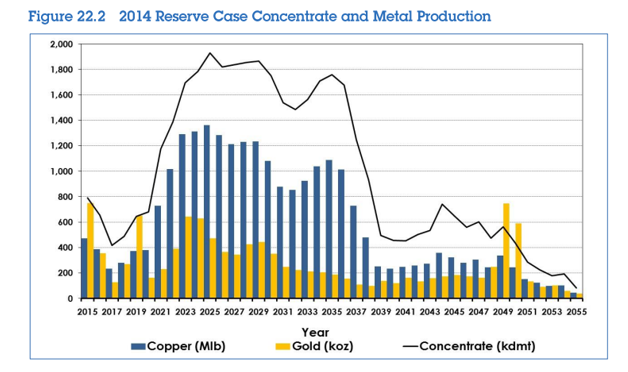 Source: TRQ's IR
As you can see in the above figure production is expected to increase from 2021 onwards. Until then the company will operate only the open pit mine that has lower grades that the underground parts. As TRQ had EPS of $0.01 in the last available quarter (Q3 2015) and seeing that copper prices have only declined since then I will assume EPS of $0 up to 2021 for my valuation as the real value in TRQ lies in the development of the underground operations.
Starting in 2022 TRQ is expected to produce one billion pounds of copper and 400 thousand ounces of gold. With current copper and gold prices the total revenue would amount to $2.6 billion. If we attach a cash cost per payable pound of copper of $1.3 we get an operating profit of $1.3 billion.
From that we have to deduct the financing costs for the development of the underground mine.
Figure 3 TRQ's financing costs

Source: TRQ's IR
With a total debt load of $6 billion ($4.4 billion at this moment and $1.6 billion of supplemental debt) and an interest rate of LIBOR + 6.0% I would expect financing costs of around 7% on the debt, assuming that the LIBOR can increase in the future. This would create an expense of $0.42 billion a year. Profit before taxes in the presented scenario would be $0.9 billion. After taxes of 25% in would result in $0.675 billion. After deducting the 33% mine share of the Mongolian government the remainder for TRQ's shareholders would be $0.44 billion or $0.22 per share. If we attach a PE ratio of 10 to that we get a share price of $2.2 in 2023. Not a great deal from that perspective seeing that the price is currently $2.7.
The main point of course, is the expected increase in copper prices due to global lower grades, mine shutdowns and constant increases in demand. A bullish scenario from a copper produces is shown in the figure below.
Figure 4 Expected copper scenario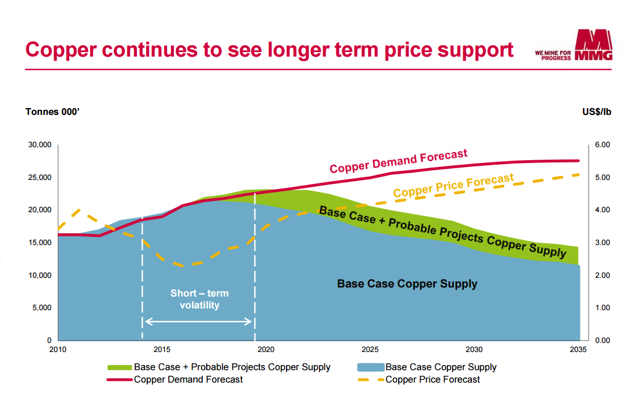 Source: MMG's IR
With a copper price of $3.2 in 2022 and gold prices constant the profit before taxes would increase by $1 billion to £1.9 billion. After taxes it would be $1.42 billion, and after the governments cut $0.9 billion or $0.45 per share. With a PE ratio of 10 it would result in a price of $4.5. This would give you a 66% return in 8 years or 6.5% yearly return. I think that investors should expect much higher return for a mine in development in a jurisdiction like Mongolia.
A copper price of $4.2 would add an additional $0.23 of EPS to the EPS of $0.45 from copper prices at $3.2. At EPS of $0.68 and a PE ratio of 10 the price would be $6.8 giving you a 12% yearly return.
Conclusion
TRQ is a pure bet on copper, I say bet because at current copper prices investors can expect real return only after 2022. In seven years a lot of things can happen, from recessions to political uncertainties. Even if TRQ is a subsidiary of Rio Tinto (NYSE:RIO) I do not see that as a large margin of safety as RIO cannot influence copper prices to that extent as it is currently influencing iron prices. As for a 12% return everything should proceed according to plan at TRQ and copper prices should also increase by almost 100% I find TRQ a very risky bet at this moment. Just one global recession or a prediction of a global recession would severely affect TRQ's share price, like it did in January 2016 when TRQ's share price was $1.55. A 50% potential loss is too much for a mere possible 12% return.